Warriors, Cougars head into championships with split
by
Dan Stoutamire
May 19, 2018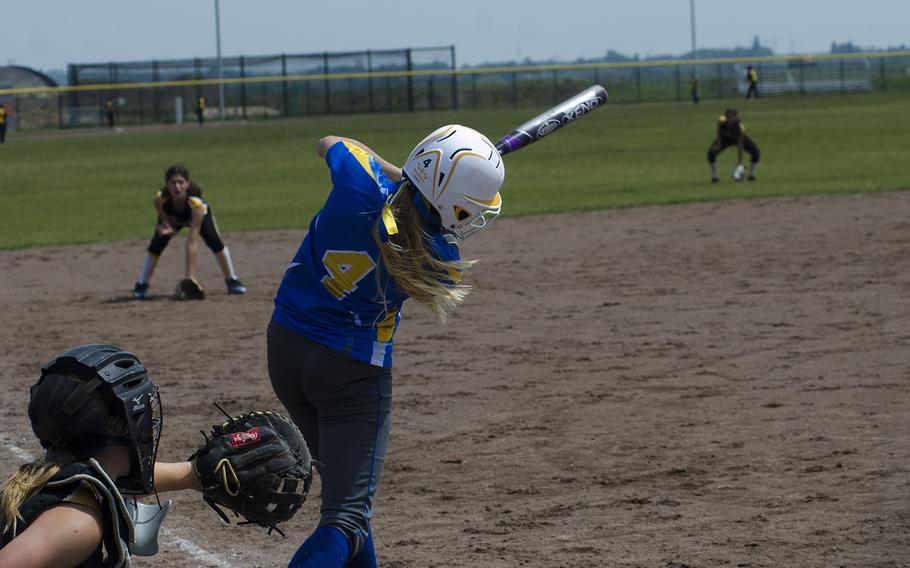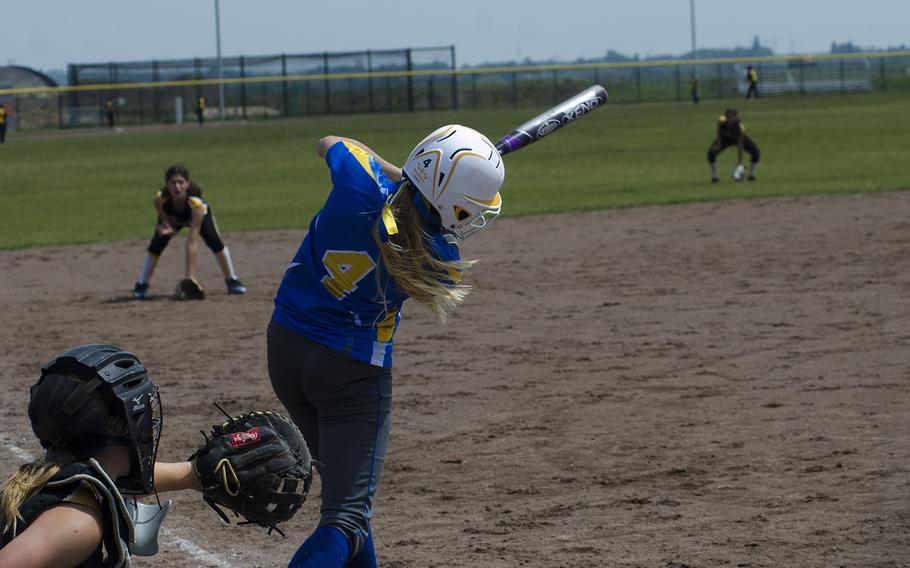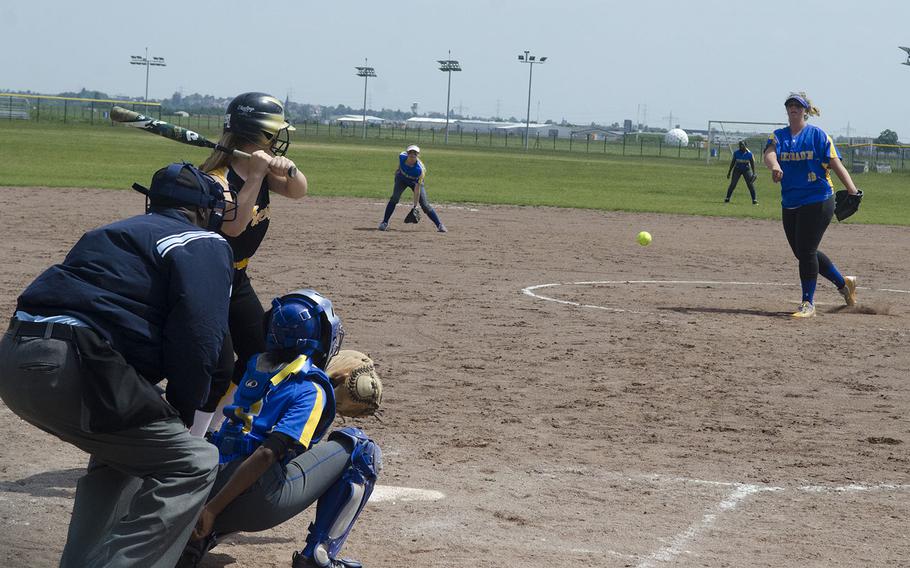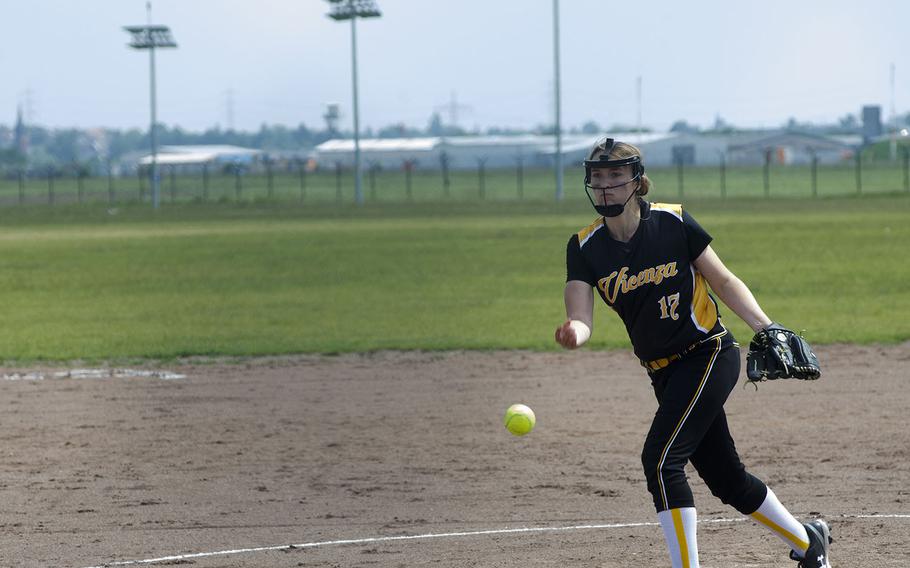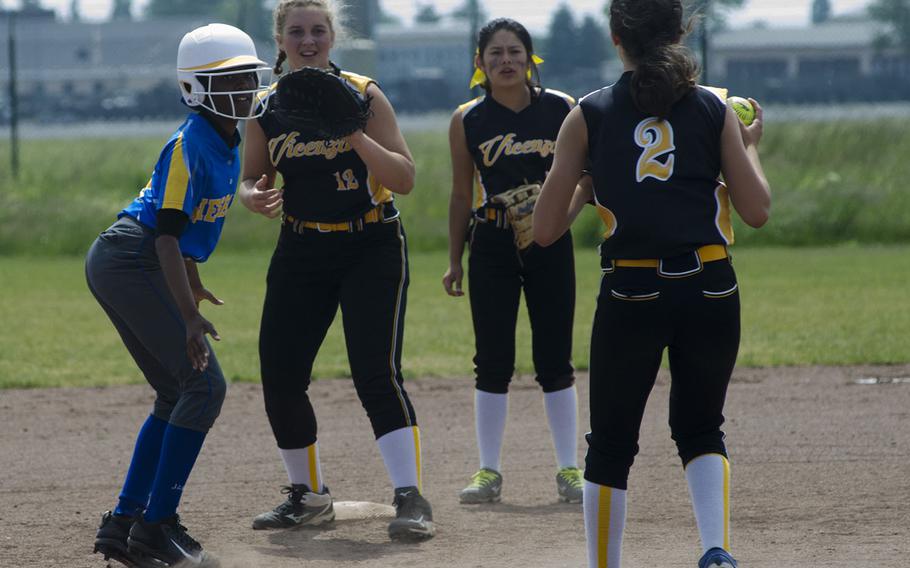 WIESBADEN, Germany — Division I schools Wiesbaden and Vicenza each took home a win after playing an up-and-down doubleheader Saturday.
It was senior day for the Warriors, with senior trio Grace Turner, Dezja Price and Lily Young playing their final regular-season games. Between games of the doubleheader, the three seniors and parents were presented with flowers for their efforts leading the team, which returned the favor with a strong performance in the second game, ensuring Turner, Price and Young would go out with a win.
"It's definitely hard to play the last game, but this was a good one to end on," Turner said. "We have a really young team, so we've had a lot of opportunities to help people play up and prepare to take the reins next year."
Vicenza took the first game 16-6 behind the strong pitching of Chenoa Gragg, who logged six strikeouts, and a balanced offensive attack keyed by second baseman Kylee Menon – who had three hits and a pair of runs batted in. The Cougars really poured it on in the third and fourth innings, scoring a combined 13 runs to Wiesbaden's three to open up a huge lead.
"I can improve, we can all improve, but we played great today," Gragg said. "We keep each other energized – we're a very energetic team, and we keep each other up no matter what."
Wiesbaden bounced back to respond with a similarly-lopsided win in the second game, 15-4, with Allison Urick on the mound and an inside-the-park home run from TiYonna Dillard. Catcher Tania Price pitched in with three hits and three RBIs as the Warriors' pitching and defensive work ensured that the Cougars never scored more than one run in any inning.
Turner said the Warriors' arms and bats really came alive in the second part of the doubleheader.
"I think we came together really well and took advantage of some good pitching. We started hitting really well as a team in the second game."
With the final regular-season games now in the books, Wiesbaden and Vicenza can take stock and each team showed some promising signs Saturday. The two teams are mired near the bottom of the Division I standings ahead of next weekend's European championships in Kaiserslautern, but Gragg is optimistic her young team – lacking any seniors – can put it together when it counts.
"I feel good, we have a lot of potential and a lot of talent and I'm ready to put it into play," she said.
Kaiserslautern 12/14, Ramstein 6/8: Saturday at Kaiserslautern, the Raiders picked up a convincing sweep of their archrival.
Kaiserslautern standout Ally Alamos led the way in the opener, striking out 11 across seven innings and adding four hits at the plate. Abby Young added three hits and two RBI for the Raiders.
A four-strikeout pitching effort from Phoenix Whisennand and a four-hit effort from Chloe Whisennand fueled the Raiders to complete the sweep in the late game. Kaiserslautern scored five runs in the top of the seventh and final inning and held the Royals scoreless in the bottom half to secure the win.
Sigonella 13/9, Naples 4/3: Saturday at Naples, the defending small-school champions wrapped up the regular season with a conquest of the Division I Wildcats.
Prolific hitters led the way for the visiting Jaguars.
Martina Raco had four hits, including two doubles and a triple, along with six runs and four RBI. Jessica Jacobs totaled five hits and four RBI and Morgan Bass collected four hits.
Twitter: @DKS_Stripes