Warrior boys edge Raiders in final seconds
by
Gregory Broome
January 31, 2020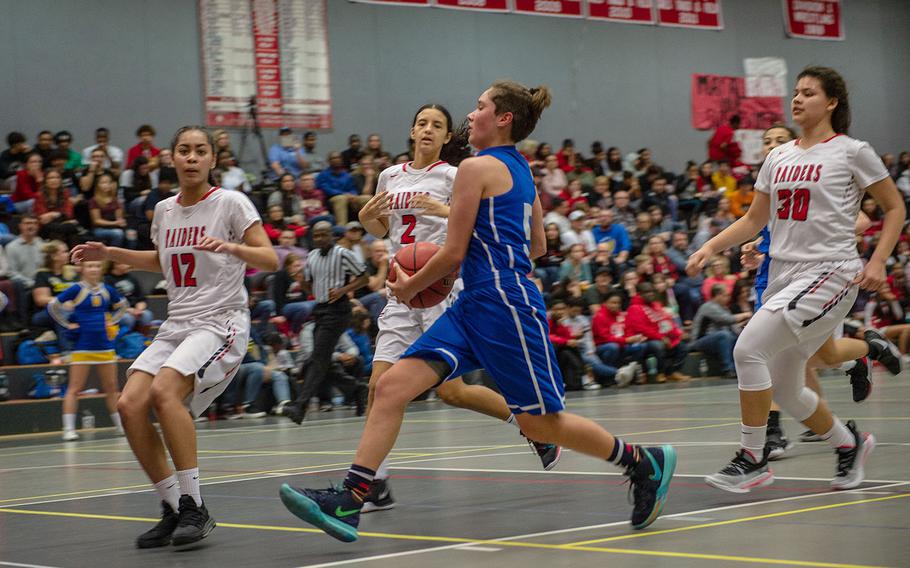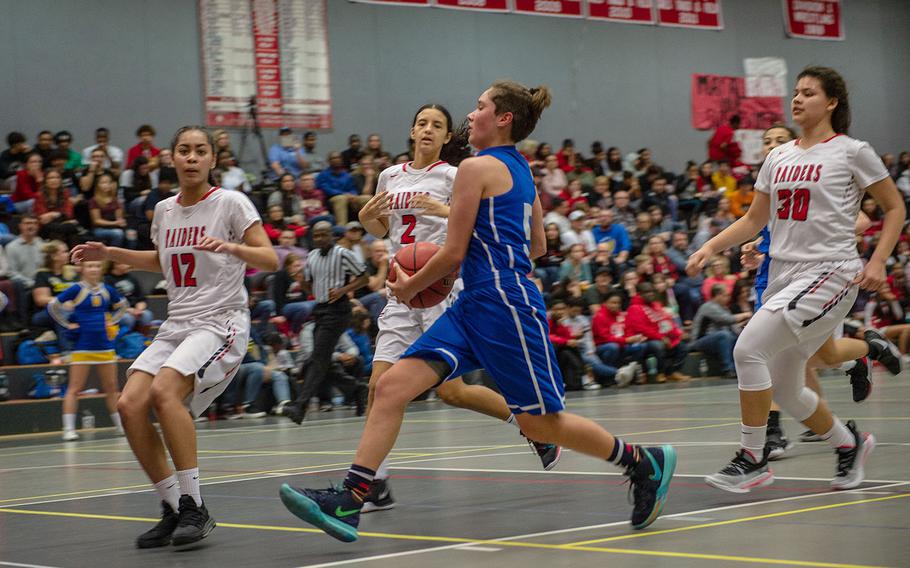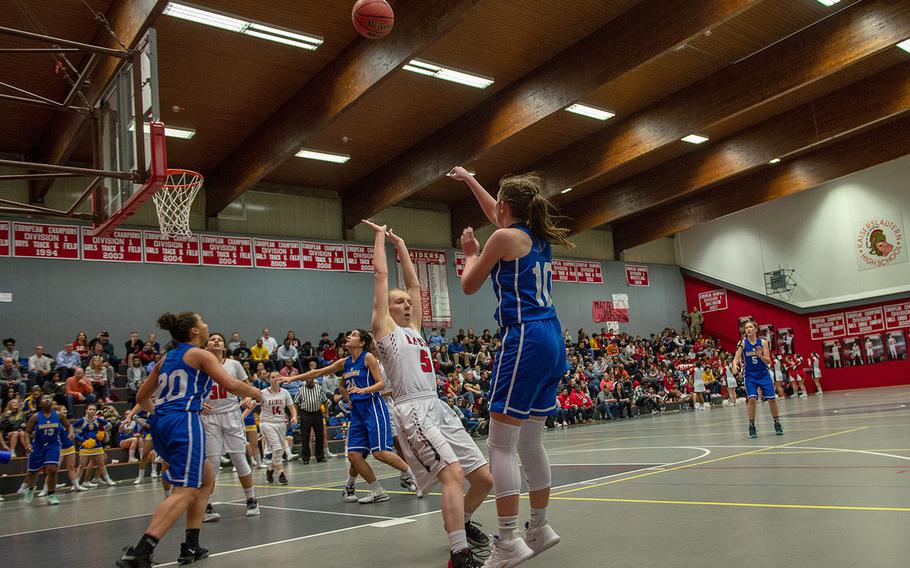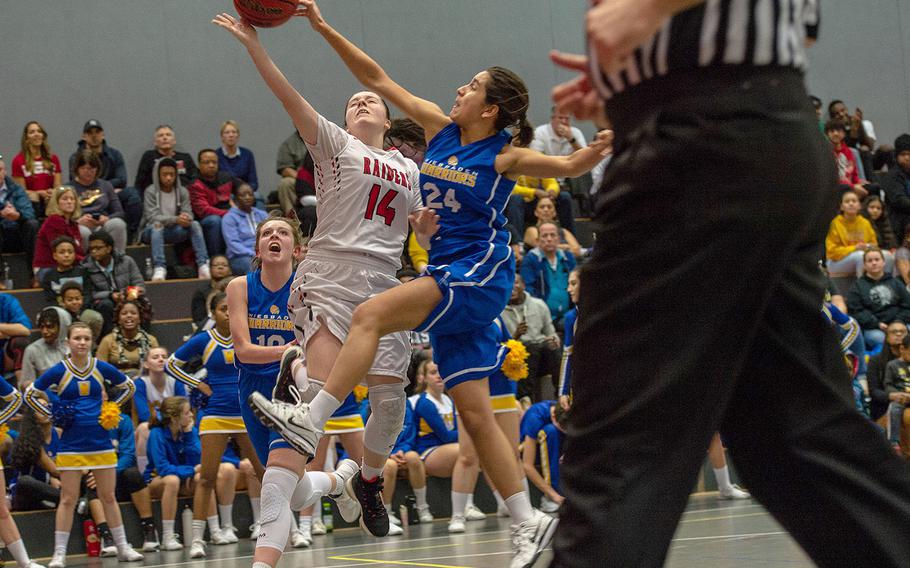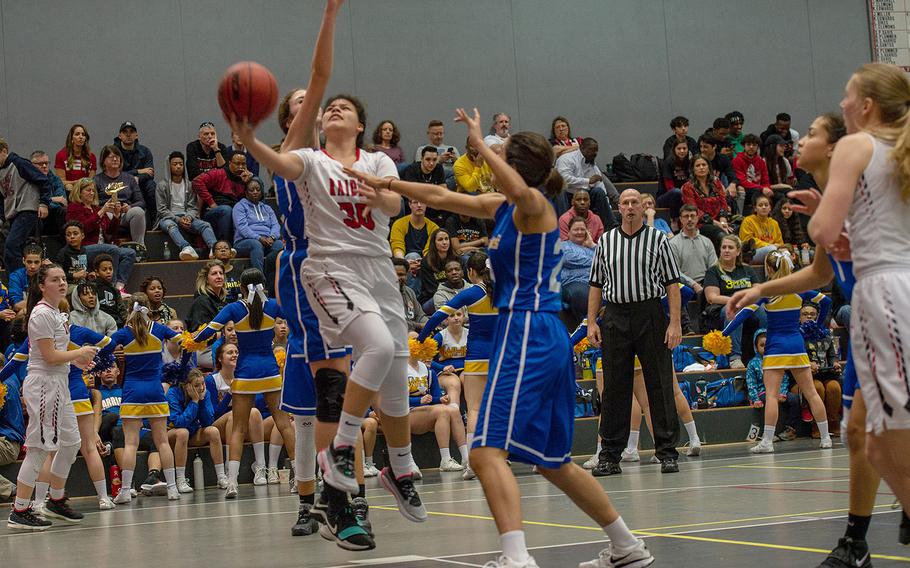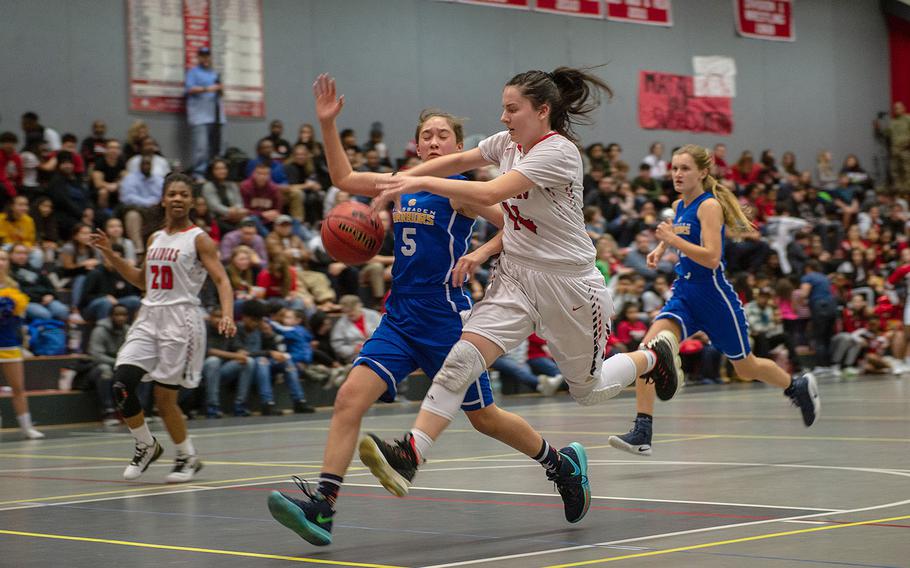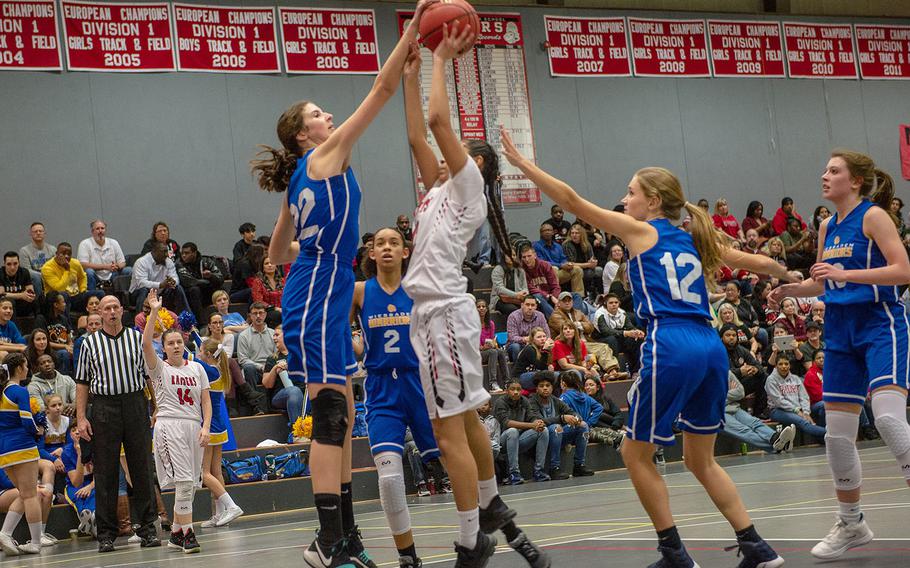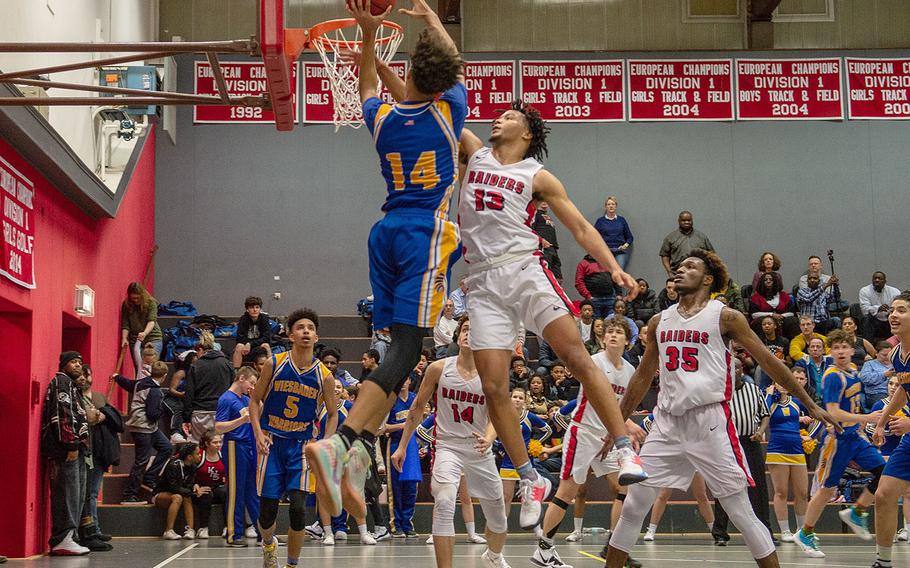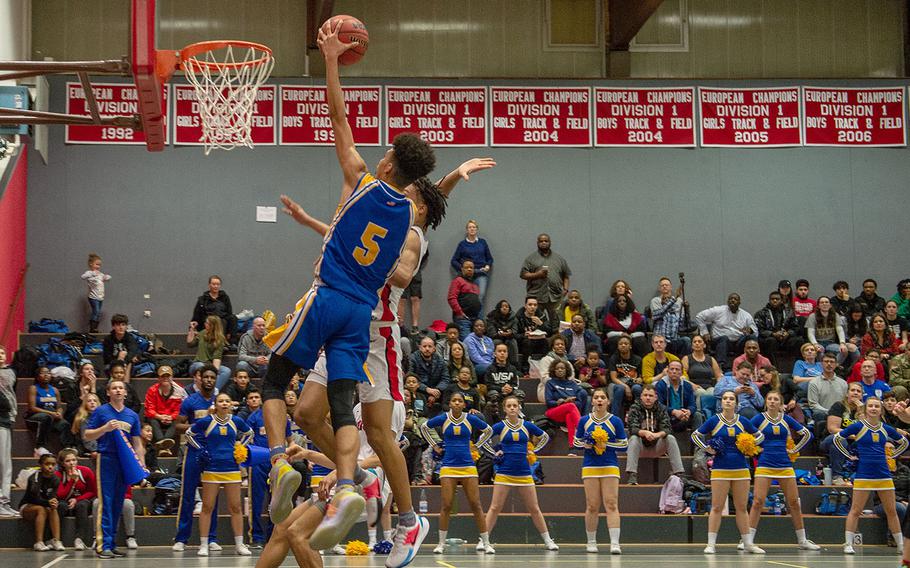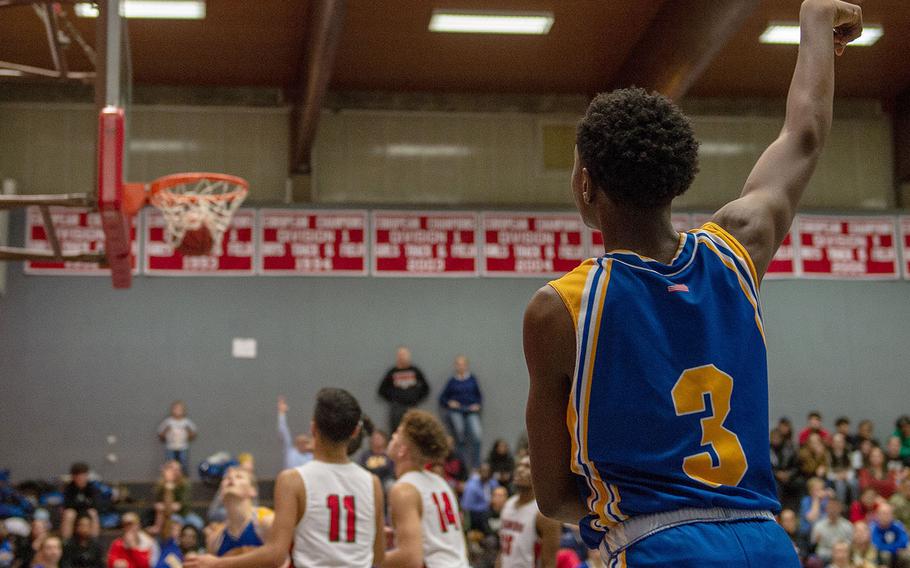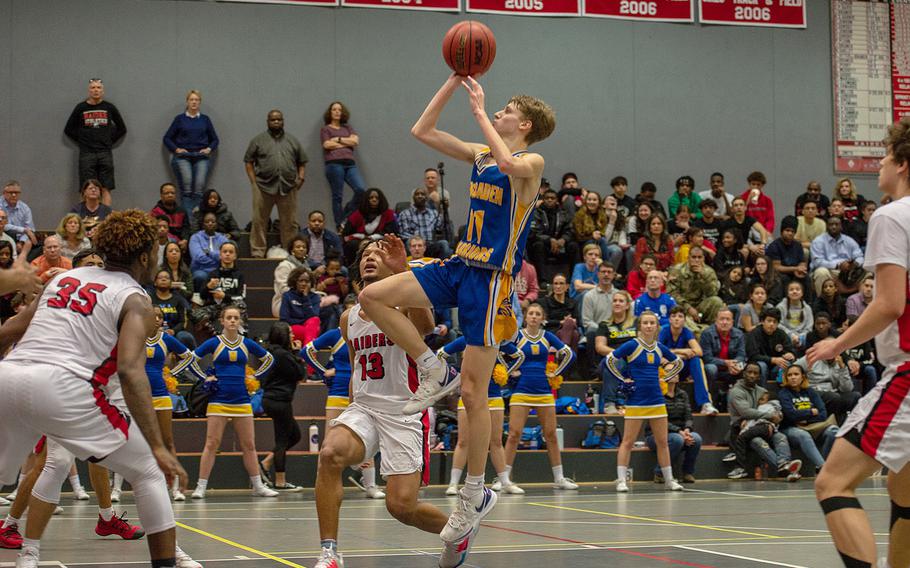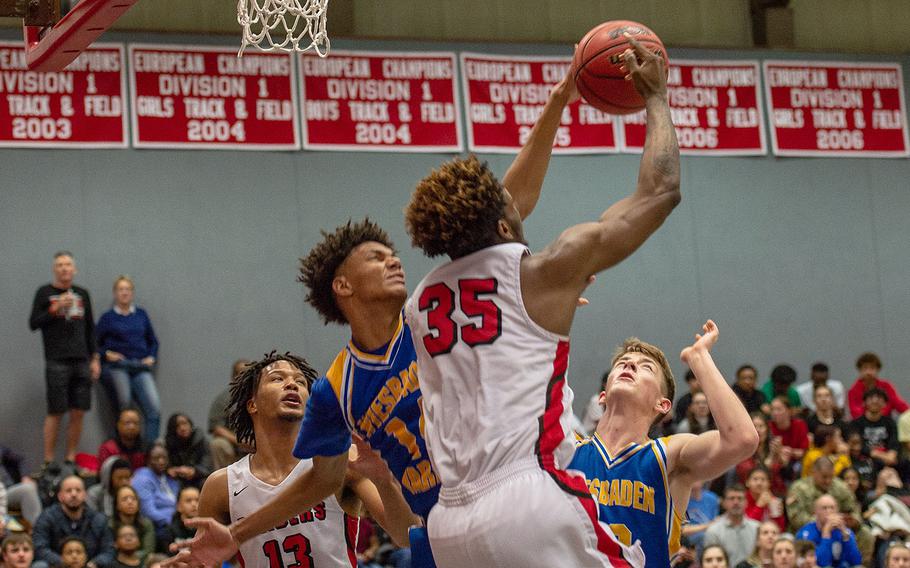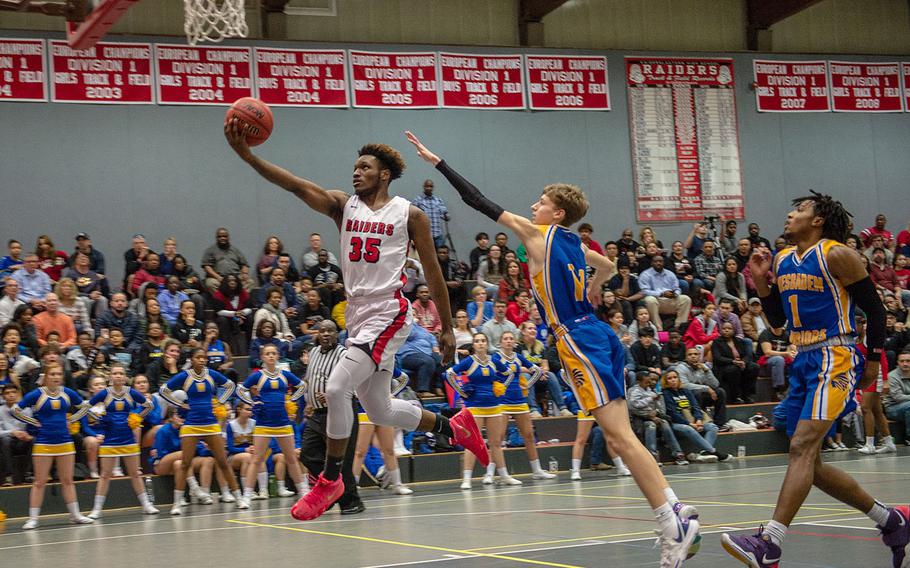 KAISERSLAUTERN, Germany — A close, hard-fought game got the ending it deserved.
Jaiden Harrison hit a pair of free throws with two seconds to play to give the Wiesbaden Warriors a 76-75 win Friday night and continue the single-point suffering of the host Kaiserslautern Raiders in a thrilling DODEA-Europe Division I boys basketball game.
The host Raiders stepped to the free throw line with a one-point advantage, three seconds remaining on the clock and their raucous crowd anticipating imminent victory. But the free throw caromed off the rim and Wiesbaden forward Harrison, an active presence around the paint all game, not only pounced on the defensive rebound but drew a foul, and a one-and-one opportunity to put his team ahead, in the process.
Harrison, who had missed a key free throw just moments earlier, wasn't about to squander a second opportunity to play the hero.
"Before, I doubted myself and that's why I missed," Harrison said. "I had to step up to the line confident. That's it."
Harrison's decisive trip to the line brought an end to an intense game that saw both teams hold momentum for stretches without ever fully seizing control.
The athletic duo of Tre Dotson, who scored a game-high 21 points, and Darius Camp, who added 20, produced a number of fast-break finishes to keep the Raiders' side of the scoreboard moving while Isaak Pacheco drained a pair of late three-pointers to put Kaiserslautern on the cusp of victory.
Wiesbaden countered with dominant inside play on both ends of the court from center Dom Bivins, who scored 18 points and made good on his assurance to Warriors coach David Brown that he'd be an irresistible force in the paint on Friday. Timely baskets by Isaac Smith, who scored 14 points, and the three-point marksmanship of Nehemiah Grandberry, who made four three-pointers in a 16-point showing, helped round out the diverse Warrior attack.
In the end, by the slimmest of margins, Wiesbaden's efforts won out.
"We believe in each other and we play one play at a time," Brown said while complimenting Kaiserslautern's "fantastic" performance in defeat. "It worked out for us tonight."
The heartbreaking decision continued a frustrating trend for the Raiders. Kaiserslautern has now lost three games this season by a single point, including its previous outing, a 52-51 loss at Baumholder on Jan. 24. The Raiders also own a one-point victory on the season, a 55-54 defeat of Stuttgart on Jan. 17.
GirlsKaiserslautern 31, Wiesbaden 24: The Raiders withstood a late Warrior rally to earn the home-court victory.
Kaiserslautern broke open a back-and-forth game with a flurry of offense in the second quarter. Audrey Elisondo snatched an offensive rebound and dropped in a layup at the halftime buzzer to put Kaiserslautern up 18-11 at intermission.
The Raiders maintained that margin for much of the second half until the resilient Warriors offered some late resistance. The visitors extended their defense the length of the court and picked up the intensity in a spirited comeback effort that brought the Warriors within two possessions of a tie.
But Kaiserslautern's patient half-court offense and solid free-throw shooting secured the win.
"We fought as a team," Elisondo said. "We didn't let anything get in our heads."
Elisondo scored 15 points for the Raiders, just short of half of her team's total. Rebecca Moon added eight points, including a poor of three-pointers.
The Warriors and Raiders play another girls and boys doubleheader Saturday in Wiesbaden to complete the home-and-home weekend series.
broome.gregory@stripes.com Twitter: @broomestripes
---
---
---