Boys D-I semifinals
Vilseck will try to knock Royals off throne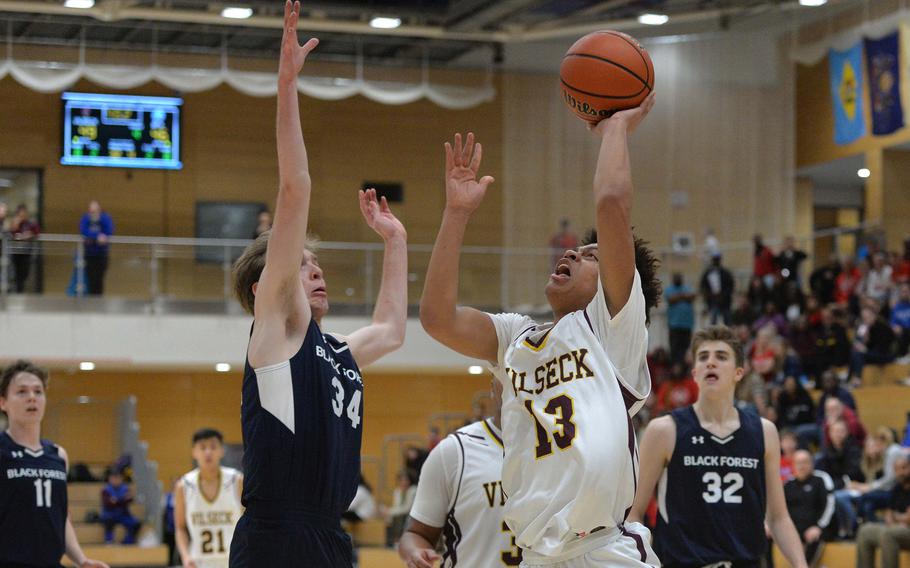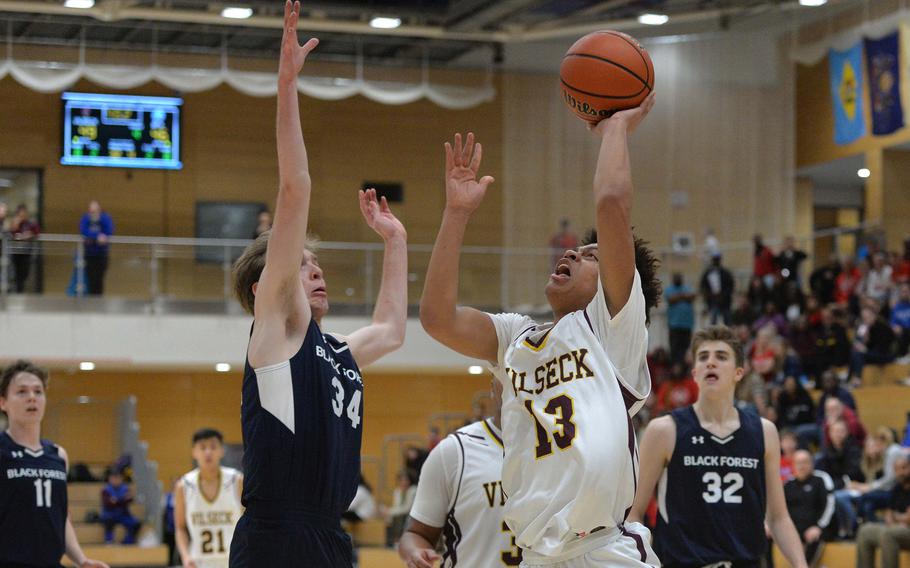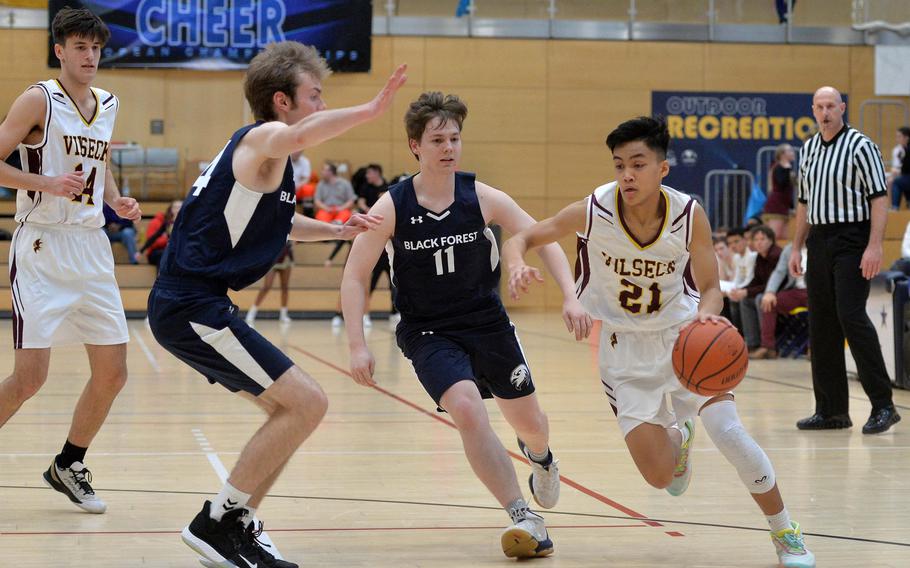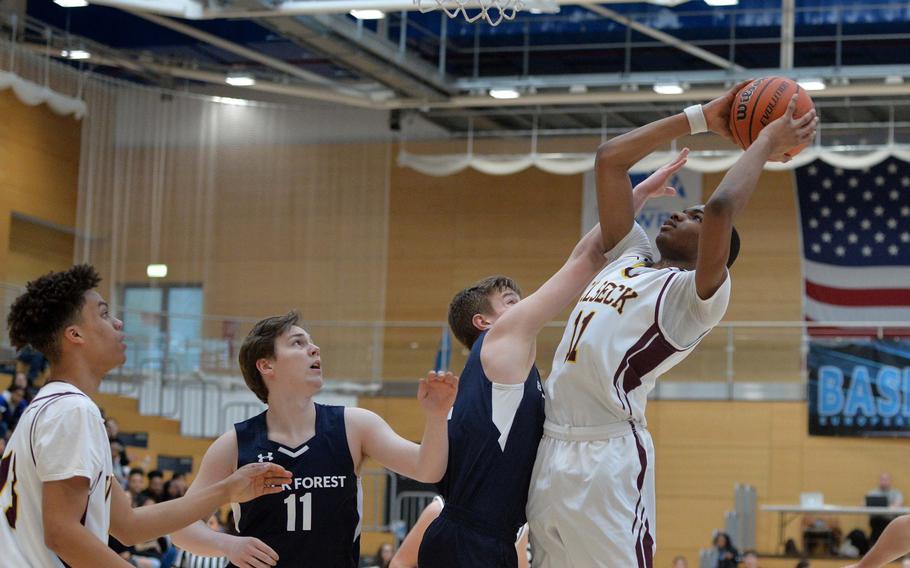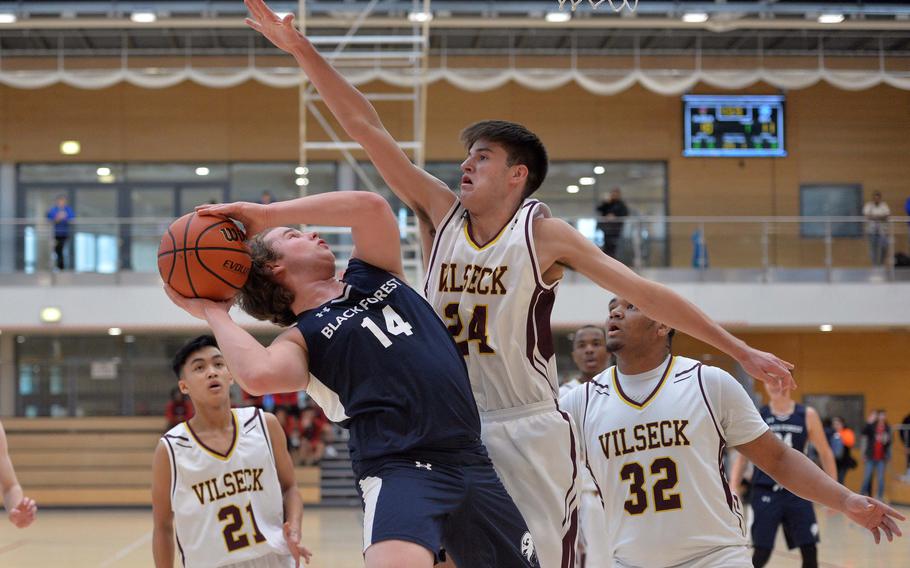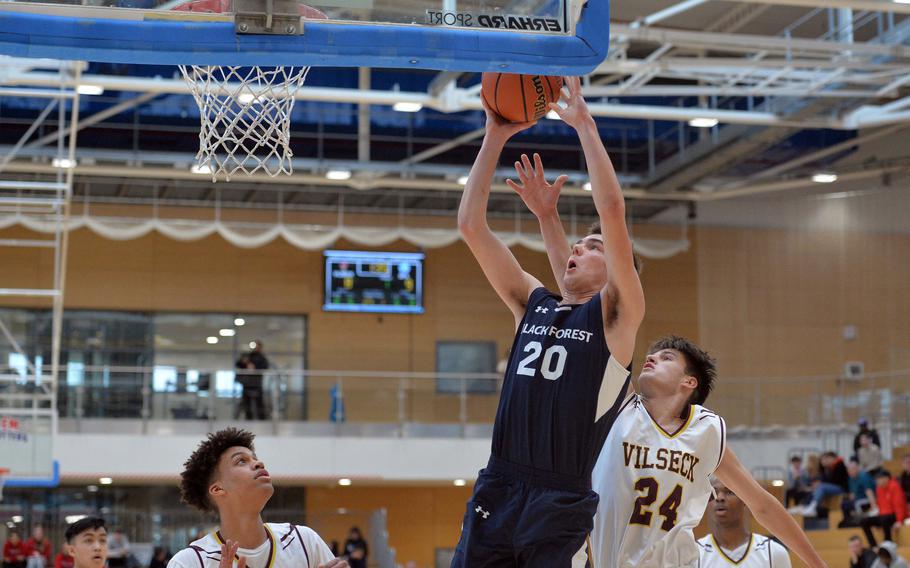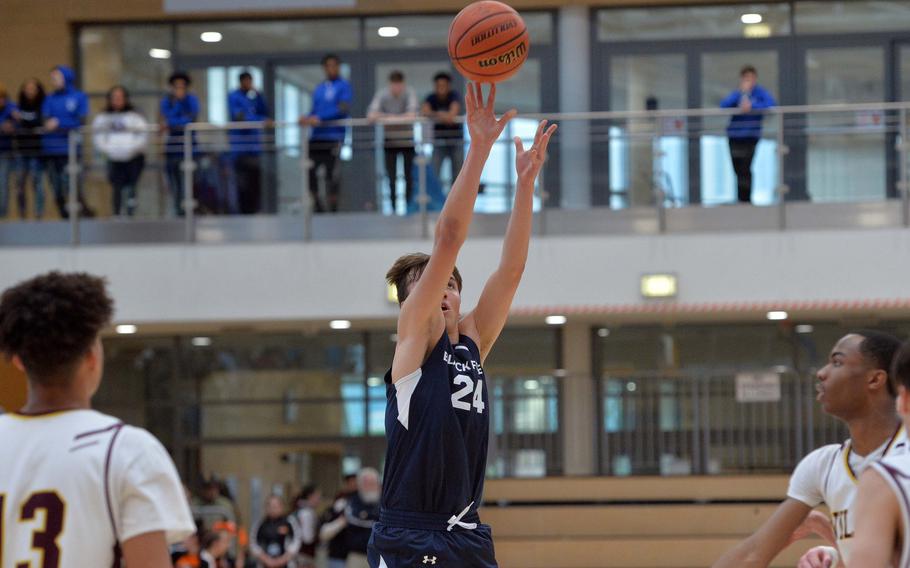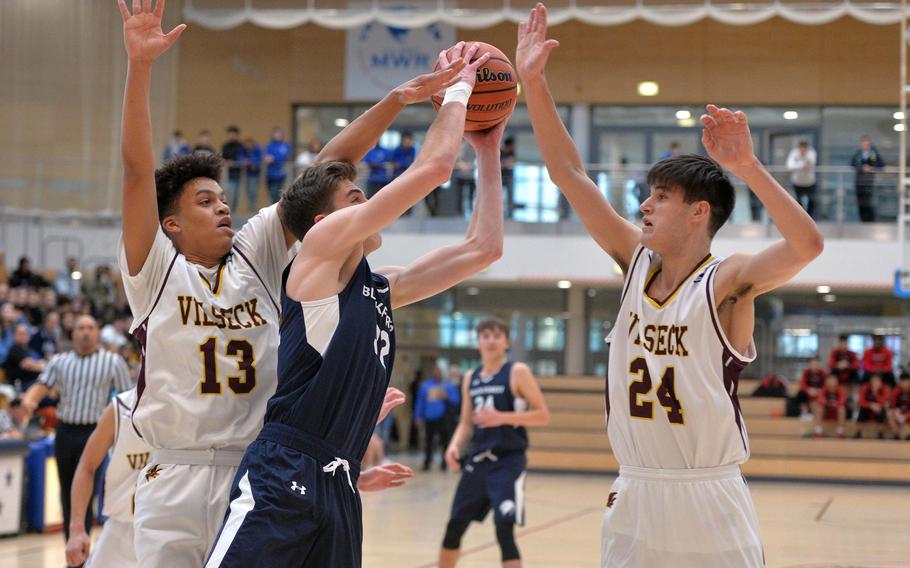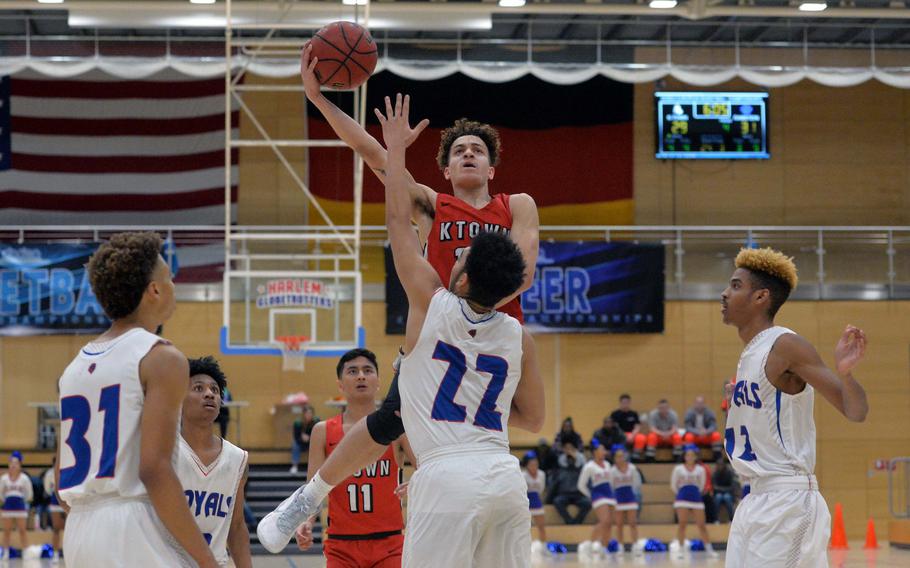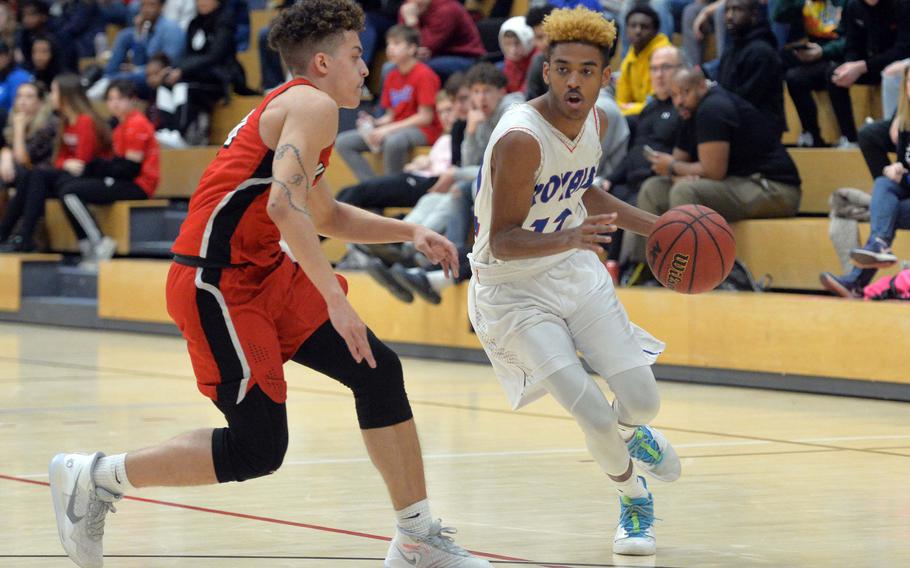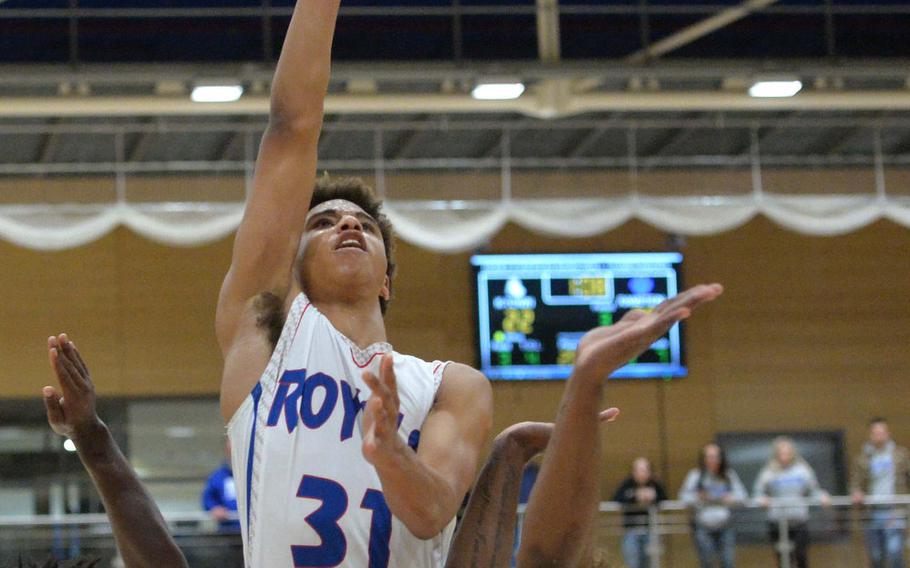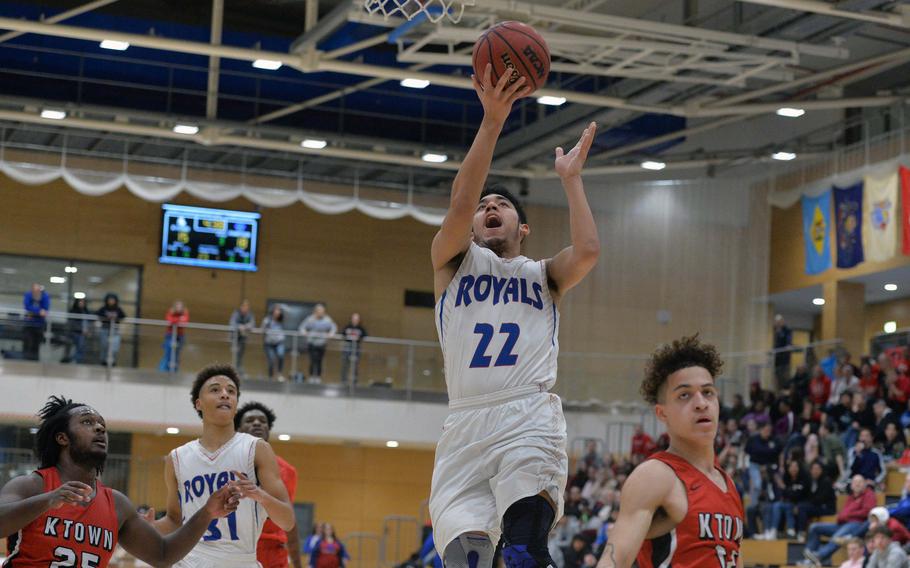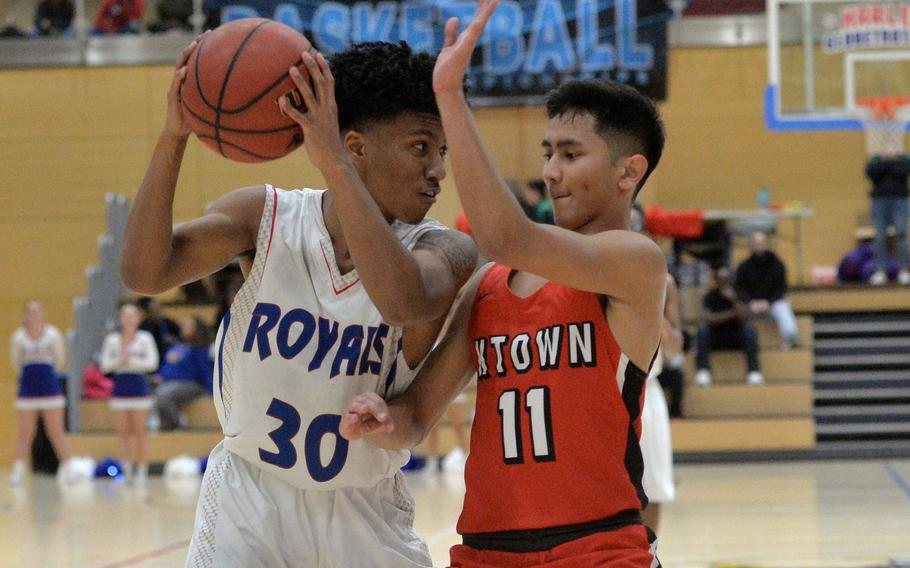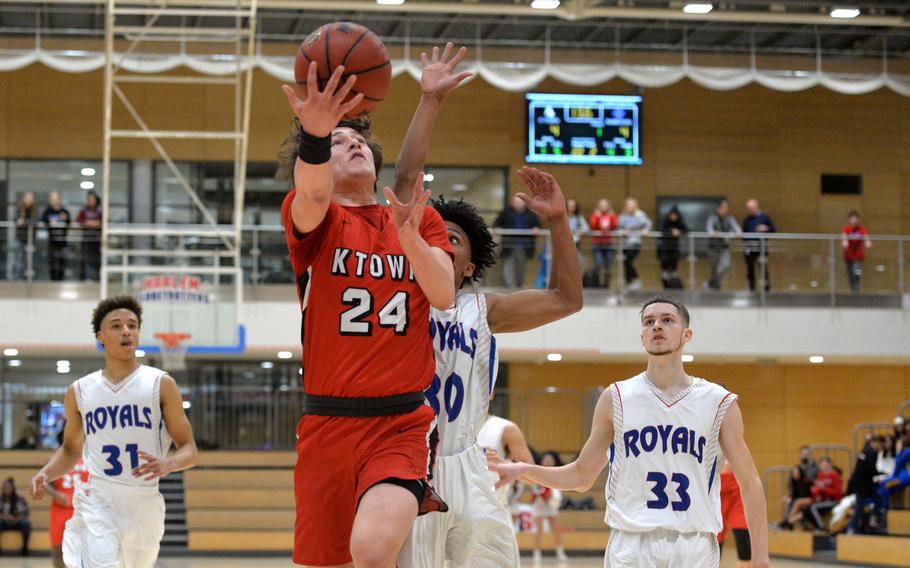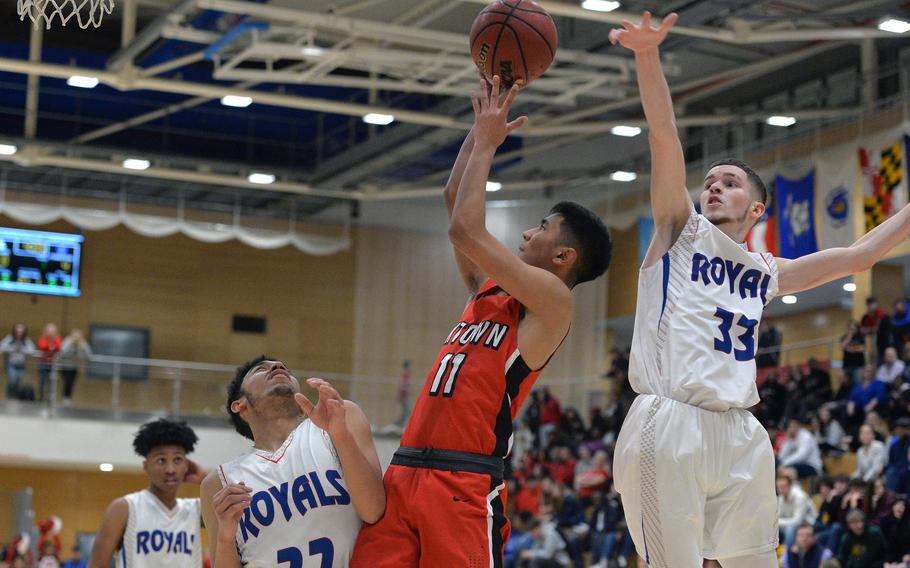 WIESBADEN, Germany – And the beat goes on for Ramstein and Kaiserslautern.
The Ramstein Royals once again ended the championship dreams of the rival Raiders on Friday at Clay Kaserne Fitness Center in a stirring 50-43 semifinal win.
Ramstein's victory represents the sixth time in the last six seasons that Ramstein has knocked the Raiders out of the DODEA-Europe Division I boys basketball tournament, a pattern that now spans four championship games, including the 2019 and 2018 editions, and two semifinals.
With its streak of tormenting Kaiserslautern safely intact, Ramstein now turns its attention to prolonging another one. The Royals will play for their sixth consecutive Division I title Saturday against Vilseck, which edged Black Forest Academy 53-49 in overtime Friday to reach the final.
Ramstein 50, Kaiserslautern 43: Senior stars Jerod Little and Jason Jones Jr. seized control in the fourth quarter.
The teams combined for just 10 first-quarter points and didn't move the scoreboard again until the halfway point of the second quarter. That kicked off a relatively prolific 10-3 run for the defending champs, but their spirits were dampened at the end of the half when star point guard Little picked up his fourth foul, one away from disqualification, then spent all but the final seconds of the third quarter in a sideline seat.
Ramstein avoided full-on disaster without its point guard, though Kaiserslautern did pull ahead by a point entering the fourth behind an outburst from star Tre Dotson. That set the stage for a dramatic finish.
But that stage belonged almost exclusively to Little and Jones. The Royals, at once stabilized and rejuvenated by Little's return to the lineup, came out blazing in the fourth quarter, starting immediately on a two-handed slam by Jones. Little and Jones subsequently scored at will on sharp drives to the hoop, enough to offset the Raiders' frantic but ultimately futile attempts at a comeback. The senior pair combined for 23 of the Royals' 25 points in the final quarter.
"It's what experience can do for you," Ramstein coach Andrew O'Connor said. "They've been in this situation before."
Jones agreed, explaining that the seasoned Royals are "prepared for any situation" this tournament can throw their way.
"Just keep our heads up," Jones said. "We just play Ramstein basketball." Kaiserslautern's persistence was another motivating factor for the champions. "They're a great team," Jones said of the rival Raiders. "They're never going to give up and neither are we."
Jones finished with a game-high 22 points, including 12 in the final quarter, while Little scored all 11 of his points in the fourth. Dotson scored all of his team-high 18 points in the second half to lead the Raider resistance.
This tournament held renewed hope for the long-suffering Raiders, who split the regular season series with Ramstein and went undefeated in pool play behind a pair of thrilling Dotson game-winners before again bowing out in painfully familiar fashion.
Vilseck 53, Black Forest 49: A pair of new faces on the Division I title scene produced an overtime elimination-game thriller.
Black Forest was on the verge of a regulation win with a five-point lead with under two minutes to play. But Vilseck fought back, scoring five unanswered points on a three-pointer by Cameron Gaetos and a turnaround jumper by Jonas Matthews. Vilseck then scored the first five points of overtime to complete a 10-0 run that extended their season.
Vilseck, which came into the tournament as one of the division's hottest teams and carried that over into a 3-0 showing in pool play, has now added a close playoff win to its increasingly impressive body of work.
Guard Josh Valembrun said Vilseck came into the elimination round "excited" for the opportunity to contend for a championship and didn't falter when things looked bleak.
"Just stay focused," said Valembrun, who opened the overtime scoring with an offensive rebound and putback. "Play together and play hard."
Black Forest sowed some chaos in the Vilseck backcourt and pulled to within two points in the final minute, but a pair of clutch free throws by Vilseck forward Ryan Heckert iced the game.
Valembrun finished with 16 points in the victory, while Matthews and Gaetos joined him in double digits with 12 and 10 points, respectively. Senior Jacob Fortune scored a game-high 26 points for Black Forest.
A Division II dynasty as recently as last season, Black Forest faced a new challenge this winter as a DODEA-Europe realignment sent them up to Division I. Despite Friday's disappointment, its big-school debut was an unqualified success.
"I don't know what people thought of us coming into this season," Black Forest coach David Kruse said. "I'm just thrilled and really happy for my guys that we got here."
Vilseck is a veteran of Division I but a newcomer to the elimination round.
Things have fallen into place for the Falcons this winter as they fielded a team loaded with experience, size, shooting and skill and primed for a deep run. Two wins over Black Forest at the end of the regular season and a preliminary win over reigning champion Ramstein on Wednesday only increased the Falcons' momentum entering the final two days of the season.
Now Vilseck has earned another, higher-stakes shot at the champs.
broome.gregory@stripes.com Twitter: @broomestripes