Vilseck, Stuttgart cross Alps to clash with Italy based foes
---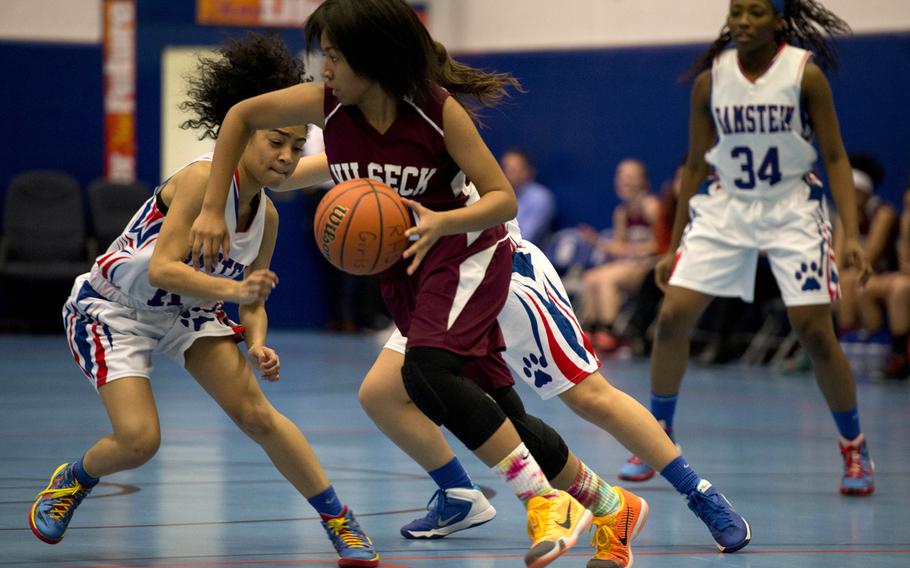 Until they take their spots in the large-school bracket at the annual European tournament, it can be easy for the Naples Wildcats and Vicenza Cougars to forget they're in Division I.
For the most part, the two schools play the same Italian schedule that they did before the 2014 DODDS-Europe realignment shifted them up from Division II, a slate comprised primarily of lower-division programs including Aviano, Sigonella and a few international schools.
"I feel that since we are in DI, we should be playing more DI teams during the regular season," Naples boys basketball coach Craig Lord said. "Why put us in DI if we only see DI action in the postseason?"
It's that concern that DODDS-Europe is attempting to address with events such as the one scheduled for this weekend. Friday and Saturday, Vicenza will play host to a four-school basketball meet pitting German Division I programs Stuttgart and Vilseck against the Wildcats and Cougars. Aside from their games against each other, it's the only regular-season opportunity for Naples and Vicenza to get a glimpse of what they'll be up against in the postseason.
"This is the first weekend we see what the larger DI schools have to offer," Vicenza girls co-coach Greg DeJardin said. "We are confident we will compete."
The Cougars have a lot of reasons to be confident. The team is 8-0 in DODDS-Europe play, having dominated every opponent it's faced, including Naples.
But Vicenza isn't content with that status. The team has fleshed out its schedule with games against formidable local squads, providing the rigorous competition, and occasional character-building losses, needed to prepare for a European title run.
"We do not consider ourselves undefeated," Vicenza co-coach Eric Wakefield said. "We don't talk wins and losses, but take each game as an opportunity to get better."
As they're positioned in Germany among the majority of fellow Division I programs, Stuttgart and Vilseck don't face the same problem as Naples and Vicenza, or even . But they're approaching the weekend with a similar objective in mind - to see where they stand.
"Each team is different, and how and what you play against them matters," Stuttgart girls coach Melody Green said. "If you are able to see them before Europeans, you can be able to be better prepared."
That's the name of the game for the regular season in general. DODDS-Europe guarantees every team a spot in the tournament; it's up to each team, regardless of its schedule and circumstances, to be ready.
"We just want to play well this weekend. Our goal is to improve every week," Naples girls coach Tim Smith said. "We want to be playing our best basketball during the European tournament."
Twitter: @broomestripes
---
---
---
---