Vilseck hammers Baumholder in season finale
---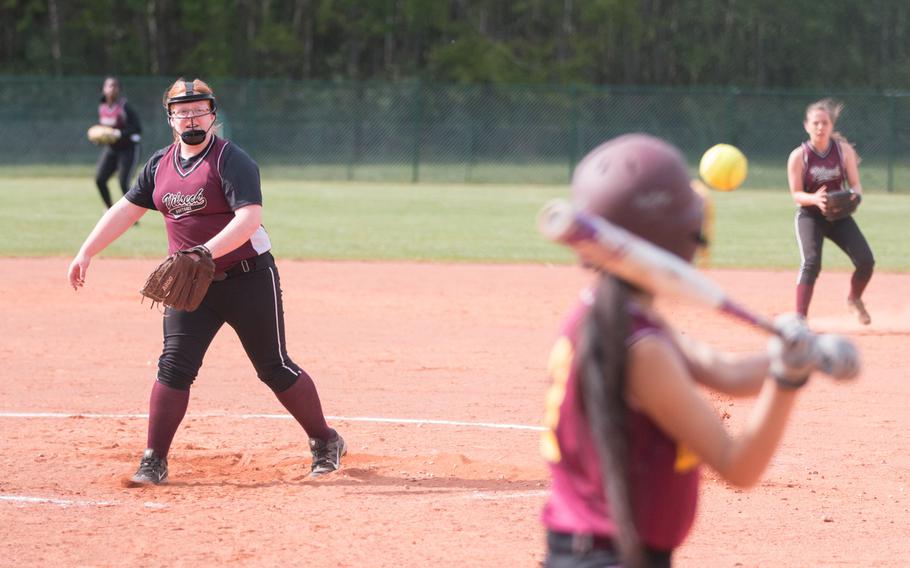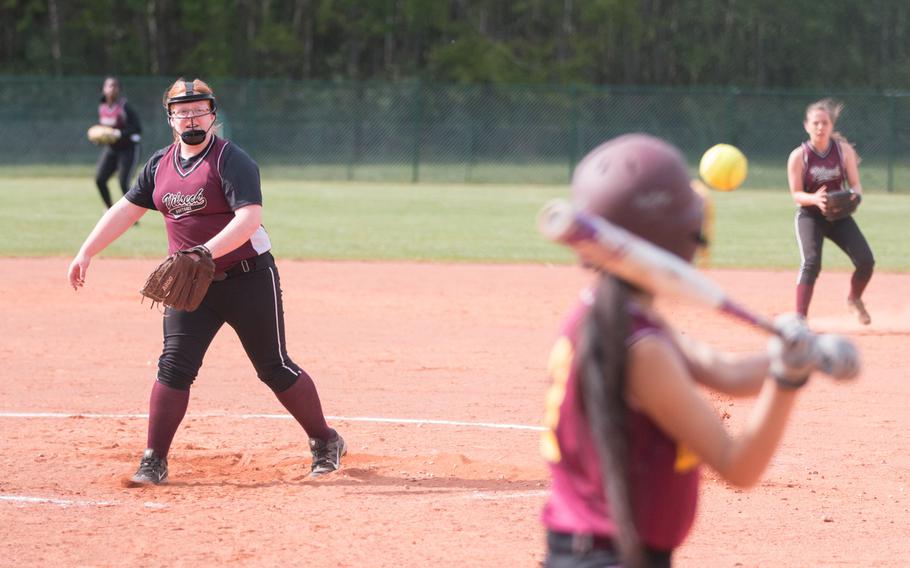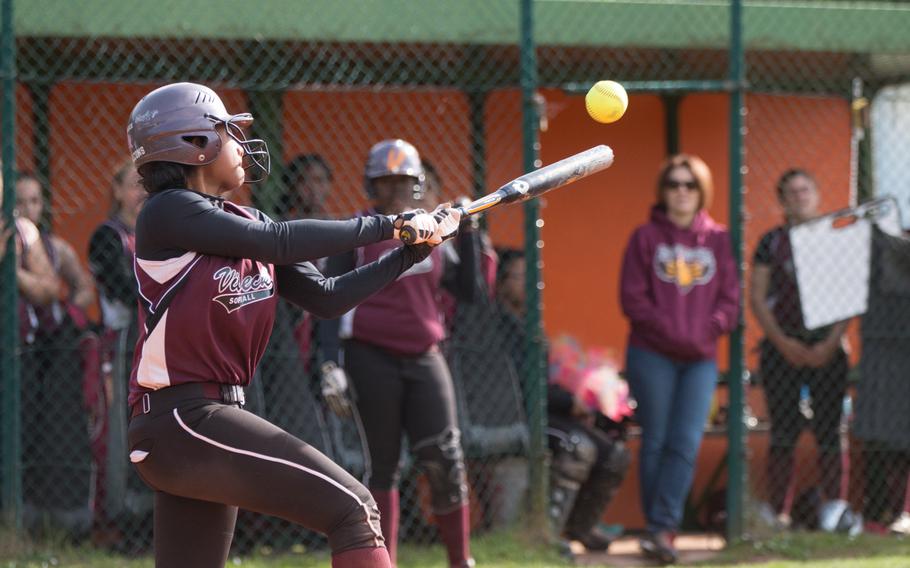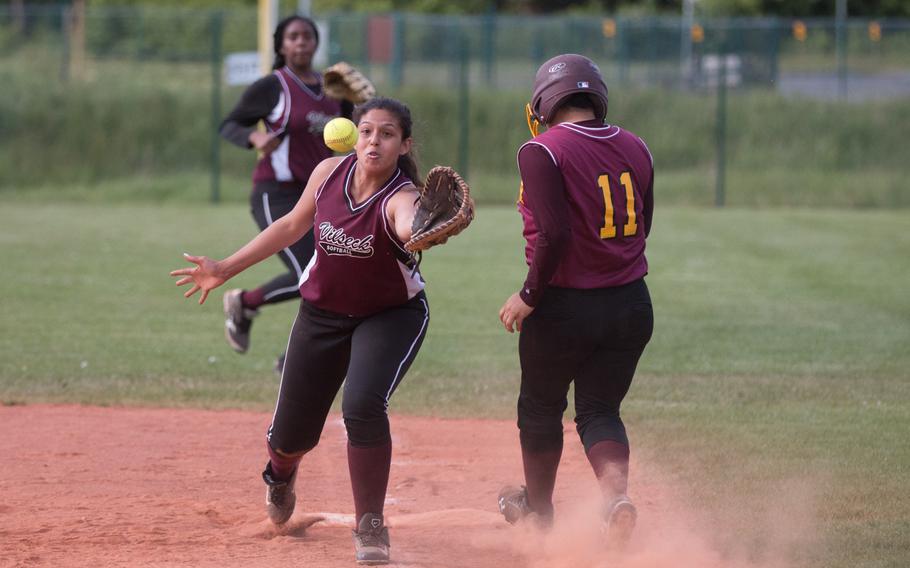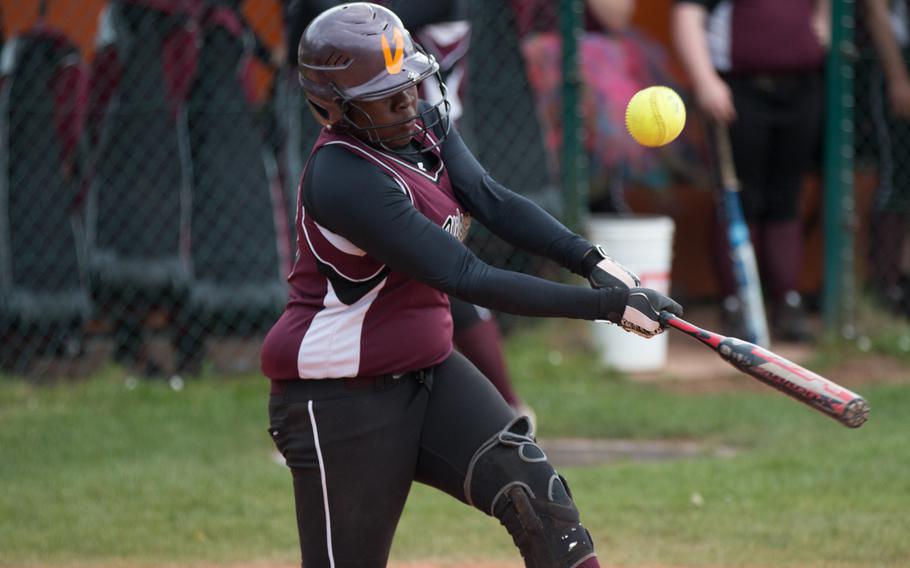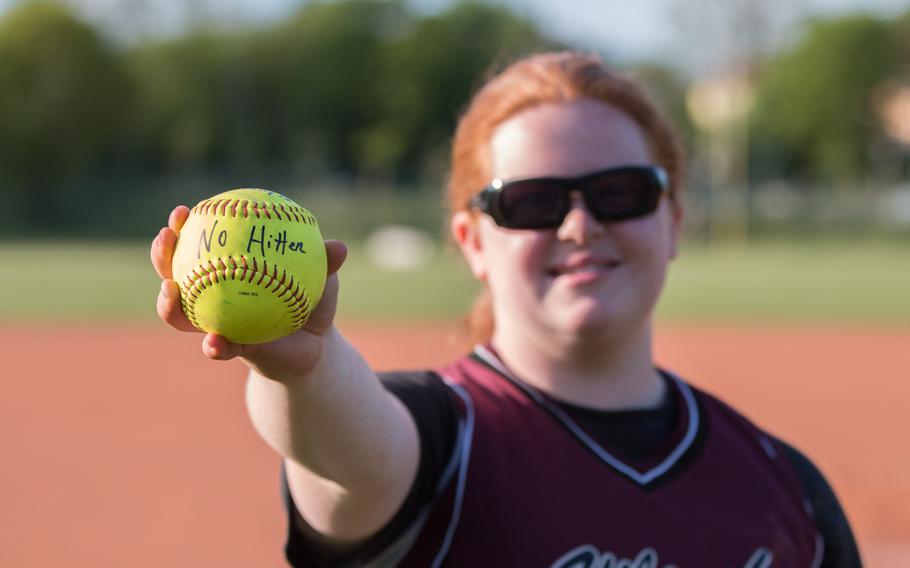 VILSECK, Germany – To hear Avery Hicks tell it, Friday's doubleheader between the Vilseck Falcons and the Baumholder Buccaneers was just a regular set of games.
The stat book tells a different story though – a story in which the Falcons' ace pitched a near-perfect game on the way to her first career no-hitter.
Hicks had six strikeouts and a single walk in the Falcons' 28-0 shellacking of the Bucs in the first of the two-parter that served as the final games of the regular season. She also had a stellar showing on offense, going a perfect 3-for-3 and driving in five runs.
While many a student athlete would be crowing about a performance like that until their letterman jacket no longer fit, the freshman pitcher was loathe to talk about her accomplishments.
"I just tried my best and it worked out," she said. "I'm just glad to have thrown strikes."
Hicks was undoubtedly the MVP of the first game, but plenty of other Falcons got their chance to shine. Julianna Lozano hit .500 and had 2 RBIs to her name. Teammate Madison Mix got in the mix as well, going 2-for-3 and hitting her first inside-the-park home run.
The Buccaneers didn't fare much better in the second game, as the Falcons rolled over them, 22-3. Vilseck's Mianie Dean batted a perfect 1.000 with 2 RBIs and her teammate Ashley Irby went 2-for-2 and drove in a solitary run.
Baumholder ends the season without having tasted victory, but the team's captain said they try to not let that keep them down.
They, like every other team in DODEA-Europe, will now focus on the European finals being held next week. There, everybody starts with a 0-0 record.
"It's been a tough season," Baumholder's Haley Koehler admitted. "We know it's just for fun…so that's what we try to keep in mind."
Koehler pitched both games for the Buccaneers, chalking up four strikeouts between the two. She said she hopes her team can improve and surprise some people in Kaiserslautern next week.
"I know we can do better," she added. "This is not one of our best times."
Conversely, the Falcons' consummate team effort has them heading off to next week's finals on the highest of high notes.
Win or lose, though, the Falcons say they're going to look fondly back on the 2016 season – and their pair of resounding victories to cap off the year.
"I'm so happy to be on this team," Mix said. "A lot of them started from nothing and they've improved so much, I'm very proud of them."
---
---
---
---