Boys soccer - Day 2
Upstarts elbow way into semis alongside favorites
---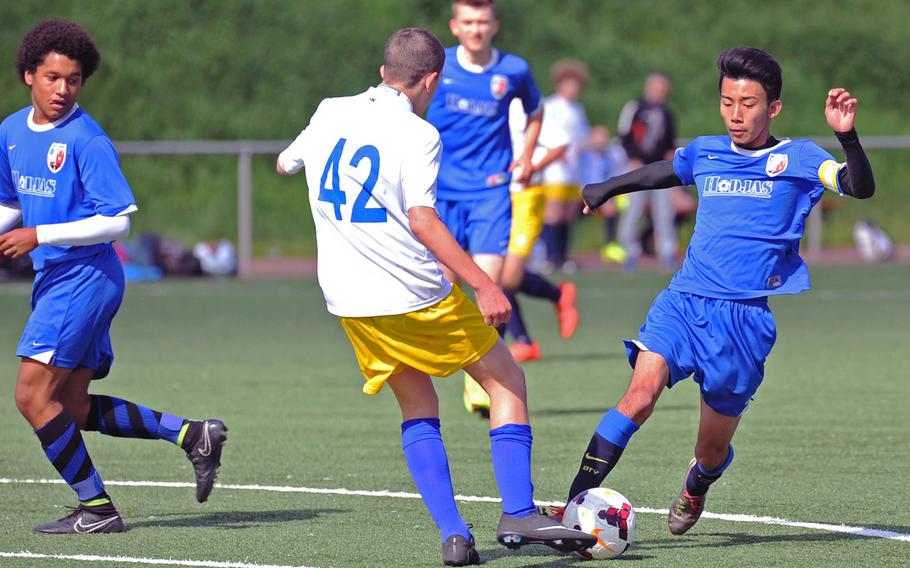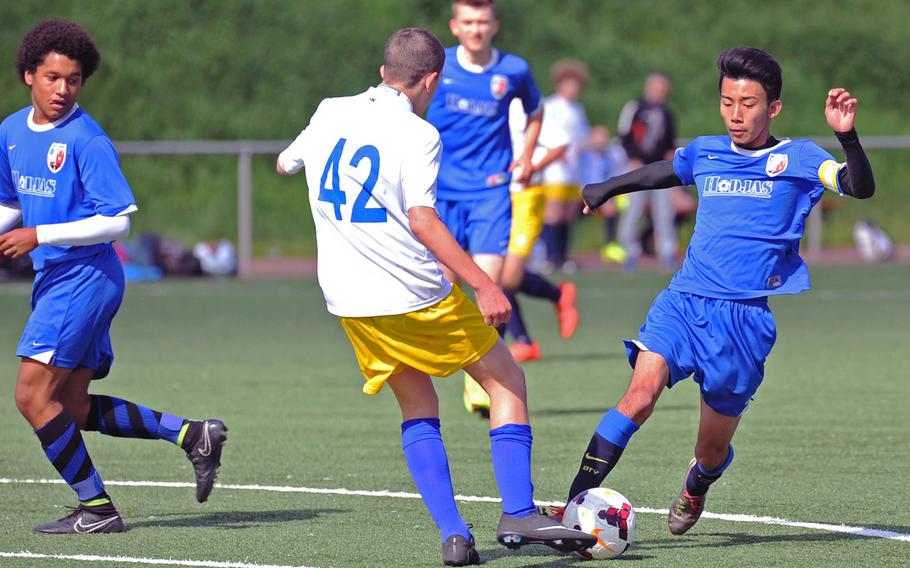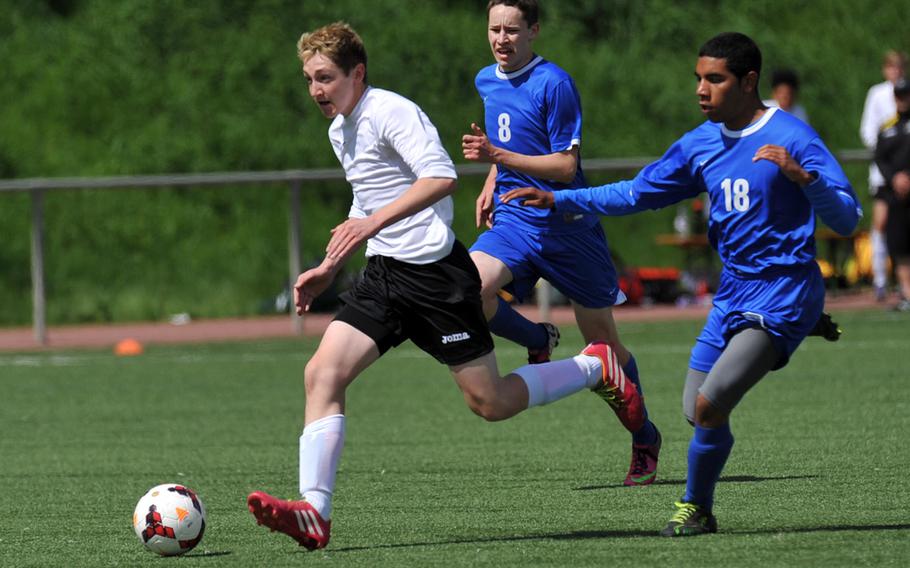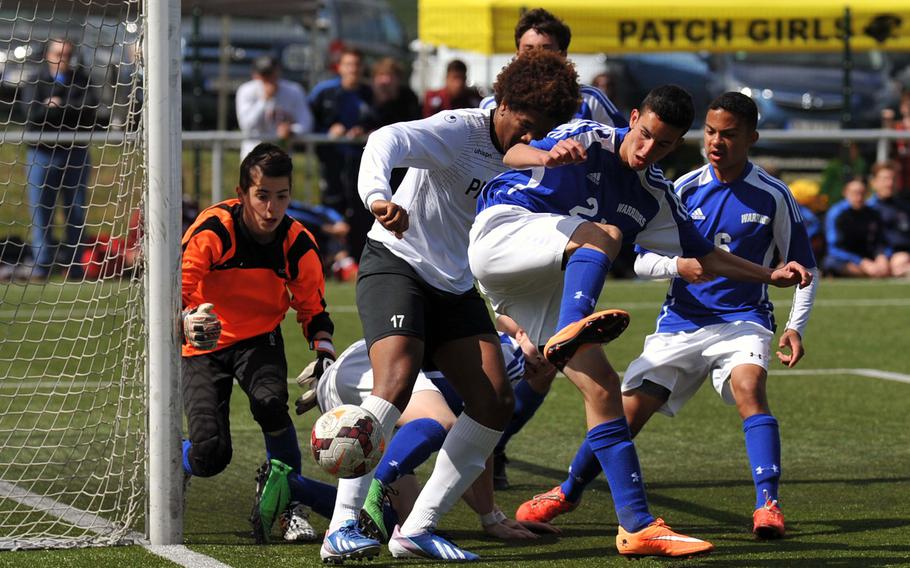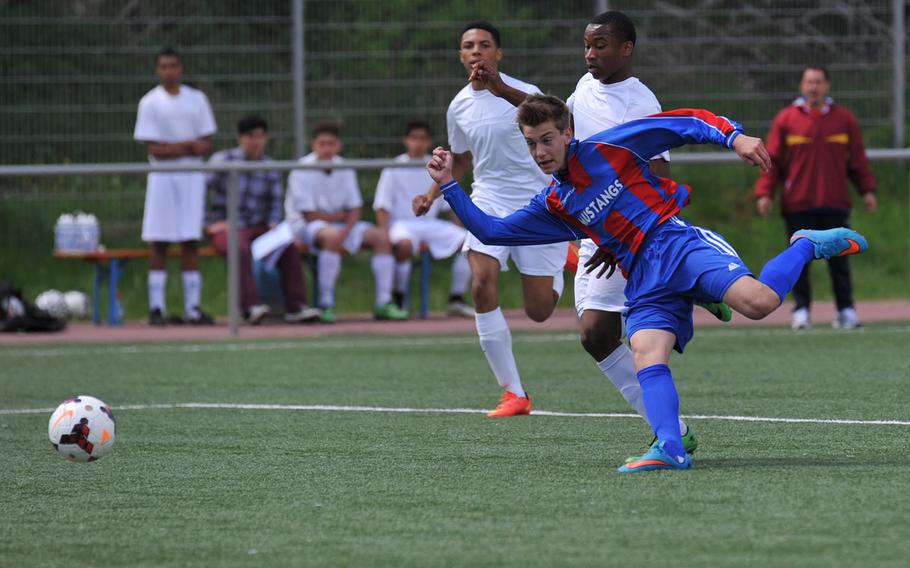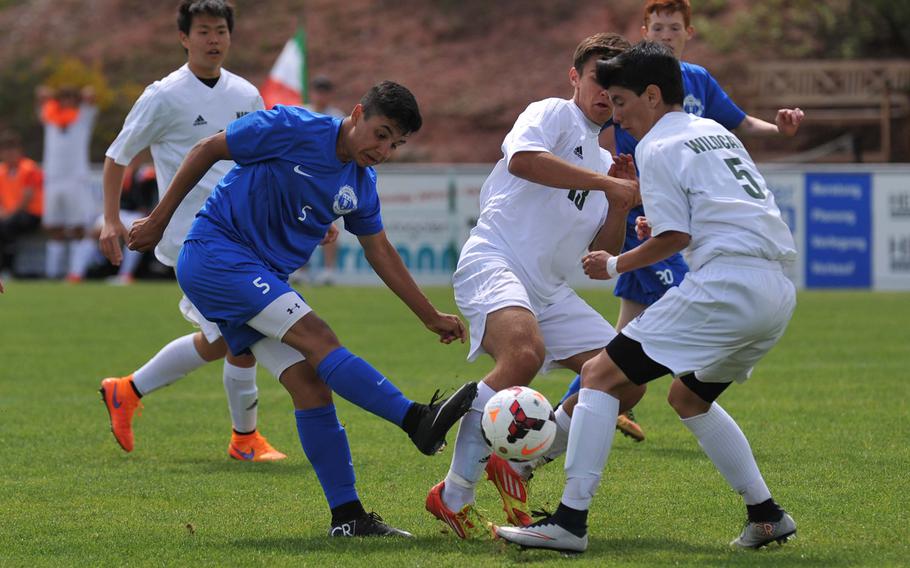 Chaos eventually gave way to order Tuesday as eight divisional semifinalists emerged from two crowded and competitive DODDS-Europe boys soccer brackets.
The second day of the four-day European tournament didn't divulge its Division I and II semifinal matchups until daylight was nearly exhausted, but the final four in each of the two divisions is now set for Wednesday. Kaiserslautern will face International School of Brussels and Wiesbaden will take on Ramstein in Division I. The Division II semifinals pit Marymount against AFNORTH and upstart Bahrain against Black Forest Academy.
Division INaples 2, Kaiserslautern 2: Appropriately enough, a tie game failed to produce an immediate celebration. Instead, the moments after the fourth-seeded Raiders played the top-seeded Wildcats to a draw were filled with trepidation. Kaiserslautern players and coach Enrique John rushed from the field to the desk where DODDS-Europe officials sat busily tabulating the two teams' goal differential in the tournament and determining which of the two would advance to the semifinals.
"I kind of knew we were going through, but coach kind of scared us for a second," said Raider forward Alexander Dexter, who scored both of his team's goals. "We had to go back and double-check."
As it turned out, Dexter was correct. The Raiders survived on a sizeable advantage in the tiebreaker, the product of pool-play wins over Lakenheath and SHAPE earned by a combined score of 14-5.
Dexter knowingly pointed out the irony of his team being rewarded for piling goals on overmatched opponents.
"It pays to score even when you're winning," the smiling sophomore said.
After officially confirming his team's semifinal berth, John paused to reflect on the situation.
"This is the joy of a tournament," John said. "You always have the unknown, and we have the happy end."
As it turned out, Kaiserslautern conspired with its fierce rival Ramstein to oust top-seeded Naples, a new arrival on the Division I scene. The two homestanding Kaiserslautern Military Community schools and stalwart Division I programs chased off the interloping Wildcats; Ramstein's 3-1 win over Naples earlier Tuesday sent the Italian team into a win-or-go-home game against Kaiserslautern in the first place.
Nicholas Meza, Dominic Kubas and Kaleb Hoopes scored for Ramstein against the Wildcats. The Naples goal was the first score Ramstein has allowed in the tournament.
Though Naples fell short of a semifinal spot, John said the Wildcats added a new dimension to what had become a stagnant big school bracket.
"They added a lot of flair to this division," John said. "They're a technically good team."
ISB 1, Patch 0: A lone goal by ISB junior Ingunnarson Asgeir ended Patch's season in heartbreaking fashion.
The Panthers' loss opened the door for sixth-seeded Wiesbaden to claim the pool's other available semifinal slot alongside the Raiders.
The Warriors put Patch in the uncomfortable position against ISB by playing the second-seeded Panthers to a 1-1 tie on Tuesday. Wiesbaden advanced with one win - against ISB on Monday - and ties against Vicenza, Vilseck and Patch.
Third seed ISB knew its margin for error was thin in the impossibly evenly-matched bracket. That's why Raiders coach Philippe Kaisin encouraged his players to uncork any shot that might conceivably find the net around a desperate Panther defense.
"There were no big chances in this game," Kaisin said. "I told them: half a chance, you've got to make it."
Asgeir did just that to extend his team's season.
"Luckily it bounced off my shin pad," Asgeir said of his decisive goal. "A bit of luck, but that's what you need to do."
Division IIBahrain barges into semis: The task of assigning a seed to Bahrain, a team without any regular season DODDS-Europe games, was all but impossible. The Falcons were ultimately slotted in at No. 8 in the 10-team bracket.
Bahrain wasn't sure where it ranked either. But the team knew it belonged. Now the Falcons have proven it.
Bahrain stormed into the semifinal round with a 2-0 win over fourth-seeded Hohenfels and a 5-0 rout of Ansbach. The Falcons lost just one pool-play match over two days, a 1-0 decision to defending champion and No. 1 seed Marymount on Monday.
With its offense dominating the action against Ansbach, Bahrain didn't need much active participation from goalkeeper Abdulaziz Kanoo. But the freshman made a penalty-kick save to preserve the shutout win.
His teammates capably handled the rest. Senior Adeeb Qaisi posted a three-goal hat trick against Ansbach and also scored against Hohenfels.
"We were kind of upset, to be honest," Qaisi said of his team's low-bracket status. "We knew we were better."
Marymount earned the chance to extend its Division II dynasty with a 2-0 defeat of Hohenfels, ousting the fourth-seeded Tigers in the process.
Black Forest Academy 4, AFNORTH 0: An anticlimactic late-evening match between the tournament's second and third seed went decisively to the No. 2 Falcons.
Both teams were assured of advancing to the semifinals regardless of the outcome. BFA clinched its spot earlier in the day with a 3-2 defeat of American Overseas School of Rome; AFNORTH punched its ticket by shutting out Aviano 2-0.
The loss sends the Lions into a rematch of last year's European championship game against Marymount, though victorious BFA might have been rewarded with an equally imposing opponent in soaring Bahrain.
Division IIISigonella 1, Ankara 0: The Jaguars have fallen into an unusual rut.
Sigonella struggles through a winless regular season against larger Italian opponents. Then the team shakes off that frustration to make a run at a divisional title versus similarly sized schools.
The unorthodox formula produced a European title a year ago. And this tournament got off to a promising start as the fourth-seeded Jaguars edged fifth-seeded Ankara.
The more experienced Sigonella players have learned to leave regular season frustrations behind when they enter the postseason.
"By now I'm already used to it," said junior Dylan Van Wynsberghe, a veteran of the 2014 championship team. "For the new players, they get really discouraged. As long as we keep our heads up..,we can go on to win it."
Bailey Jones scored the game's only goal. Keeper Winston Sappenfield posted a five-save shutout.
The Jaguars' win streak was stopped at one later in the day as they fell to eighth seed Brussels 1-0.
Only No. 1 seed Alconbury will take an undefeated record into the second day of the small school tournament. The Dragons beat Brussels 6-2 and Ankara 3-0.
Twitter: @broomestripes
---
---
---
---