Undefeated Ramstein was in good hands with Athlete of the Year Walker
by
Gregory Broome
June 5, 2017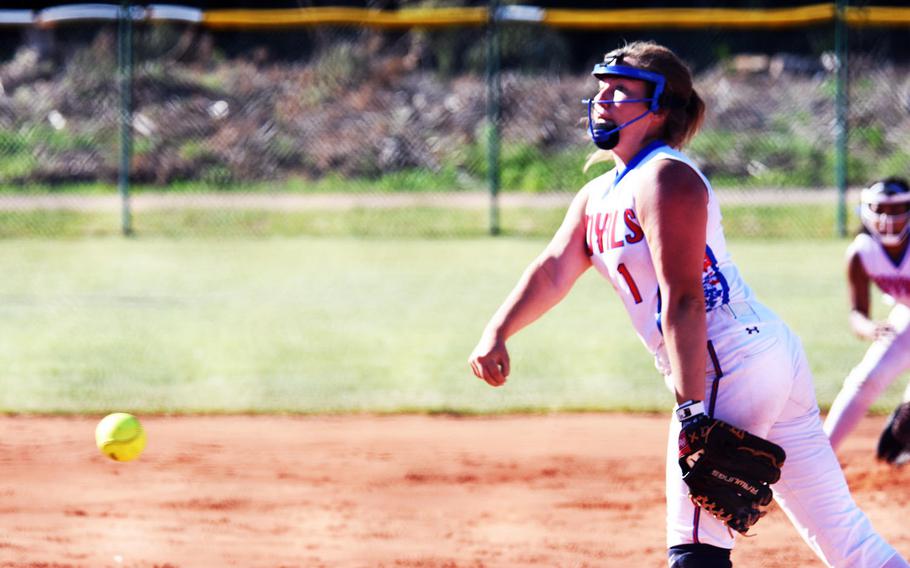 Sports is supposed to be fun. In that case, Abby Walker is playing the right way.
The Ramstein Royals ace softball pitcher enjoyed a nearly perfect season this spring, leading her team to an undefeated season and the DODEA-Europe Division I championship while claiming the MVP award for the European tournament. The latest arrival at the party is the Stars and Stripes softball Athlete of the Year award.
Walker's rollicking season was fun on every level, from practice to games and from the pitching mound to the plate.
Start with practice, where Walker regularly faced the toughest lineup she encountered all season: her own Royal teammates. Ramstein produced double-digit runs in all but one of its 17 games this spring, including the regular season and postseason. Walker was confronted with that lineup twice a week, and she admits they got their share of hits.
"It's definitely a lot more challenging, especially because they get so used to me pitching," Walker said. "They all know how to hit my pitches."
But that familiarity worked both ways.
"I know every single girl on my team. I know how they hit," Walker said. "It's kind of fun to get to know your teammates like that, especially as a pitcher."
Those competitive practice sessions left Walker thoroughly prepared for the games. Eased of the burden of facing Europe's most potent batting order, Walker was comprehensively dominant. Ramstein coach Steve Kennedy reported that she needed just 983 pitches to get through 73 innings, a remarkable average of just 13 pitches per inning to retire the side. She scattered 34 hits, 29 walks and 11 earned runs throughout the spring while recording 75 strikeouts and pitching to a 1.05 earned run average.
Knowing that the lineup that challenged her in practice was now aiding her cause made the whole process easier, Walker said.
"It's great knowing that you have the girls backing you up," Walker said. "I have a great team and I always trust them."
Walker's on-field fun wasn't confined to Ramstein's defensive half-innings. Walker, attributing the opportunity to the Royals' new coaching staff, was allowed to take her place in the Ramstein batting order this year after previously ceding her at-bats to a designated hitter. She made the most of the long-deferred plate appearances, producing a .385 batting average and 17 RBI.
"I enjoy hitting a lot," Walker said. "I was really excited."
That was the theme for Walker and the Royals, among the most dominant champions in any team sport in recent DODEA-Europe history. But Walker isn't satisfied just yet.
"I'm going to be working a lot this summer," said Walker, who plans to return to Ramstein for her senior season next year. "We always try to push ourselves here."
broome.gregory@stripes.com Twitter: @broomestripes