Two-a-days: New head coach, new personnel - same Ansbach?
---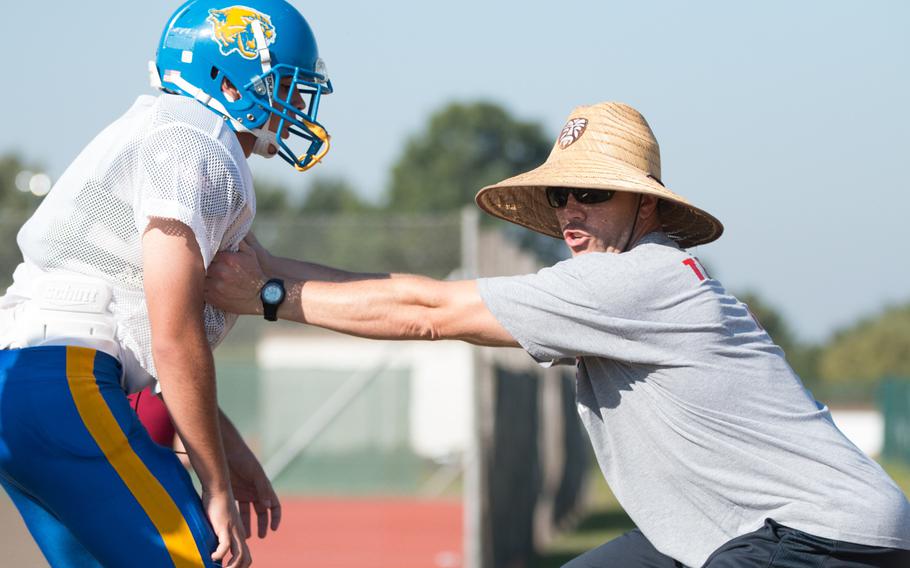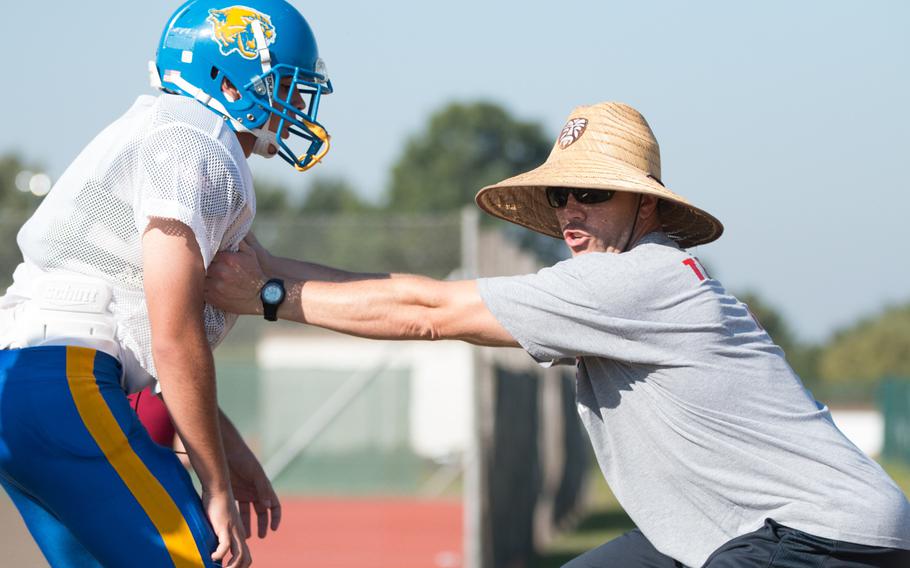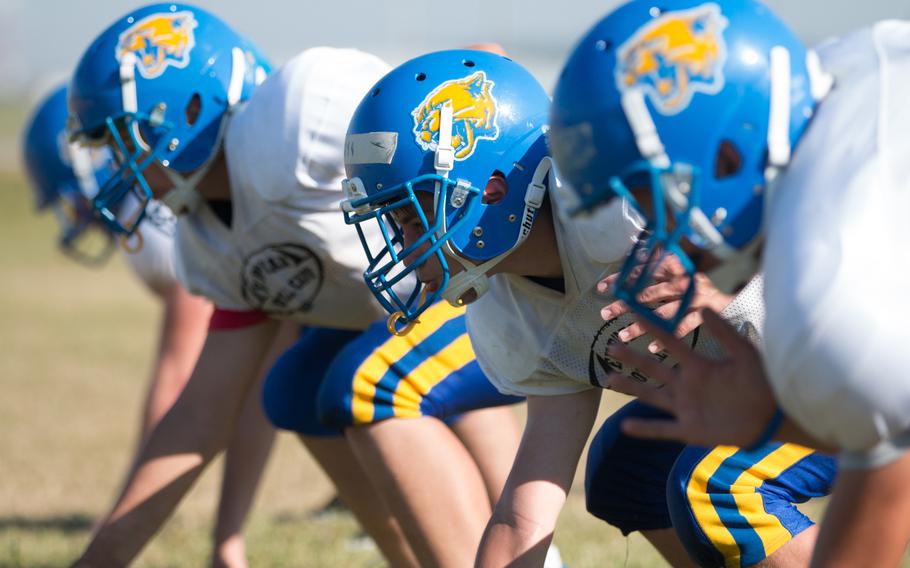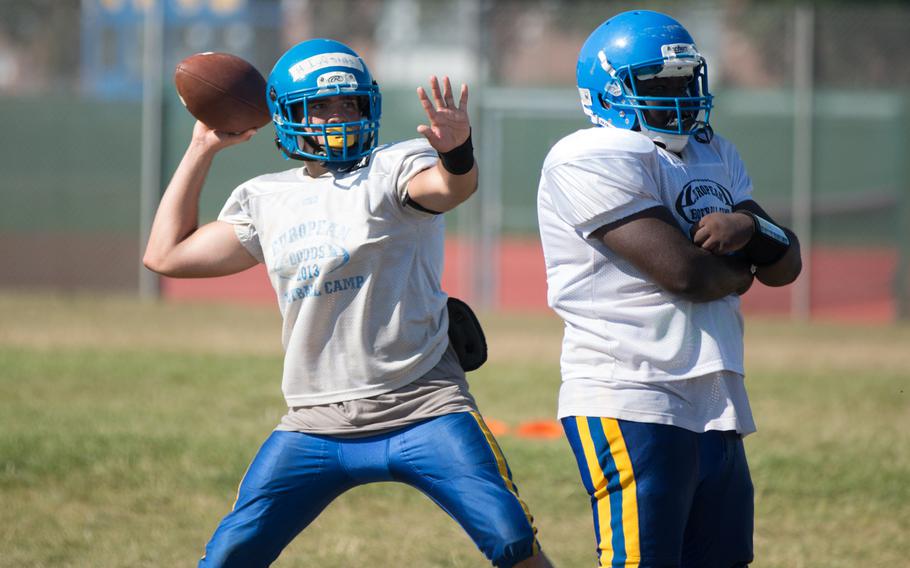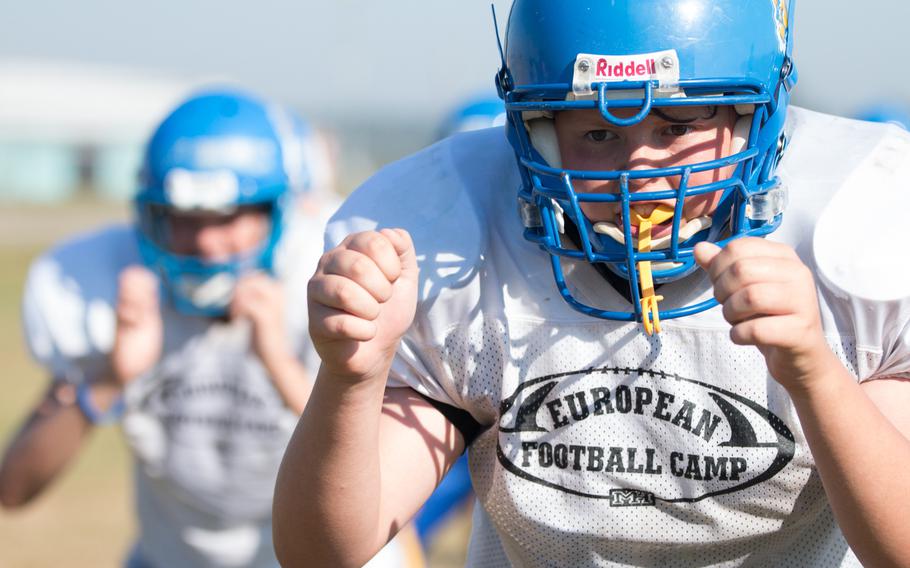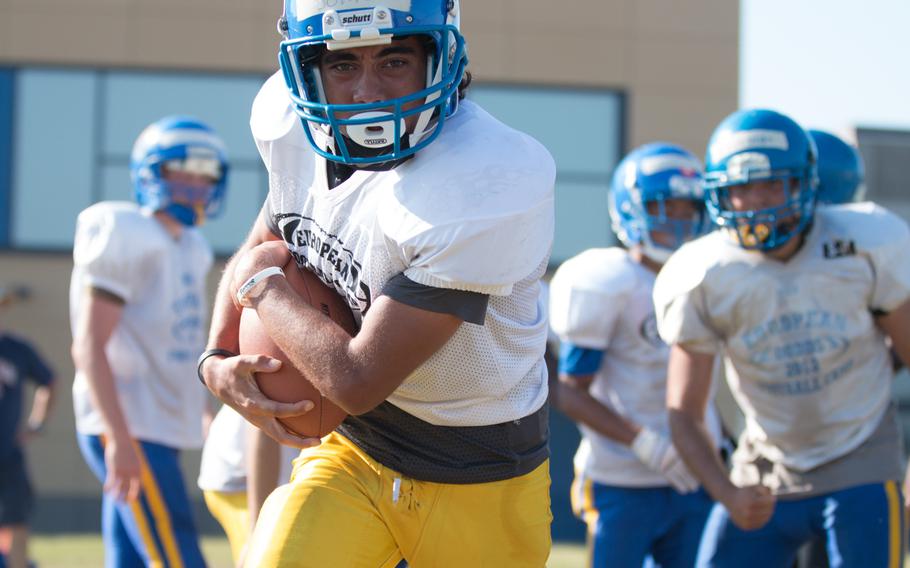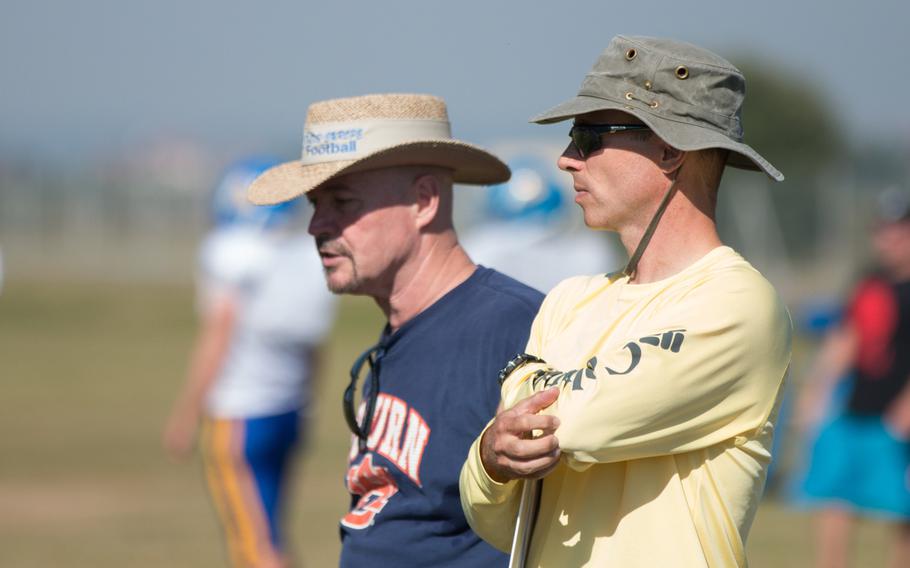 Second in a series of glimpses at high school football camps around Europe.
ANSBACH, Germany – The big question for the Ansbach Cougars is how the team will respond to the departure of coach Marcus George, who won more games than any other coach in DODEA-Europe history.
George finally made good on his perennial promise to retire. Since joining the team as head coach in 2001, George lead the Cougars to five European championships and numerous unbeaten seasons, including 2014 and 2015.
George couldn't resist working with the team just a little bit longer before departing for Fort Benning, Ga., but deferred all major duties to new head coach Stephen Choate during a two-a-day practice held Saturday. Choate knows he has big shoes to fill and wasted no time during the off-season working toward a Cougars three-peat.
"There is no better time to start your head coaching career than coming in to back-to-back championships," Choate said. "We've lost one game in three seasons … I think there is definitely some pressure there.
Choate added that while the pressure is on, he's not overly concerned. His coaching staff, despite the loss of George, remains much the same as it has for the past four seasons. While some of last year's all-stars such as Tyler Benton and Bailey Ward have moved on, a core group from the 2015 championship team remains to help bridge the gap.
"A lot of things aren't going to change. Ansbach football is Ansbach football," Choate said. "We're right now trying to fill out where to get people to help us the most. So there is some shifting happening."
Some of those returners, such as All-Europe defensive end/middle linebacker Jox Baughman will be returning to the positions they know best. Others will be moving around to fill the gaps left when last year's seniors graduated and others changed schools.
Some veterans, like Hiromi Inglesias, will be filling much bigger roles than in years past. He and his brother, Dahomey Inglesias, are fighting for the starting quarterback role. Right now, Hiromi has the edge.
While the Cougars have two options for quarterback, that's one of the few positions the team can be said to have any real depth to it. Ansbach's student population continues to dwindle, and with it, the football team's bench.
Roughly one-third of the entire student body will lace up cleats as Cougars this year. One injury, one bad report card, one poorly-thought out weekend could wreck this team. The coaches know it; the players know it. The motivation to win is strong with the 2016 Cougars, but even stronger is the desire to not let down a tradition of success that has spanned decades.
"I want it again it so bad this year," Dahomey said. "I don't want to let that legacy down."
---
---
---
---