Two-a-days: Defense still holds court at Ramstein
---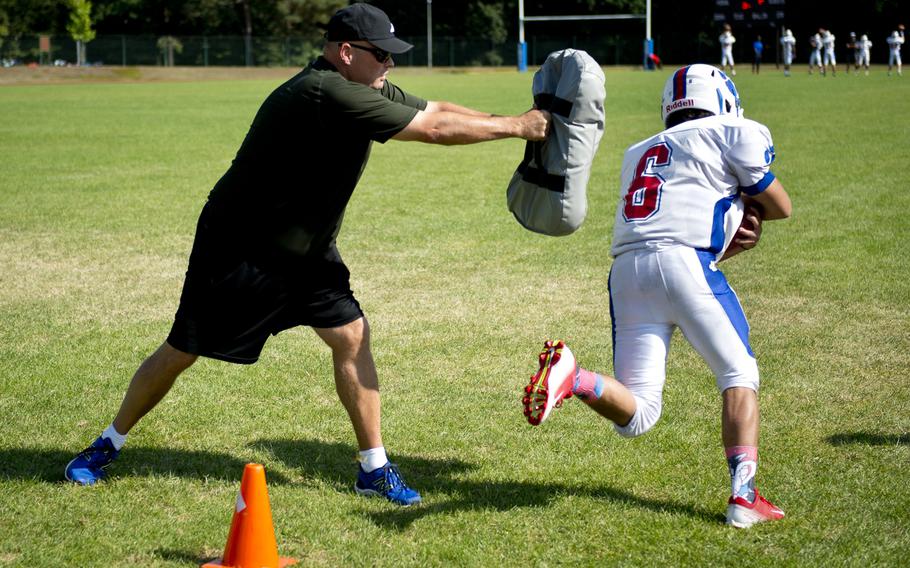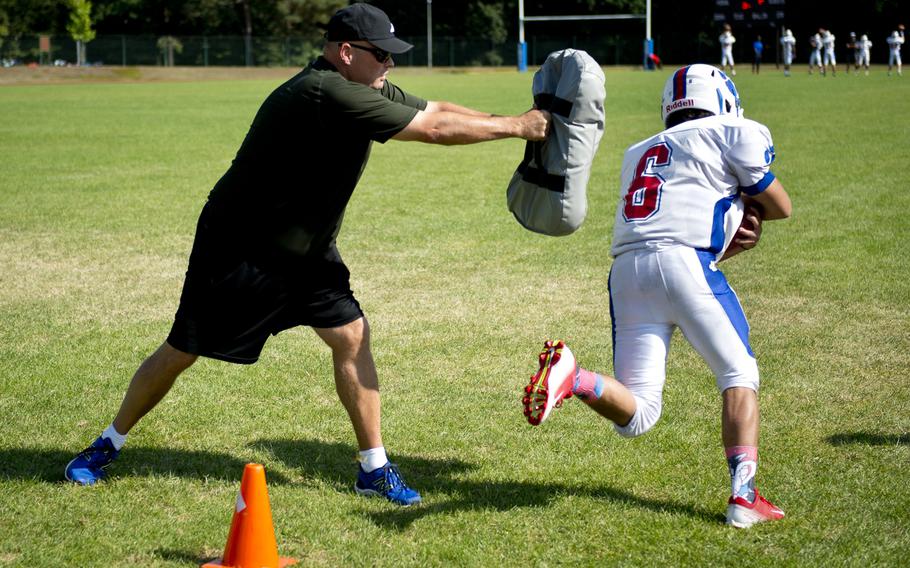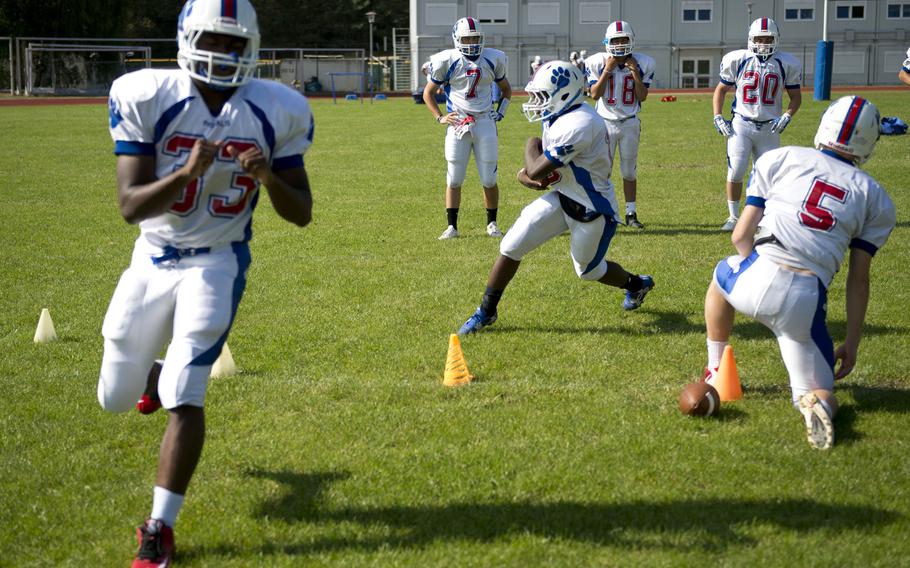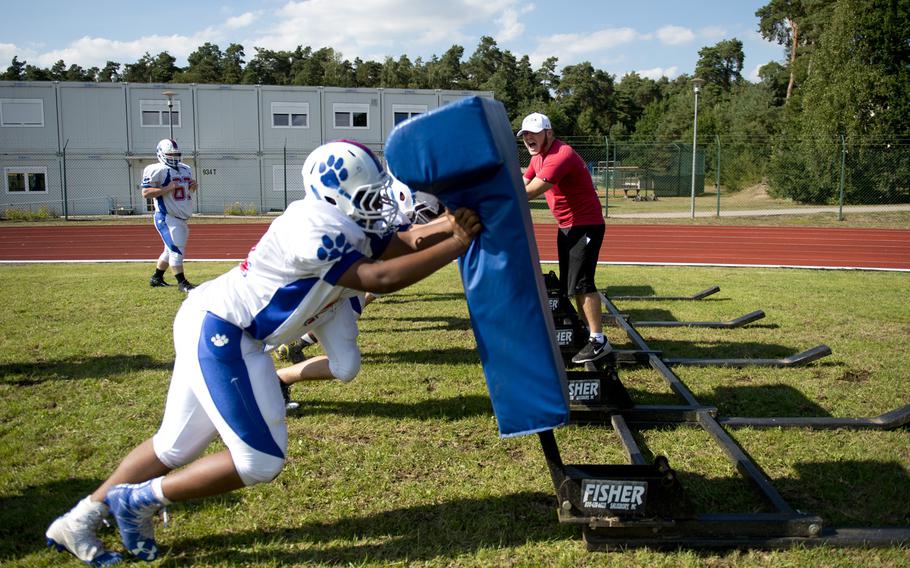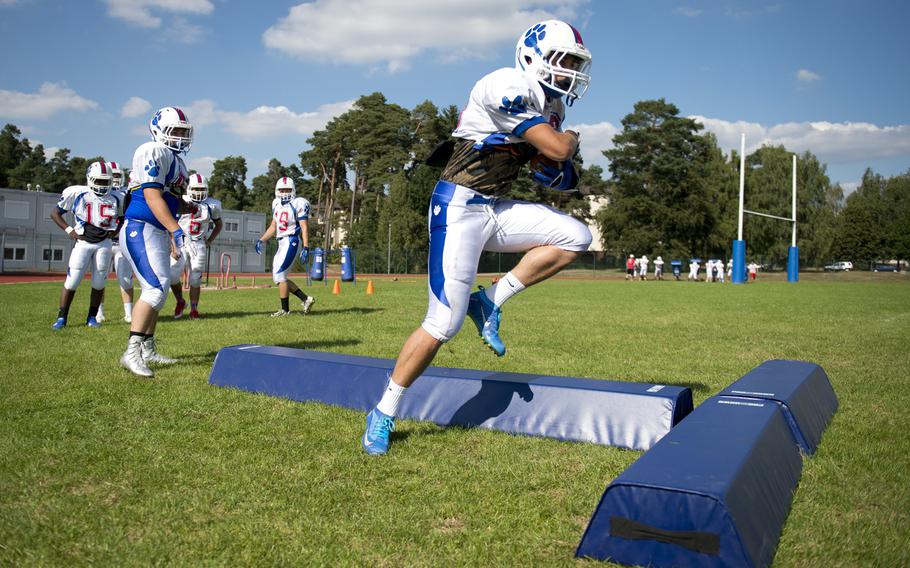 Seventh in a series of glimpses at high school football camps around Europe.
New Ramstein head football coach Carter Hollenbeck allows that it will take time for his team's offense to get "into sync.". In the meantime, the Royals will need to "rely heavily on the defense."
That shouldn't be a problem for Hollenbeck.
The newly promoted head coach was the defensive coordinator for recent Royals teams that were some of the stingiest in recent DODEA-Europe memory. Hollenbeck was the architect of the group that shockingly shut out high-powered Wiesbaden in the 2014 Division I European championship game. Last year, the Royals allowed double digits just once.
Hollenbeck will continue to orchestrate the defense as head coach, so that unit is likely to remain a strength for the Royals. It's the other side of the ball where there is room for growth.
Hollenbeck hopes to unleash a "diversified" attack this fall, utilizing the various playmaking skills of senior standouts such as Brendan Hicks, Sid Boggs and Kyle Glenn. The Ramstein coach said he might even borrow pages from some of Europe's more dynamic offensive playbooks - the very ones Hollenbeck has proven so adept at neutralizing.
The Royals were bounced from title contention last season in a thrilling 10-8 semifinal loss to eventual European champion Stuttgart. That would register as a successful season for many Division I programs, but for the Royals it was a step down from their usual standards.
That setback might have set the stage for Ramstein to return to its accustomed heights. Many of the squad's key players in 2015 were sophomores and juniors forced into expanded roles by that group's relative dearth of returning, established stars. Now, those sophomores and juniors, respectively, are juniors and seniors. They've got not just big-game experience, but high-usage experience in those big games.
That could be enough to get Ramstein back to the biggest game of all.
---
---
---
---