DODDS-Europe softball
Traditional powers should get tested
by
Rusty Bryan
May 25, 2011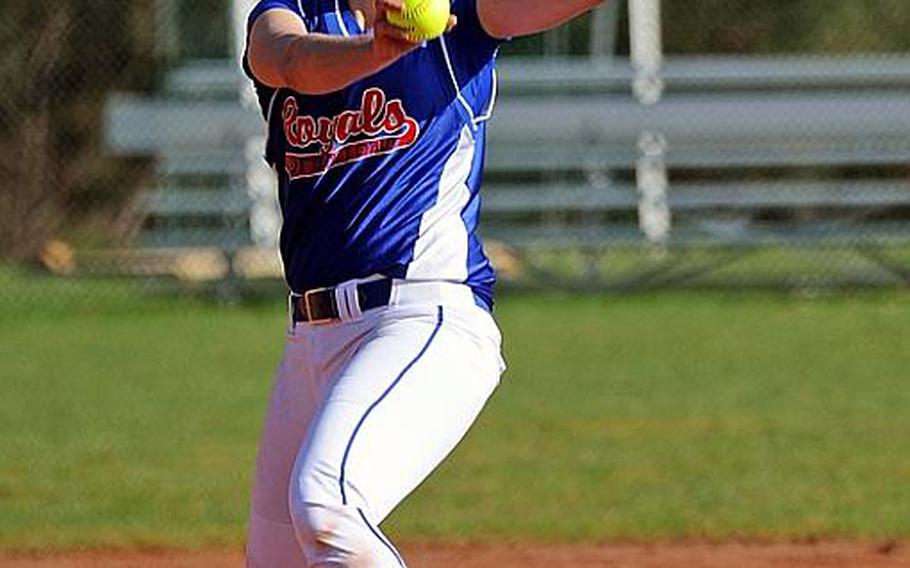 KAISERSLAUTERN, Germany — The winds of change might be blowing when the 2011 DODDS-Europe softball championships open this morning at Ramstein High School and Pulaski Barracks in the Kaiserslautern military community.
Sure, the schools that recently have dominated the sport are in the title hunt again. In fact, two of them — three-time defending Division I champion Ramstein and two-time defending D-II champion Naples — earned No. 1 seeds as they open their title defenses.
But don't engrave the trophies just yet, because each faces challenges.
In Division I, Ramstein (13-1), which replaced four departed All-Europeans from its 2010 championship lineup, saw its 46-game winning streak snapped this month. Moreover, the D-I field includes star-studded challengers in Patch (13-1) and Vilseck (12-2), teams that Ramstein did not play during the regular season.
Naples (10-0), likewise, isn't home free. Its biggest challenge is expected to come from No. 2 seeded AFNORTH (10-4), the team that snapped Ramstein's streak with a 13-10 road victory on May 7.
And who knows what's up in D-III, where only No. 2 Alconbury and No. 3 Rota, the defending champions and six-time winners of this event, have faced another school of their size? Alconbury swept the champs 12-5 and 11-5 at home April 30.
Here's a division-by division look at the three simultaneous events, which begin Thursday and end at Ramstein High School on Saturday:
Division ITitle contenders (as cited by coaches surveyed) — Ramstein, Patch, Kaiserslautern, Vilseck.
Key pool-play games — Ramstein-Vilseck and Patch-Kaiserslautern (both 10:45 a.m. Friday at Ramstein High School). If the seedings hold, all four are expected to advance to the semifinals later in the day, but the games are the first time each power has faced the other this season.
Players to watch — Shutdown pitchers who are tough outs at the plate. Start with All-European Kelsey Freeman, a Ramstein sophomore who has a no-hitter on her 2011 résumé and power at the plate, then look at three-time Patch All-European Bianca Lopez, also with a no-hitter under her belt this season who last week hit two home runs against Wiesbaden. Also in Freeman and Lopez's league are the Vilseck pitching duo of Deraj' McClinton, batting an eye-popping .675, and Taylor Hall. Both have no-hitters this season.
Summary — Vilseck coach Jim Hall says Ramstein's "experience and leadership will make them hard to knock off, but AFNORTH has proved it can be done. Patch and K-town are two other teams that will bring their experience to the tournament and be tough to beat."
Division IITitle contenders (as cited by coaches surveyed) — Naples, AFNORTH, Bamberg, Bitburg
Key pool-play games — AFNORTH-Bamberg (12:30 p.m. Friday at Pulaski Barracks), Naples-Bitburg (4:30 p.m. Friday at Pulaski). As was the case in D-I, all four are expected to advance to Saturday morning's semifinals at Ramstein, and, as in D-I, it will be the first time the four have tested each other.
Players to watch — For the two-time champs, turn your attention to two-time All-European Caitlin Eckert, a pitcher-shortstop, pitcher Cindy Olivo, who struck out 10 in a two-hitter last week against D-III top seed Sigonella, and batting stars Tara Carrico and Melody Fears. AFNORTH can counter with Rylee McKinney, who got the win against Ramstein, and hard-hitting Brenda Broadwater, while Bamberg will rely on freshman pitcher Alyssa Garrido and mound-mate Katherine Street, according to Lady Barons' coach Terra McAllister, plus catcher Vanessa Williams. Bitburg's anchors are All-Europe first baseman Shannon Dougherty and catcher Brandi Oliver.
Summary — Bitburg coach Daniel Vasquez thinks the D-II field "will probably be the most competitive and balanced division" this year, but adds, "the road to the D-II championship runs through AFNORTH."
Division IIITitle contenders (as cited by coaches surveyed) — No. 1 Sigonella, No. 2 Alconbury
Players to watch — Sigonella, which finally will get to play schools of its own size after a 4-6 season vs. D-II clubs, fields two returning All-Europeans in Lizz Adams and Courtney Albert, both pitcher-shortstops. According to Lady Jaguars coach Amy Driscoll, Albert averaged eight to 10 strikeouts per game against D-II foes.
Alconbury is led by pitcher Marissa Coles, one of the team's best hitters. And rebuilt Rota welcomes back All-Europe sophomore pitcher Natalia Rivera, but no one else from its 2010 championship roster.
Summary — Sigonella's the odd-on favorite, but don't rule anyone out, particularly when no one except the Lady Hodjas themselves knows what No. 4 Incirlik will bring to Germany.
As Mannheim coach Amanda Rogers, whose team is the last one in school history to be wearing Bison colors, put it in an email: "The beauty of a DODDS tournament is that everyone has a chance at the start of it, no matter what your regular season looked like."