Top wrestlers move on to compete for titles
by
Norman Llamas
February 8, 2020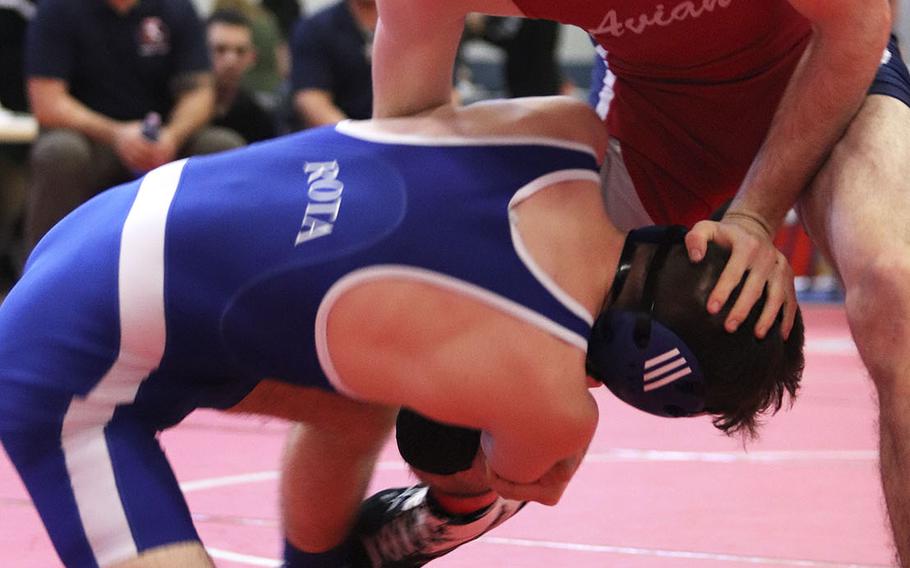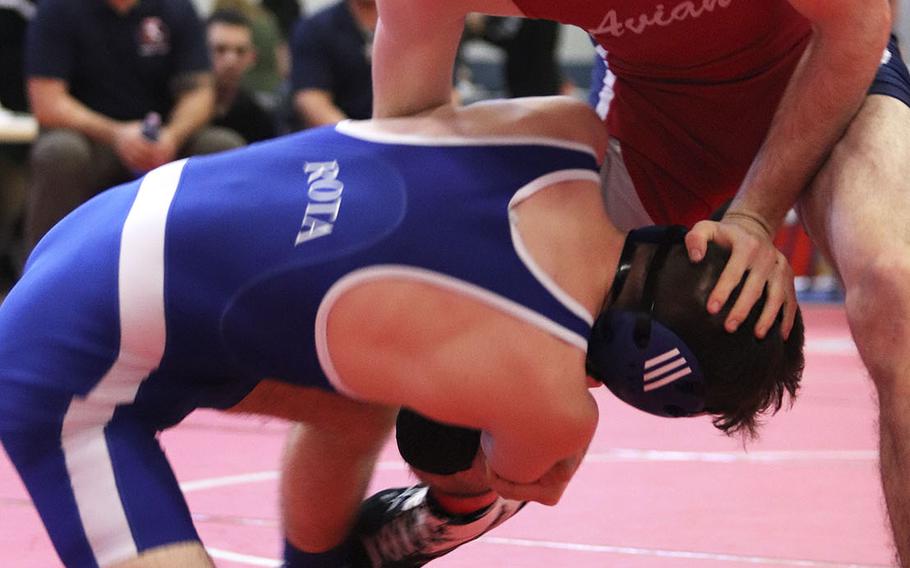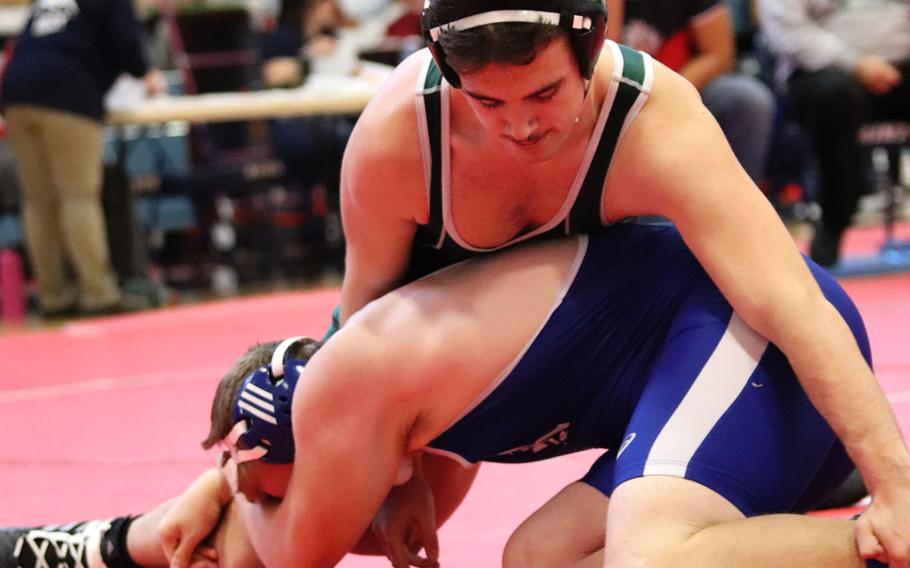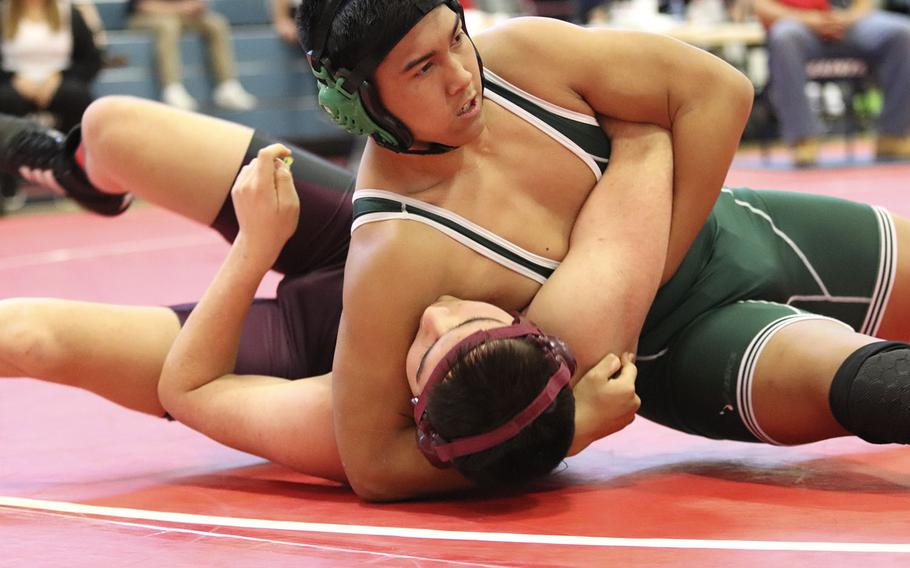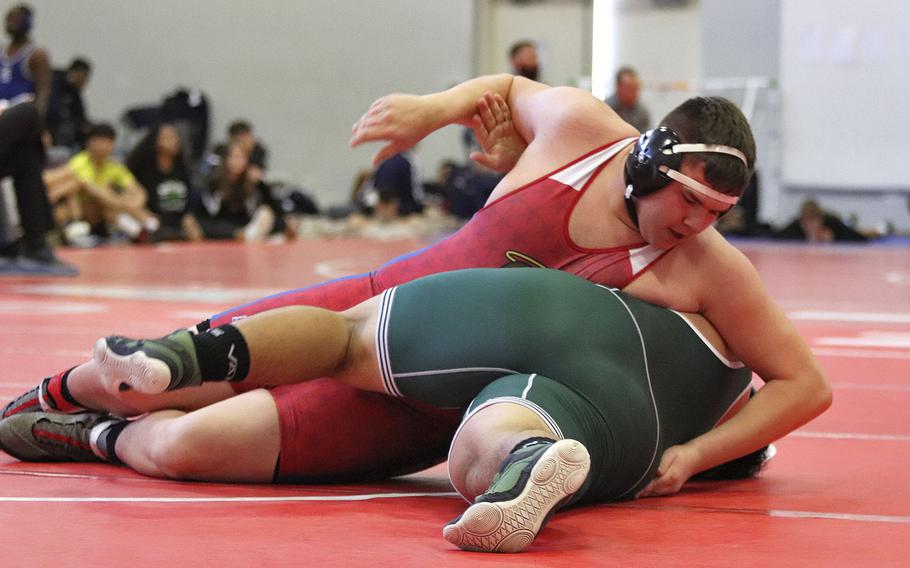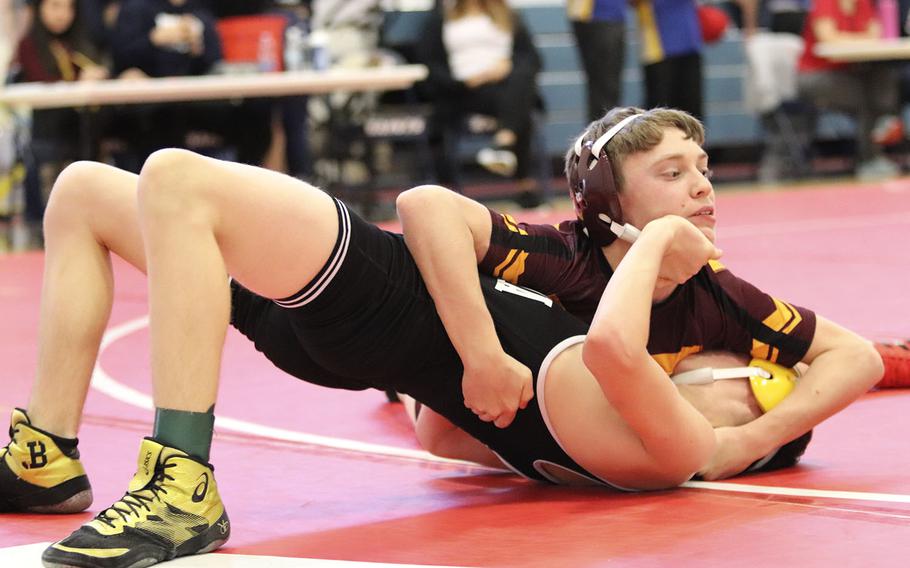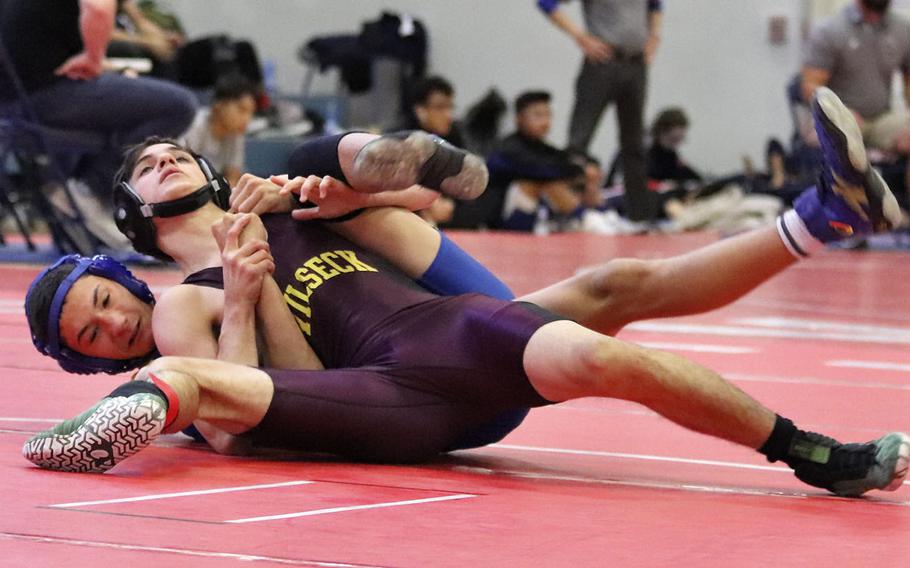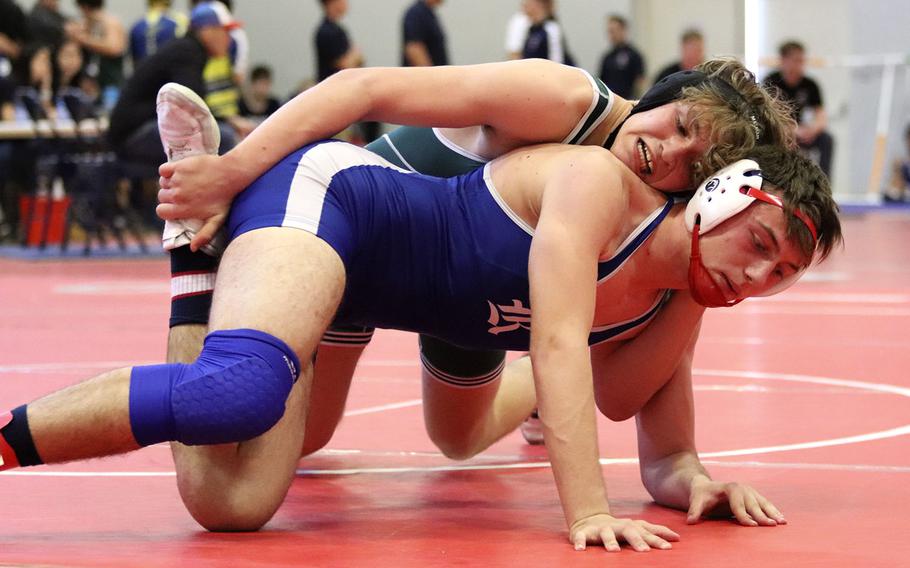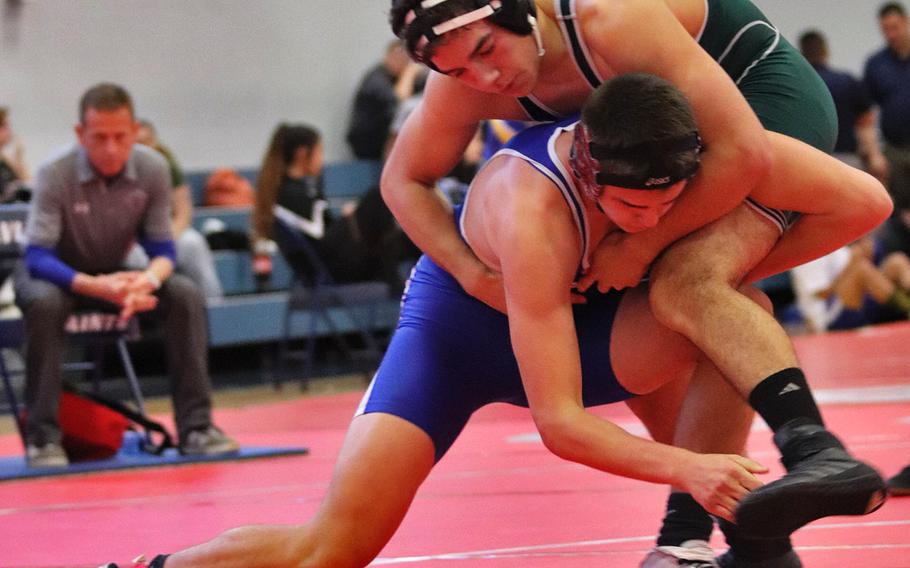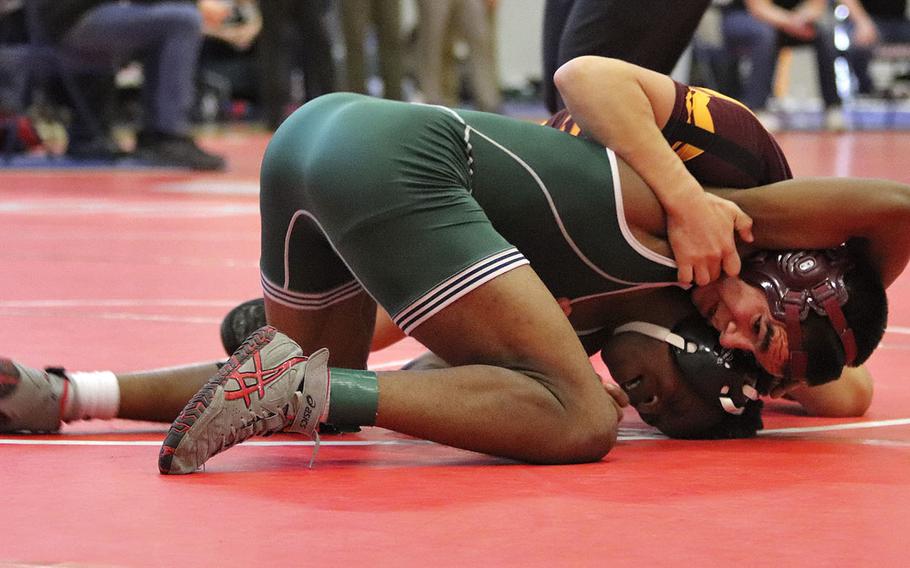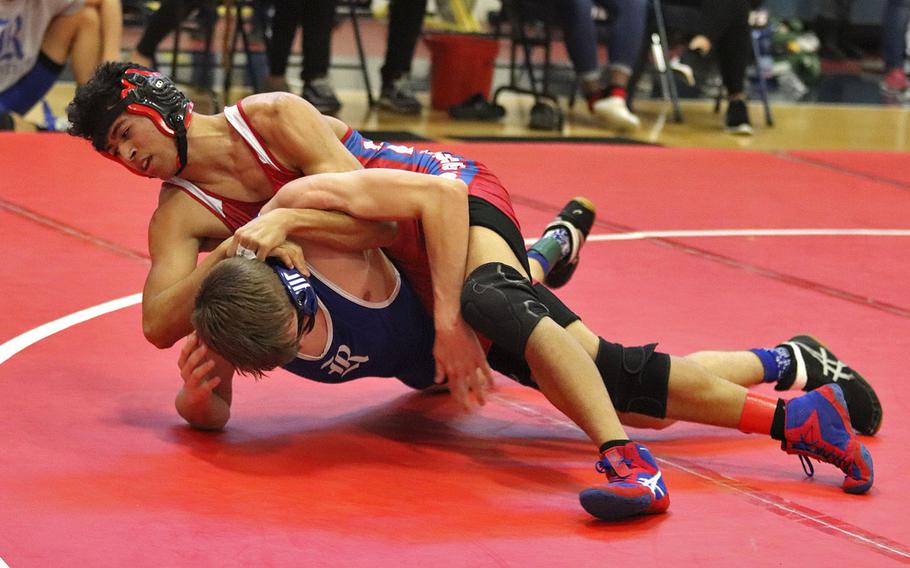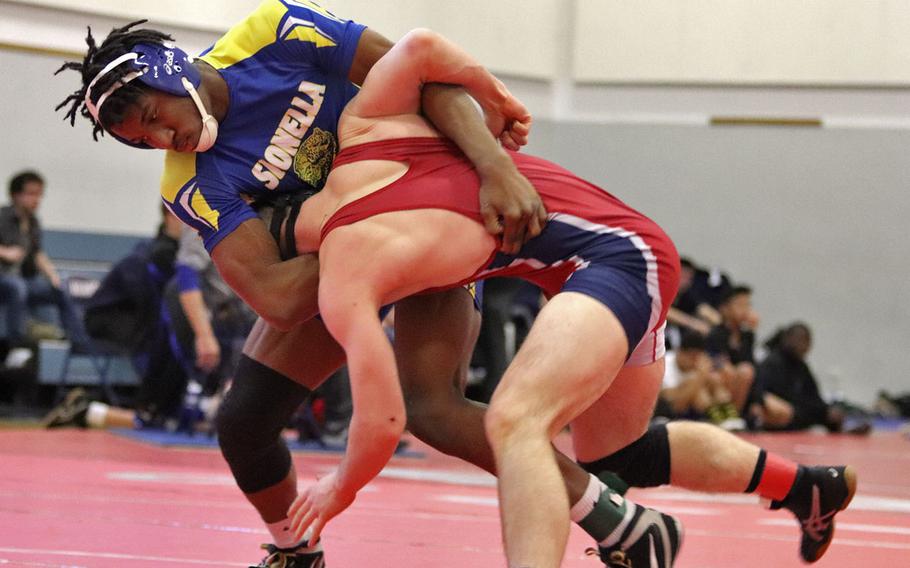 AVIANO AIR BASE, Italy – Right from the start, fans cheered loudly Saturday for their respective wrestlers in the Southern section wrestling meet.
More than half of the first 20 matches were won by pin.
But despite the quick wins that got the day started, most of the matches were pretty competitive. Matches between Division II rivals Rota, Naples and Aviano were cheered the loudest.
Wrestlers from seven DODEA-Europe schools competed in 14 weight classes. The top qualifiers in each weight class advanced to the European championships in Wiesbaden, Germany on Feb. 14-15.
"We're winning a lot more matches than we expected," Xavier Diaz, the Saints' wrestling coach, said during the meet's lunch break. "We're finally clicking, and it feels good to see it all working how it's supposed to."
Diaz, a staff sergeant who is an F-16 maintenance instructor with the 372nd Training Squadron, has been with the Saints for the past four years and played a part in Aviano winning the Division II championship in 2017 and 2018 and a third-place finish in 2019.
Saints senior Nick Smith qualified, though he fell to Sigonella's Amari Pyatt in the championship match.
Pyatt, who went undefeated last year on the way to a European title, is originally from Belleview, Neb.
"I'm doing good and I'm excited," he said before the first-place match, which he won by pin.
Wrestlers and their coaches experienced a mixture of highs and lows throughout the day.
"Today has been a mixed bag for us," Rota coach Luke Spencer said. "We had a couple of injuries and some of the wrestlers didn't wrestle as good as expected."
However, things did turn around for the Admirals after the lunch break. "After the break we had a couple of quick pins," Spencer said. "I told my wrestlers to not focus on the results but rather to focus on the process."
Rota won the division a year ago and the team's motto is "Process over Product."
"We're happy to be here, we feel very fortunate to be able to compete," Spencer said. "Wrestling is growing at Rota and we're just happy to be able to continue competing."
Some of the story lines from last year's season came back around this year as well. That included tiny Ankara's one-person program: 160-pounder Roberts Swart.
Swart, a senior, finished second at last year's European tournament. He's back and appears stronger. He demonstrated it by winning two of his matches by pin in a combined 24 seconds. He won his second of three matches by technical fall, with a score of 19-3.
"It was good competition," Swart said. "I had fun. The hardest match for me today was my second one against a wrestler from Rota, but I was able to get the technical win."
When asked about next weekend's championship, Swart said that he's feeling great about it.
"It's going to be stiff competition, but I believe I have a legitimate shot at first place," he said. "I think that competition in my weight class has gotten slightly easier and my fitness has gotten better too."
"Roberts has been pretty dominant this season," coach Walt Dodds said. "He's 11-0 going into the European championship."
And he's planning for life after wrestling as well.
"I would like to be an officer in the British Royal Marines," Swart said. "I think I can make it if I stay around 10 years in the service. After I'm done doing that, I want to go to college and study psychology or engineering."
Aviano senior Michael Hauser, who won at 145 pounds, plans to enlist in the Air Force.
But for the next week, the focus is solely on wrestling.
"This was my last home meet," he said. "I'm very proud of all the wrestlers; I know how hard every one of them worked and today, it showed."
Like others who qualified Saturday, Hauser – the quarterback on the Saints' second straight D-II football championship in the fall - extended his season for another week.
"Everyone wants to place first at the Euros, but only the ones who put in the most work will get it done," Hauser said. "I know how much work I have put in this season, so I'm hopeful."
Ramstein runs northern sectional: Saturday at Brussels, the Royals qualified the bulk of the team that will make another run at Stuttgart for the Division I crown.
Royal wrestlers finished first in 10 of the meet's weight classes, including senior leaders Conner Mackie, Christian Griffith, Matthew Oreskovich and Teddy Ward. Seven more finished second in their respective brackets.
Ramstein figures to add even more qualifiers next week when wild-card entries are added to the field.
Wrestlers from Lakenheath and host Brussels also earned weight-class victories. Ethan Bell of the homestanding Brigands won the 106-pound bracket, while 145-pounder Philip Severance and 170-pounder NIck Scifo notched wins for the Lancers.
Stuttgart in good shape for tournament: Saturday at Stuttgart, reigning Division I dynasty Stuttgart fared well in the central sectional qualifier it hosted.
Close to 20 Panther wrestlers earned automatic berths in next weekend's European tournament, a number that will expand when wild-card berths are announced this week.
While Stuttgart will have the necessary depth to boost its chances of extending its DODEA-Europe title reign, the Panthers were limited in terms of bracket victories Saturday. Stuttgart, which has no incumbent European champions, put five wrestlers in first place, including Carter Hanes at 138 and Jack Engelke at 145.
Division I rival Wiesbaden played a big part in mitigating Stuttgart's success. Three Warriors, including former European champion Atreyu Allen at 132, earned first-place finishes.
Spangdahlem, meanwhile, enjoyed an outstanding performance, especially considering its Division III status. Three Sentinels - Skyler Hickman at 106 pounds, Carson Hicks at 120 and Brenden Castillo at 126 - earned first-place finishes, automatic bids and a good start on a small-school championship run.
llamas.norman@stripes.com Twitter: normanllamas