European tennis championships
Top seeds look tough on opening day
by
Gregory Broome Eric a. Brown
October 24, 2013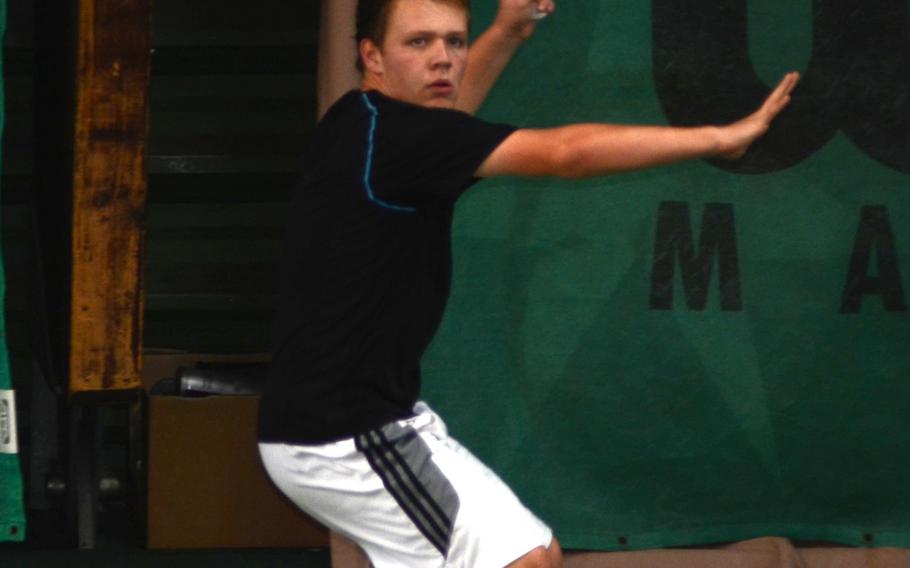 This article has been corrected.
WIESBADEN-NORDENSTADT, Germany —The 2013 DODDS-Europe Tennis Championships are in full swing and the top-seeded singles players are quickly positioning themselves for the top honors early on.
AFNORTH senior Hope Bonenclark, a member of last year's European third-place doubles team, succeeded with a mix of mechanically placed shots and a big serve her opponent had a difficult time overcoming.
"Her serve was placed very well — not straight across," said Marymount sophomore Tatiana Massa, who lost to Bonenclark in straight sets 6-3, 6-3. "I can see why she's a number one seed."
She wasn't the only top seed to send such a message to the hopefuls sharing her pool. Homestanding Wiesbaden star Jade Sullivan cruised through her two matches, dropping just one game in the process. ISB's Anouchka Laurent Josi dropped a single game in her two victories. Patch's Marina Fortun clinched a spot in the quarterfinals with a 2-0 first day.
The scene was much the same in the boys bracket.
Boys' singles top seed Peter Kovats of Lakenheath beat both of his first-day opponents, Patch's Devin Rehwaldt and American Overseas School Rome's Cooper Burgin, in dominant 6-0, 6-0 fashion. Meanwhile, Naples' George Shaffer used his strong backhand for straight-set wins over Kaiserslautern's Chris Martin and Ramstein's Nathan Setka.
Kovats, Shaffer, and fellow top seeds Lee Debose of Ramstein and Fabian Sandrup Selvik of International School of Brussels all enter Friday's final pool-play game assured of advancing.
Though there were some minor upsets further down the ranks, overall No.1 doubles seeds Jennifer Debose and Hannah Herring of Ramstein and Matthew Babcox and Nicholas Oliveti of Florence International were unaffected. Both teams posted two consecutive straight-set wins.
Pool play wraps up Friday morning, after which the tournament will proceed directly into single-elimination quarterfinal brackets in each category. Semifinal matches follow later in the afternoon.
Boys and girls singles and doubles champions will be crowned Saturday.
brown.eric@stripes.com; broome.gregory@stripes.com
Correction Nicholas Oliveti was misidentified and the school he and doubles partner Matthew Babcox play for was incorrect in an earlier version of this article.