Boys tourney roundup
Top seeds hold their own as tourneys open
---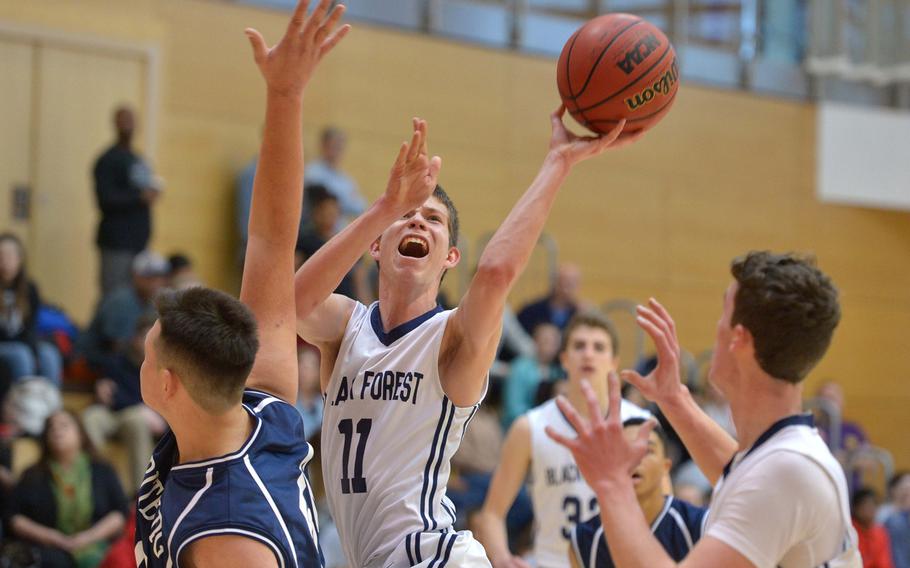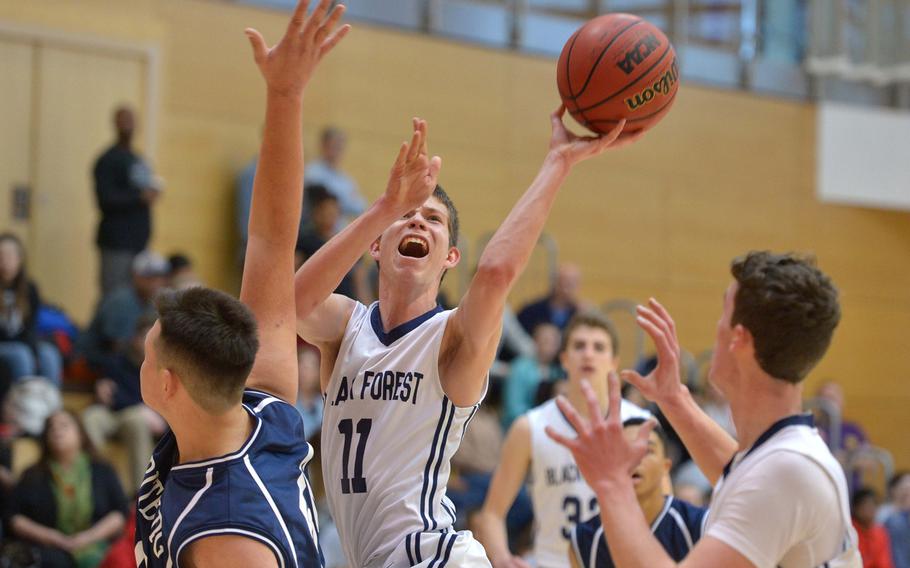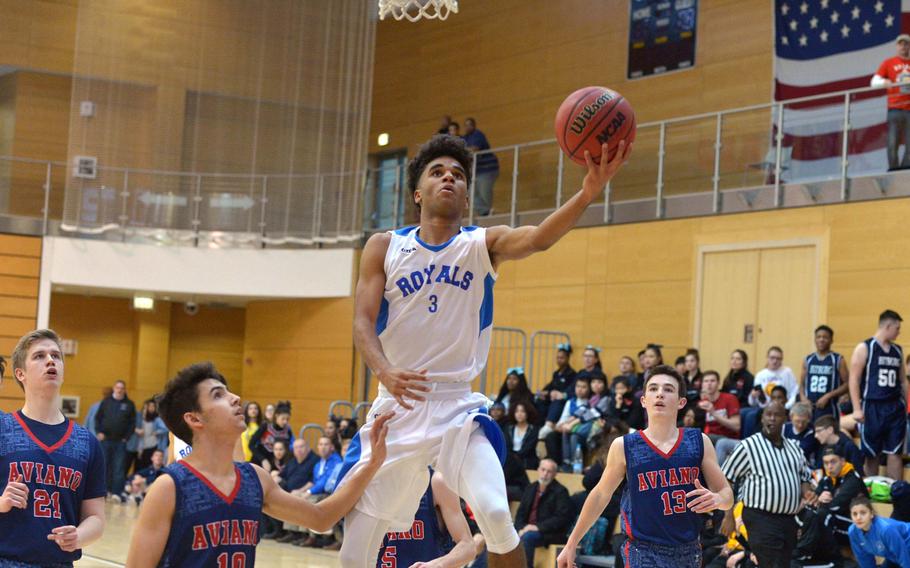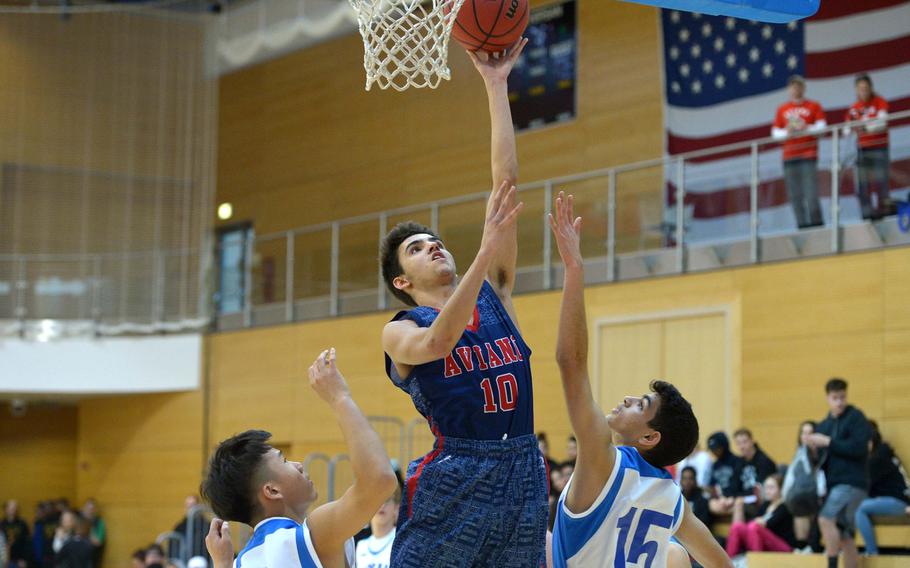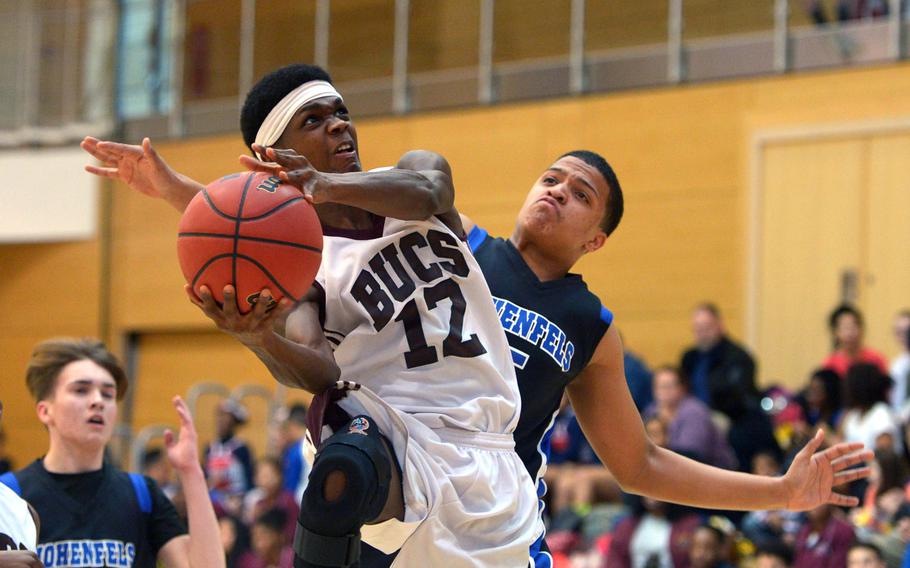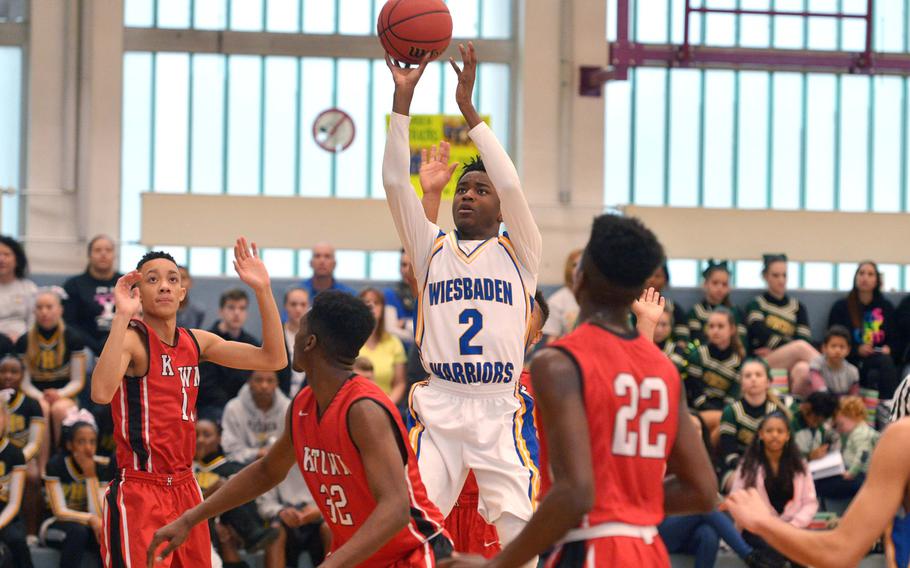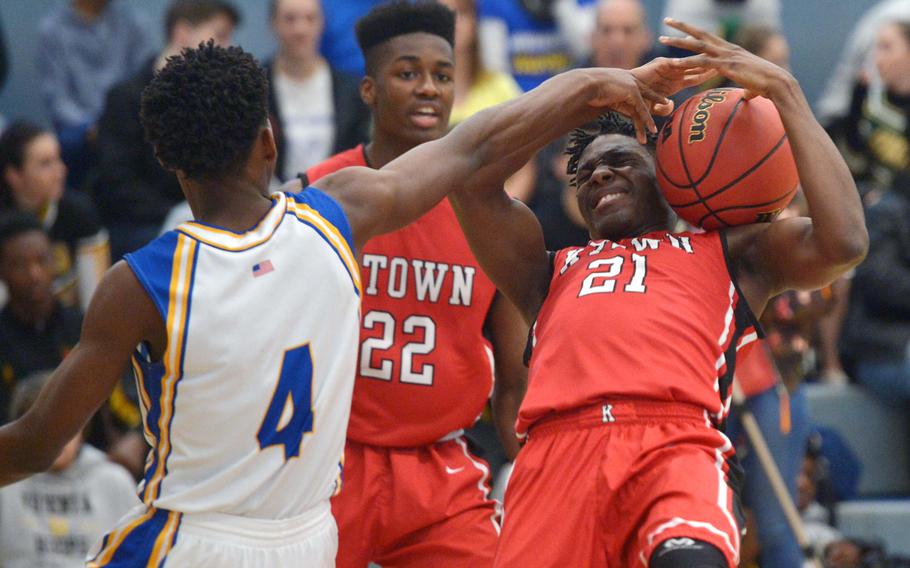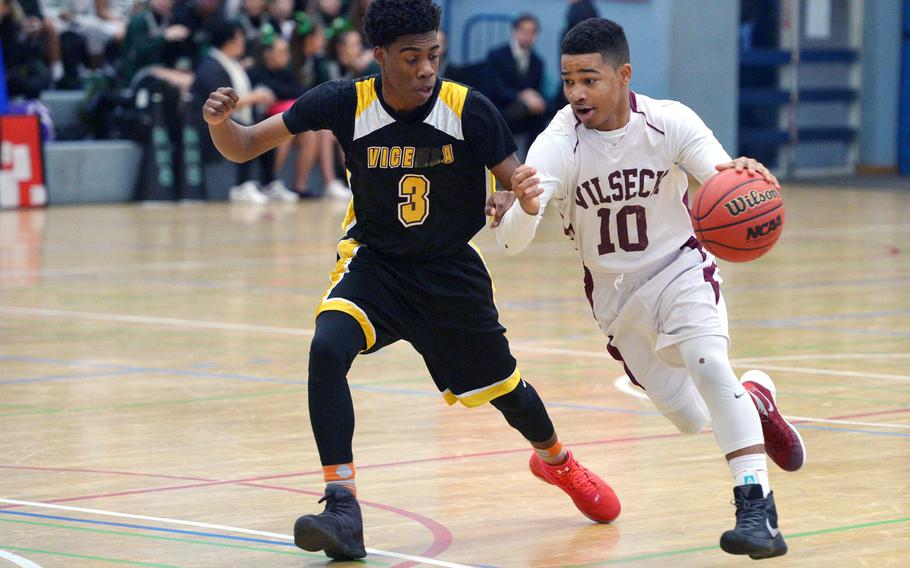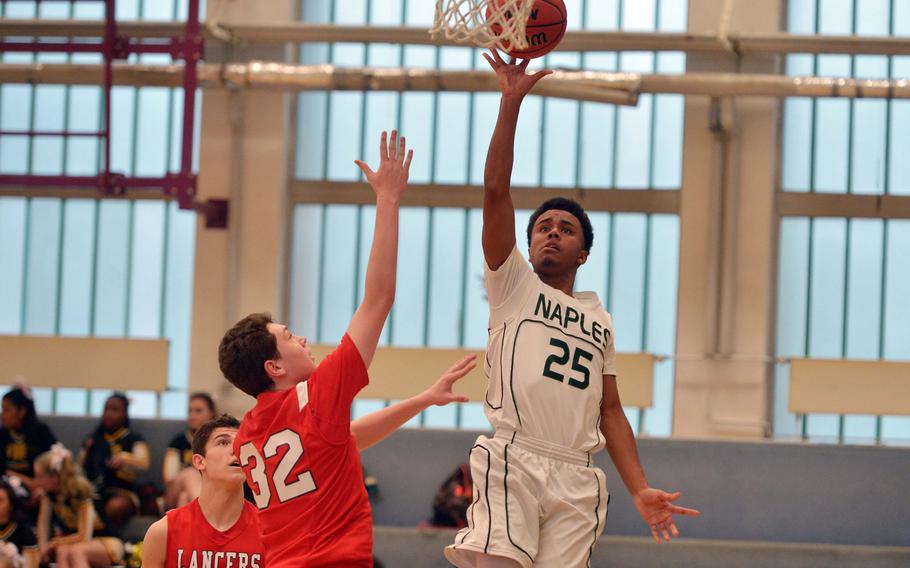 A handful of close games highlighted the first day of the 2017 DODEA-Europe boys basketball championship tournaments Wednesday at sites around Wiesbaden, Germany, lending some tension and drama to a 19-game schedule comprised heavily of blowouts.
The action continues with more preliminary play Thursday, proceeds Friday with semifinals in Division I and Division II and concludes with a slate of six European championship games Saturday at Wiesbaden's Clay Kaserne Fitness Center.
Division ISHAPE 55, Stuttgart 51: SHAPE senior Cameron Little hit a game-winning three-pointer with five seconds to play to complete the Spartans' stunning comeback victory.
Though he'd struggled from distance for much of the game, Little didn't hesitate to line up the long ball with his team down one and time ticking away.
"They were leaving it open all day," Little said. "I just had to trust myself to hit it."
Fifth-seeded Stuttgart scored the game's first six points and held that multiple-possession lead for most of the game. But fourth-seeded SHAPE climbed back into striking distance behind a feisty, opportunistic defense that flustered the Panthers and produced a series of transition buckets.
"We're a defensive team," Little said. "We got it done on defense today."
But the team needed an offensive boost, and Little was there to provide it, scoring 14 of his team-high 22 points in the fourth quarter. Stuttgart's chance at a tying or winning score ended instead with another SHAPE steal and last-second layup, a fitting end to the Spartans' scrappy win.
"We might not have the most skill in this tournament," Little said. "But we've got the most heart."
Wiesbaden 47, Kaiserslautern 37: The top-seeded Warriors won their postseason opener with a second-half outburst.
Guard Isaah Negron hit a string of three-pointers in the third quarter to break open a tight game that was tied at the half. A steal and breakaway slam by forward John McKoy – followed immediately by another Kaiserslautern turnover - sealed the deal with three minutes to play.
"I got it and I saw nobody in front of me, and I was just running. I was like, 'Cool,'" McKoy said of his highlight. "So I just went and dunked the ball.
"I hope there are many more coming."
For their first postseason test, the Warriors bested a Kaiserslautern team that is more dangerous than its humble No. 8 seed suggests. The Raiders have played in the last two European championship games and nearly upset Wiesbaden in a one-point Warrior win this regular season.
McKoy said the Warriors arrived ready for the rigors of tournament week.
"We came in here more prepared, more mentally focused," McKoy said. "Communication helped us out a lot because we knew where everybody was at all times."
Wiesbaden beat SHAPE 48-45 later Wednesday, and clinched a semifinal spot when Kaiserslautern defeated Stuttgart 48-40.
Ramstein, Naples open strong: Defending champion and No. 2 seed Ramstein and No. 3 seed Naples cruised through the pool opposite top seed Wiesbaden.
Naples opened the day's Division I slate with a 57-35 rout of Lakenheath, then handled Vilseck 44-36 for a 2-0 start.
Ramstein opened its title defense by coasting past Lakenheath 54-30, then routed Vicenza 64-33 in the final game of the day.
Naples and Ramstein will face off Thursday night in a pool-play game that might prove largely moot if both squads clinch semifinal spots with wins earlier in the day.
Division IIAviano 49, Marymount 46: The Saints resisted a determined comeback effort by Royals star Dominic Laffitte to finally defeat a season-long nemesis.
The decisive sequence happened with 36 seconds to play in a tie game. Freshman big man Ben Broome snared an offensive rebound and dished it off to Saints teammate Mason Shine, who was fouled in the lane by Laffitte and made both free throws for a two-point Aviano lead. That play's impact was compounded by the fact that the foul was Laffitte's fifth, leaving the Lions without their superstar for two fruitless final possessions.
Disqualification was about the only thing that could stop the Royals' sophomore star. Laffitte scored 19 of his 35 points in the fourth quarter as Marymount erased a 10-point Saints lead.
While the Saints bent under the pressure of Laffitte's onslaught, they ultimately didn't break.
"We had to take some timeouts, we had to calm everybody down and make sure that everybody's heads were on straight," said Hayden Roers, who scored 20 points for Aviano. "Go back to the original game plan that the coaches planned for us and execute, execute, execute. That's what it takes."
The Saints have measured their development as a team against Marymount all winter.
Aviano lost decisively to the Royals in two opening-weekend meetings. In January, they lost by just one. On Wednesday, the sixth-seeded Saints broke through for an upset of the No. 3 seed.
"It's an excellent feeling," Roers said. "I couldn't ask for a better team to be with right now." The win rounded out an unbeaten day for Aviano, which edged Bitburg 48-45 in an early matchup. No. 2 Black Forest Academy, the top seed in Aviano's pool, crushed Bitburg 72-40 in its only game of the day.
Rota 45, Bahrain 31: The top-seeded defending champions survived a spirited upset bid to complete a 2-0 start.
Bahrain scored the game's first nine points, forcing the shell-shocked Admirals into an early timeout. But the seasoned champs responded with nine unanswered points of their own, traded baskets with Bahrain for the middle portion of the game and overpowered the fourth-seeded challengers with a second-half push.
Rota beat AFNORTH 52-37 in its first game of the tournament Wednesday; Bahrain remains in play for a semifinal berth thanks to its 57-32 defeat of fifth seed AOSR. The Admirals clinched a spot in the semis thanks to AFNORTH's 40-30 victory over AOSR in the final game of the day.
Division IIIAnsbach 38, Sigonella 35: The Cougars' narrow defeat of the Jaguars headlined a light opening day of small-school round-robin play.
Anthony Evans, Kevin Kamara and Ogden Andrew each hit three-pointers in a second-quarter rally that pulled Ansbach out of an early deficit. Evans finished with 10 points on the day to pace the Cougars.
After just three first-day games, the Division III schedule picks up with six games Thursday and six more Friday. The two top teams after preliminary play concludes will advance to Saturday's championship game.
Twitter: @broomestripes
---
---
---
---