All-Star volleyball
Top players show off their spikes, serves, blocks, passing and digs
by
Gregory Broome
November 10, 2018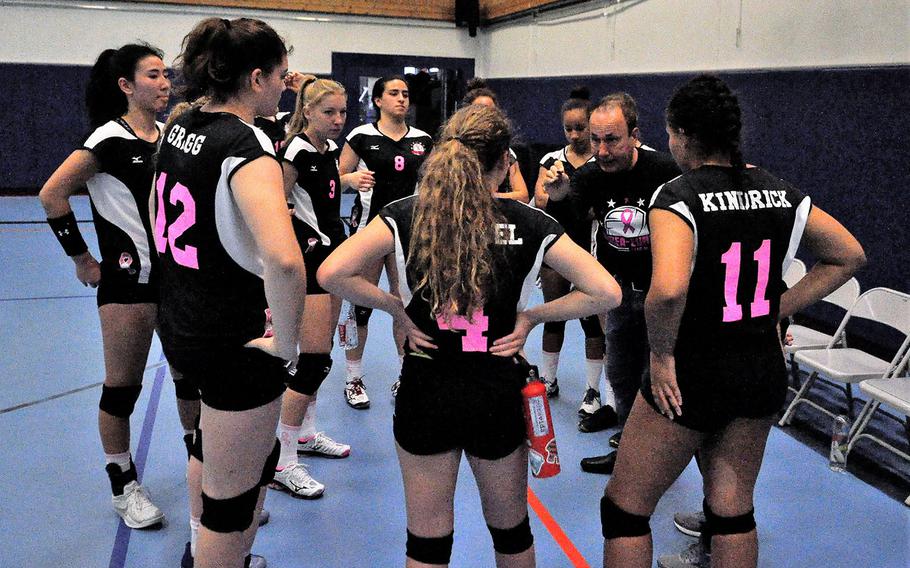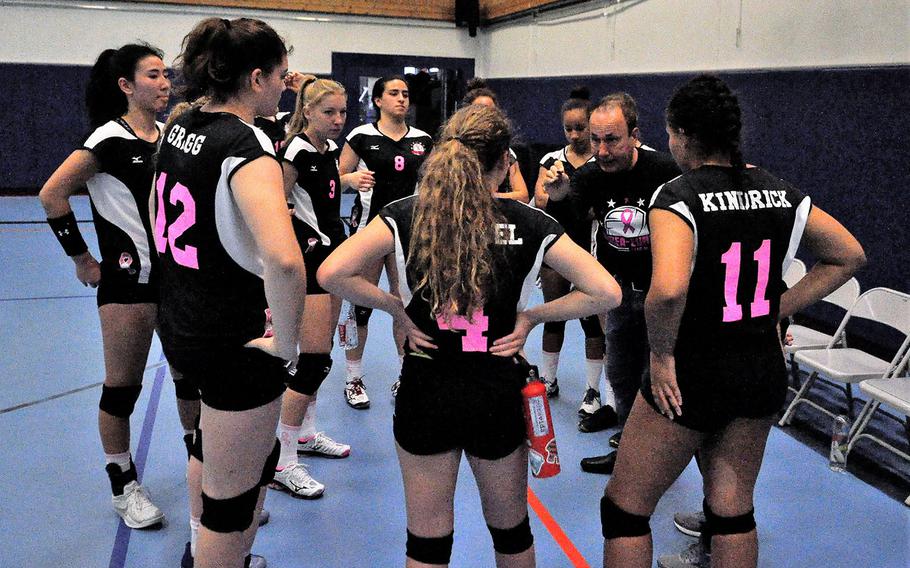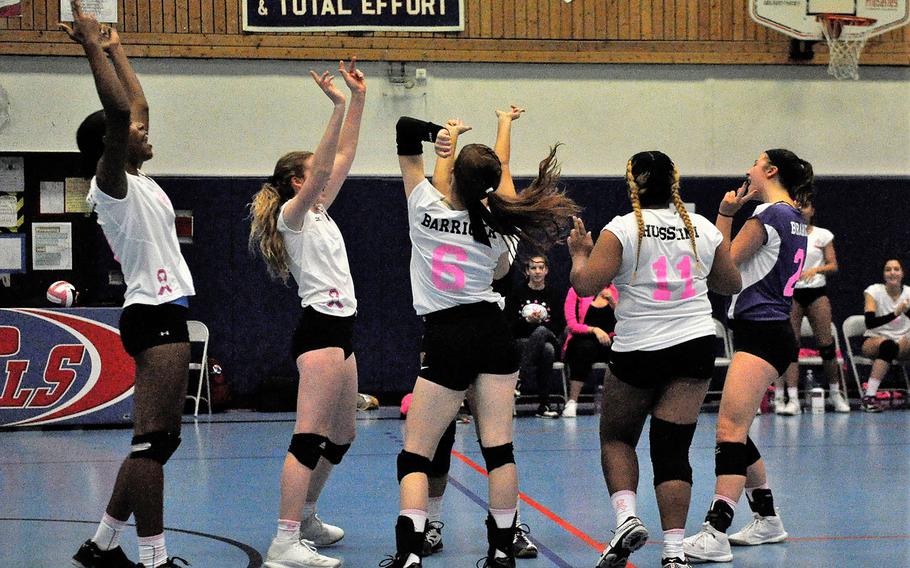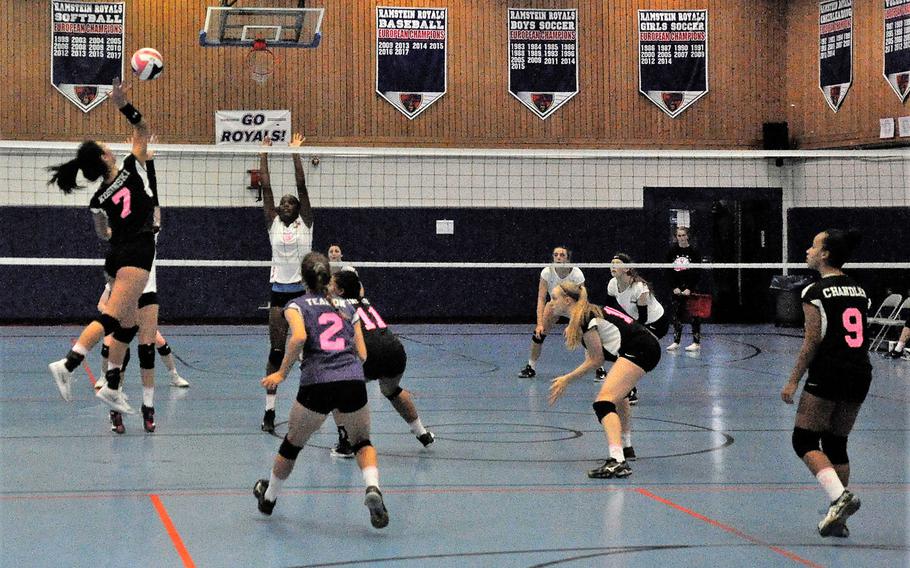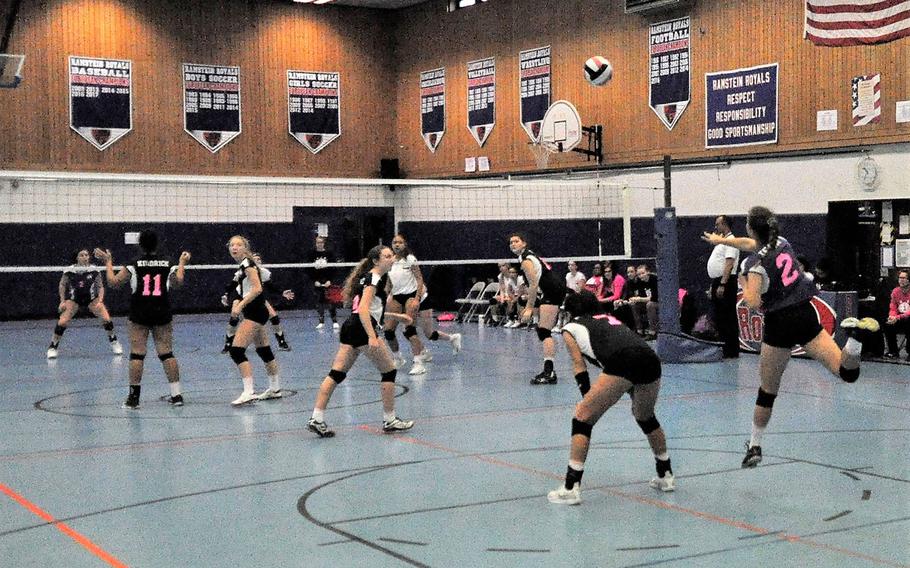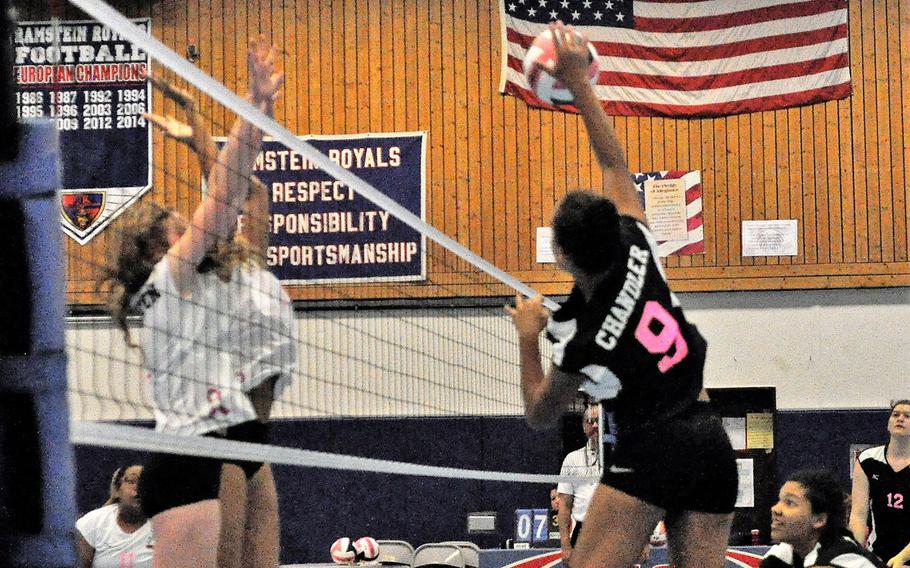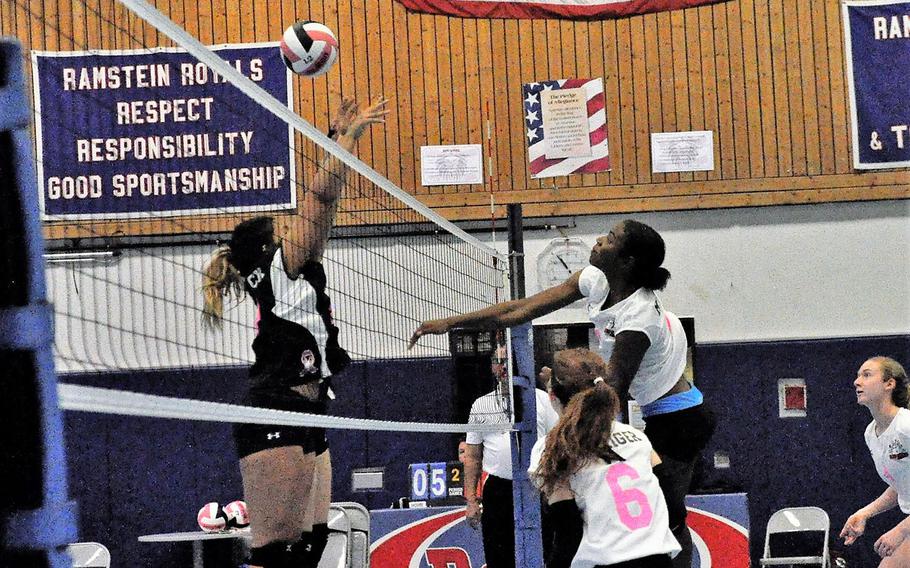 RAMSTEIN AIR BASE, Germany -- The stakes of Saturday's DODEA-Europe all-star volleyball matches at Ramstein High School, coming a week after the European championships were decided, were inarguably low.
That didn't keep the level of play from rising as high as the organization has recently seen.
"Their talent is just like we've never had before all on one court," said Ramstein assistant athletic director Erin Markus, one of the event's organizers along with Vilseck head coach Brian Swenty.
Saturday's atmosphere was considerably less charged than the previous week's European championship tournament, which played out over three intense days at nearby Vogelweh. The all-star week exists as much to foster camaraderie between student-athletes of rival schools and to support Dig Pink! breast-cancer awareness efforts as it does to stage the matches themselves.
"There's a lot of team bonding going on, which is really cool, because I didn't really know a lot of people from other schools," Stuttgart junior Karen Kosinski said.
But the participants, after several days of practice sessions in the days leading up to the matches, didn't waste the chance to raise their games in the midst of equally elite teammates and adversaries. The convergence of so many of DODEA-Europe's best produced a level of skill at least as high as any of the season-defining playoff matches that preceded it.
Dominant net players such as Ramstein's Masaya Archbold, Vilseck's Tedeja Marshall, Vicenza's Chenoa Gragg, Aviano's Baylee Kindrick and Stuttgart's Kosinski and Geneva Barriger met for hand-to-hand confrontations high above the net, while accomplished orchestrators such as Black Forest setter Brooke Israel, Alconbury setter Camilla Boyett and libero Keena Teahon of Spangdahlem focused the offensive and defensive efforts of their star-studded squads.
Spikes that would be automatic points in the average DODEA-Europe match were kept alive by diving digs, which transitioned quickly to a set and a retaliatory attack in the other direction. Serves were strategically smacked just inches over the net, increasing the degree of difficulty for the waiting defenders. Mistakes were reduced to a minimum, allowing long, back-and-forth points to flourish.
"I kind of came into it, I was like, 'Oh, it's going to be a friendly match,'" said Kosinski, a standout hitter on Stuttgart's Division I championship team. "It's lower pressure but you still want to win."
Fittingly, the teams split the two matches. Team Fight, coached by Vicenza's John Kohut, won the morning match 25-23, 14-25, 25-17, 25-15. Team Hope, coached by Ramstein's Ashley Henriques, swept the afternoon match 25-20, 27-25, 25-23. Team Fight's Kosinski and Team Hope's Isabella Coddington of Ramstein were selected by coaches as players of the games.
The pair of competitive matches, along with the football all-star activities wrapping up with Saturday's game in Wiesbaden, brought an end to the 2018 DODEA-Europe fall season. For Markus, a former championship coach with the Royals, it represented another step forward for DODEA-Europe volleyball.
"The week was fantastic. The girls have been awesome, they've had a lot of fun getting to know each other," Markus said. "It's just so much fun seeing them all playing at their high level of volleyball and also making new friends and getting to hang out with each other for a few extra days."
Twitter: @broomestripes