DODDS-Europe tennis
Three matches down, four to go for top seeds
---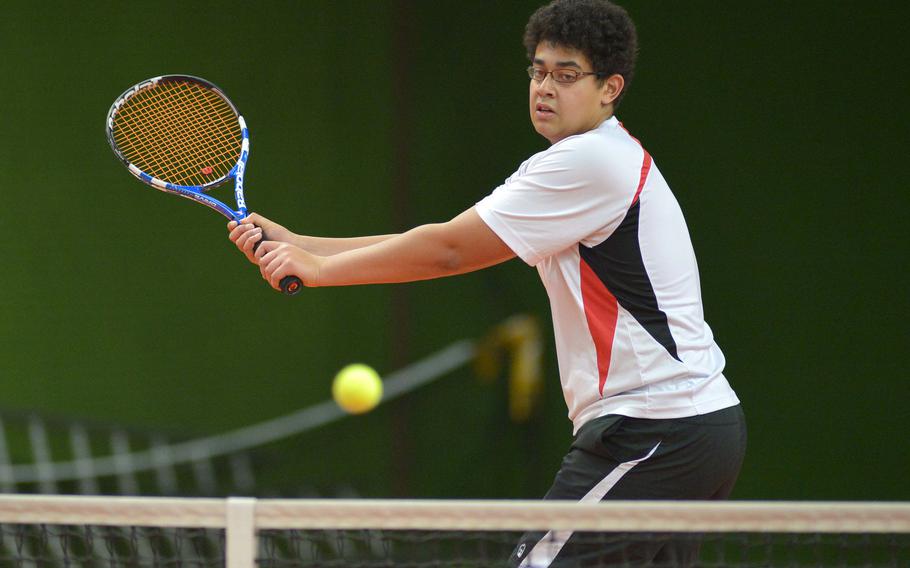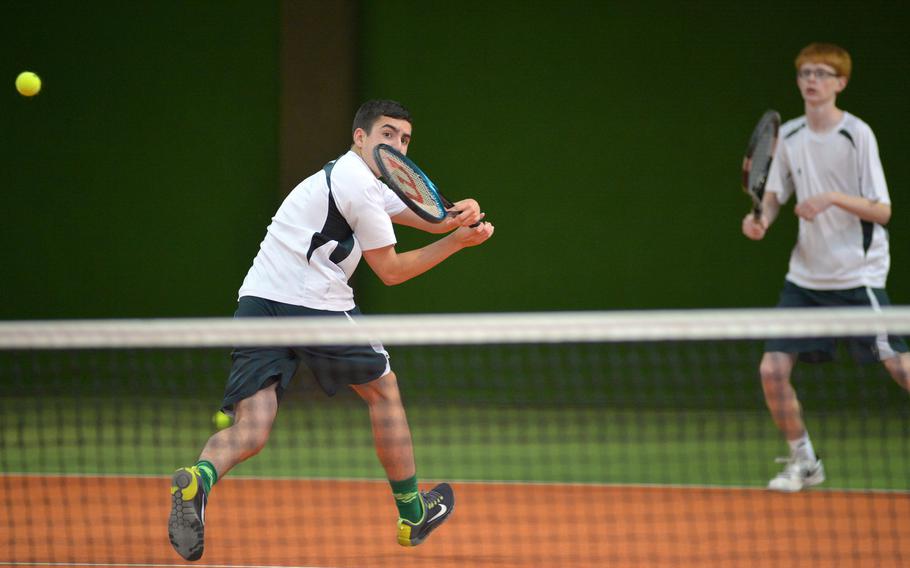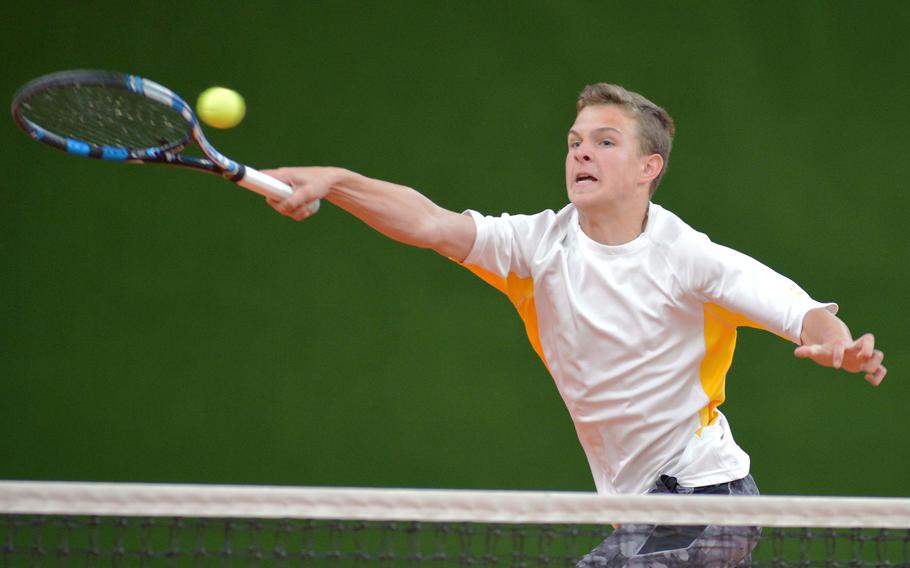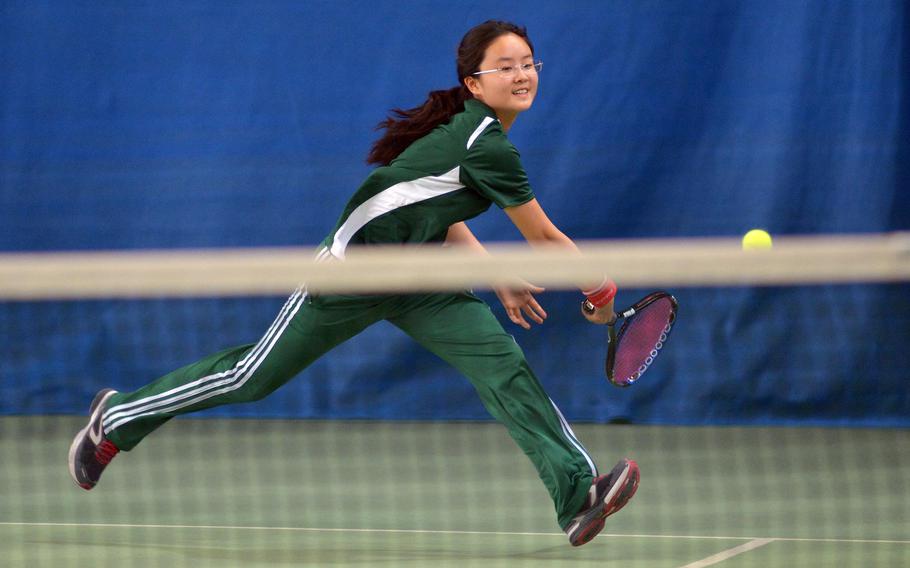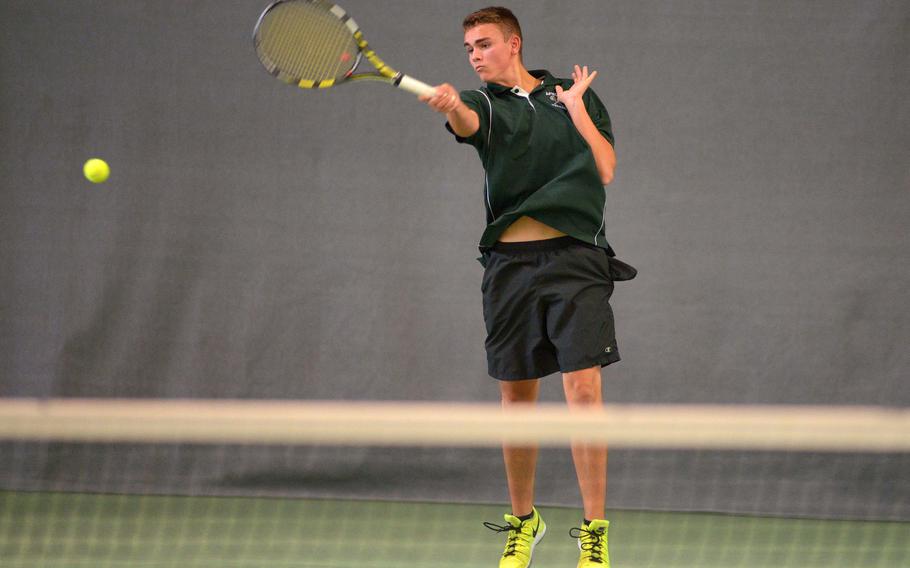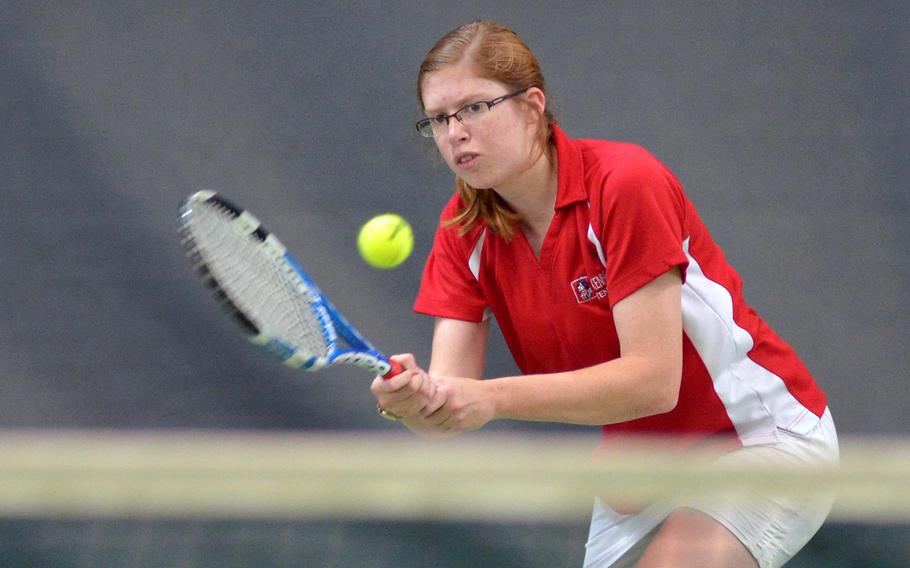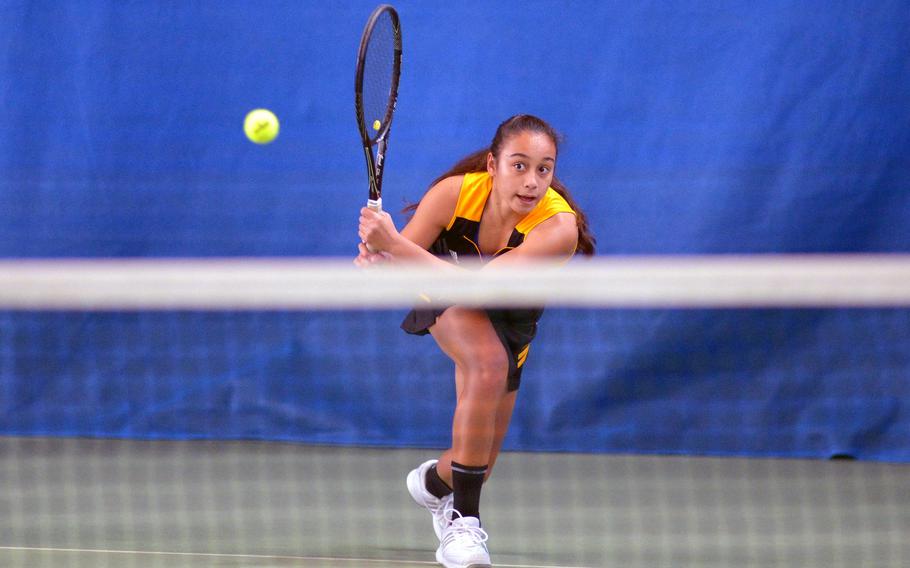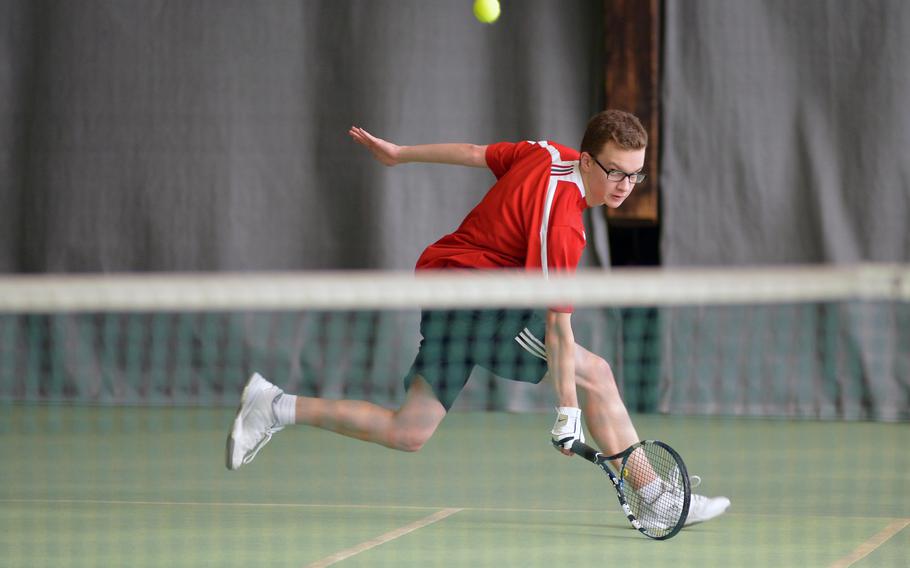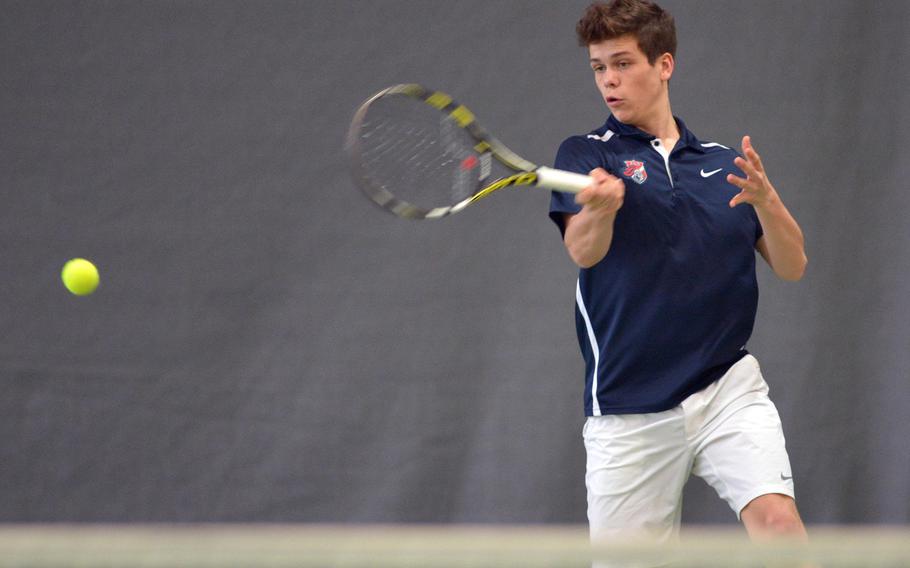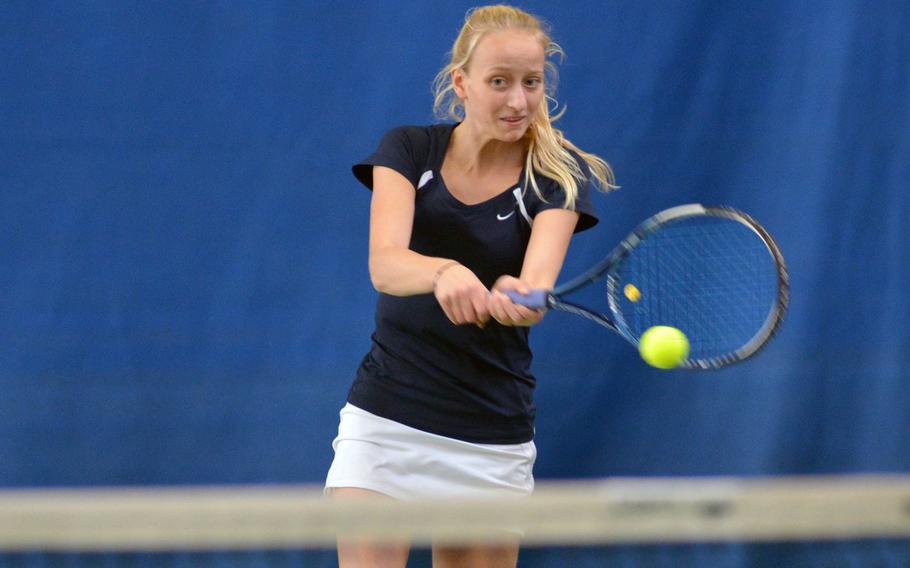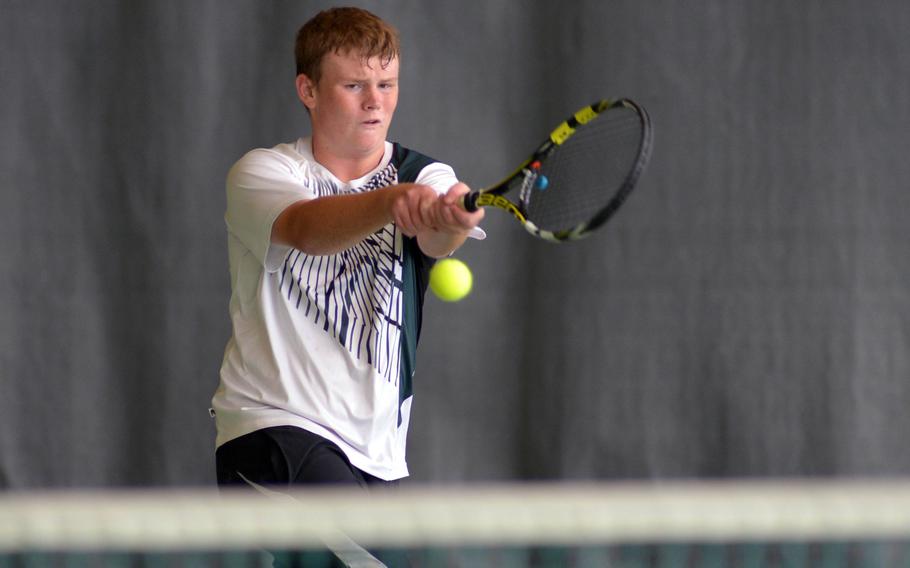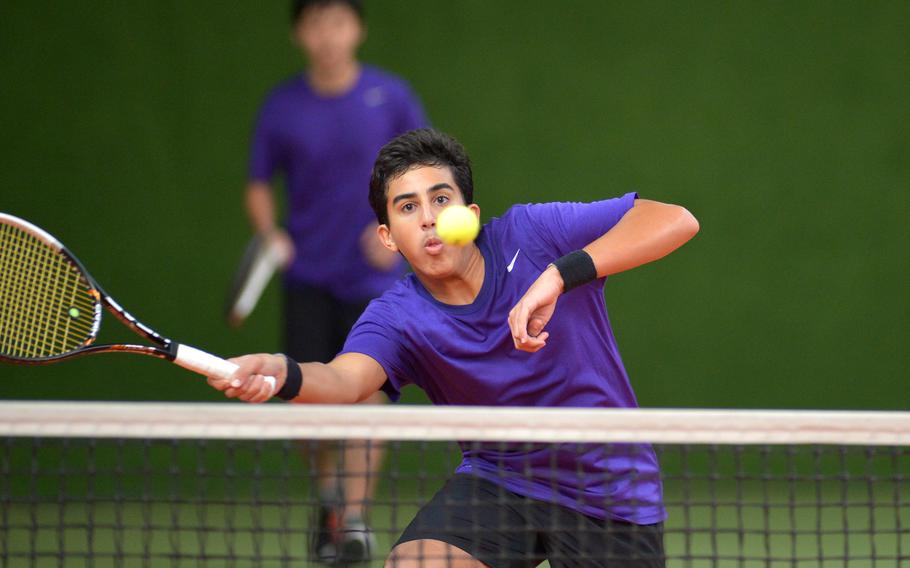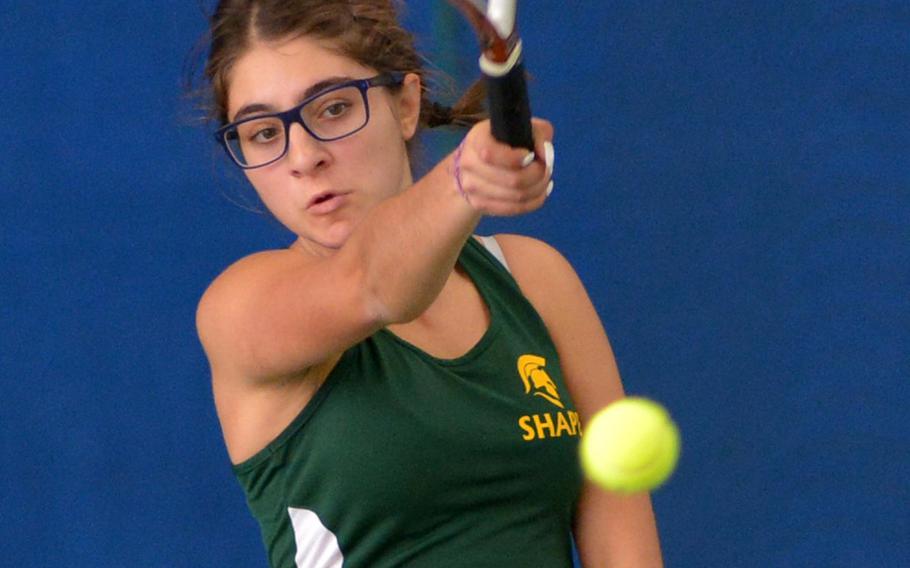 WIESBADEN, Germany — All top seeds enjoyed relatively serene progress on the first day of the DODDS-Europe tennis championships, while newcomers and participants from smaller schools were able to test their mettle Thursday against returning champions and a strong stable of contenders.
Day 1 of the three-day event was a flurry of frenzied activity — with all 72 athletes scheduled to participate in three matches each across three facilities.
Both boys and girls singles No. 1 and No. 2 seeds were dominant in their three matches, and most of the top seeds in doubles competition will bring similarly unblemished records into Friday's play, which will feature the final two matches of group play and the semifinal s of each bracket.
Returning girls champion Marissa Encarnacion of Stuttgart looked ready to defend her crown despite a minor sinus problem, said coach Dan Bose.
"Marissa is playing with a lot of confidence, is moving and playing well," Bose said. "She's had the sniffles, which is going around at this time, but still playing really good."
Encarnacion is expected to face stiff competition from No. 2 seed Anouchka Josi of the International School of Brussels, who likewise won her three matches at a canter.
An anticipated encounter between the two during the regular season did not materialize as Josi had academic obligations at the time of the match. But barring a major upset, the two appear headed for a Saturday collision. Encarnacion dropped but a single game in her three matches, while Josi won all three of hers 6-0, 6-0.
On the boys side, favorite and defending champion Fabian Sandrup Selvik, also of ISB, made quick work of his opponents, winning all three matches without dropping a game. In the other pool, American Overseas School of Rome's Lin Ting showed a strong all-around game that he hopes will test Selvik, winning all three of his matches as well, 6-0, 6-0; 6-2, 6-2; and 6-3, 6-4.
ISB coach Brenden Schussler expects his top-seeded boys double team of Felix Sandrup Selvik and Peter Fitzgerald to face stiff competition from Bahrain and Marymount in the final two rounds.
"Those are both going to be good matches," he said. "Those teams both have experience and talent."
Some teams traveled thousands of miles to be at the tournament, including the aforementioned Bahrain team of Frank Li and Moustafa Rafai, both seniors playing in their final DODDS tennis tournament.
The pair, who finished third last year despite only being together four weeks before the tournament, featured in one of the standout matches of the day, against Ramstein's Logan Beckmann and Lance Daley. Li and Rafai won 6-4, 7-5 in a match in which each point was contested fiercely.
"We fight for every point," Rafai said.
While those at the top of the brackets are looking to win every match, some players and teams are simply enjoying the experience.
"Because of the division we're in, the teams we normally play aren't as highly skilled as the ones we've been playing today," said Alconbury's Deane Swickard. "It's a bit of a shock when you get to this tournament, to see what skill really looks like."
Alconbury, a Division III school with an enrollment scarcely above 100 students, has nevertheless managed to send the full complement of six players to the tournament this year. Swickard's teammate Russell Reddecliff said their teamwork is already benefiting from the competition.
"We need to get better at talking ourselves up," he said. "If we get hyped, then we will start to do well. If one of us makes a bad shot, the other needs to say to them, 'Just brush it off.'"
---
---
---
---