Boys soccer - Day 1
They won't go down without a fight
by
Gregory Broome
May 17, 2017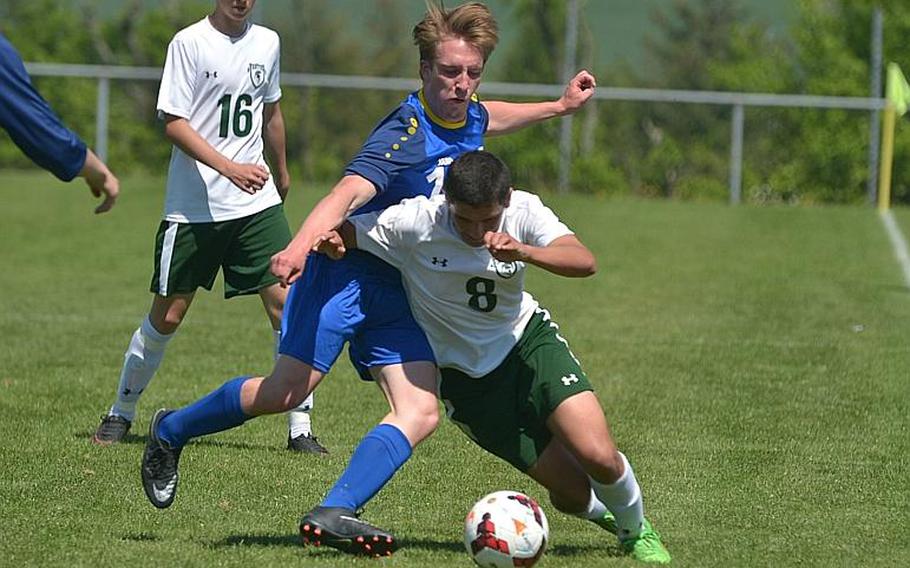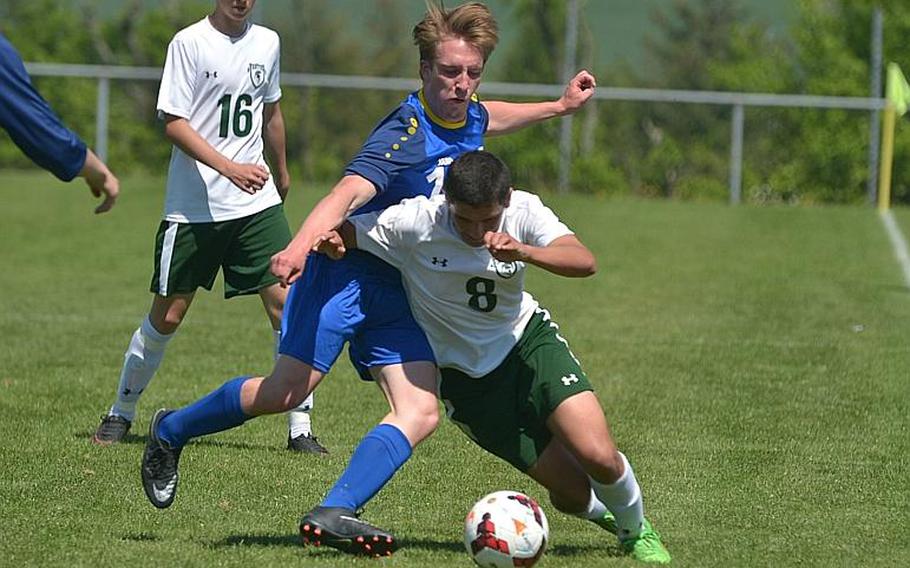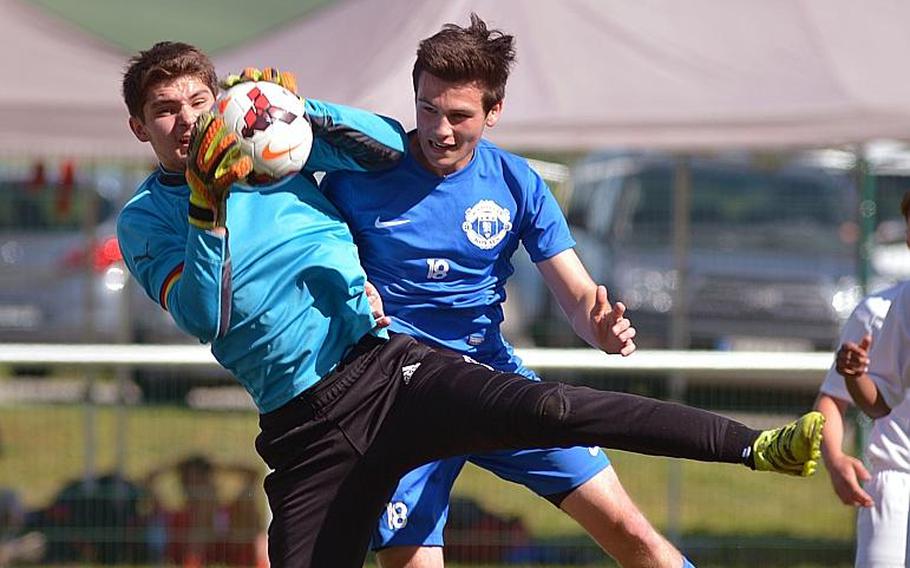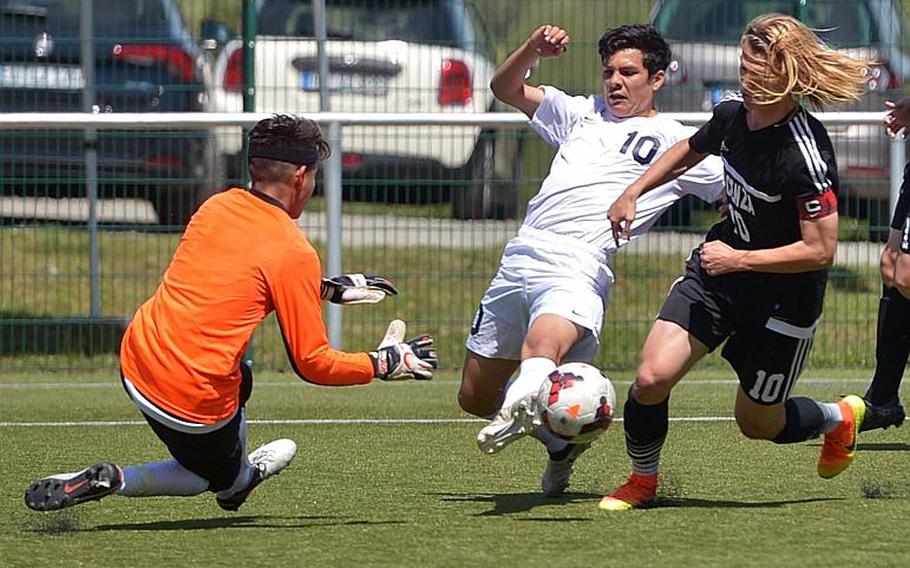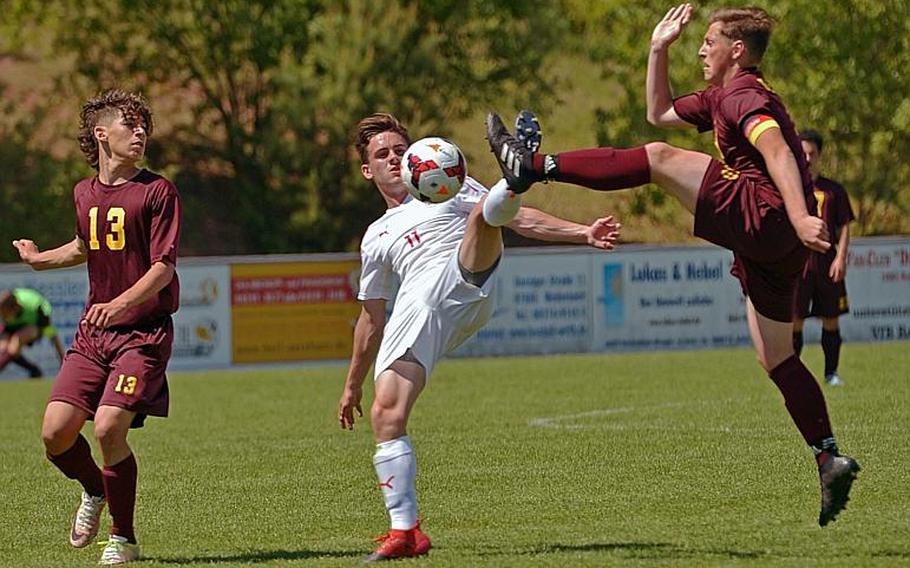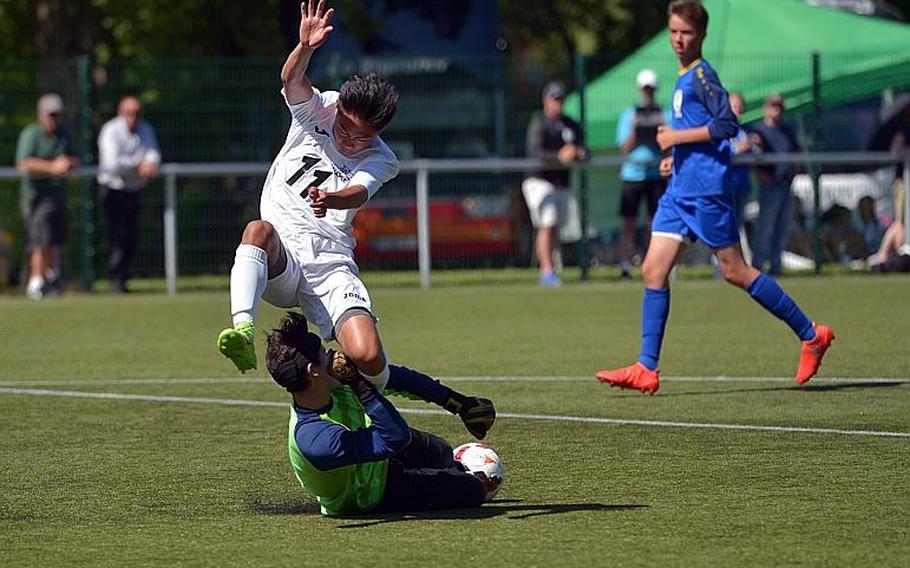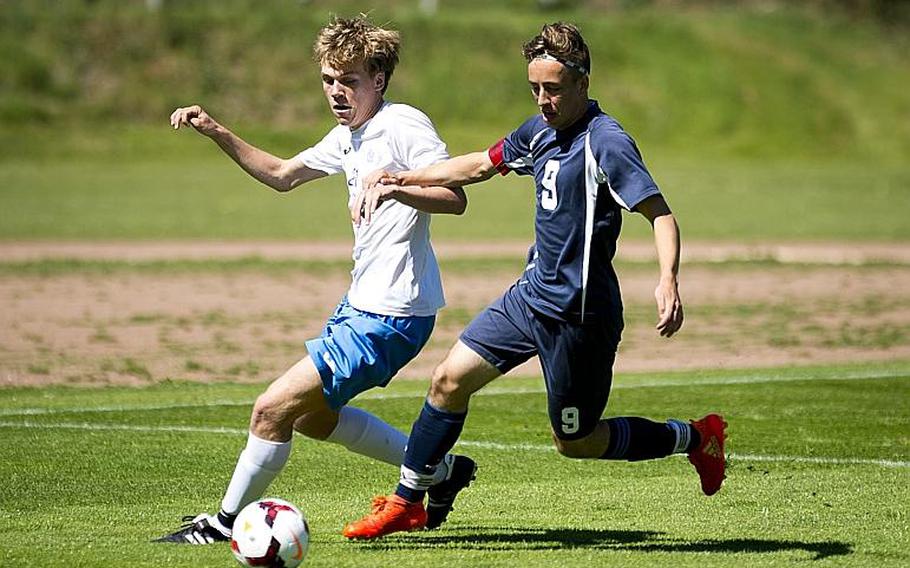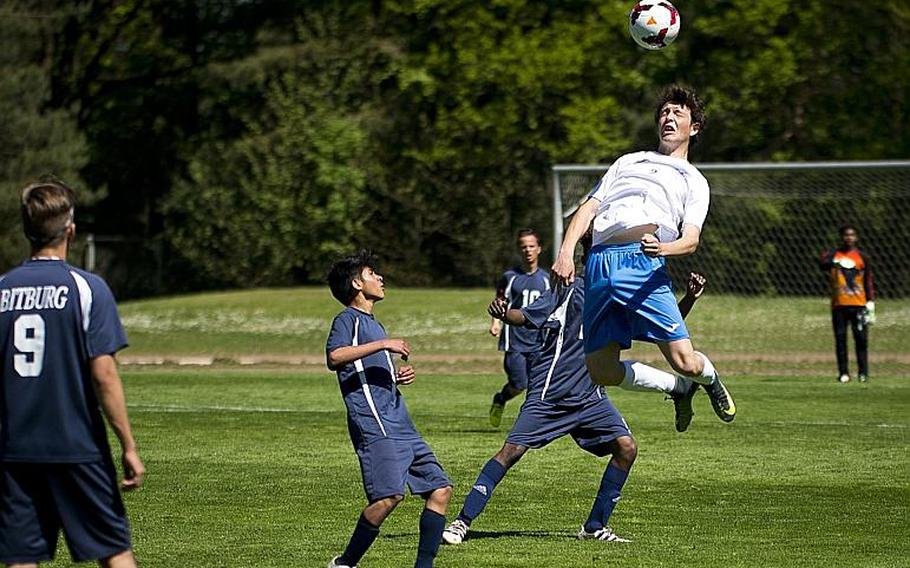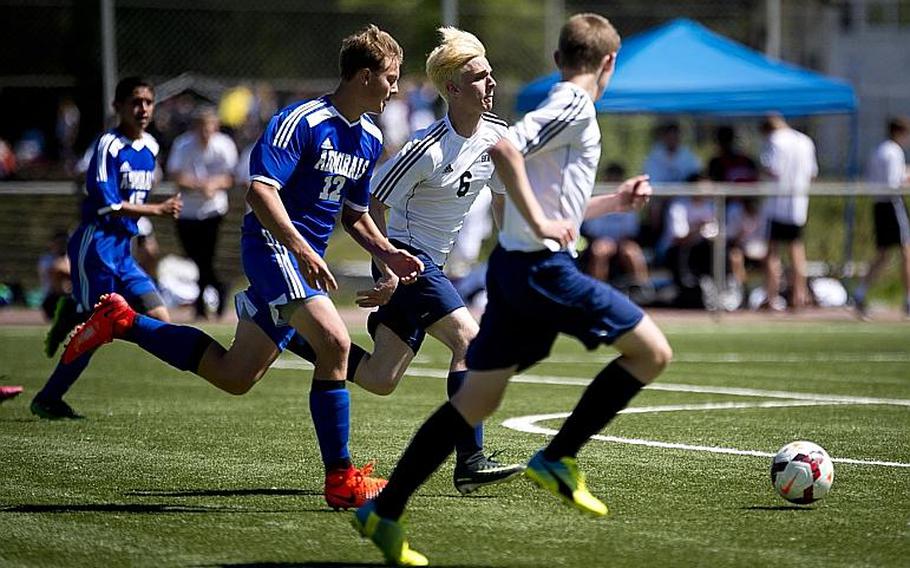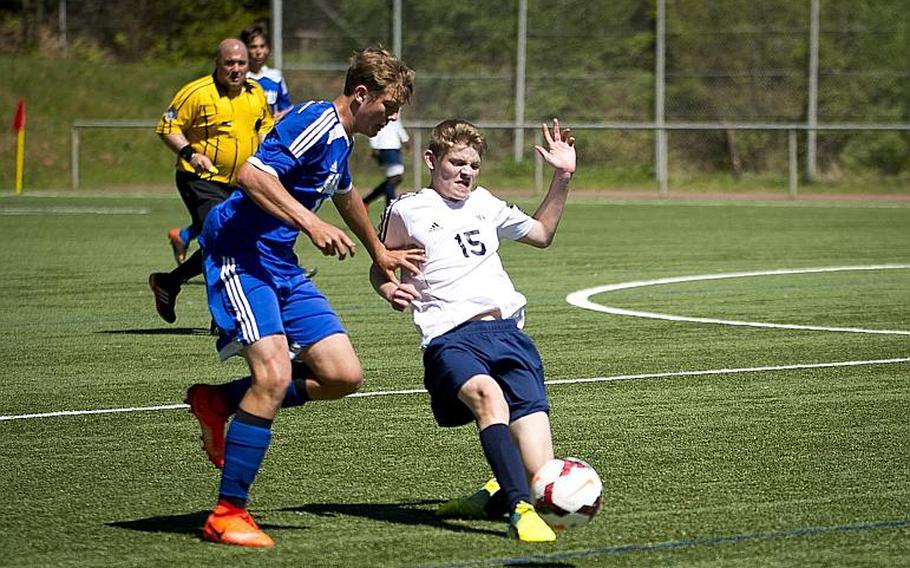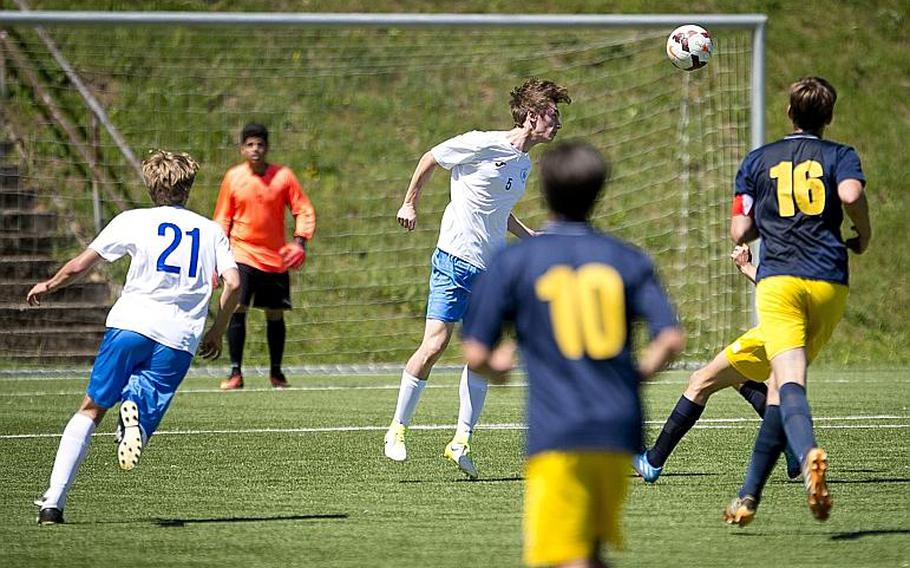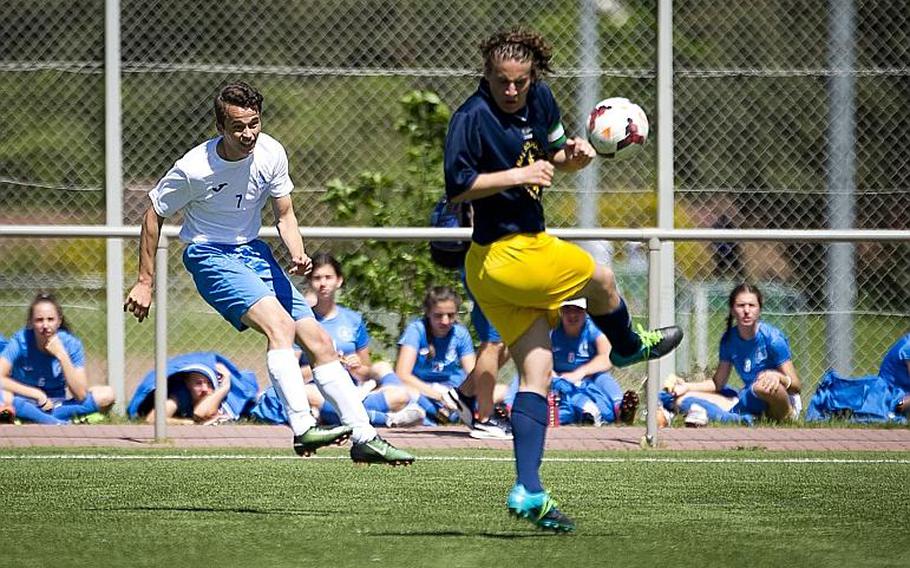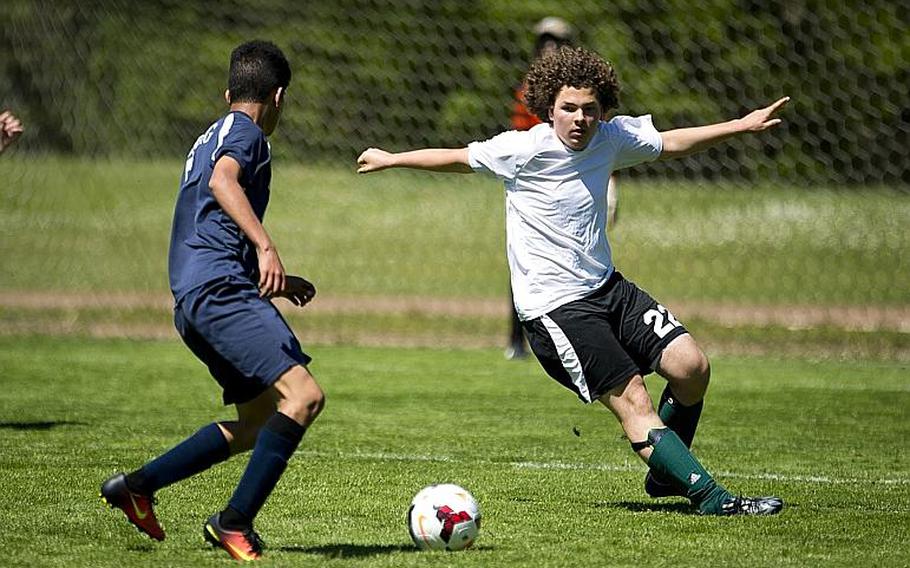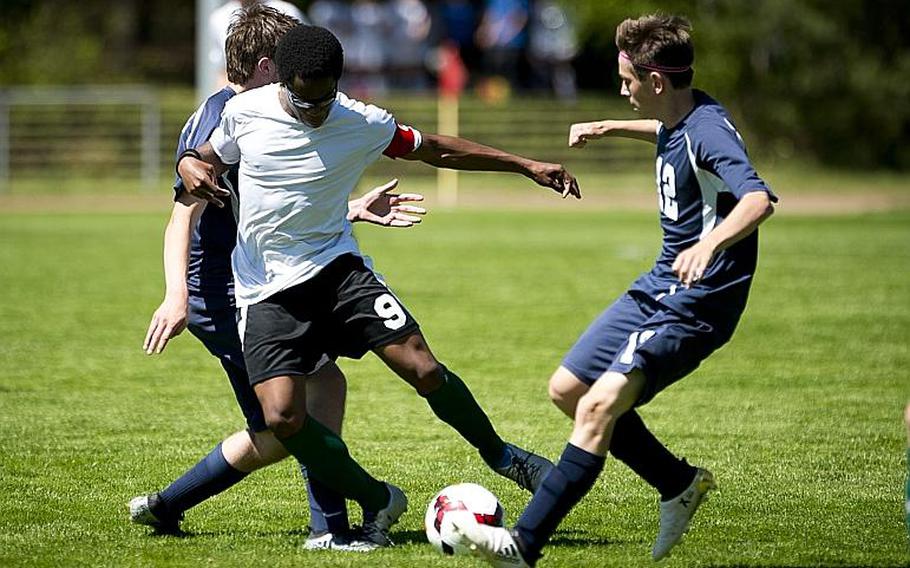 While one team struggled just to reach the 2017 DODEA-Europe boys soccer tournament on Wednesday, the others struggled to stay in it.
Bahrain's absence due to travel issues, a string of ties and one-goal margins defined the first day of the four-day event, which continues Thursday at sites around Kaiserslautern, Germany, with more Division I and Division II preliminary play alongside the first action in the five-team Division III bracket. The tournament culminates Saturday with a set of six boys and girls European championship matches at Kaiserslautern High School.
Division IRamstein 3, Vilseck 2: There are no easy outs to be found among the 10 teams in the Division I bracket. The tenth seed proved that Wednesday morning.
The bottom-seeded Falcons pushed fourth seed Ramstein to the limit and might have pulled off the upset but for a few unfortunate twists of fate. Vilseck gave up a Royal goal on a penalty kick, had what might have been the tying score erased by a controversial offsides call and saw a flurry of point-blank attempts at an equalizer rebuffed by Ramstein's goalie and defenders alike in the seconds before the final whistle sounded.
Ramstein coach Dominik Ludes was thrilled to emerge from the scrum with a valuable opening win. The tournament-tested coach explained that an opening loss puts a team "automatically under pressure" for the rest of the tournament, an added burden his squad didn't need after exhibiting signs of apprehension and anxiety early Wednesday.
"That's why the first game is so important," Ludes said. "Get a win, that gives you a little bit of breathing room."
The Royals expanded that breathing room later Wednesday with a 1-0 win over 2016 runner-up Lakenheath.
Vilseck, meanwhile, couldn't launch another upset bid in its later game, absorbing a 7-0 loss to high-scoring top seed Kaiserslautern.
SHAPE 2, Wiesbaden 0: In the opposite pool, the ninth-seeded Warriors matched Vilseck with a pair of valiant but futile efforts.
Spartans junior Roberto Liano launched a shot from well outside of the penalty box that found the bottom left corner of the net and gave third-seeded SHAPE an advantage about three minutes into the game. A second-half strike by Alvaro Segura provided the final margin.
Liano said that he merely intended to test the Warriors' defense with the bold early attempt, casually offering the explanation that he "just wanted to shoot it." His long-range test was successful, and it changed the course of the game, and perhaps SHAPE's postseason.
"It's real important" to start the tournament with a victory, Liano said. "The first win will motivate you to win another, and another."
SHAPE did exactly that later in the day, defeating sixth-seeded Stuttgart 1-0 to complete a perfect first day and move to the verge of a semifinal spot. The Spartans will face second seed Naples late Thursday in their only game of the day.
Division IIRota 2, Black Forest Academy 2: The eighth-seeded Admirals shook up the bracket early Wednesday by playing the top-seeded Falcons to a draw.
Kaden Rodriguez and Jayson Lathem Penez each scored a goal for the Admirals. After a limited regular season that included just three DODEA-Europe matches, Rodriguez said his team arrived at this week's tournament devoid of major expectations but full of calm self-assurance.
"We weren't particularly confident, but we knew we would come out here and do our best," Rodriguez said. "We would do what we could."
Bahrain failed to arrive in time to participate in Wednesday's opening day. Rather than have Bahrain forfeit those missed games, DODEA-Europe rearranged the schedule to pack Bahrain's pool matches into Thursday and Friday. Bahrain will play Bitburg, Marymount and AFNORTH on Thursday, then take on Florence early Friday just ahead of the Division II semifinals.
BFA's tie in its only Wednesday game opened an opportunity for another member of the four-team pool to veer towards the inside track, and American Overseas School of Rome seized it. The fifth-seeded Falcons bookended the day's Division II schedule with an early 1-0 win over No. 4 Aviano and a 4-2 defeat of Rota. The two sets of Falcons face off early Thursday in a game that is AOSR's only action of the day and the first of three matches for BFA.
Bitburg 1, AFNORTH 1: Perhaps no team embodies the will to survive and advance better than the ninth-seeded Bitburg Barons.
The undersized squad was saddled with a difficult first-day schedule, facing defending champion Marymount in the morning and third-seeded AFNORTH in the afternoon. Bitburg came away without a win, but with its aspirations intact.
Barons coach Jose Pumarejo said the tie with AFNORTH, coming after a 3-1 loss to Marymount, prevented his team from lapsing into despair and kept it fully engaged in the battle to reach Friday's semifinals.
"It's given them a reason to fight," Pumarejo said. "If we'd have lost this one, I think their morale would have gone down. This tie tells them, we can still do it. We can still fight."
Second-seeded Marymount added a 5-2 rout of Florence to its win over Bitburg in a steady opening-day showing.
broome.gregory@stripes.com Twitter: @broomestripes