Europe boys soccer - Day 2
Teams scramble to stay alive and make the final cuts
by
Gregory Broome
May 22, 2018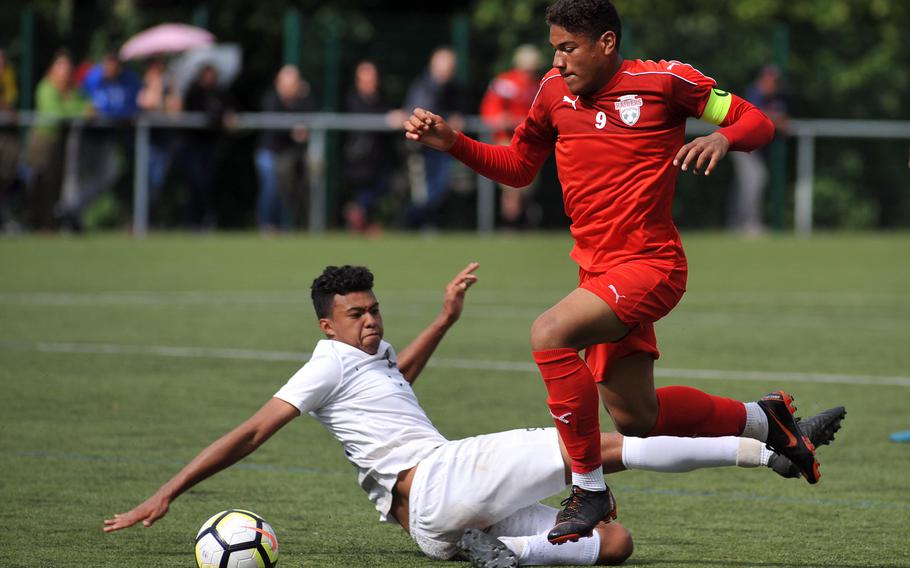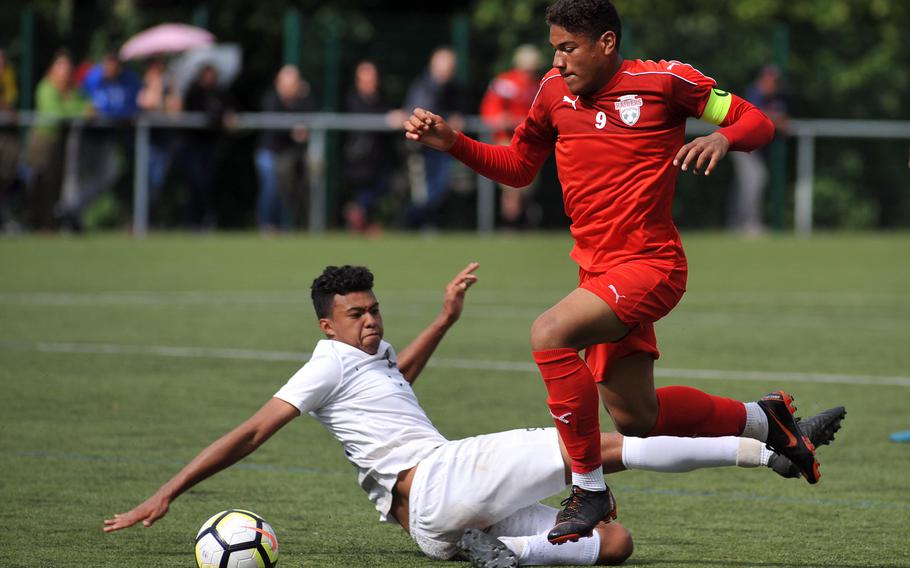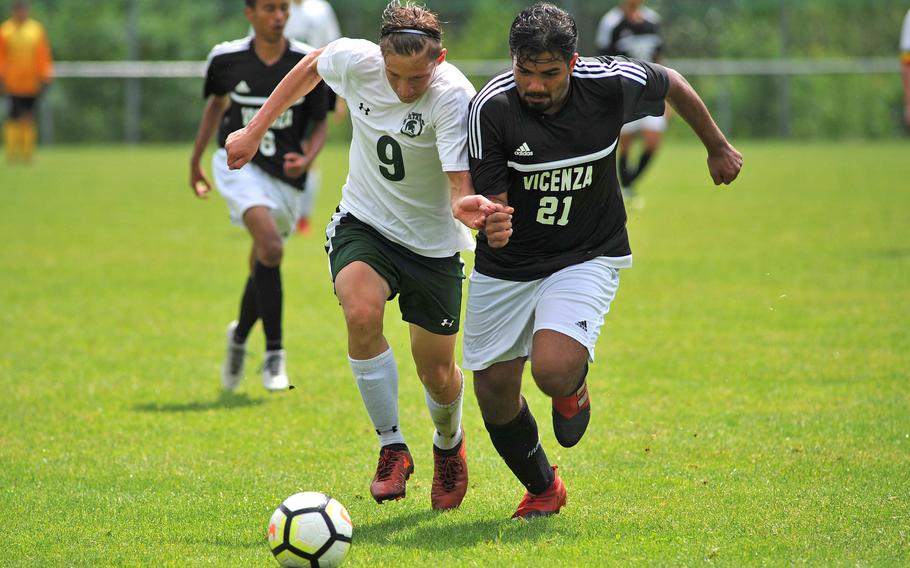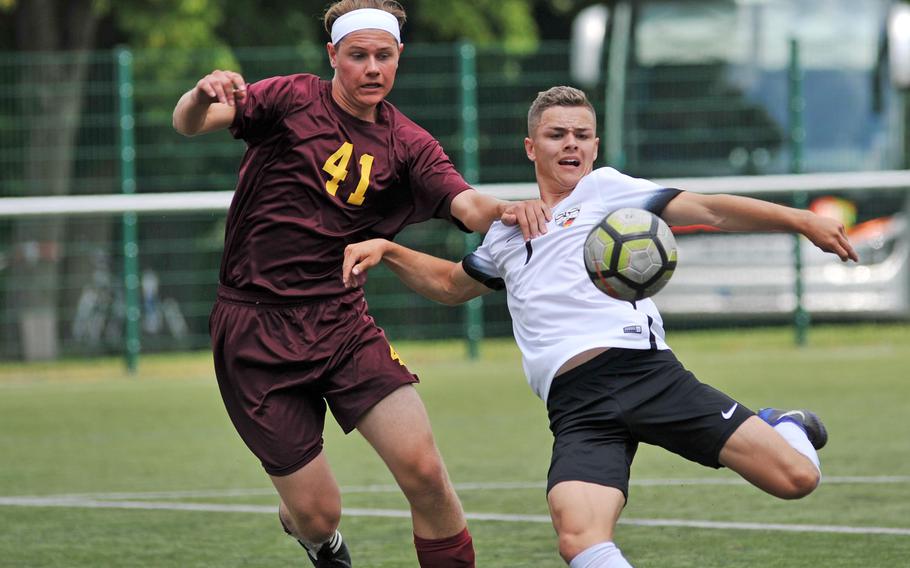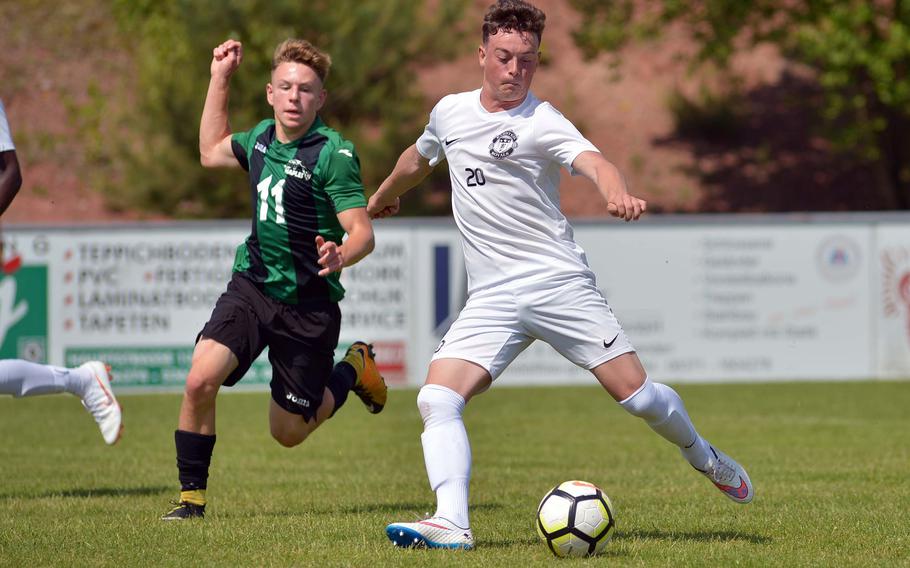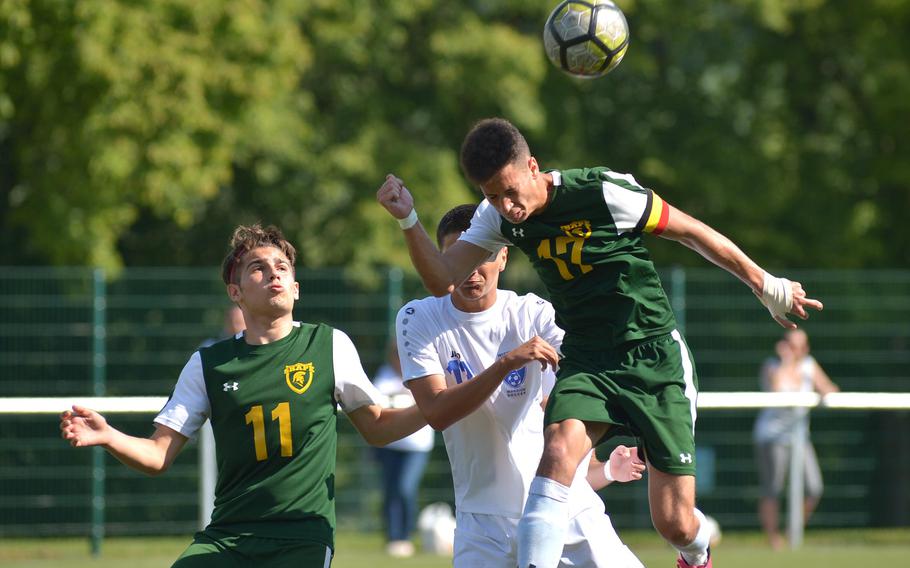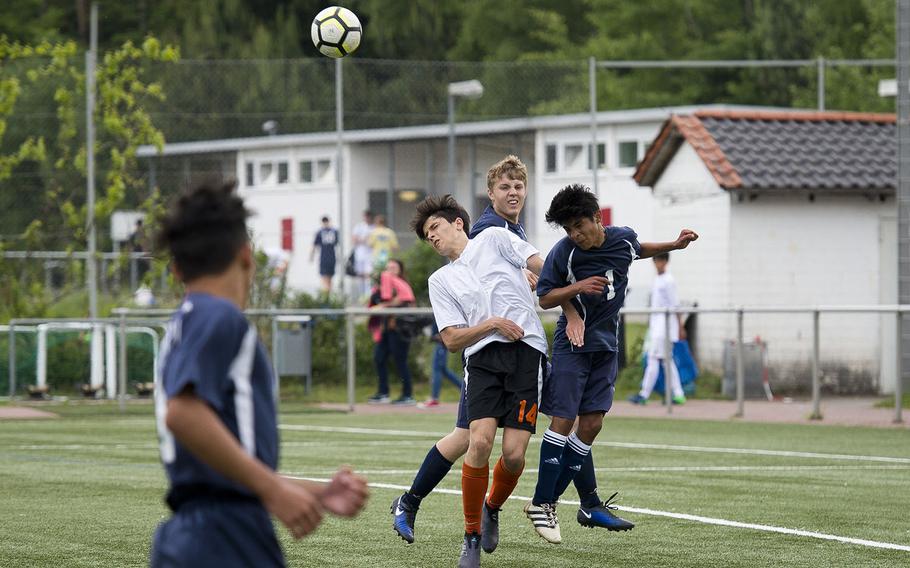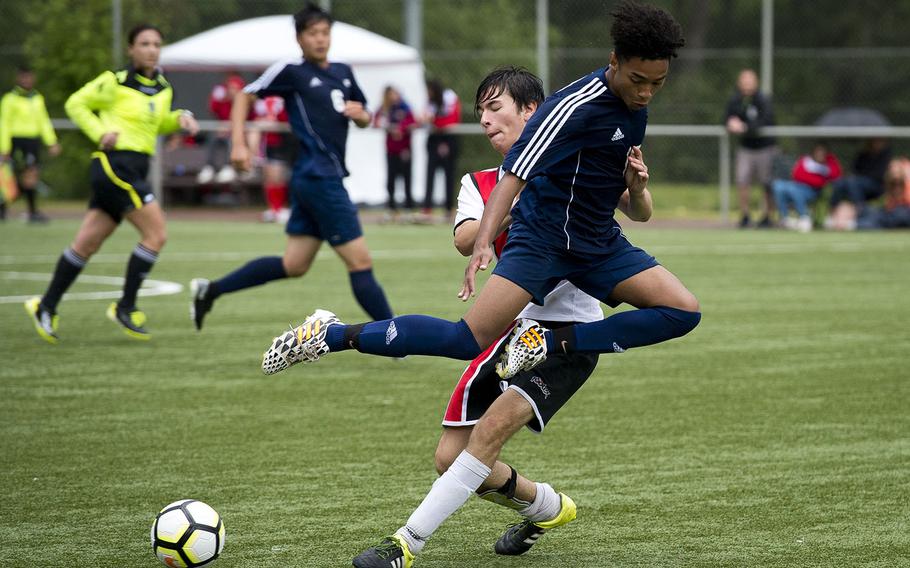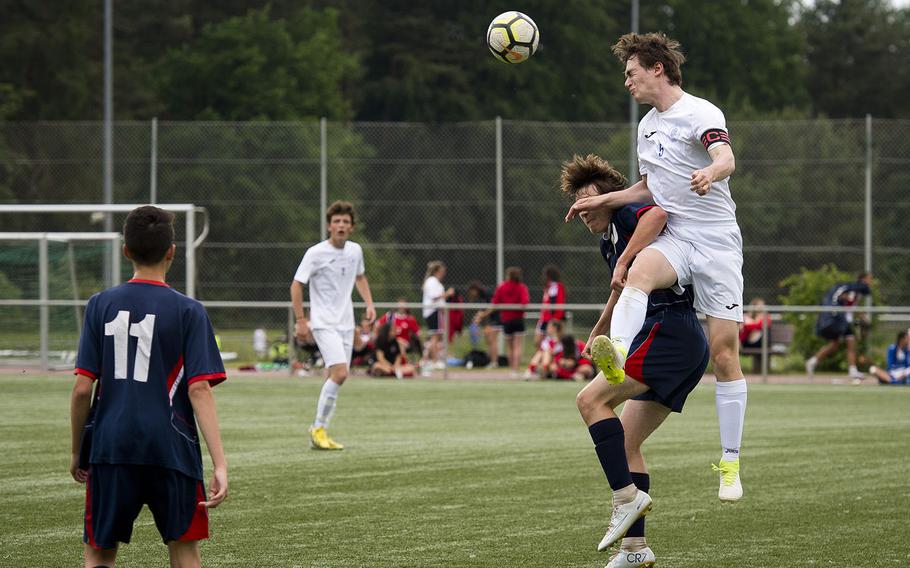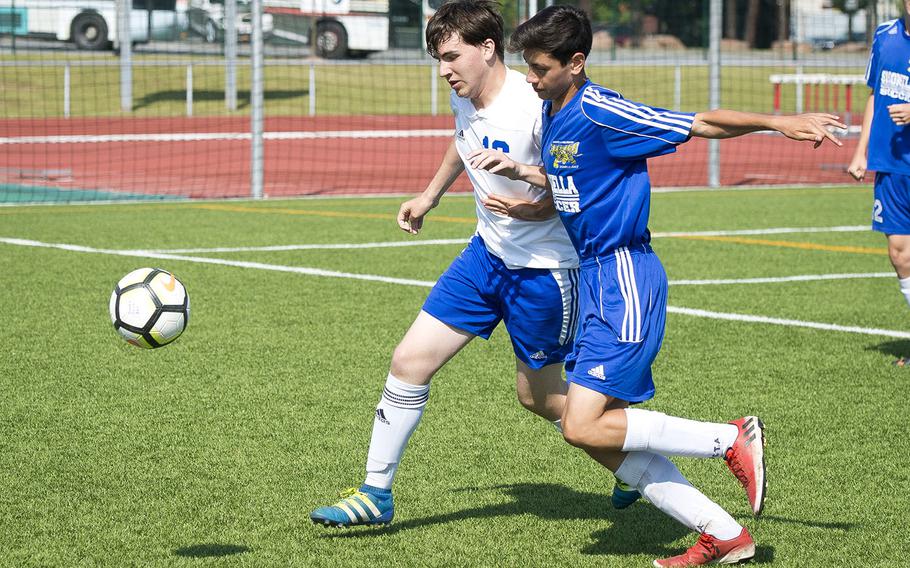 The 2018 DODEA-Europe boys soccer tournaments reached their halfway points Tuesday evening, leaving the championship hopes of roughly half of the tournament's 24 participants still alive.
The second and final day of preliminary play in Divisions I and II produced matchups for Wednesday's semifinal rounds, starting at 11 a.m. at Reichenbach-Steegen, Germany.
The defending champion Kaiserslautern Raiders will take on the Wiesbaden Warriors in one Division I semifinal, while the top-seeded Ramstein Royals face the Stuttgart Panthers in the other.
A rematch of last year's final between American Overseas School of Rome and Marymount headlines the Division II final four, where it's joined by a matchup of second-seeded AFNORTH and upstart Florence.
Division III's round-robin schedule concludes Wednesday, sending its top two finishers straight to the finals.
The three boys European finals are set for Thursday at Kaiserslautern High School, part of a slate of six championship matches starting at 9 a.m. CET.
Division IKaiserslautern 1, Ramstein 1: Each team moved on to the elimination round after a hard-fought draw.
Both squads cruised through Monday's opening day, potentially reducing the latest Raider-Royal skirmish to one of those anticlimactic late preliminaries in which neither team has a clear incentive to win.
But Ramstein's scoreless tie with Naples earlier Tuesday infused the game with fresh urgency. The undefeated Royals needed to win or tie against Kaiserslautern to secure their advancement; a loss would have left them vulnerable to tiebreaker math for a semifinal spot.
Fourth-seeded Kaiserslautern was already assured of its semifinal spot entering the Ramstein game, and senior goalie Enrico Ard allowed that the Raiders' understanding of their comfortable situation "brought us down a little bit." But the sight of the Royals across the pitch boosted the team's competitive spirit.
"It's Ramstein, it's always a rivalry," Ard said.
Ard and Ramstein counterpart Garrett Erickson headlined defensive units that prevented a winning score on either side. Kaiserslautern in particular peppered the Royal goal with sharp late shots, forcing Erickson into some close-call, high-stakes deflections.
"I knew if I didn't get that ball it was game over," Erickson said. "I just knew it was very important. Every save, everything. It was pretty close, but I did what I could."
Stuttgart 2, Wiesbaden 0: Division I's version of a Group of Death claimed the sixth-seeded SHAPE Spartans as the hard-luck casualty of a three-way tiebreaker.
The Panthers, Warriors and Spartans seemed destined for such an outcome from the time the tournament's pairings were announced. All three forced the issue in preliminary games against lesser opponents in hopes of optimizing their odds of surviving a tiebreaker, then set to work trading wins and losses amongst themselves.
"When I looked at the brackets coming into the tournament, I thought there were three excellent, excellent teams on this side of the bracket. Any one of them could be great representatives in the semifinal," Stuttgart coach Chris Kelly said. "We feel very fortunate we're coming out of the group."
All that talk of a tiebreaker proved prescient as the third-seeded Panthers and second-seeded Warriors battled under the specter of some oddball bracket circumstances. Had the Warriors scored a late goal to halve the Panthers' 2-0 lead, Stuttgart would have been eliminated from the tournament entirely in favor of Wiesbaden and SHAPE. Instead, the well-informed Panthers got the precise result they knew was required of them.
"This morning there was a lot of math being done," Kelly said. "The expectation was clearly said to them that we needed to a have a 2-0 win to advance. We set up the formation and strategized a little bit to do so."
Division IIFlorence 2, Black Forest 1: The Falcons came tantalizingly close to forcing a tie in one of the tournament's most physical, intense matches so far.
BFA narrowly missed on several late opportunities. Promising attacks were broken up or produced errant shots. A straight-ahead, short-range free kick sailed high. Most dramatically, a BFA corner kick found a Falcon in the crowd, but the resulting header hit the turf, bounced up and skimmed over the top post of a vulnerable Florence goal to encapsulate BFA's ill-fated brush with advancement.
The victory clinched a semifinal spot for a Florence team that has proven well-constructed for tournament play. A narrow 1-0 win over fifth-seeded Bahrain early Monday set the tone for Florence's run to the elimination round.
Top seed American Overseas School of Rome won all of its preliminary games and was dubiously rewarded with a semifinal matchup against its nemesis Marymount.
Marymount 2, AFNORTH 2: The defending champion Royals returned to the semifinals despite not winning a game on the day they clinched the berth.
Marymount played Aviano to a 1-1 tie Tuesday before playing the Lions to a draw later that day. Both AFNORTH and Marymount advance to the elimination round without a tournament loss; the Lions claimed the first seed by virtue of their three wins as opposed to Marymount's two pool wins.
Division IIIA trend of non-competitive mismatches continued into the second day of the small-school round-robin bracket.
The first two games on Tuesday's slate were 7-0 mercy-rule decisions. Coupled with the last two games on Monday, that amounted to a streak of four consecutive 7-0 final scores. Tuesday's third and final preliminary, a 2-0 Ansbach win over Alconbury, broke the unpleasant streak.
Wednesday has the potential to shake the bracket free of its blowout-tinged malaise. Brussels and Ansbach, both 3-0 through the first two days of the tournament, play a morning game that is a rematch of Brussels' win in the 2017 championship match and a potential preview of Thursday's 2018 edition.
Twitter: @broomestripes