Surprise! Patch leads pack at qualifying tourney
---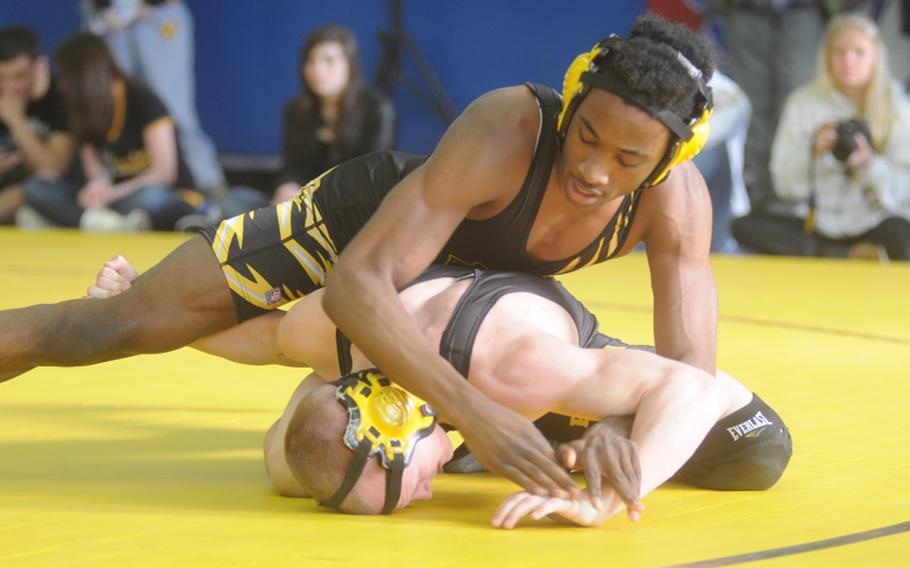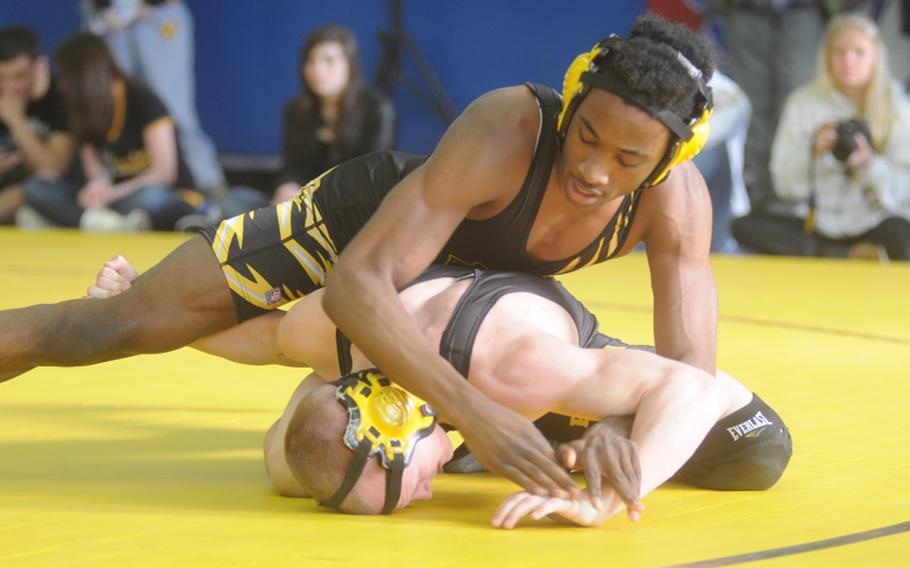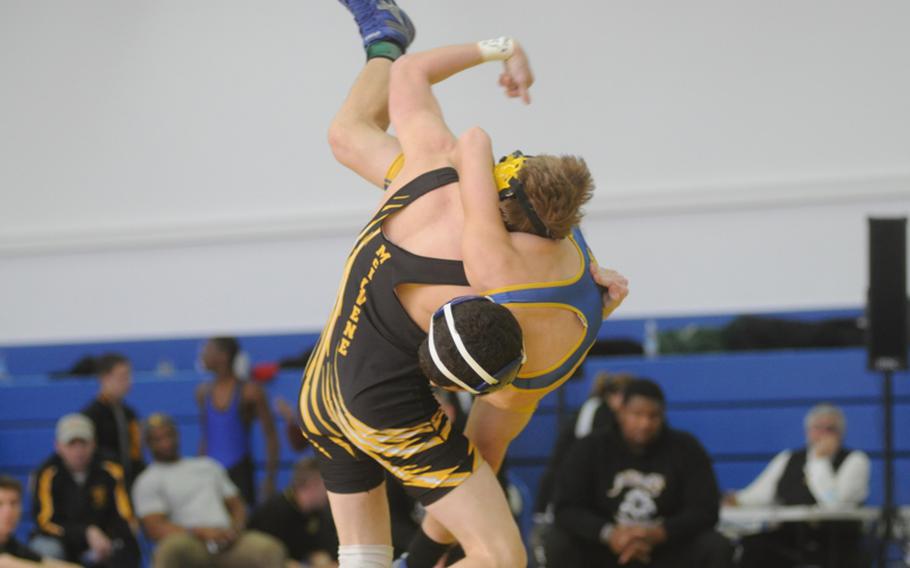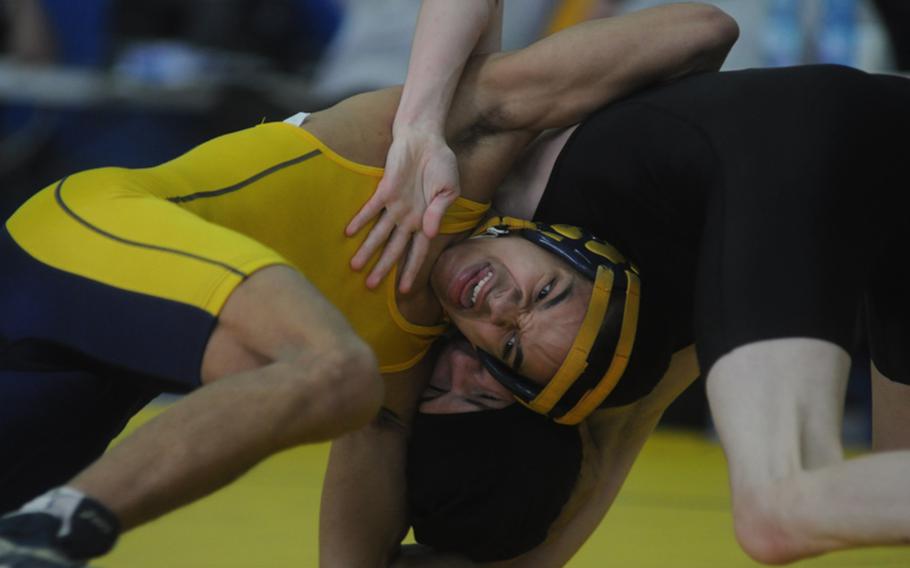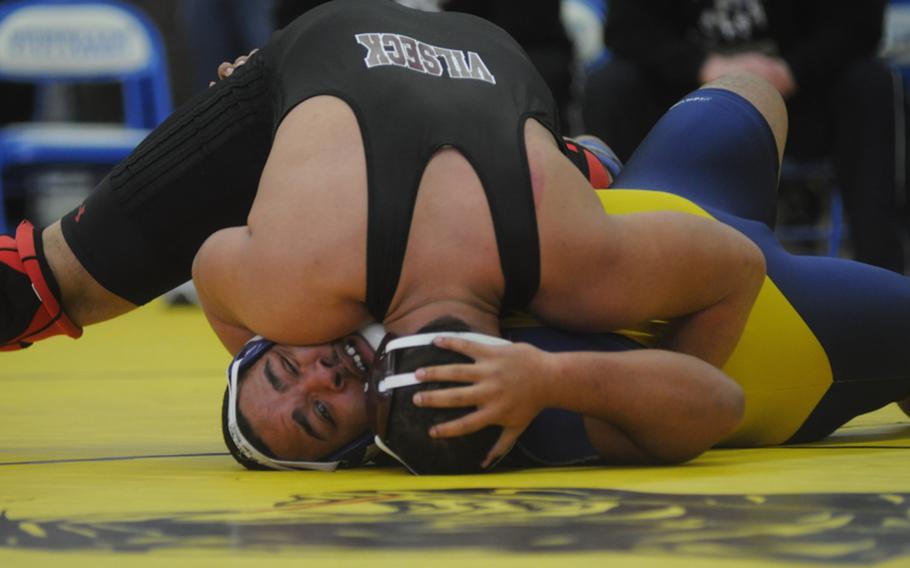 STUTTGART, Germany - Patch High School dominated the Eastern Sectionals at Patch Barracks Saturday qualifying at least 16 out of the 27 wrestlers it entered.
Patch wrestlers won first and second place in five of the 14 weight classes, ensuring all those wrestlers will go to Europeans next week in Wiesbaden. Heidelberg qualified four wrestlers, Vilseck and Ansbach three and Hohenfels two.
Norman Matzke, Patch's coach, said the tournament went mostly as he expected. Twenty-four of his 27 wrestlers placed in the top four slots in the respective weight classes and several were submitted for wild card entries..
"We're hoping, if we get our wild cards, we may take about 20, 21, 22 wrestlers," Matzke said. "But it depends on how the nominations go in the other sections."
Other wrestlers found sectionals to be tougher than they expected. Ansbach senior Rahim Beatty, who competes at 285 pounds received second place in the sectionals as part of an unexpected upset.
Beatty was undefeated until the championship match Saturday, where Vilseck junior Armando Saldana pinned him. Beatty said he's faced Saldana five times before and had always beaten him. The loss caught him off guard.
"He wanted it more than I did," Beatty said.
Fellow Ansbach wrestler Shawn McDonald, a freshman who competes at 126 pounds, showed promise early in the wrestling season with a record of 11-2 going into sectionals. During round robin action, he lost two of three bouts and finished in third place Saturday. He said his biggest competition was Patch senior Isaac McIlvene, who is undefeated with a record of 17-0.
"Today, everybody worked hard for it," McDonald said. "And I'm going to meet McIlvene again. And as soon as I meet him again, it's going to be a rumble."
Matzke, whose teams have won the last four European team titles, says the remaining week of practice is not going to be a very tough for Patch.
"We want them fully recovered before we go into Europeans," Matzke said. "And a lot of practice is going to focus on the tactics of wrestling at that particular competition. It's a little different than our regular season tournaments. So at the end we want to make sure our wrestlers understand what their jobs are as a point earner or non-point earner. When you get to Europeans, we pin them as fast as we can. Conserve our energy. Going three-period matches when they don't have to? They will not do that. Although, our non-point earners, we like them to go three periods. We restrict them to, 'even if you think you can pin the guy in the first period, wait until the third period.' Because it wears out the opponent. It's a tactic."
Matzke went on to say that Ramstein will pose the biggest challenge for his wrestlers.
"Ramstein is the competition for us but there's other schools that can sneak in there and upset both of us," he said.
---
---
---
---