D-I football semifinal
Stuttgart stuns Ramstein with last-second field goal
---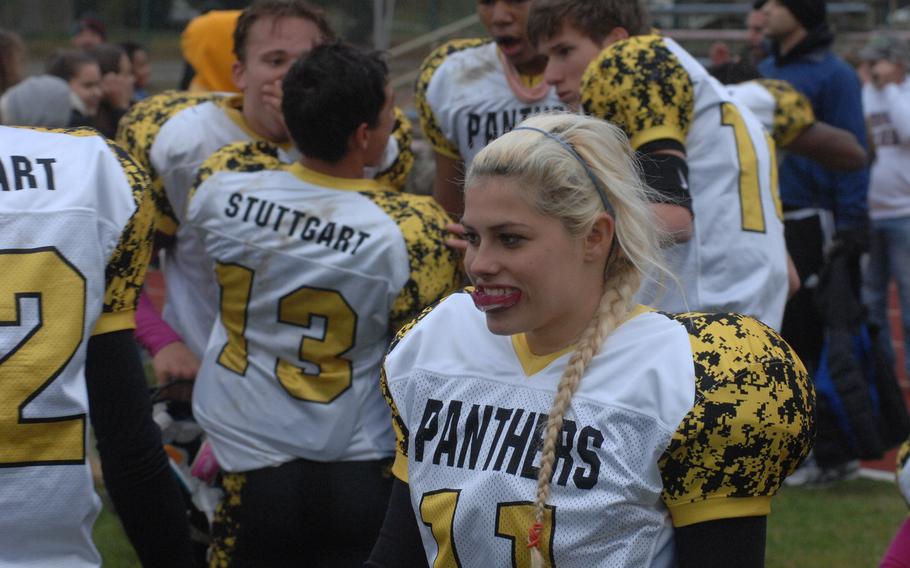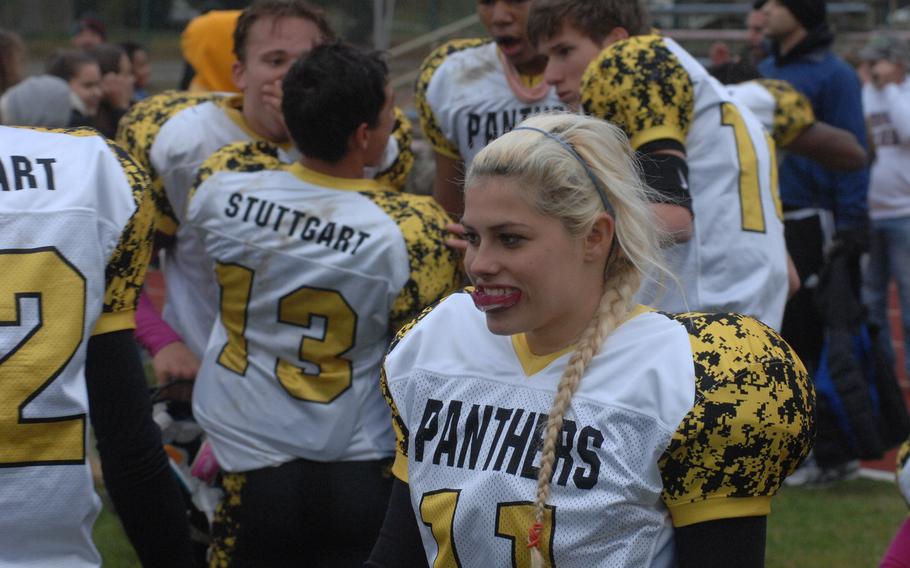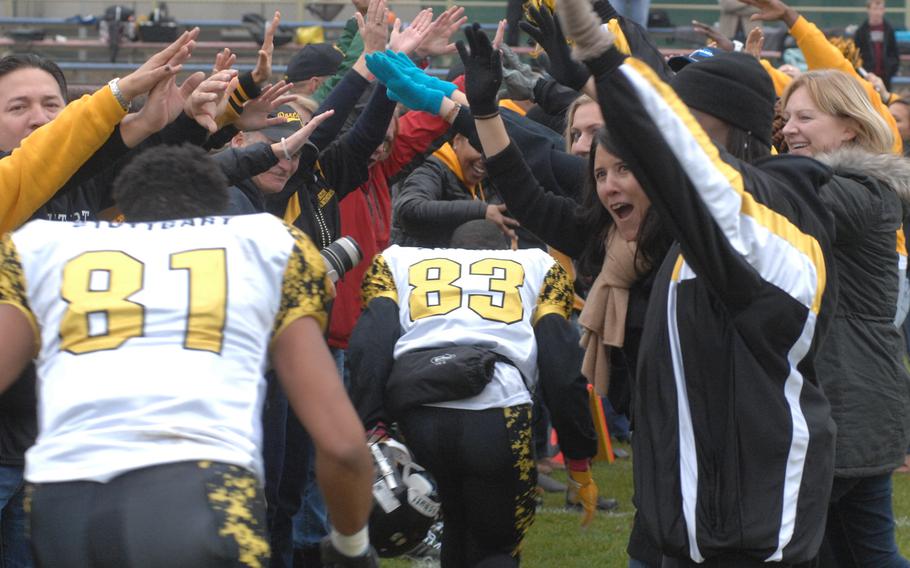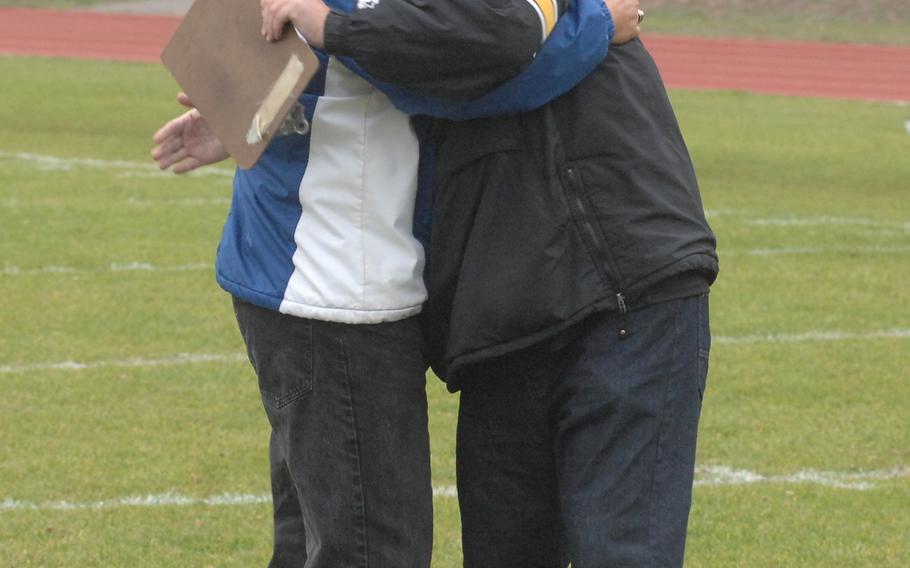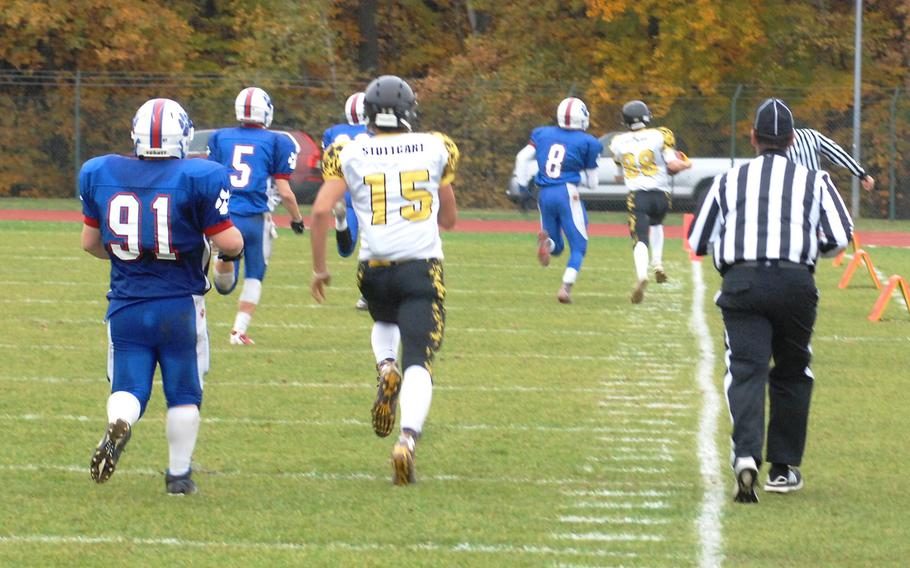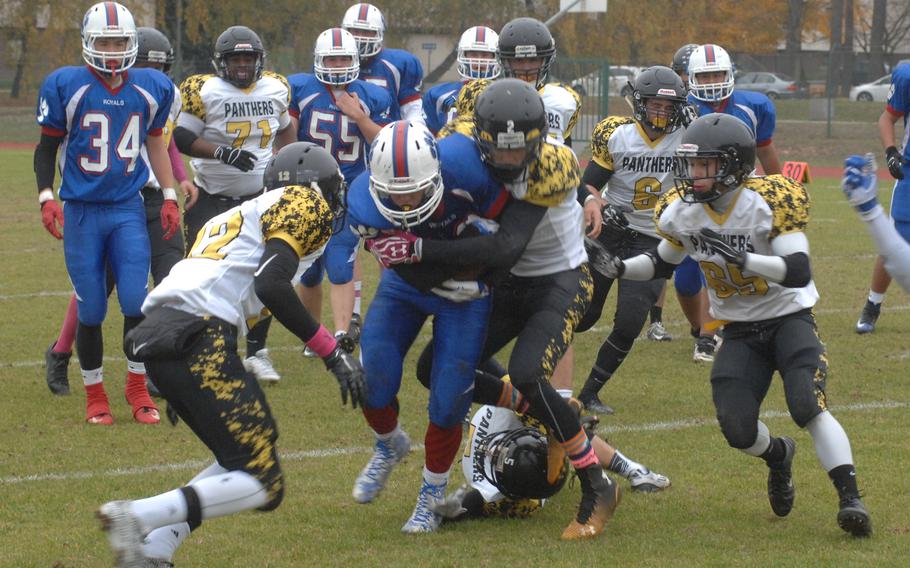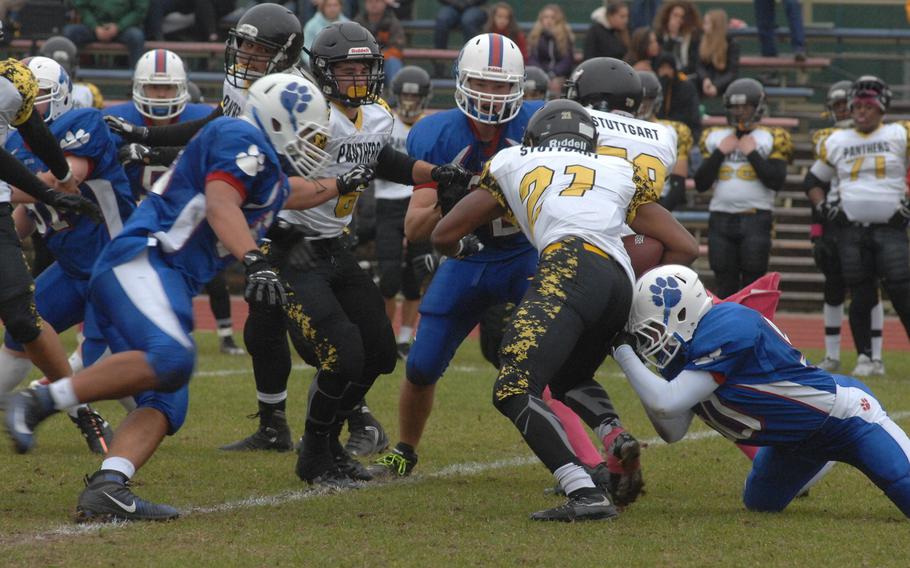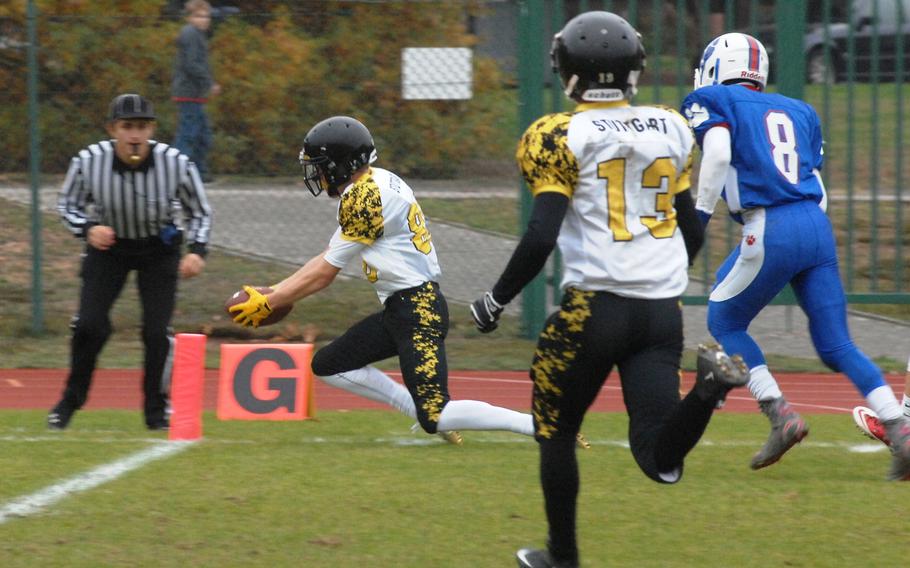 RAMSTEIN AIR BASE, Germany -- Endings don't come more dramatic than this.
The Stuttgart Panthers stunned the defending champion Ramstein Royals 10-8 on Saturday in a Division I semifinal game that featured an eight-point rally, a perfectly executed hook-and-ladder trick play and a game-winning field goal all in the final minutes of the fourth quarter. Kicker Kat Farrar delivered the last-second 22-yard field goal to win the game for Stuttgart.
"Great teams find ways to win, and that's what they did today," Stuttgart coach Billy Ratcliff said of his fourth-seeded Panthers. "We believed we could do it."
That's remarkable considering the circumstances the Panthers faced. Trailing 8-7 with less than 30 seconds to play and some 70 yards separating them from the end zone, the Panthers put together a pair of plays that saved their season and ousted the top-seeded, undefeated Royals from the playoffs.
First, quarterback Harrison Lane found Josh Souders on a short passing route, and the Royal defense converged on Souders immediately upon the catch. But the Panther wideout was able to shovel the ball to teammate Sean Loeben before hitting the turf, and Loeben took off for the end zone on a full sprint in front of a shocked Ramstein sideline.
Loeben's dash came up short of the end zone as Royals defensive back Brendan Hicks ran him down around the 5-yard line. Confusion briefly reigned as officials determined the official time, with the consistently malfunctioning Ramstein scoreboard offering no insight to players, coaches or fans. The verdict: seconds to play, time enough for Farrar to rush on field and nail the game-winning kick.
Farrar, the 2015 Stars and Stripes girls soccer athlete of the year, is playing her first year of football for the Panthers. Though she was "really nervous," Farrar kept her team's season alive with one calm, confident kick.
"It's pretty cool," Farrar said. "I'm really grateful to be a part of it."
The hook-and-ladder sequence that set up Farrar's game-winner rarely worked in practice, Loeben said, but it played out close to perfectly when it counted.
"This time, I think everyone felt like we needed to get it, it needed to work," Loeben said. "I was just lucky enough to get close enough that Kat could kick it in."
The breakthrough victory ends years of Panther frustration at the hands of the Royals. Known until this season as Patch, the program has seen its season ended by Ramstein for the past three years. That includes a 26-7 loss in the 2012 title game and a pair of brutal semifinal losses, 34-0 in 2013 and 48-7 a year ago. The Panthers played Ramstein tougher this fall, losing 13-6 in their lone regular season meeting.
"I just felt this year that we had to get it done. This was the year," Loeben said. "This was the team to do it."
While the final score looked like it came from a baseball game, Saturday's gridiron clash was pure smash-mouth football. Neither team managed much on the offensive end, sending most of their plays up the middle, on the ground and for marginal gains. The only legitimate offensive highlight of the first three and a half quarters was a 32-yard touchdown pass from Lane to Loeben at the start of the second quarter, a score that looked like it might hold up as the final margin as the game slogged on.
But Stuttgart grew increasingly conservative as it clutched its tenuous lead entering the game's final minutes, and the approach backfired when a botched punt snap wobbled out of the back of the end zone for a Ramstein safety.
Buoyed by its first points and the promising field position it yielded, Ramstein pounded its resulting possession deep into the Stuttgart red zone. The Panthers held firm, forcing a fourth down and goal from the 7-yard line, but Ramstein finally got the offensive break it needed: a sharp slant pass from Kyle Glenn to Damon White for an 8-7 Ramstein lead with less than a minute to play.
With the home team just seconds from victory, the miscues that immediately followed seemed negligible. But a penalty and incomplete pass denied Ramstein a two-point conversion and, after Stuttgart's dramatic response, set up Farrar to kick for the win rather than the tie.
The outcome represented the end of more than Ramstein's title reign. Ramstein coach Carlos Amponin announced after the game that he would step down as Ramstein head coach, following through on a decision made well before Saturday's loss.
"It was a hell of a game," said Amponin, who took his first home-field loss as Royals coach on Saturday. "It's good to go out that way."
For Ratcliff's Panthers, it's a good way to go on to the title game. Stuttgart will play Wiesbaden on Nov. 7 at Kaiserslautern High School for the 2015 DODDS-Europe Division I championship.
"We knew it was going to be tight," Ratcliff said. "But I told the guys I fully expected to be practicing next week."
Amponin added that he was happy for Ratcliff and the Panthers. "You always want to be in the championship game, but it's good for everybody to have new blood break through," Amponin said. "I just would have liked it at somebody else's expense."
Twitter: @broomestripes
---
---
---
---