Stuttgart spikers hand Wiesbaden first defeat
---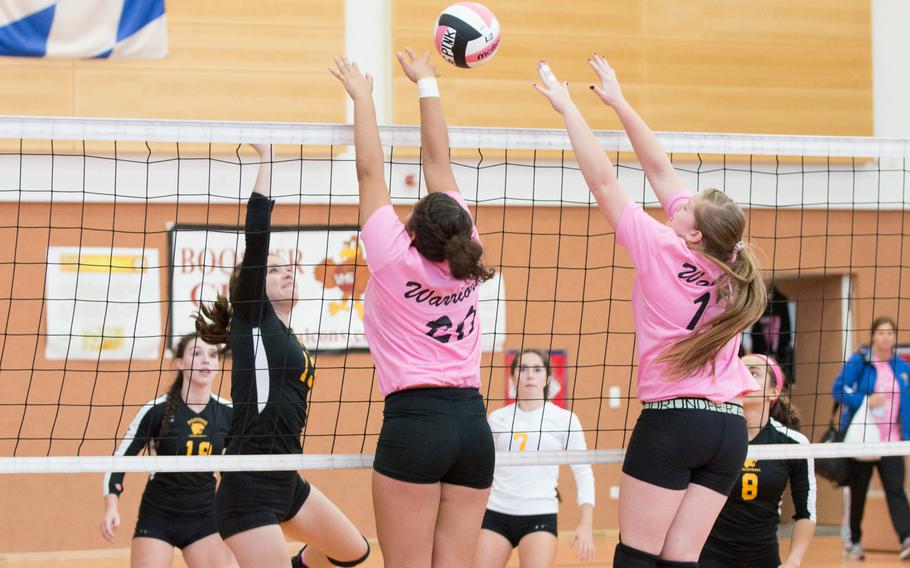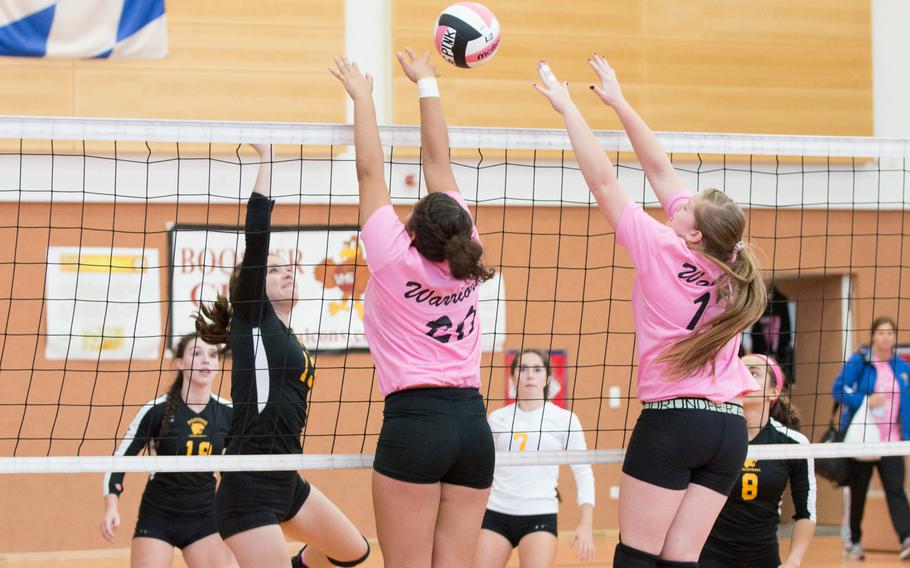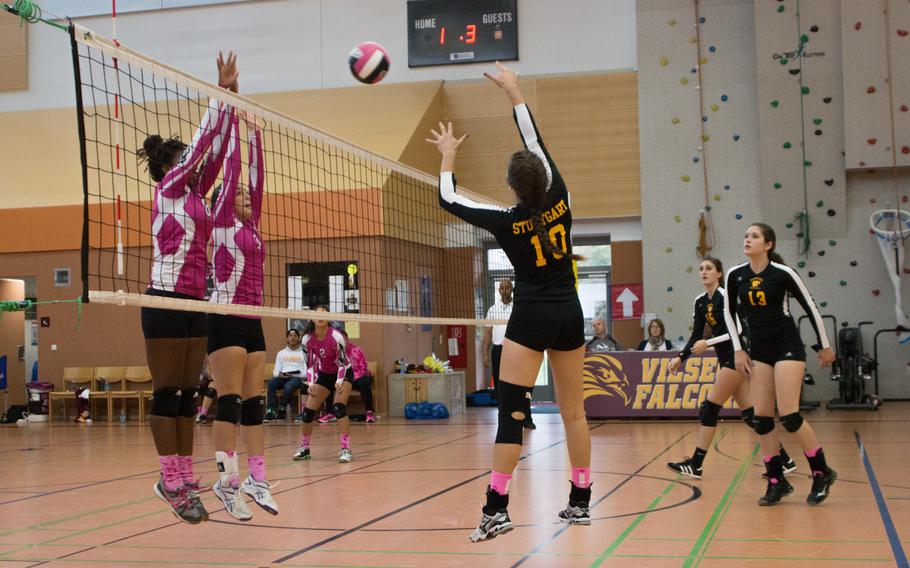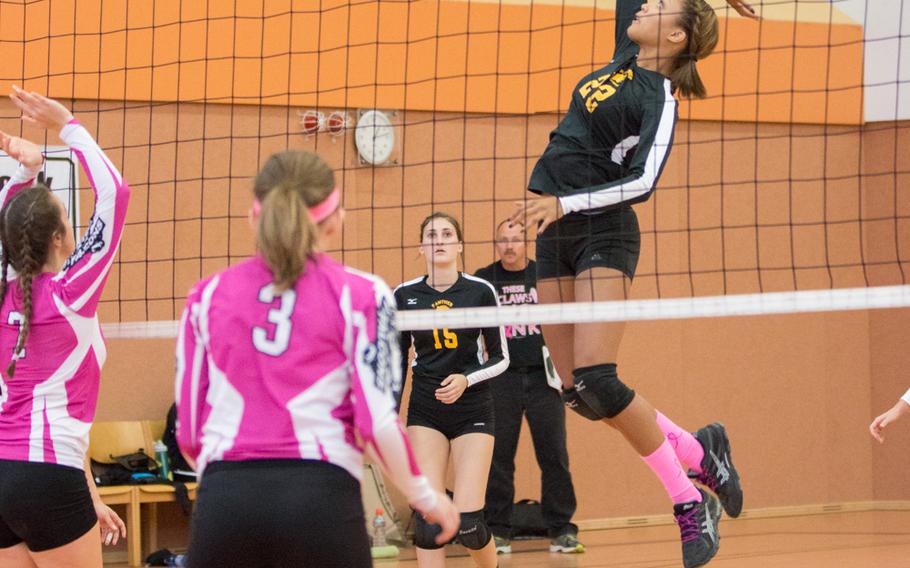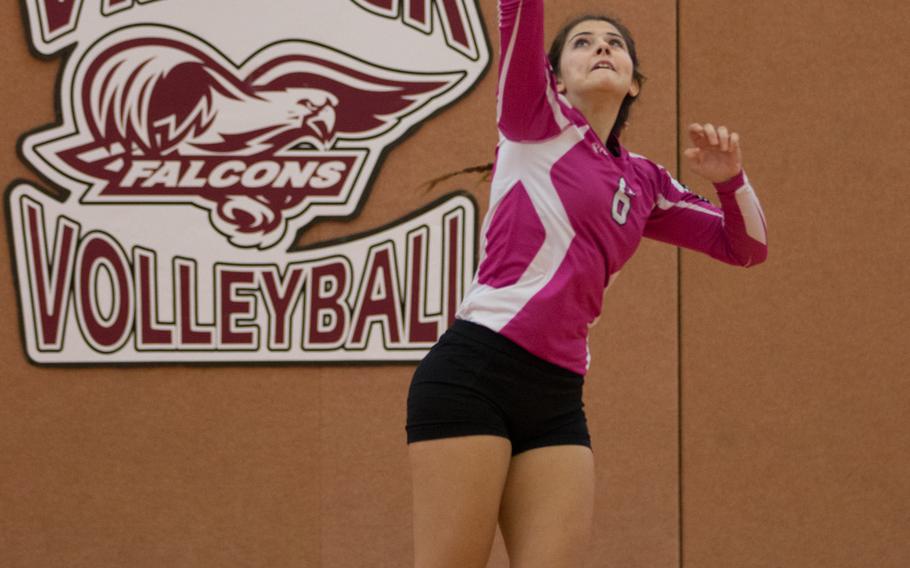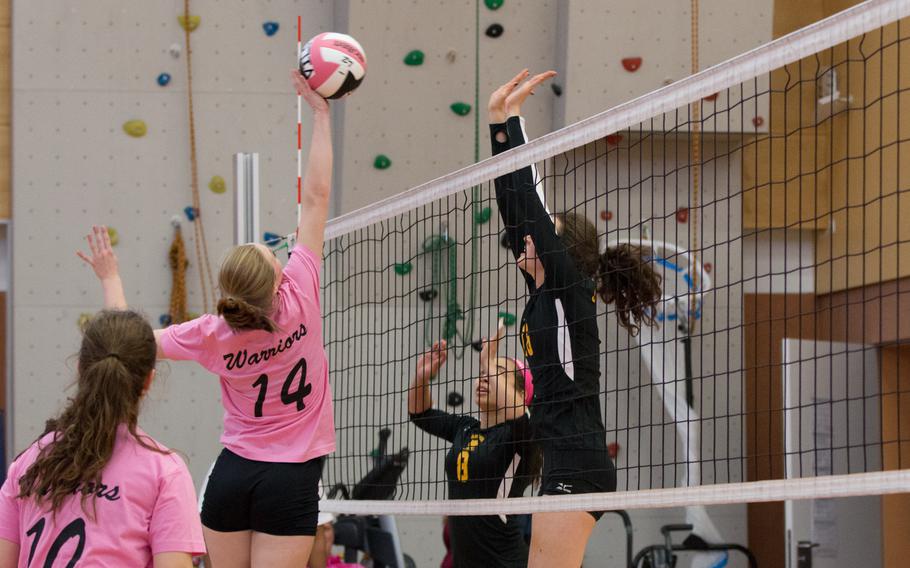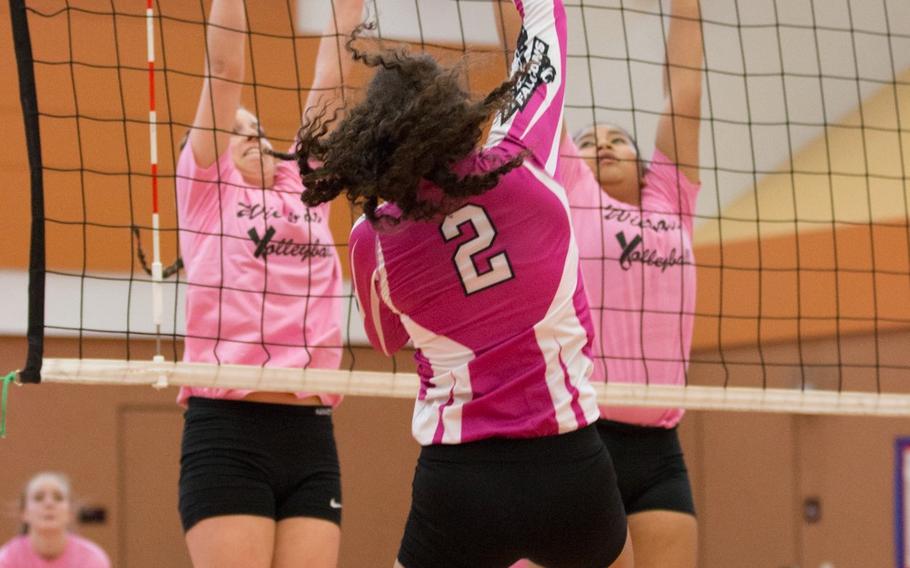 VILSECK, Germany – For much of Saturday, it looked as if the Wiesbaden Warriors would coast to their ninth and 10th victories of the 2015 DODDS-Europe Division I girls volleyball season.
But the Stuttgart Panthers had other ideas.
In three straight sets, the Panthers put an end to an unbroken winning streak that went back to the beginning of last year. With their 25-21, 25-20 and 25-16 victory over the reigning champs, the Panthers are – for the time being - the top seed heading into the European finals.
They're not exactly polishing up their championship trophy just yet. After all, Saturday's matches show that anything can happen in the waning weeks of the 2015 season.
"Wiesbaden was undefeated and we had lost once to Ramstein," pointed out Stuttgart's Janey Greenberg. "We have a good team and I'm super excited this season's going well."
Greenberg had three aces during the Panthers' win over the Warriors, but it was Julia Smith who stole the show. She had 13 kills and a solitary ace, all the while anchoring the team's rock solid defensive play.
She didn't expect her and her squad to do quite as well as it did.
"We came out looking for competition, we knew it was going to be hard, we knew it was going to be difficult," Smith said. "But we worked out butts off and we came out successful. That's all we wanted."
For their part, the Warriors had a day some teams would be envious over. Yes, their unbeaten streak ended, but they also had a great showing against the home team Falcons earlier in the day.
The Warriors took the first match of that set 25-22, the Falcons rallied back to snatch the second 25-18 and from there out it was all Wiesbaden. The Warriors took the last two matches 25-22 and 25-17.
Ellen Tafoya had three aces and eight kills, while junior Melanie Hirschel-Weber had four aces and two kills of her own. Rosette Gray added to the pile with seven kills and three blocks.
Brigantia O'Sadnick, a key player in both games, had a combined 10 kills and five blocks. She said the team isn't exactly happy about their loss, but they're not taking it too hard, either.
"We know we're going to play them again in two weeks. This gives us time to prepare and get ready and come back strong," she said. "Everybody goes through losses and it was just that time."
As homecomings go, the Falcons had a rough day.
Though they took a set from the Warriors early in the day, they couldn't replicate that feat against Stuttgart. The Panthers won their meet up in three straight, 25-11, 25-14 and 25-5.
"At the end of the day we're still a team, we're still a family," Vilseck's Lizzie Hendrix said. "I told them to not dwell on this. This is a learning experience. If we dwell on this we're going to fall apart."
With just a few weeks left in the season, the playoff picture is starting to materialize. A rematch between the Warriors and the Panthers in two weeks will likely be the deciding factor in which teams heads into the finals as the top seed.
Wiesbaden coach Linnea Velsvaag said she's not particularly concerned about their chances.
"We've instilled in them that they have the confidence to do what it takes to overcome adversity," she said. "We have faith in our players."
---
---
---
---