European wrestling
Stuttgart shines in finals, wins fourth straight title
---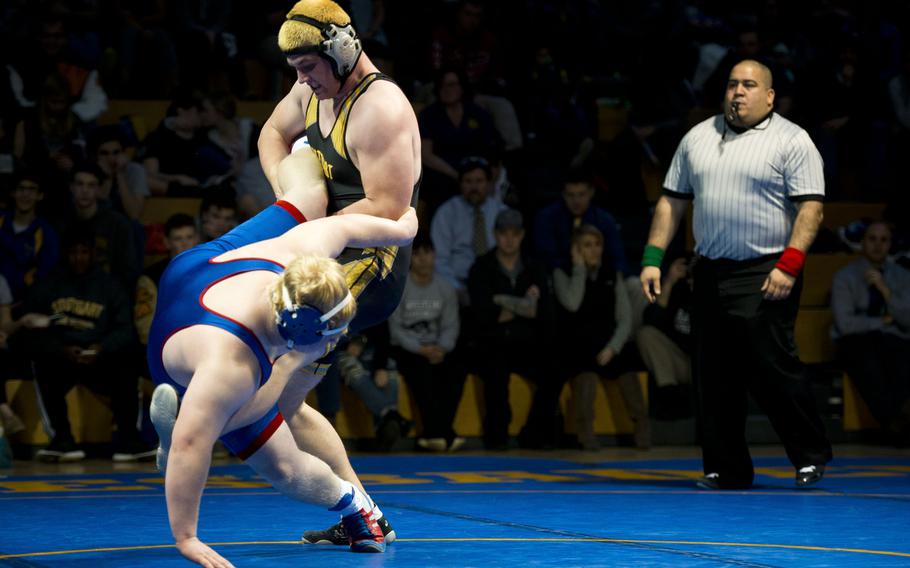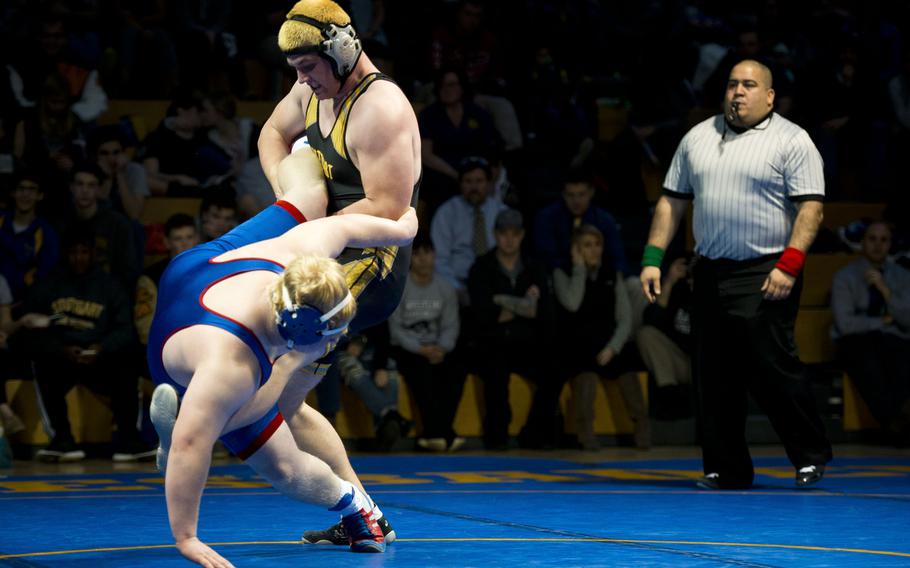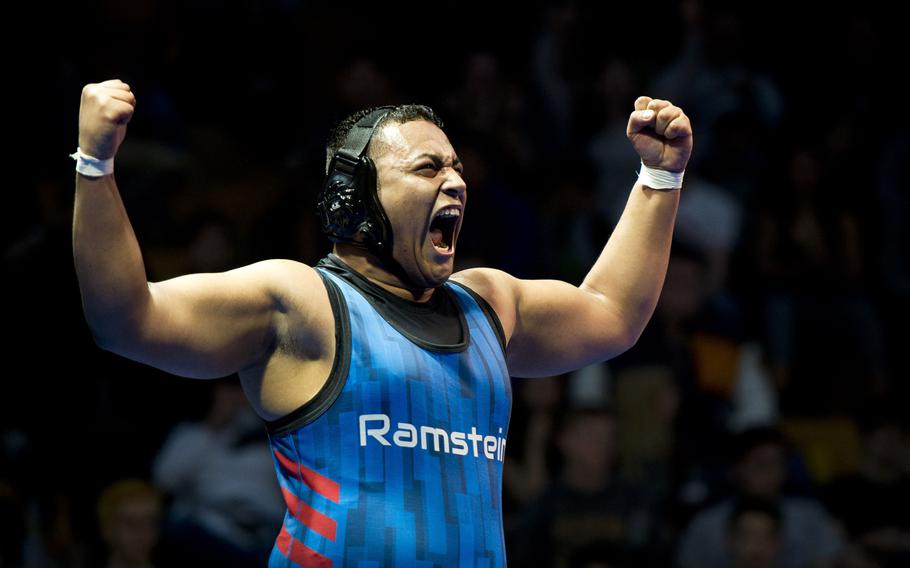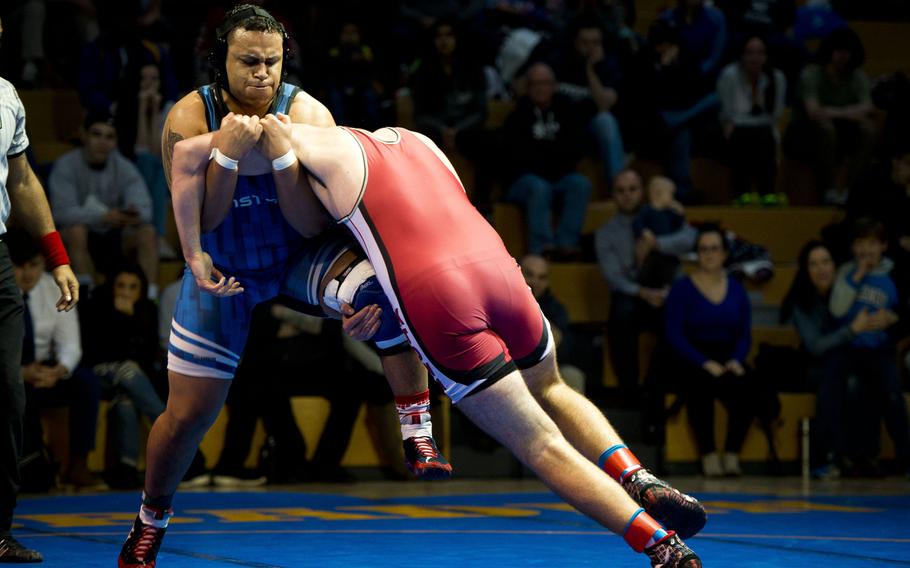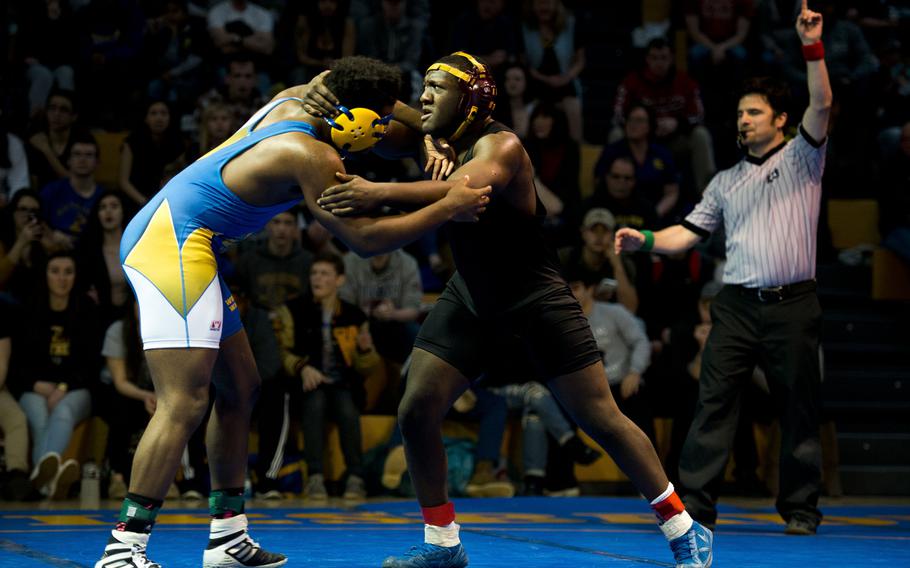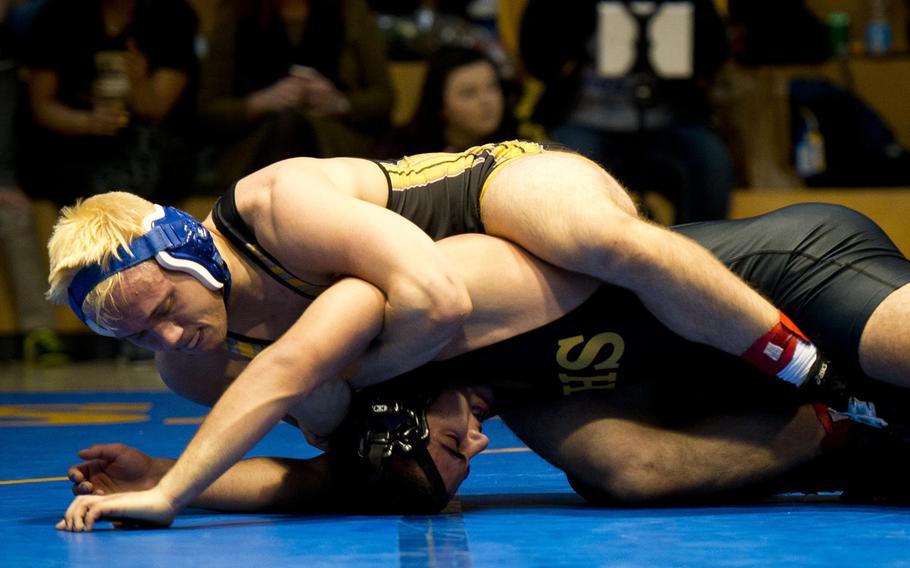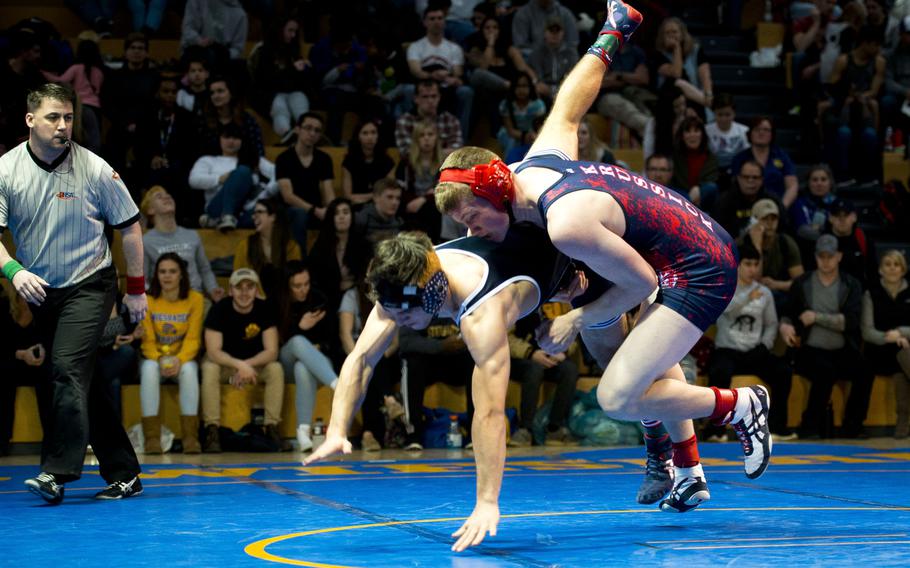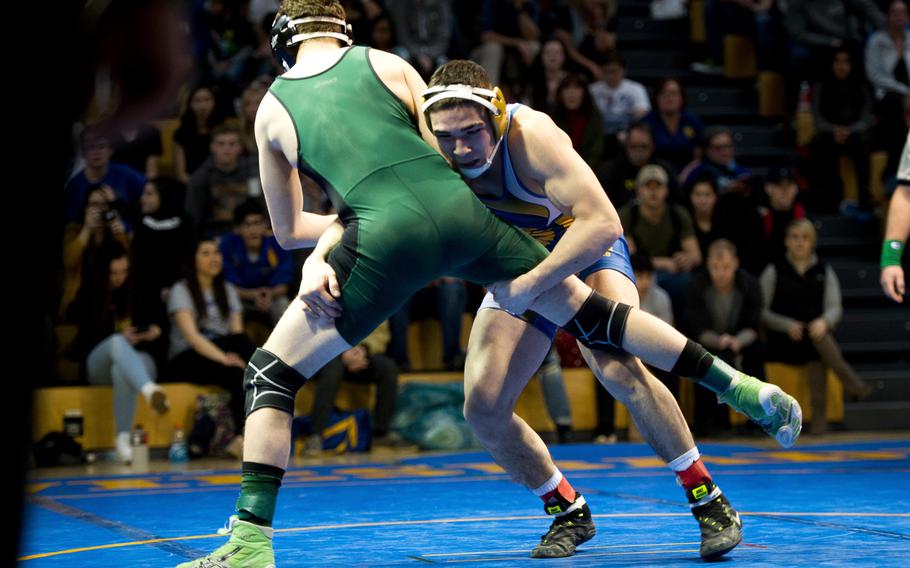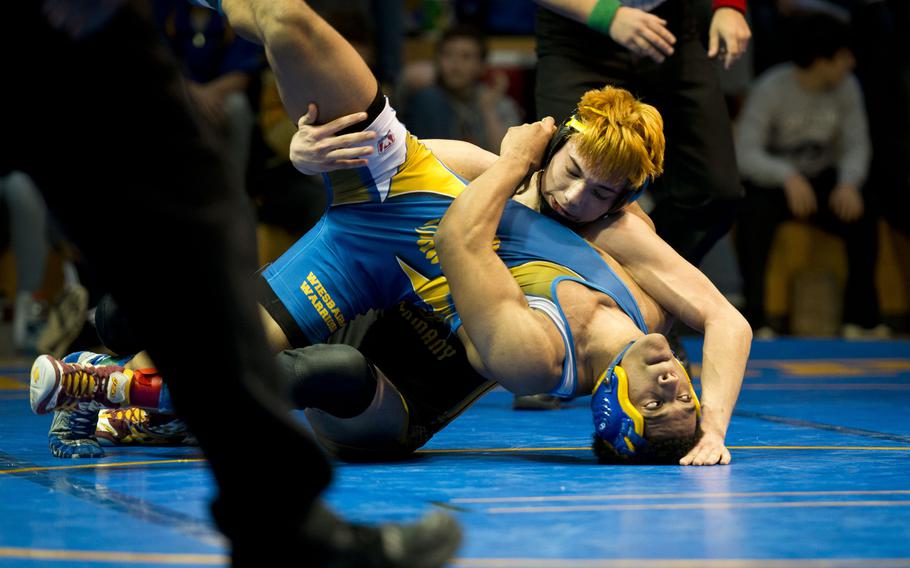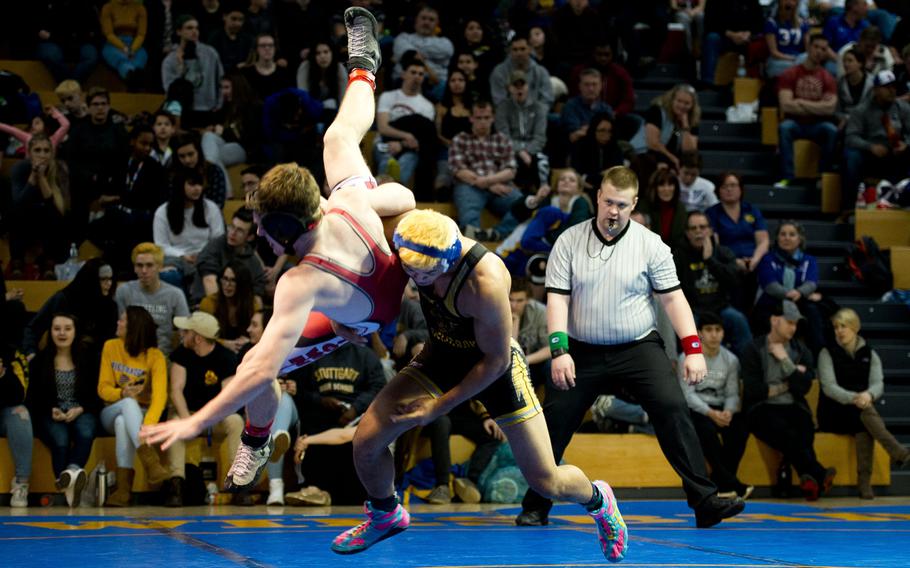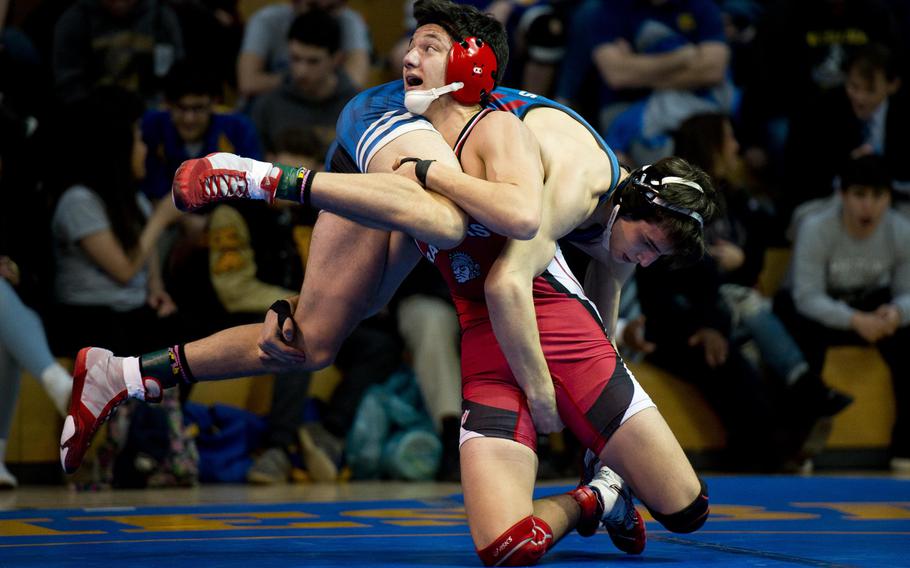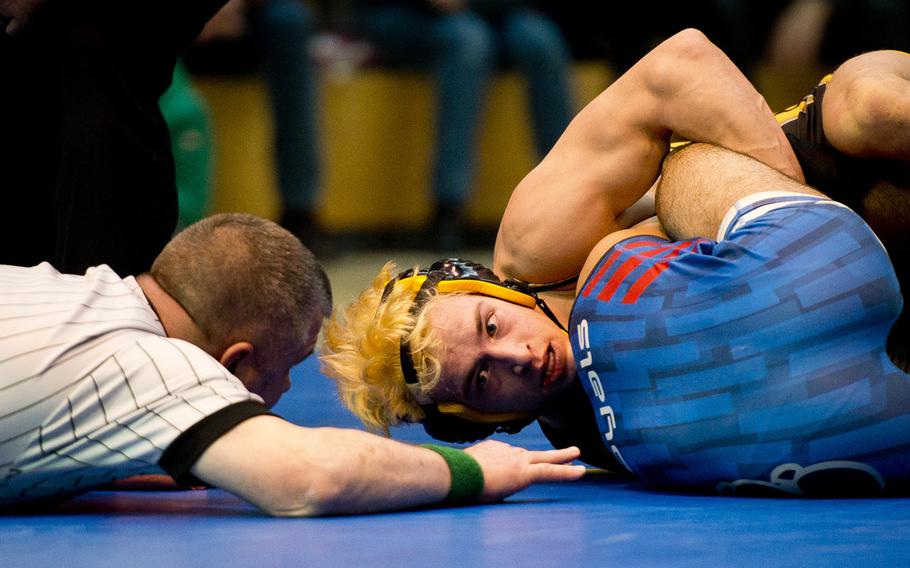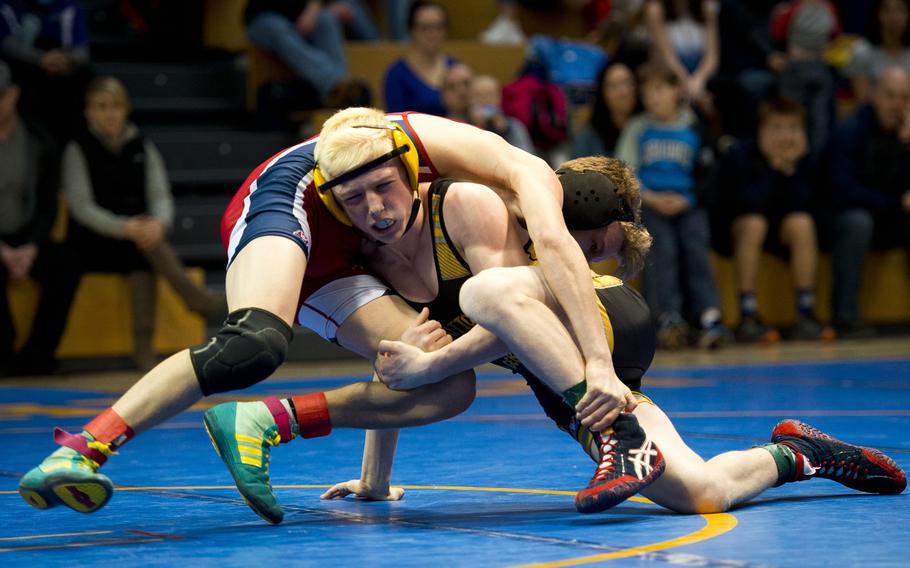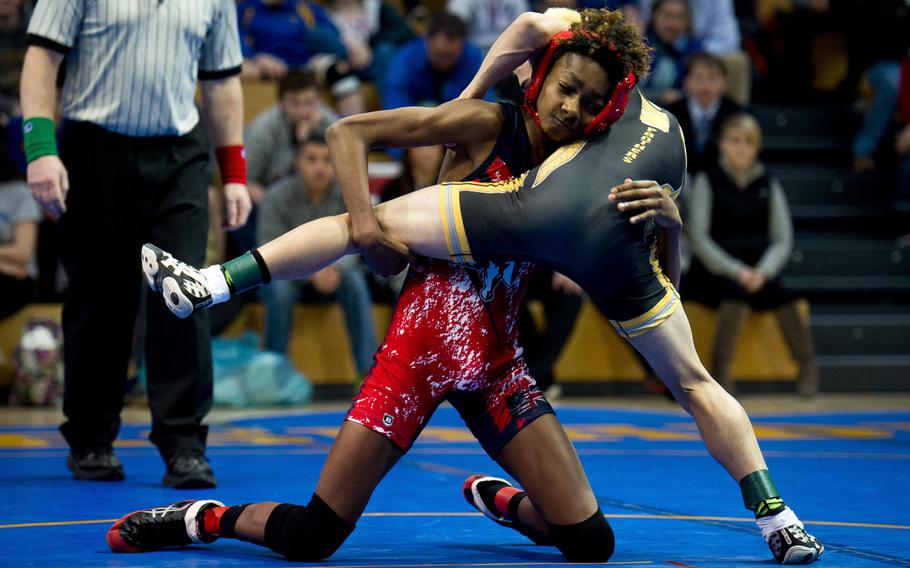 WIESBADEN, Germany – The Stuttgart Panthers earned their fourth consecutive DODEA-Europe Division I wrestling championship Saturday at Clay Kaserne Fitness Center.
Six of the seven Panthers who reached the final match claimed the championship in their weight class, giving Stuttgart the edge over the runner-up Ramstein Royals. Ramstein claimed four individual titles from their group of six finalists.
Aviano rode a pair of European second-place finishers to a Division II victory, while Baumholder won the Division III crown.
106 poundsLakenheath sophomore Bryan Lovett won the day's first European championship with a steady 6-0 decision over Stuttgart senior Ruben Ramos.
Lovett put his opponent on the mat in each of the three periods by "clamping on" and applying persistent pressure.
"I knew he was stronger than me," Lovett said. "I just stuck to the basics."
The win capped an undefeated season for Lovett, who finished in fifth place at 106 pounds in 2016.
113Ramstein senior David Kingery came close to a championship over the last two years. This year, he finished the job. Kingery took a tight 10-8 decision from Kaiserslautern freshman Conner Mackie.
Mackie erased what looked like a comfortable lead for Kingery with a relentless rally, ultimately forcing an extra session. Down to his final opportunity, Kingery realized his time was now.
"I've got to do this for my team," Kingery said. "I just looked up at the stands, saw my friends and family, and it just clicked. I'm doing it for them."
120Joshua Garcia continued two streaks with his 4-0 decision over Aviano's Jacob Gamboa. He notched a second straight title for his team, and added to his individual streak by pairing the 120-pound gold with the 106-pound title he won in 2016.
The loss ended a strong showing for the freshman Gamboa, who admitted to being "intimidated" as the meet opened Friday but had fully launched a promising DODEA-Europe wrestling career by Saturday evening.
126Stuttgart sophomore Benjamin Fielding completed a season of unequivocal dominance with a 46-second pin of Aviano's Liam Knowles, adding a second title in as many seasons to the 120-pound championship he earned as a freshman.
Despite the losses, finalists Gamboa and Knowles helped Aviano win the Division II team title by advancing to their respective championship matches.
132Matthew Bolduc couldn't stay away, as much as his opponents might wish he had. The Stuttgart senior returned from a year stateside to earn his third career DODEA-Europe wrestling crown with a win over Ramstein's Stanley Cruz.
Bolduc won at 106 pounds in 2014 and 126 in 2015 before spending his junior year in New York. But he was thrilled to have the opportunity to finish up his prep career with the Panthers.
"It's a better fit here," Bolduc said. "It's great to be back. I made a lot of good friends before I left, and it's just the team and the family that we built here, it just can't be broken. It's a bond forever."
Cruz, a senior, won the 126-pound title in 2016, setting up Saturday's unusual meeting between two wrestlers who had both won European championships in the same weight class.
138Senior Ryan Ford continued Ramstein's early push with a defeat of Kaiserslautern senior Evan Mackie.
The win capped a 33-0 regular season for Ford, along with a dominant tournament run. Ford pinned four of his five of his preliminary opponents and earned another pin in the semifinals to cruise to the title shot.
145Stuttgart senior Isaiah Phillips capped an undefeated season and delivered more Panther points with a pin over Kaiserslautern's Parker Rose in four minutes, 38 seconds.
Phillips got the Panthers off to a rousing start in his first match Friday with a stunning 10-second pinfall victory, and continued it by providing one of three Stuttgart pinfall wins in the finals.
152Stuttgart's Christopher Hernandez has spent two years grappling with and learning about Wiesbaden opponent Joshua Theodore. On Saturday, all that research paid off as Hernandez earned a 14-4 decision over his longtime rival.
"For the past two years of me wrestling him, I've picked up his wrestling style," Hernandez said, specifying Theodore's "head-and-arm" maneuver. "I've been working all season to counter that." Both Hernandez and Theodore were semifinalists at 145 pounds last season.
160Wiesbaden senior Gabriel Charlifue reversed the Warriors' fortunes, and his own, with a victory over Naples' Caleb Hood.
A year after falling short in the 152-pound championship match, Charlifue delivered a title that made the anxious hometown cheering section erupt in cheers.
Charlifue was a heavy favorite entering the match. He was 31-0 on the regular season and a returning European finalist, and he had pinned Hood in less than two minutes in Friday's preliminary bout. But he wasn't taking anything for granted, saying "too much can happen" as a match develops.
"I just had a plan the whole time and I followed it," Charlifue said. "Put him away as quick as you can."
170Lakenheath's Joseph Krussick delivered a second individual title for Lakenheath with a win over Munich International's Cole Ronnau.
The match was a compelling battle of evenly-matched competitors. Both Krussick and Ronnau were seniors. Both were undefeated in the regular season, having avoided a direct encounter until Saturday's final. And both lost title matches at last year's tournament – Krussick at 170 and Ronnau at 160.
Krussick was named the tournament's most outstanding wrestler.
182The 182-pound matchup between undefeated powerhouses looked like the match of the day on paper. For a time, that's also what it was on the mat.
But after two rounds of grueling, mat-based combat, Stuttgart senior Kevin Wentland started the third by putting Vicenza senior Emil Aliyev on his back and locking in for a pinfall win.
The pinfall was a familiar outcome for Wentland, even if it took a little longer than usual. Wentland won all of his first-day matches in under 40 seconds. Wentland also won the tournament's "pin master" accolade, recording seven pins in as many matches with an average time of one minute, 46 seconds.
195Senior Christopher Hobson gave the host Warriors another title, and a third-place Division I finish, with a 17-5 major decision over Yorel Smalls of Baumholder.
The match was a battle of accomplished football players, pitting the stalwart Bucs lineman Smalls against Warrior running back Hobson.
The Baumholder loss clinched a shutout for non-Division I wrestlers, as all four that advanced to the finals met defeat, but Smalls' berth in the finals helped the Bucs secure the small-school title.
220Ramstein senior Erik Gerena spent the last year losing a lot to gain what he did Saturday.
Gerena finished as runner-up at 285 pounds a year ago. In the 12 months since, he said, he lost 45 pounds in an effort to avoid another injury like the torn ACL he suffered last year.
The weight was lost, he said, through a comprehensive approach that included an improved diet and mat work against bigger and stronger servicemembers at Ramstein.
"I tried everything," Gerena said. "I didn't want to get injured again."
Gerena pinned Kaiserslautern's Royce Staley in 7:53.
The match concluded an encouraging but ultimately frustrating showing for the Raiders, who put four wrestlers in the finals but came away with four runner-up finishes.
285Heavyweight John Carroll recorded one final win for Stuttgart with a 5-2 decision over Ramstein's Clayton Artese. The lumbering match closely resembled Carroll's 5-3 win over Artese in Friday's preliminary meeting.
The win clinched Carroll's championship in a class that was at once the meet's biggest and smallest weight class. While its participants were the meet's largest, the heavyweight bracket featured just five competitors and was the only one to not hold semifinals.
Twitter: @broomestripes
---
---
---
---