Stuttgart edges Ramstein; four others take titles
by
Gregory Broome
February 20, 2016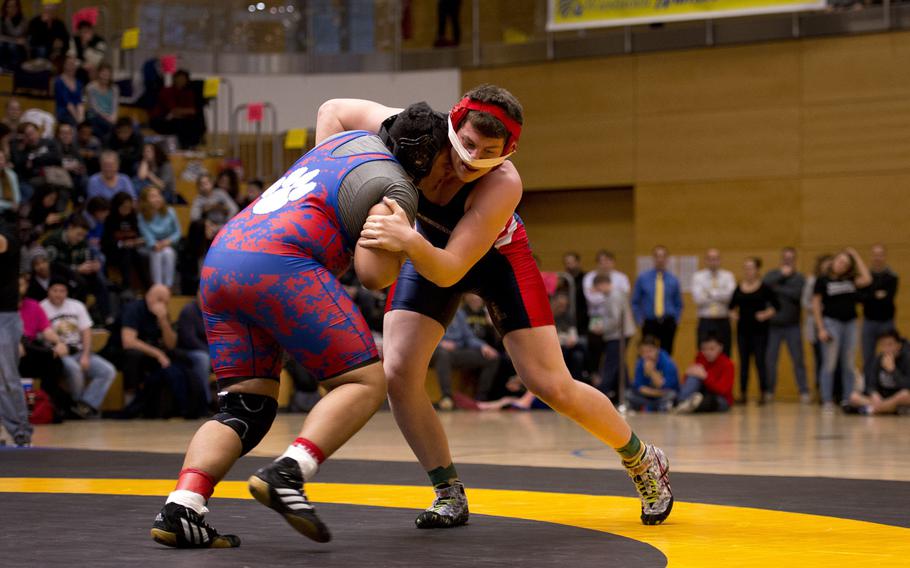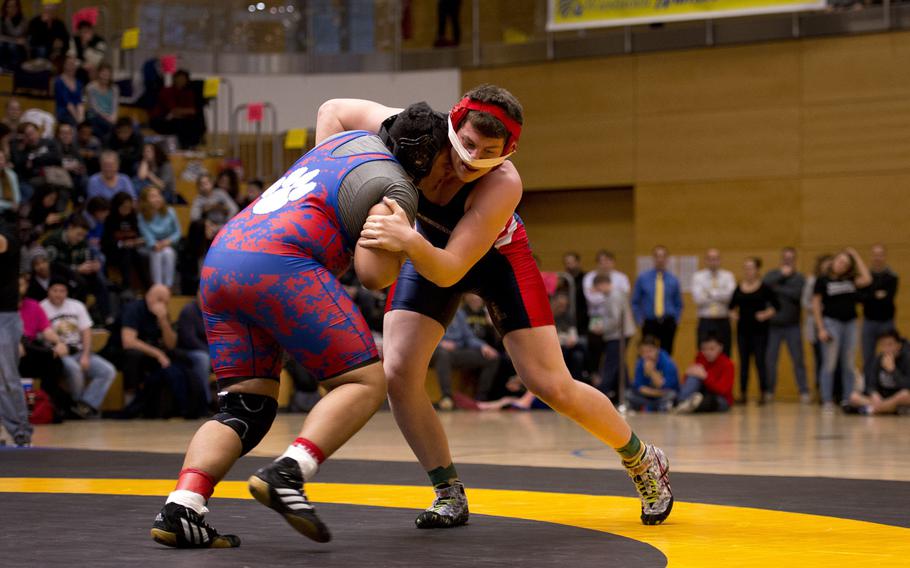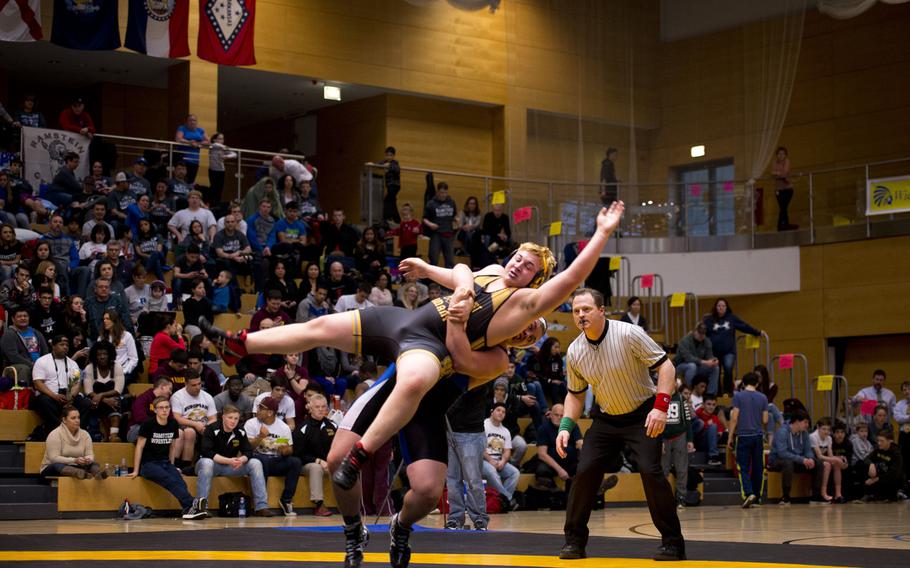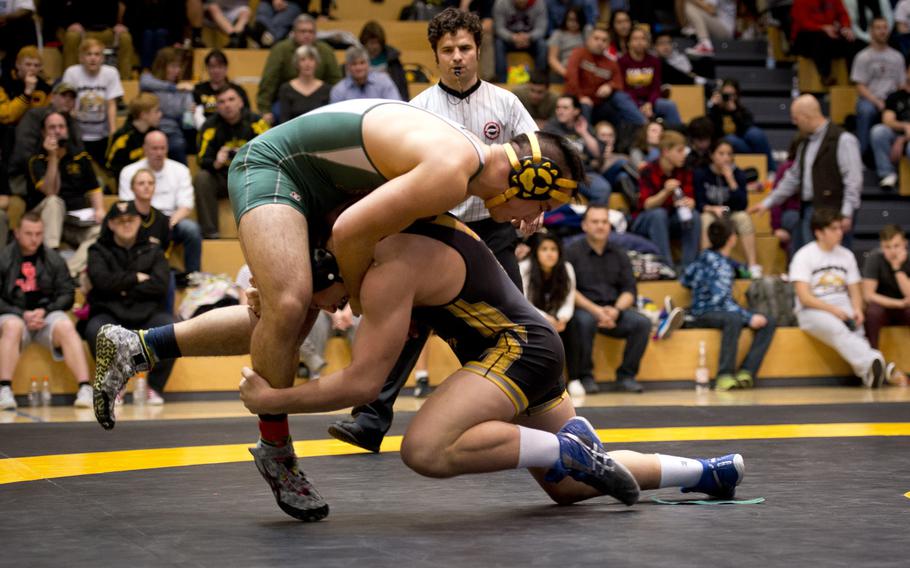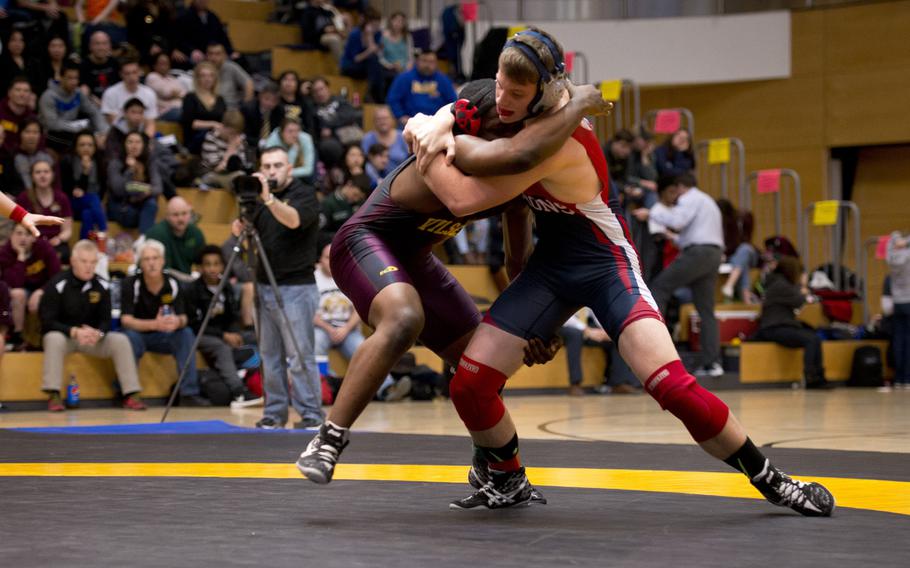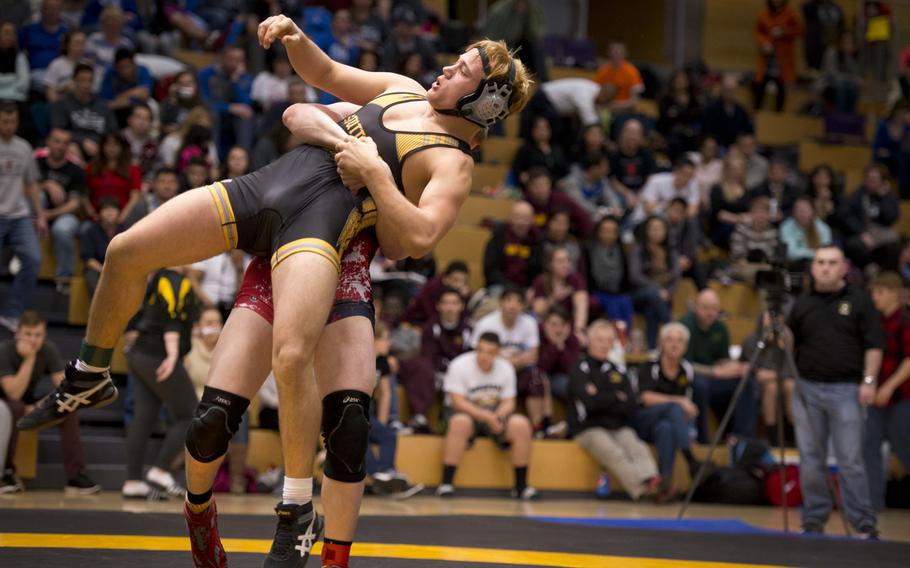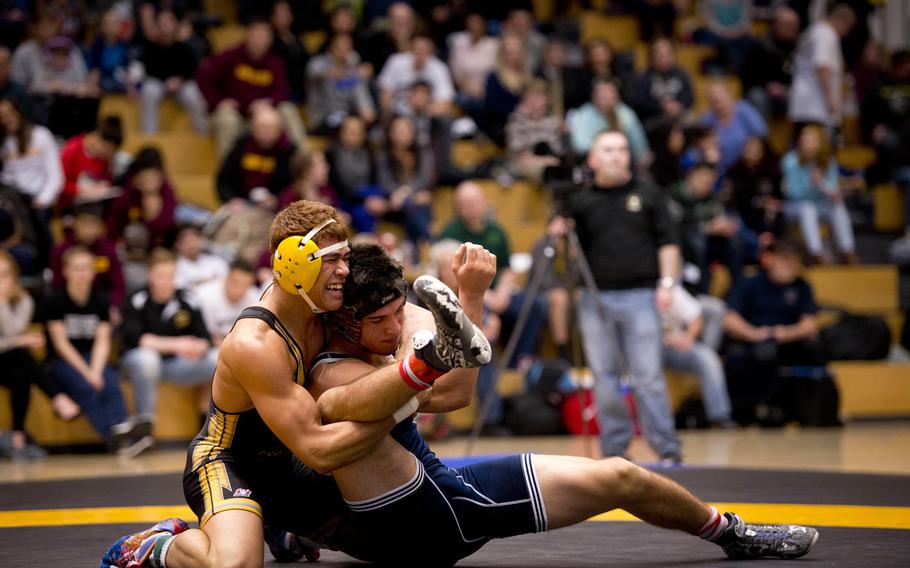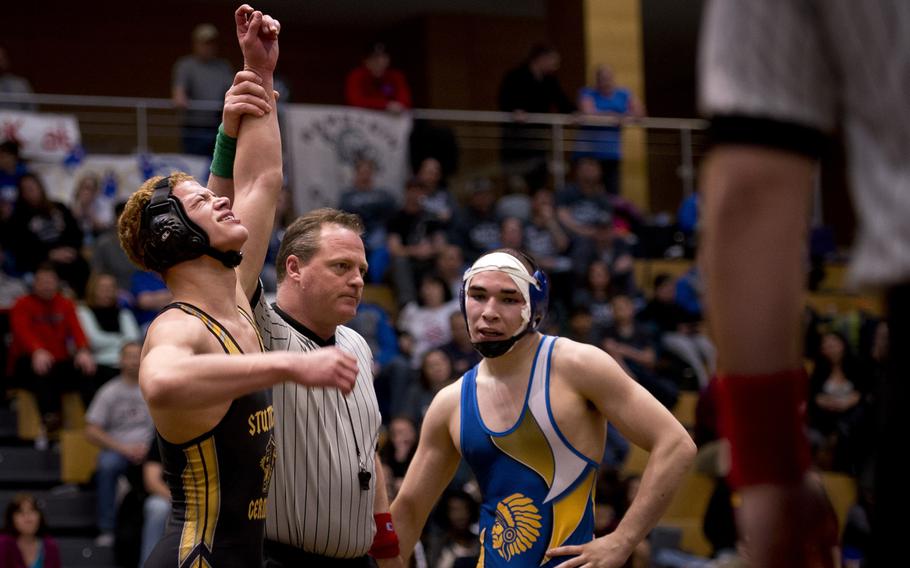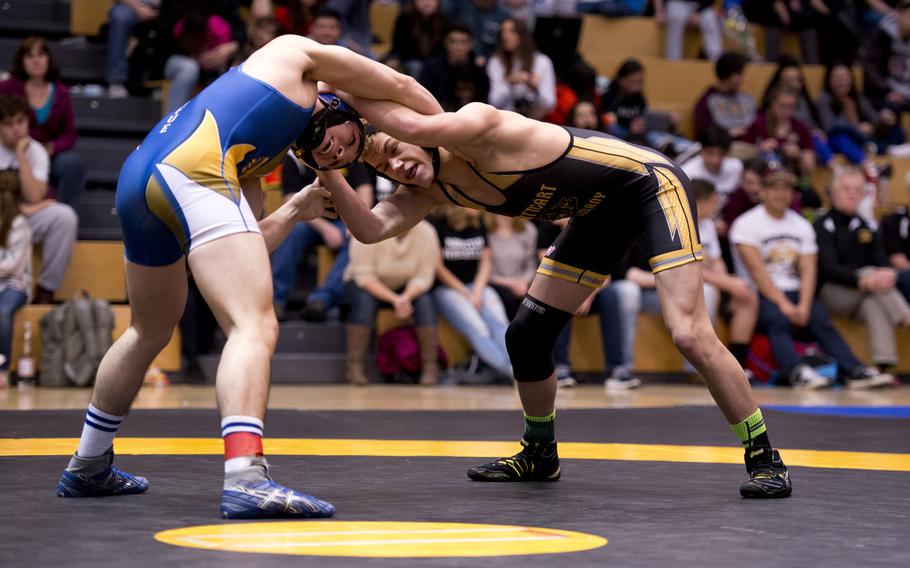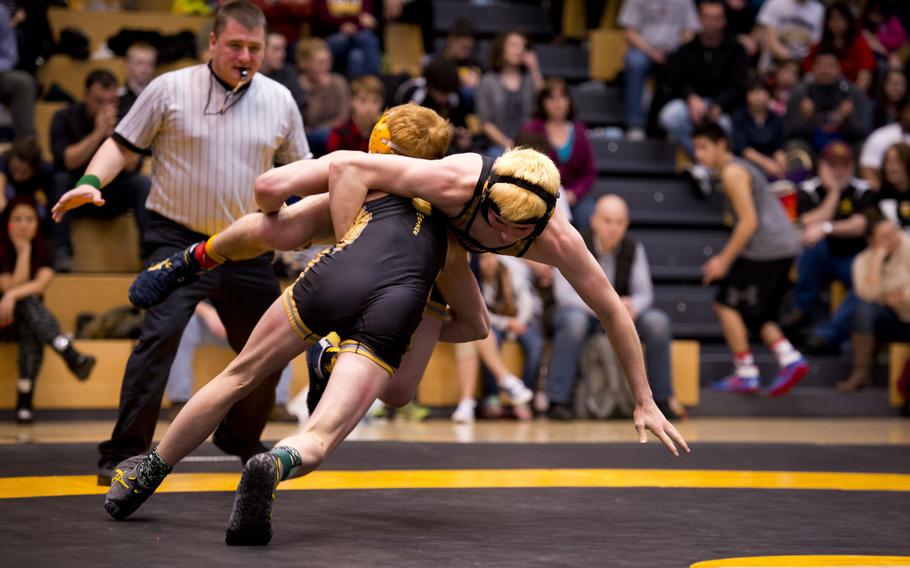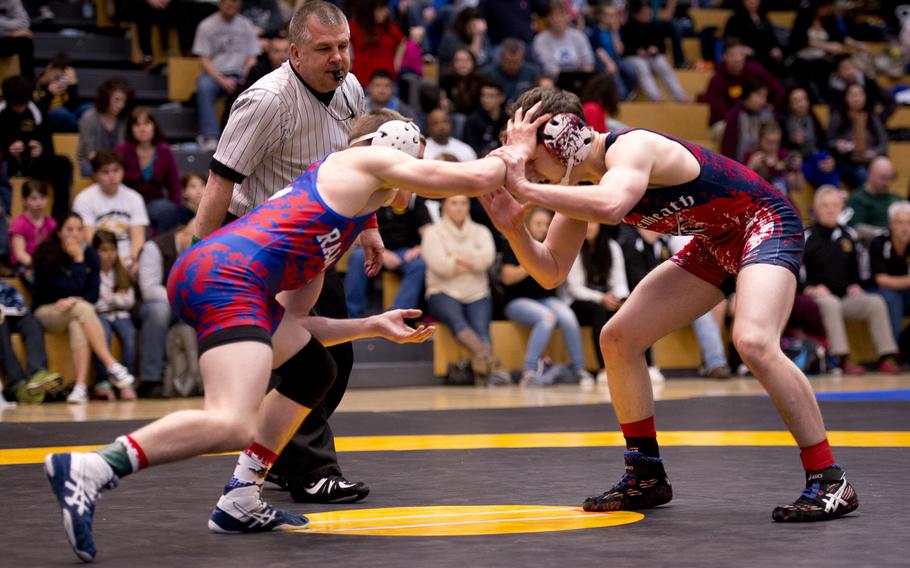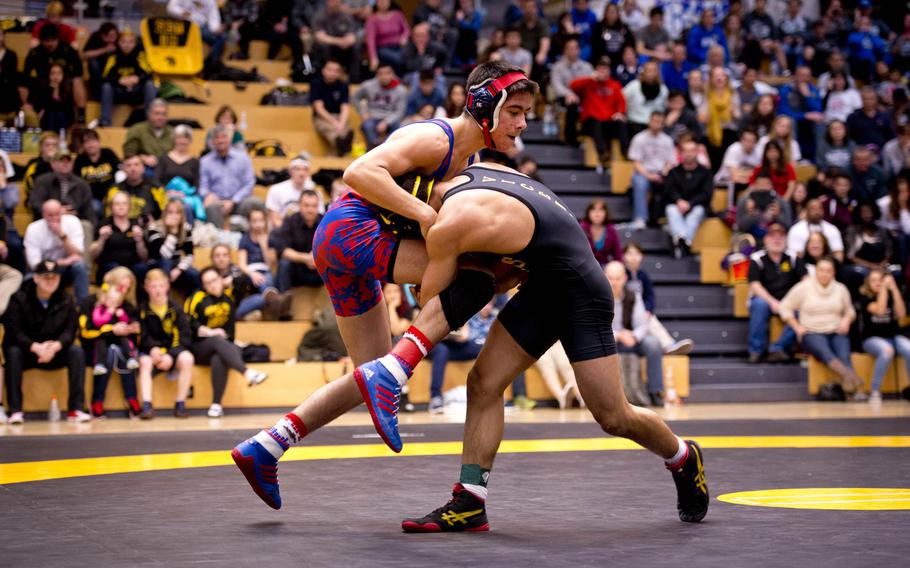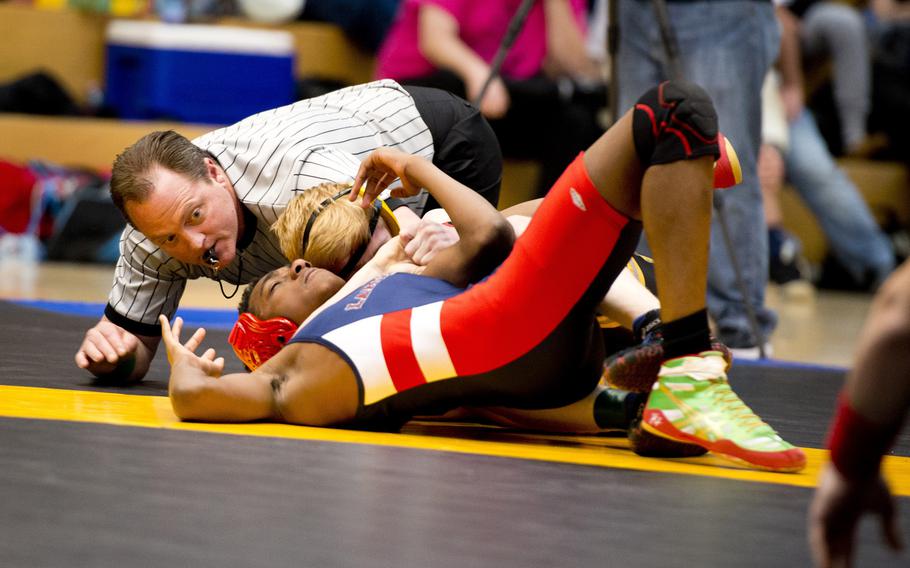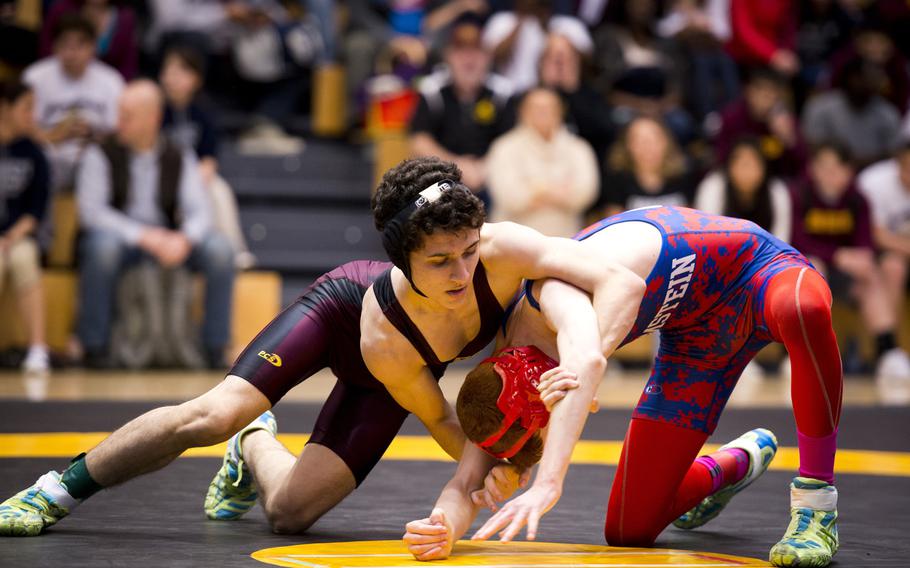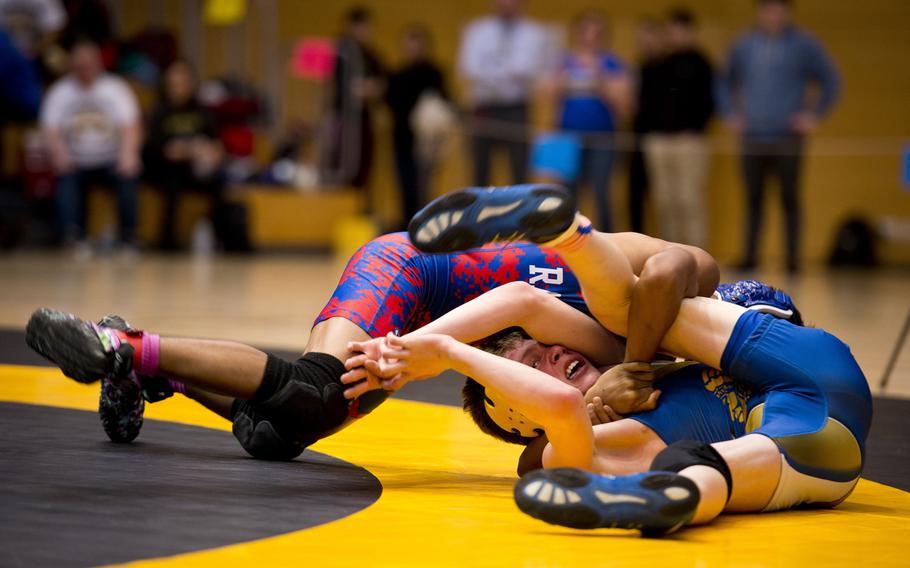 WIESBADEN, Germany – The Ramstein Royals and Stuttgart Panthers tend to dominate DODDS-Europe wrestling on the strength of raw numbers and histories of success. But they left plenty of room for others to shine on Saturday.
While at least one Ramstein or Stuttgart wrestler found his way into all but one of the 14 European championship matches conducted Saturday at Clay Kaserne Fitness Center, the two rivals only faced off directly in one title bout as wrestlers from eight other DODDS-Europe programs earned berths on the championship stage.
That didn't stop the Panthers and Royals from resolving their two-day long battle for the coveted Division I team championship.
Stuttgart's Gold squad earned the school its third consecutive championship with 315.5 points to Ramstein Blue's 307. Hohenfels and Alconbury repeated as champions at Division II and III, respectively.
106 pounds – Ramstein sophomore Joshua Garcia earned the afternoon's first championship with an 8-2 defeat of Wiesbaden freshman Zach Rowe.
Garcia made the successful leap from 2015 semifinalist to 2016 champion at DODDS-Europe's lightest weight class while notching some early points for the Royals.
113 – Arguably the day's most thrilling match came early as Vilseck's Josh Clamage pulled off a last-second two-point reversal to earn a 17-15 decision over Ramstein's Kaleb Hoopes.
"I wasn't aware of the score at all," Clamage said. "I opened my eyes and I saw something and I just went for it.
"I saw the opportunity to turn him and take hold of the situation."
Clamage spent his senior season testing himself against in-house opponent Blaise Markley, a fellow 113-pound Falcon grappler. Markley narrowly missed the chance to face Clamage on Saturday, falling to Hoopes 2-1 in a grueling semifinal bout.
"He's such a great wrestler," Clamage said of his teammate. "He's one of the reasons I'm here right now."
120 – The drama at 113 pounds was followed by a letdown as Stuttgart's Benjamin Fielding scored a 30-second pinfall victory of Lakenheath's Brandon Lovett. The win kept the 15-year-old freshman undefeated on the season.
Though he fell short Saturday, Lovett made the formidable jump from 2015 European champion at 106 pounds to runner-up in the thicker 120-pound ranks.
126 – Ramstein notched its second European champion of the day and Stanley Cruz earned the European title that eluded him last year with a methodical 1-0 decision over Vicenza's Josh Badillo.
Cruz finished second in Europe at 120 pounds last winter and pinned all of his opponents save for Badillo in this year's tournament.
Badillo, the only finalist from an Italy-based school, battled his way to the finals despite dropping his first match of the tournament, a major decision against Cruz early Friday. He recovered to win his next three preliminary matches and earned a gritty 5-4 semifinal decision over Stuttgart's Isaiah Phillips to earn his rematch with Cruz.
132 – Ramstein's early run of success continued as senior Joey Fortunato earned an 8-3 decision over Lakenheath's Preston Booth.
Fortunato won European titles in his first two seasons, claiming the 106-pound title in 2013 and the 120-pound title in 2014. But his streak ended in 2015 as he sat out the DODDS-Europe season for academic reasons, a break that only furthered his desire to return for one last run as a senior.
"I was super excited," Fortunato said. "The team missed me and I missed them."
Booth, too, enjoyed a redemptive tournament with a strong runner-up showing after seeing his 2015 season cut short by injury.
138 – Stuttgart senior Christopher Matzke dispatched Panther teammate Brandon Vanderlaan in a 14-2 major decision to win his third European title in as many years. Matzke won at 113 pounds in 2014 and 120 pounds in 2015.
145 – Stuttgart standout Robert Call completed an unbeaten three-year DODDS-Europe career with an impressive 48-second pinfall victory over Ramstein's Garrett Dean.
The win gave Call a third weight-class European title alongside the 132-pound championship he won in 2014 and the 138-pound crown he earned last year; it also gave the Panthers the edge in the points race as they claimed the only head-to-head championship match between the two contenders.
152 – The hometown Warriors were denied a champion by the narrowest of margins as Stuttgart's Jared LuGrain edged Wiesbaden's Gabriel Charlifue in a thrilling 3-1 overtime decision.
Both LuGrain and Charlifue had to survive formidable semifinal draws to advance to Saturday's final. LuGrain beat Kaiserslautern's Thaniel Hrushka 7-5, while Charlifue outlasted Chad Chason of Ramstein 11-4.
160 – Stuttgart's Elijah Phillips felt "pretty comfortable" with an early title-match lead over Munich International's Cole Ronnau, but he knew from experience that he couldn't afford to let up. And Phillips didn't, withstanding a furious late flurry of near-falls to secure a 14-9 decision victory.
Phillips, a natural 152-pounder, competed at the 160-pound ranks to eliminate a logjam with LuGrain and give the Panthers a championship contender at the higher weight. On Saturday, he delivered.
"I'm so proud of him," Stuttgart coach Norm Matzke said.
That wasn't the only hurdle ahead of Phillips, however. He and Ronnau traded wins and losses all winter; Ronnau even took a 6-4 decision over Phillips in a Friday preliminary. But Phillips claimed the main event.
"It was the toughest match I've ever had," Phillips said. "I believed in myself."
170 – Stuttgart's run of individual championships extended to five as unbeaten Kevin Wentland knocked off Lakenheath's Joseph Krussick.
Wentland made major leaps in both weight class and tournament stature this winter, as he finished in fifth place at 160 pounds last year.
Krussick made a successful switch to Europe, meanwhile, after competing in DODDS-Pacific last season.
182 – Bitburg senior John Blake broke Stuttgart's streak of solo championships while notching the first of two European title wins for Division II competitors. Blake pinned Vilseck's Jermel Perry in one minute, 11 seconds.
The 182-pound bracket was the tournament's oddball throughout, its ranks pared down by injuries and left to muddle through a preliminary round full of byes and forfeits. Perry, for example, faced just one opponent in Friday's early rounds. Semifinal pins by both Blake and Perry finally established the pair as the clear standouts of the disjointed class.
195 – Stuttgart phenom Eli Spencer wrapped up his dominant DODDS-Europe career with a second consecutive 195-pound European title.
After pinning all three of his Friday opponents in less than 40 seconds, Spencer worked some relative marathon matches Saturday, taking just more than six minutes total to score pins in his final preliminary match and semifinal. He capped the run with a one-minute, 28-second pin of Alconbury's Nicholas Dufresne for the gold medal.
220 – On Friday, Hohenfels senior Connor Gibson articulated a nuanced view of the weekend's championship meet, emphasizing a wish for his team to stay healthy and give maximum effort above any championship aspirations.
On Saturday, he went out and won a title anyway, defeating Stuttgart's Ian Cass by pinfall at three minutes, 14 seconds. The title arrived a year after Gibson finished third in Europe at the same weight and helped the Tigers successfully defend their Division II team title.
285 – Perhaps the most dramatic end to a match Saturday came, appropriately, at the end.
Lakenheath's Colten Menges led Ramstein's Erik Gerena 1-0 in the final minute of the final round. But Menges, leaning heavily on Gerena as the clock ticked down, was penalized for attempting to ride out the match without mounting further offense. The point awarded Gerena evened the score at one apiece with just three seconds remaining.
Menges, however, had an answer. Starting from a down position, Menges executed an immediate Granby roll, a sort of forward somersault that is obscure to the casual fan but well-known among grapplers. The move vaulted Menges clear of Gerena's grasp, earning him a point for an escape and a 2-1 win.
"I've been wrestling since I was really little, that's when I found out what that move was," Menges said. "I don't know why, that move just came to mind. I was like, 'This is going to work.'"
Twitter: @broomestripes