D-I football final
Stuttgart caps perfect season with another odd-year title
by
Gregory Broome
November 2, 2019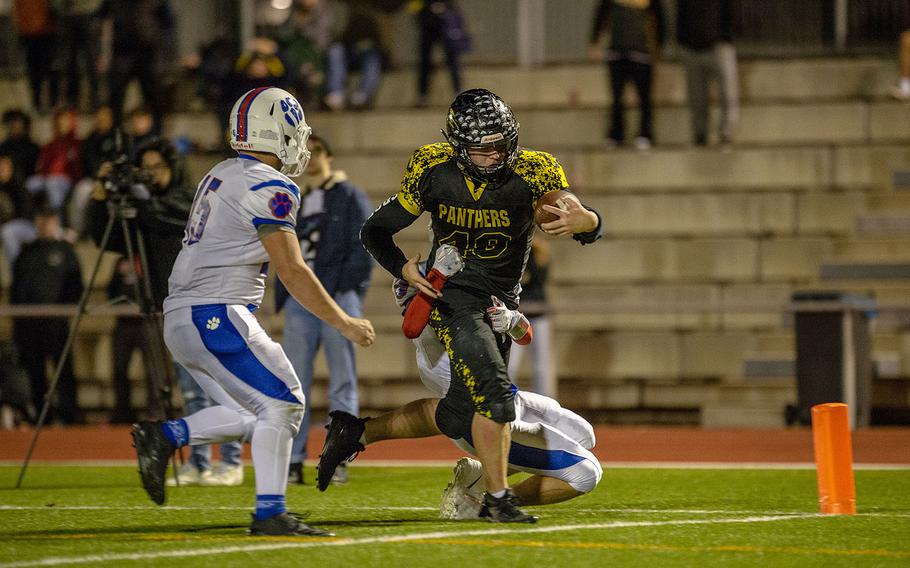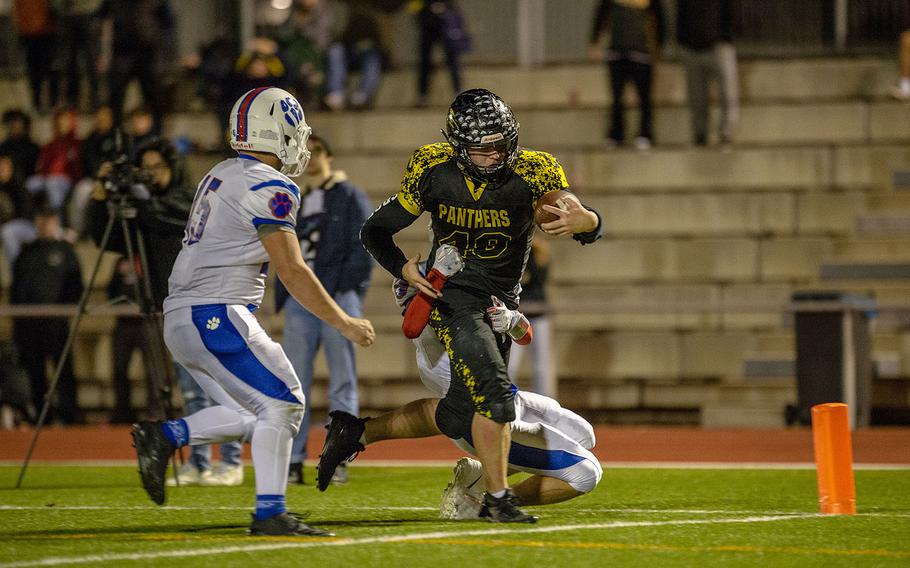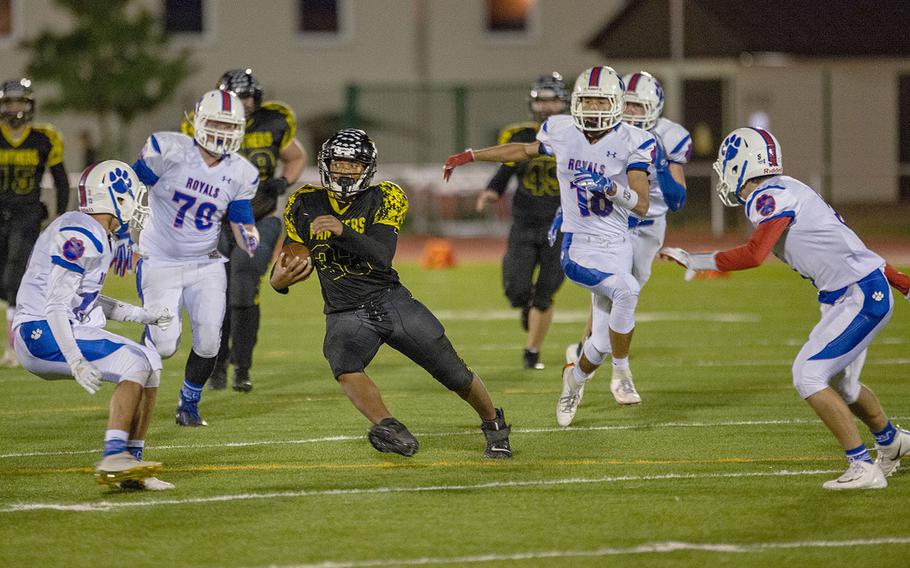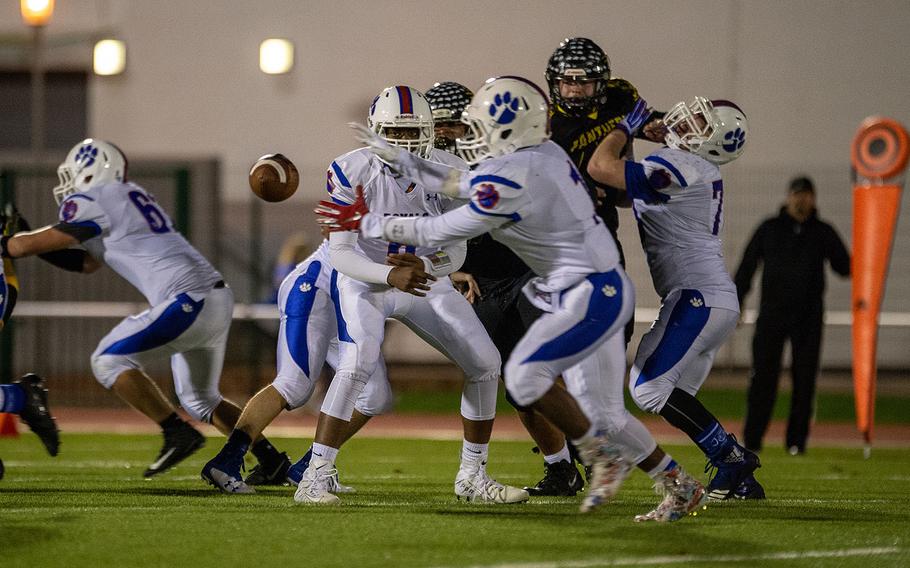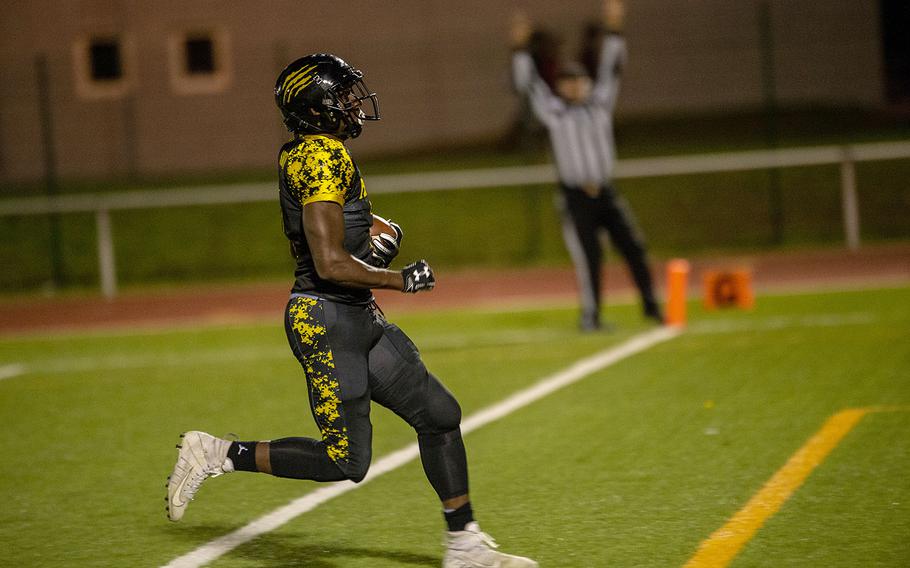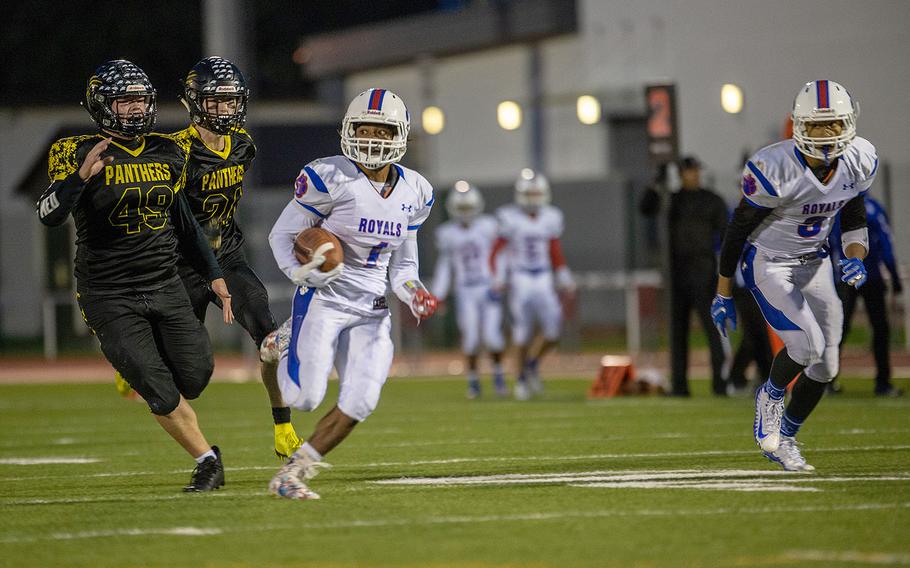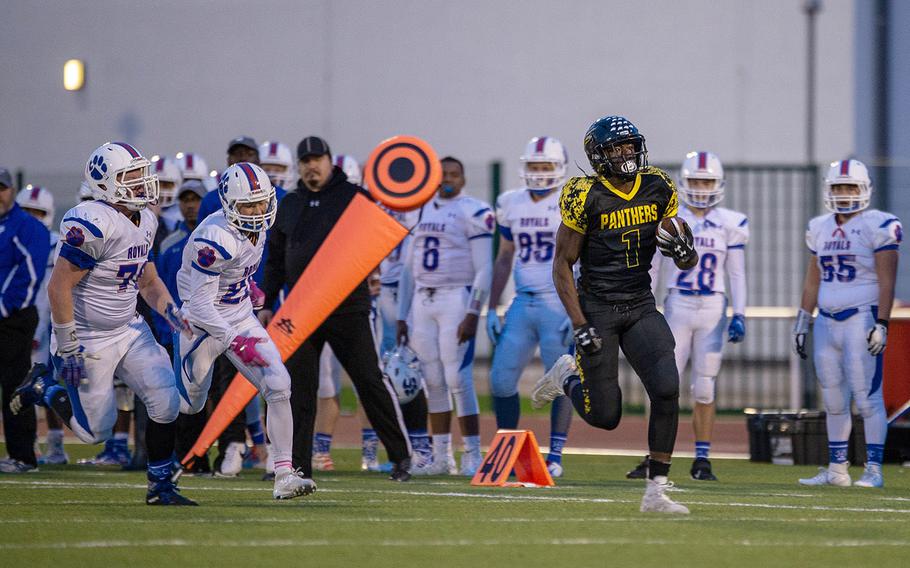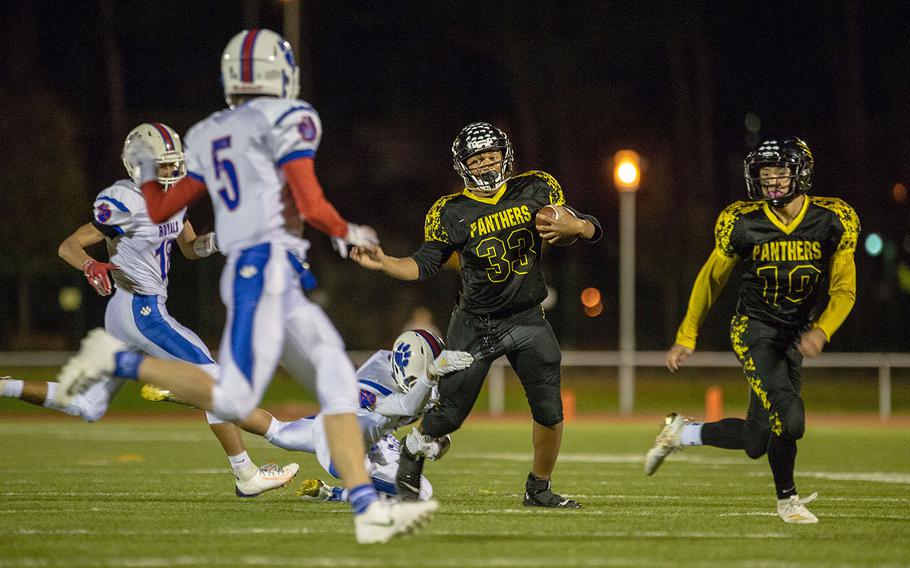 KAISERSLAUTERN, Germany — The Stuttgart Panthers shut out the Ramstein Royals 30-0 Saturday, completing a remarkable undefeated season with their third DODEA-Europe Division I football championship in the last five seasons.
The Panthers were led by a core of seniors, many of whom have been with the program for three or four years.
Both players and coaches said that produced a level of chemistry that, when combined with the team's impressive talent level, proved unstoppable between the lines.
"We have a bond that you normally don't get to experience in DODEA because kids come and go," Stuttgart coach Billy Ratcliff said. "They made it easy for me. It was just a good group of kids. We didn't have any egos or anything like that. I think that made a huge difference."
The Panthers' team dynamic was visible from the opposite sideline as well.
"They're very well-coached and they have a lot of extremely talented kids, who are strong, who are fast, who know the game of football," Ramstein coach Carter Hollenbeck said. "You can tell they worked well as a team and you can tell that they like each other. It's a dangerous thing."
Jordan McCullough started the scoring in each half with matching first-quarter and third-quarter touchdown runs to "set the tone" for the onslaught. McCullough, too, cited the Panthers' cohesion as the driving force in the performance.
"We all have each other's backs," McCullough said. "We just all love each other."
The advantage McCullough's touchdown runs provided was more than enough for a Panther defensive unit that sniffed out and snuffed out everything the Royal offense tried to accomplish. The group, which Ratcliff called "super-cerebral," even made their share of contributions to the scoreboard; Garrett Sheffield returned an interception for a touchdown that put Stuttgart up 15-0 at halftime and the Panthers added a safety that stretched the lead to 23-0 midway through the fourth quarter.
"It felt kind of like a dream," Sheffield said of his defensive highlight.
The win continues Stuttgart's recent trend of winning championships every other year. The Panthers launched a successful underdog title run in 2015 fueled by a shocking semifinal upset of the Royals, then crushed all comers in a 2017 coronation.
This year's championship saga shares more with the 2017 edition. The Panthers won all six of their regular-season games, including two wins over Ramstein, and smashed Lakenheath 59-6 in the semifinal round to return to the final.
Ramstein, last year's undefeated and generally unchallenged champion, enjoyed a largely successful season save for its inability to solve Stuttgart in three attempts. The Royals knocked off hungry archrival Kaiserslautern in a 35-21 comeback victory to survive the semifinals and earn one last shot at the Panthers.
Hollenbeck praised his own team's competitive spirit over the course of a season that brought considerable challenges.
"We talk about playing hard, having fun and respecting the game," Hollenbeck said. "I'm really proud of these guys because we had struggles throughout the whole year, but we never had a quit attitude."
broome.gregory@stripes.com Twitter: @broomestripes