Europe DI girls soccer final
Stuttgart caps near-perfect season
---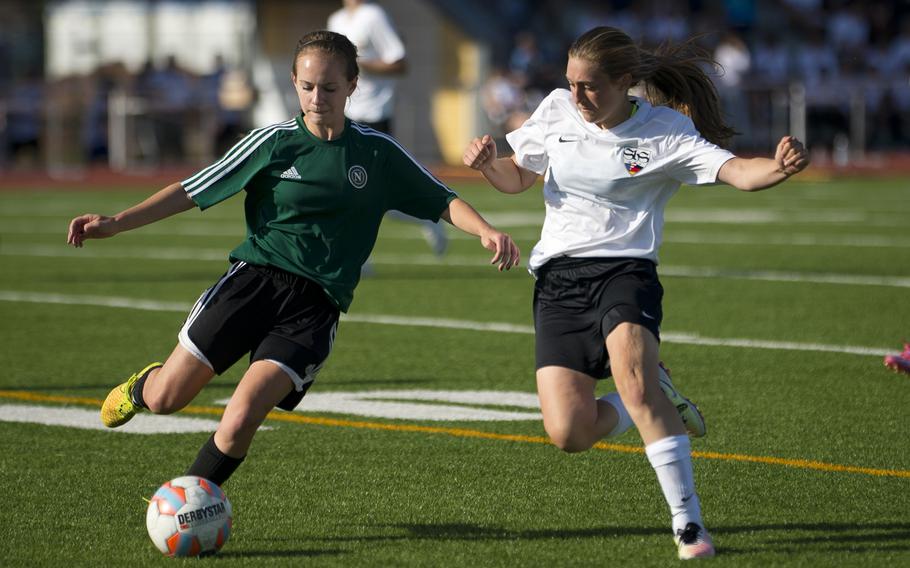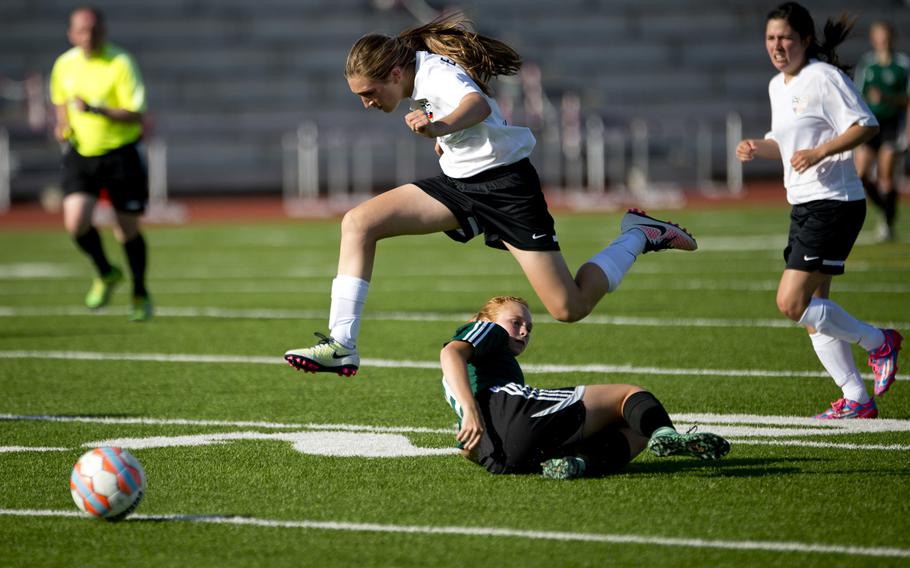 KAISERSLAUTERN, Germany – The Stuttgart Panthers defended their Division I championship Saturday with a 4-0 shutout of the Naples Wildcats in the 2016 European title game.
This year's title match lacked the drama of a year ago, when the Panthers beat the Ramstein Royals in overtime to regain their spot atop DODEA-Europe Division I soccer, after taking home the crown in 2010, 2011 and 2013.
That could have been because both teams had to claw their way into the finals by beating a physical Ramstein team. The Wildcats did it Thursday in pool play, which meant they didn't have to play the Royals in the semifinals. Stuttgart had to beat Ramstein 4-2 in overtime in the semifinals.
Players and coaches from both teams said it felt like they had to play a title game just to get to the title game.
"I like to think of it - the semifinals was the cake, the finals was the icing," said Stuttgart senior Kat Farrar. "Everyone wants icing on their cake."
Though not the title rematch with the Royals they had hoped for, the Panthers still had their work cut out for them against Naples, a team that found itself in the championship in only its second year of Division I play following a major divisional realignment.
The Panthers scored early and then methodically built on their lead, putting the Wildcats in defensive mode as they tried to do damage control and keep a foothold in a game that could have been much more lopsided.
Junior striker Alexa Smith scored the Panther's first three goals, and she assisted senior Kat Farrar on the fourth and final goal.
But there could have been so many more goals. The Panthers attacked the goal area throughout the game, using superior ball control and precise passing to blow by Wildcat green and get the ball down the field to set up countless scoring opportunities.
The Panthers sent some balls over the cross bar or just outside the net. Other times, even with an open shot on goal, they couldn't get past Naples senior goalkeeper Angelica Sheils, who racked up numerous saves on the day.
The Wildcats, by contrast, had few attempts on goal in the first half. In the second half, they played more aggressively and seemed to have better control of the ball, but they never created the opportunities that helped them defeat Ramstein.
"We were managing," said Naples coach Rebecca Lucy. "It wasn't like we were pushing the attack to score as much as we could. It could have been worse than 4-0. Our keeper kept us in the game, in my opinion, and Jill Thurston (senior defender), was just incredible. She was all over the place."
Both teams emptied their benches, using substitutes to give starters a break under a withering sun that felt even hotter on the artificial grass field of Kaiserslautern High School.
The heat and four days straight of some intense soccer took its toll on the Wildcats, Lucy said.
"Every game was hard. Every game was giving everything and more," she said. "And so you get to this point, you've got to dig deep but there's not much left."
Stuttgart's deep bench worked in its favor. "I think we were just stacked on every position," said Panthers' coach Daniel Coapstick. "We really didn't have a weakness."
The Panthers finished the season undefeated; their only tie came early in the regular season against Ramstein.
"It was really fun working with these girls," Coapstick said. "When they get going, it's just amazing to watch them. I told them at practice, it's like watching ballet."
But, he added, "we had to get the sledgehammer out yesterday," referring to the semifinal game against Ramstein.
Farrar, who was on three championship teams during her four years at Stuttgart, said the win was bittersweet, mostly because it's her last as a Panther. "It's kind of shocking that it's over," she said.
Smith, who moved to Stuttgart last summer with her sister Emily, a freshman on the team, said she was excited to be part of her first win as a Panther. "I'm really happy," she said. "We worked hard all season for this."
Thurston said she was proud of her team as well. "I think they played their hardest and we did it as a family and that's all that matters," she said.
Getting to the finals in only their second year in Division I, "to me, that's a huge step up," she said.
---
---
---
---