Girls soccer - Day 2
Speedy sophs put their teams in position to play for crowns
by
Dan Stoutamire
May 18, 2017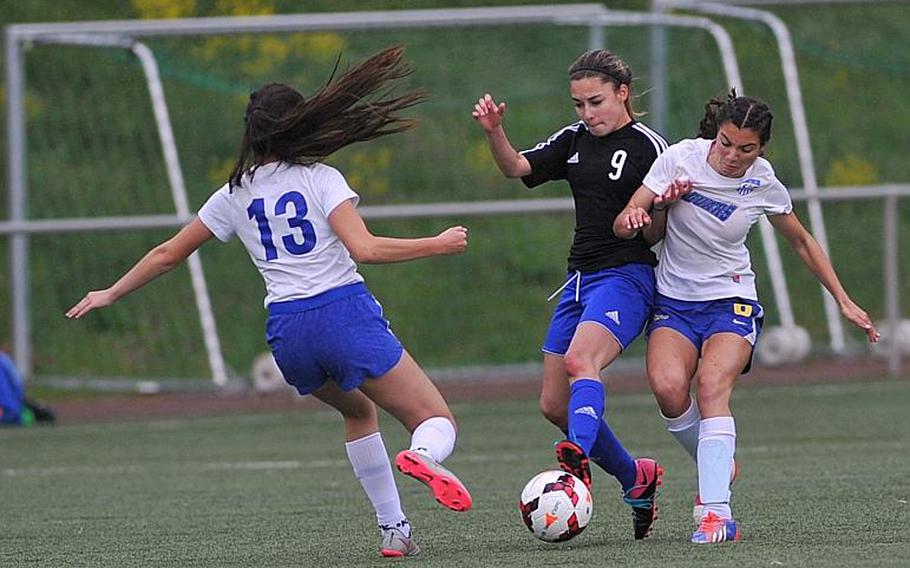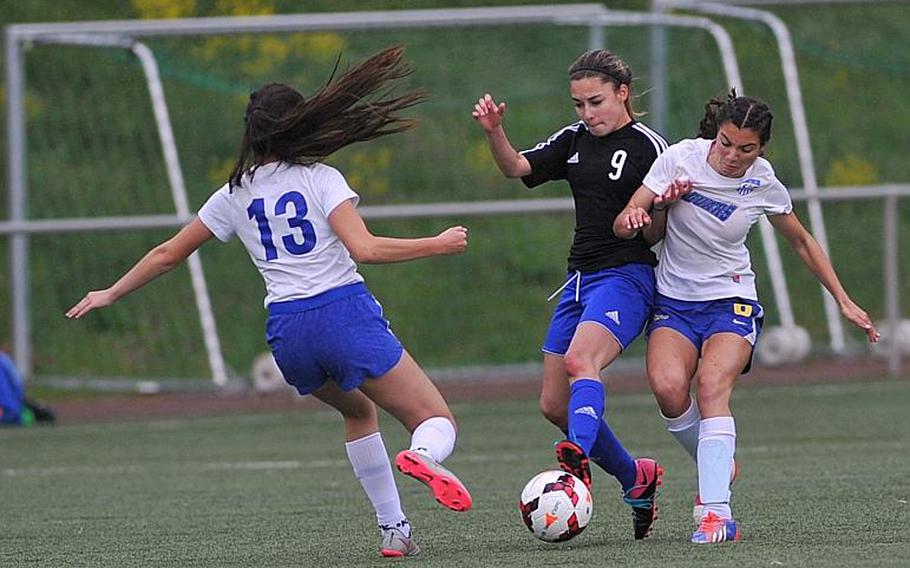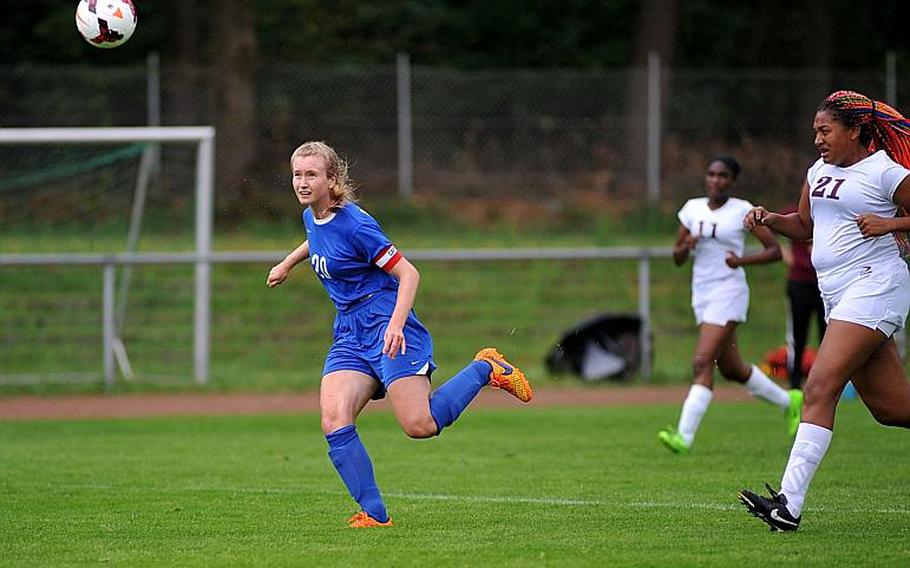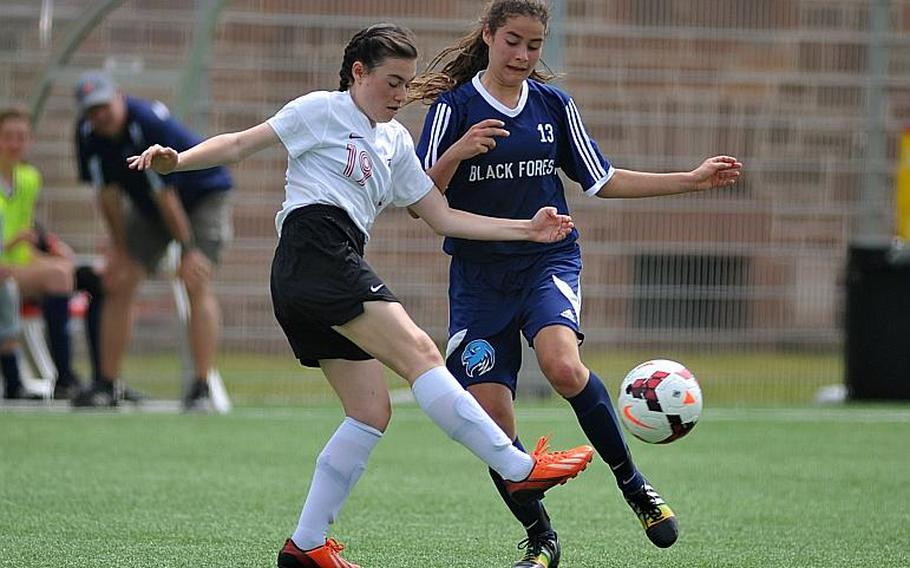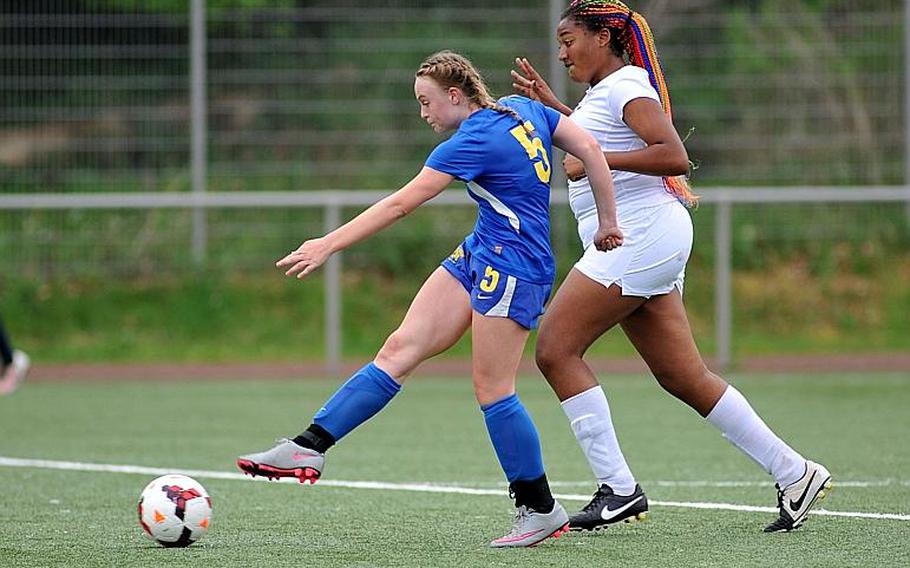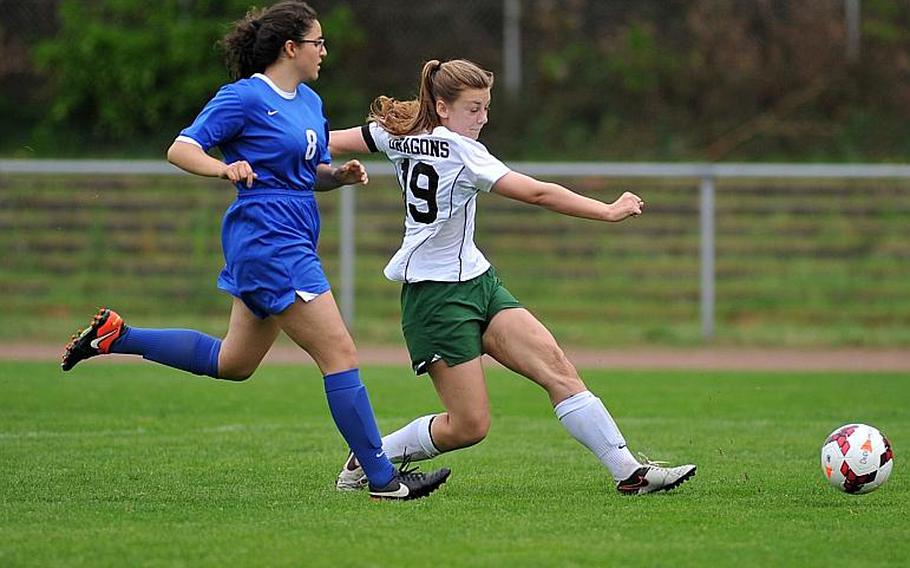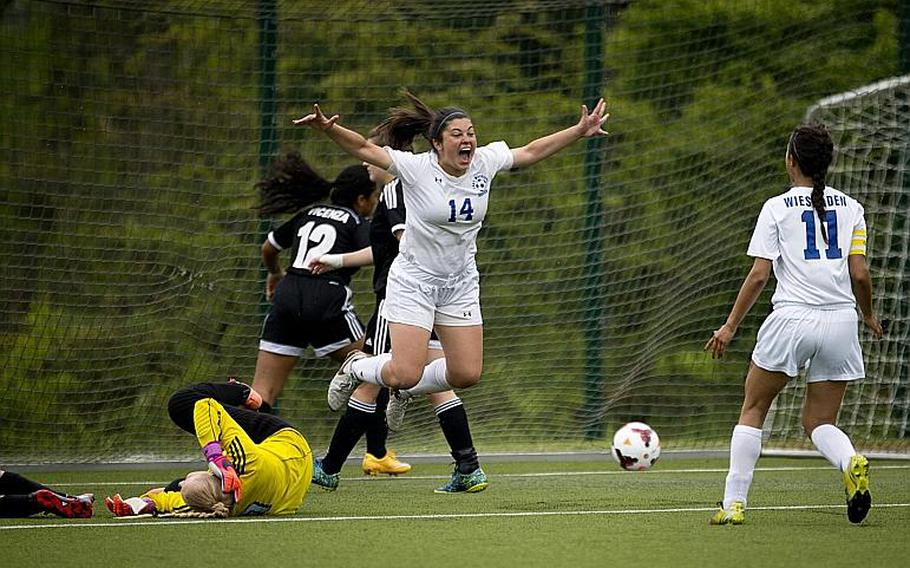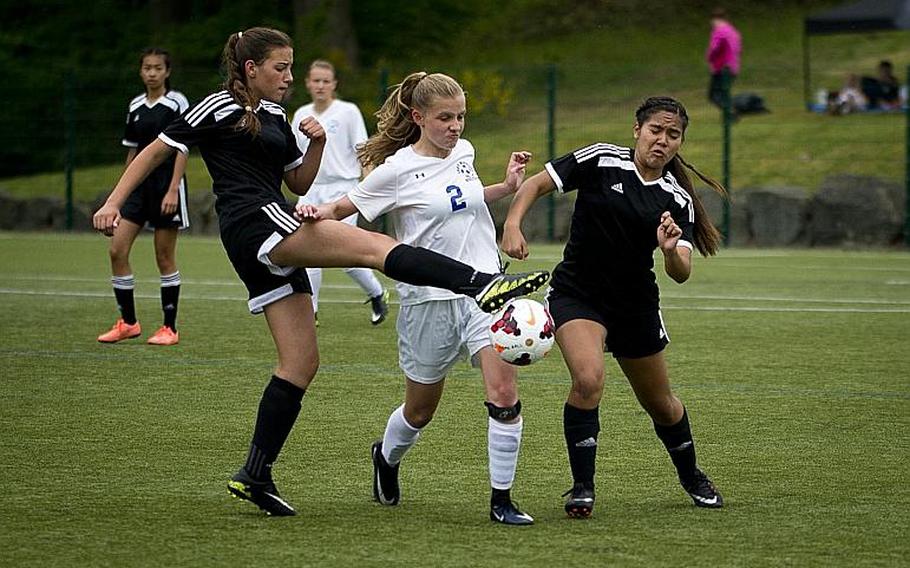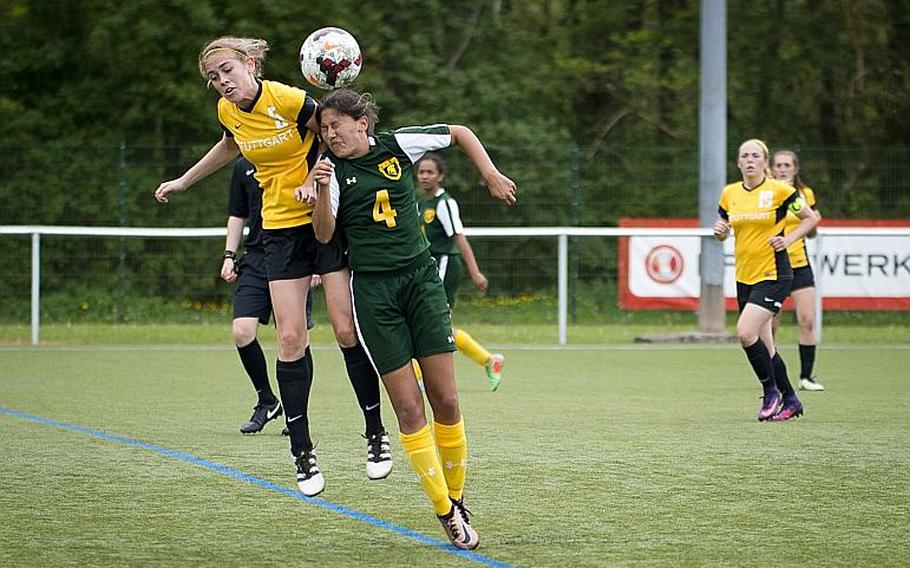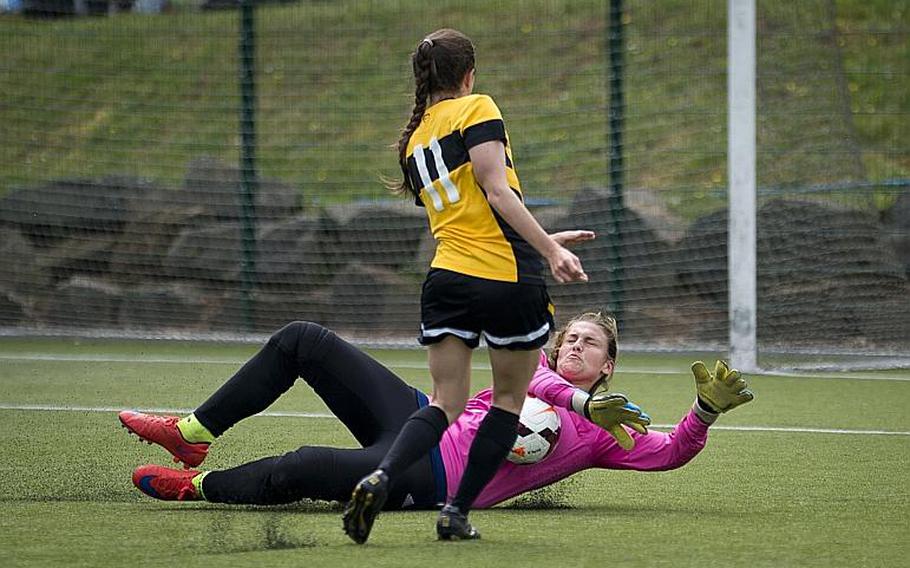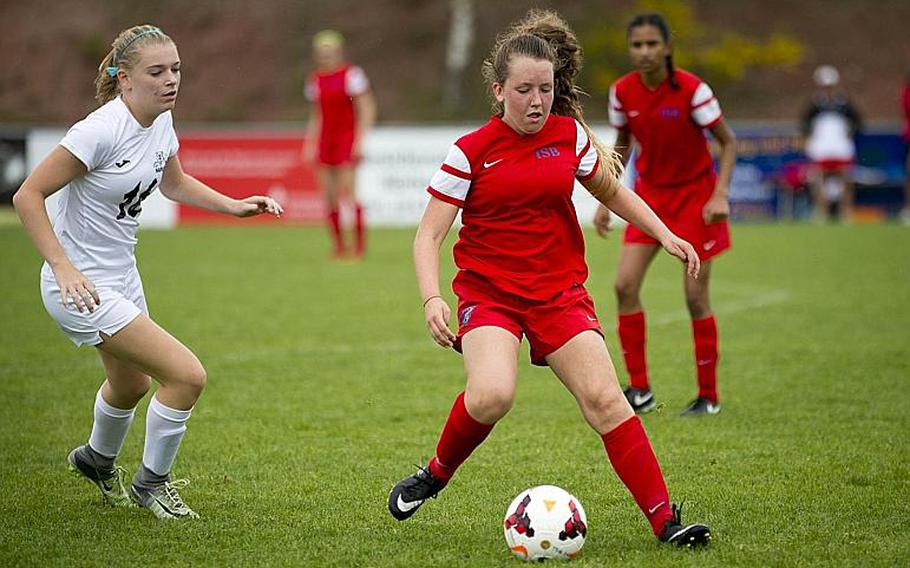 During group play on the girls' side at this year's DODEA-Europe soccer championships, a trend has emerged – top teams in each of Divisions, I, II and III are led by sophomore strikers who are able to get into one-on-one situations with the opposing goalkeeper and tuck the ball into the net.
Sigonella's Violenda Doke, Bitburg's Ashlynn Floyd, and Naples' Micayla Feltner all made their presences felt on Day 2 of group play, giving their teams a great chance of reaching Saturday's finals.
Division IIISigonella's soccer team is looking to replicate this year's success on the hardwood, and by the looks of things on Day 2 of Europeans, they have an excellent chance of doing just that. A strong pair of performances against Division III foes Hohenfels (3-1) and Baumholder (4-0) had the Jags making a statement. Against Baumholder, Sigonella looked assured all over the field, with a notable display from defender Krystiana Wyrick and midfielders Korley Jones and Jessica Jacobs controlling play. Sophomore Doke was on the spot to finish three of her team's four goals, all of them scored by breaking free of the last defender.
"Getting in there and getting those goals in, it just felt amazing to get back out there and play," Doke, who has been battling an ankle injury this season, said after the match.
The Jags will be facing their toughest match yet when they take on Alconbury Friday morning. The Dragons, for their part, looked impressive against a solid Brussels team, winning 3-1 despite an incredible dribble-and-goal from Brussels' Danielle Lynch.
Unlike Divisions I and II, Division III girls won't have any semifinals, with an additional day of round-robin competition Friday before a championship game Saturday between the two schools with the best records in tournament play.
Division IIAshlynn Floyd was too much for the Aviano defense Thursday, scoring almost at will as she was able to break past a high defensive line and sprint onto the ball with only the keeper the beat. The speedy sophomore's prolific scoring enabled her team to jump into the top seed in one of Friday's semifinal matchups.
Joining Bitburg in the semifinals are AFNORTH, winners of their bracket, Rota and likely Bahrain, which due to a late arrival at the tournament, needs to defeat Florence in its game early Friday.
Florence has yet to win a game at the tournament, so the Falcons look likely to complete the quartet. If Florence pulls off the upset, it will come down to a tiebreaker between Florence, Bahrain and Aviano.
Friday's semifinals will be Bitburg facing Rota, with AFNORTH's opponent still up in the air, pending Friday's early matchup.
Division IAll year long, four teams have ruled girls Division I soccer – defending champion Stuttgart, Wiesbaden, Naples and Ramstein – so it's no surprise those are the four teams still standing for Friday's semifinals. In a pair of tantalizing matches Thursday evening – Stuttgart and Wiesbaden drawing 0-0 and Naples and Ramstein also drawing 1-1, they showed how fine the margins are.
Due to the draws and their dominance against other Division I teams, determining the top and second seeds in each bracket required tournament officials to examine each team's goal differential, or their goals scored minus goals allowed. Because of their superior goal difference, Stuttgart and Naples will be the top seeds, facing off against Ramstein and Wiesbaden, respectively.
The Stuttgart-Wiesbaden matchup was a reminder of last week's shock Warriors victory over the Panthers, and Stuttgart coach Daniel Coapstick said he's been impressed by Wiesbaden's progress over the season. While Stuttgart looked more dangerous overall, it was Wiesbaden who had perhaps the game's best chance when striker Erin Goodman miskicked from point-blank range just before the final whistle.
Naples and Ramstein's matchup, last of the round-robin part of the tournament, started quickly as the speedy Feltner got behind Ramstein's defense and scored past goalkeeper Elizabeth Noel with aplomb. Soon after, Ramstein was level when Haley Deome was fouled in the box. She coolly brushed herself off and scored the penalty kick.
The second half featured few golden chances, with Ramstein's defender Liesel Mendenhall coming up big against the dangerous Feltner on several occasions.
"I was really happy with how I did it, not much came to her and when it did I took care of it," Mendenhall said.
Twitter: @DKS_Stripes