Spangdahlem's switch to Division III shakes up small-school ranks
by
Gregory Broome
October 2, 2018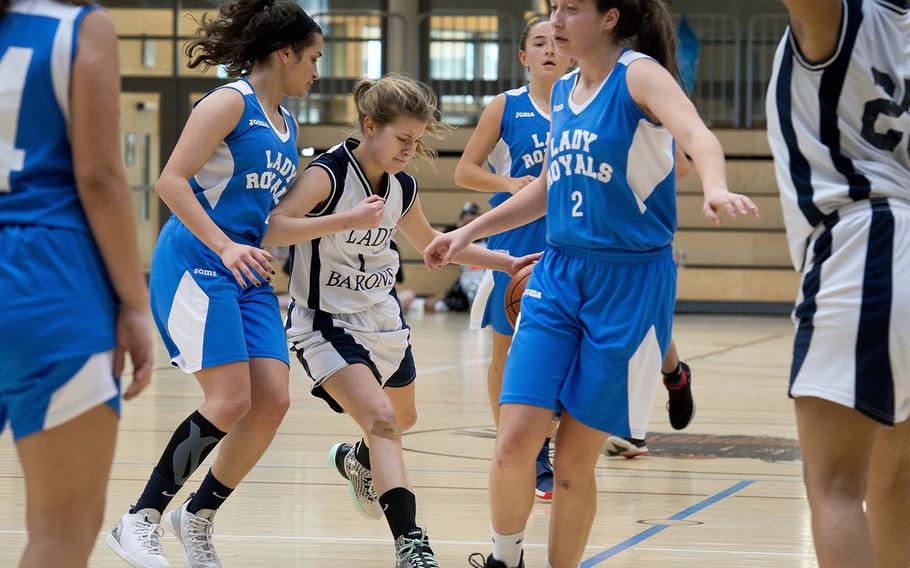 Spangdahlem will drop to Division III in all sports except football, DODEA-Europe Athletic Director Kathlene Clemmons has announced. The change will take effect with this fall's European championship events, including the Nov. 1-3 girls volleyball tournament.
The Sentinels, known until last year as the Bitburg Barons, have long been a fixture of Division II. But the program has seen this change coming; Athletic Director Chris Howard said the school's drop to Division III "could be called inevitable" after years of dwindling numbers.
"I have had students and parents ask about the possibility of dropping to D-III for the past few years, as it was evident we won't be getting bigger," Howard said. "I think the sports programs will be able to adjust accordingly."
Spangdahlem's new Division III peers are themselves adjusting for what figures to be a formidable opponent.
Division III stalwart Sigonella knows firsthand the threat posed by programs dropping in from above. Jaguars Athletic Director Michelle Chandler recalled that her school has suffered two recent losses in the Division III girls basketball championship game to realigned Division II schools, namely Baumholder in 2015 and Ansbach in 2016.
Sigonella's current girls basketball title reign will now be tested by Spangdahlem, which last won a Division II title in the sport in 2015 and has reached the title game in each of the three seasons since.
Still, Sigonella sees the Sentinels' addition as a net positive for the small-school scene.
"It should increase the level of competition within the division, which is good for all of our student athletes," Chandler said.
Sigonella boys basketball and baseball coach Matt McKown prefers seeing a team drop a level rather than having teams bumped to a higher division, as was the case in the wider 2014 DODEA-Europe realignment that moved Naples, SHAPE and Vicenza from Division II to Division I.
"I think anything that helps preserve Division III is a benefit to the small schools," McKown said.
Division III Alconbury's cross country team recently visited Spangdahlem for a meet. Coach Marc Renta said the Sentinels were "phenomenal" hosts.
"Glad they're joining our D-III family," he said.
Divisional assignments in DODEA-Europe are based on school population in grades 9 through 12. Spangdahlem, which is slated to move into a new facility in 2019, saw its population drop to 150 this fall, below all of its former Division II peers. AFNORTH now ranks as the smallest Division II school, with 165 students. Spangdahlem steps in as the largest Division III program, just ahead of Sigonella and its 144 students.
The change won't affect the Sentinels' football team, which is currently trying to defend its 2017 Division II European championship, as DODEA-Europe uses a different cutoff for divisional distinctions in that sport. Spangdahlem narrowly met the roster threshold to play conventional 11-man football in Division II this season; otherwise, the Sentinels would have joined the fledgling Division III league playing a six-man version of the sport.
Baseball and softball, sports with fewer participating schools, should be similarly undisturbed. DODEA-Europe usually places Division II and III teams into a combined small-school tournament for those sports' spring championship events.
broome.gregory@stripes.com Twitter: @broomestripes