D-III football final
Spangdahlem pulls away from Ansbach to take title
by
Gregory Broome
November 2, 2019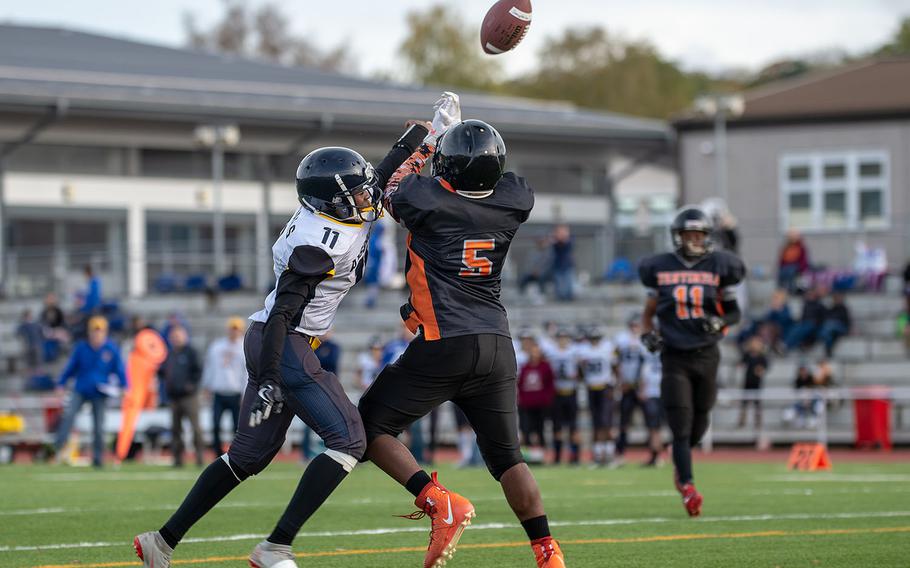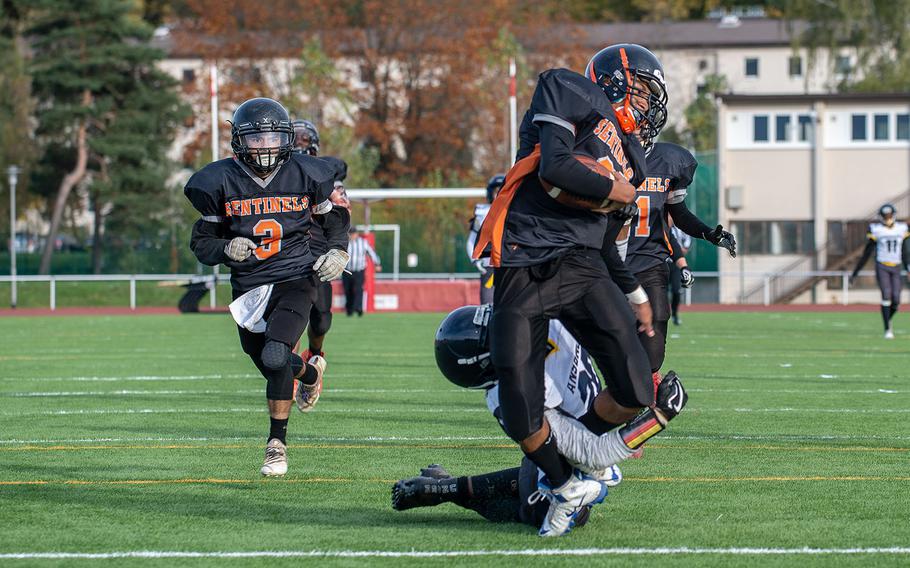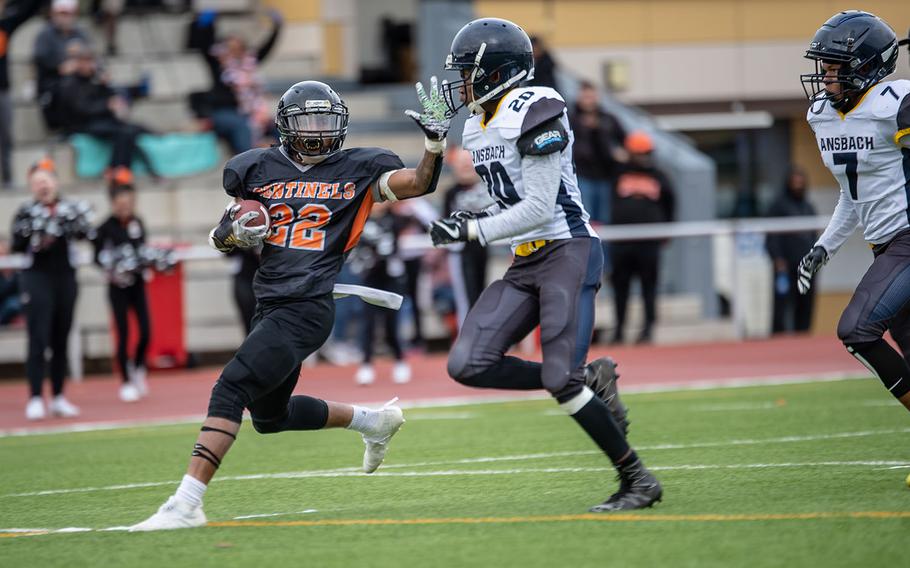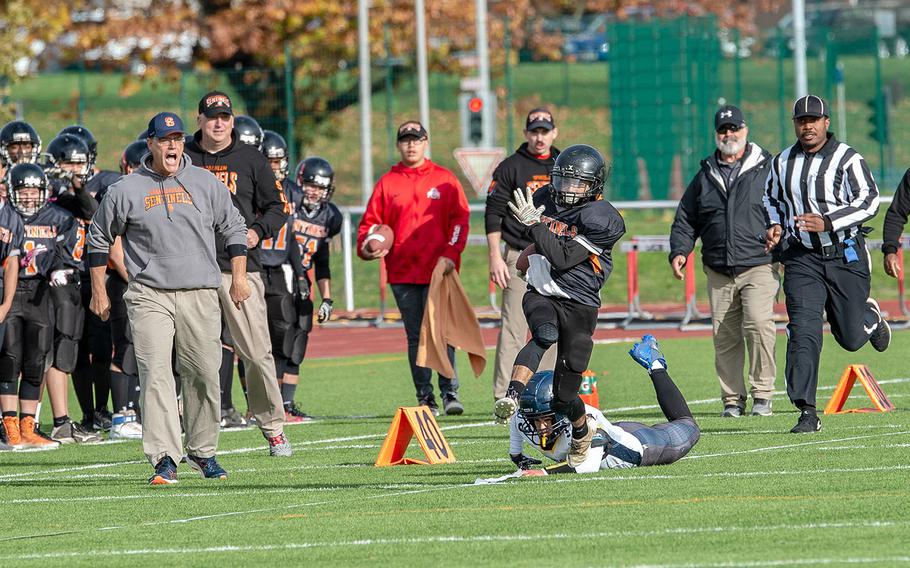 KAISERSLAUTERN, Germany -- The Spangdahlem Sentinels won the 2019 DODEA-Europe Division III football championship Saturday at Kaiserslautern High School, capping an undefeated debut season of six-man football with a 39-26 defeat of the Ansbach Cougars.
Spangdahlem routed Ansbach 58-0 in the regular season, but Saturday's high-stakes rematch could not have been more different.
The Sentinels scored touchdowns on either side of the halftime intermission to erase an early Ansbach advantage. Adam Jalomo made a diving catch late in the second quarter to give the Sentinels an 18-13 lead, and Chartez Wiley recovered a fumble in the end zone early in the third quarter to extend the advantage to 13 points.
That wasn't quite enough to put away the Cougars. Ansbach's Keoni Ulloa-Galindo turned in a long catch and run for a touchdown to cut his team's deficit to six with just under 10 minutes to play.
That's when Spangdahlem star Deon Montgomery shook off a nagging injury hampering him and secured the title for the Sentinels. The senior running back broke off two touchdown runs in under a minute to finally put the game away.
"We can't lose this game. We've done so much over this season that we can't go out like this," Montgomery recalled thinking as Spangdahlem coach Mike Laue turned to him at the season's most crucial juncture. "I couldn't let it happen. I couldn't let my team down."
Those runs brought a triumphant end to what Laue called an "interesting" season of transition for one of DODEA-Europe's most historically successful programs.
Laue led the program, then known as the Bitburg Barons, to a Division II dynasty earlier this decade on the strength of a smash-mouth style built around dominance in the trenches and power running. That approach had to change as the Sentinels transitioned to the six-man game.
"We had to do a little more finesse stuff," Laue said.
"Fortunately, we had some athletes who could do that. That was probably the biggest thing."
Foremost among those athletes was Montgomery, who starred in many of the Sentinels' blowout regular-season wins before turning in 205 yards and three touchdowns on 27 carries in Saturday's finale.
"We asked him to have some courage and make stuff happen, and he performed," Laue said.
The Cougars fell short in their bid to repeat after claiming the six-man league's inaugural title a year ago. But they didn't end their season without getting the attention, and respect, of the heavily favored Sentinels.
"They had some nice wrinkles that they added that we haven't seen," Laue said. "They really prepared really well for us."
Ansbach coach Stephen Choate considers this season a success regardless of Saturday's outcome. The Cougars lost considerable talent from last year's championship roster and lost two of their first three games this fall, but Choate said the group never quit.
"We've grown a lot," Choate said. "The team is really young and they just kept getting better each week.
"I am super proud of our team."
broome.gregory@stripes.com Twitter: @broomestripes