Girls D-III semifinals
Spangdahlem, Hohenfels to clash in final
by
Gregory Broome
February 21, 2020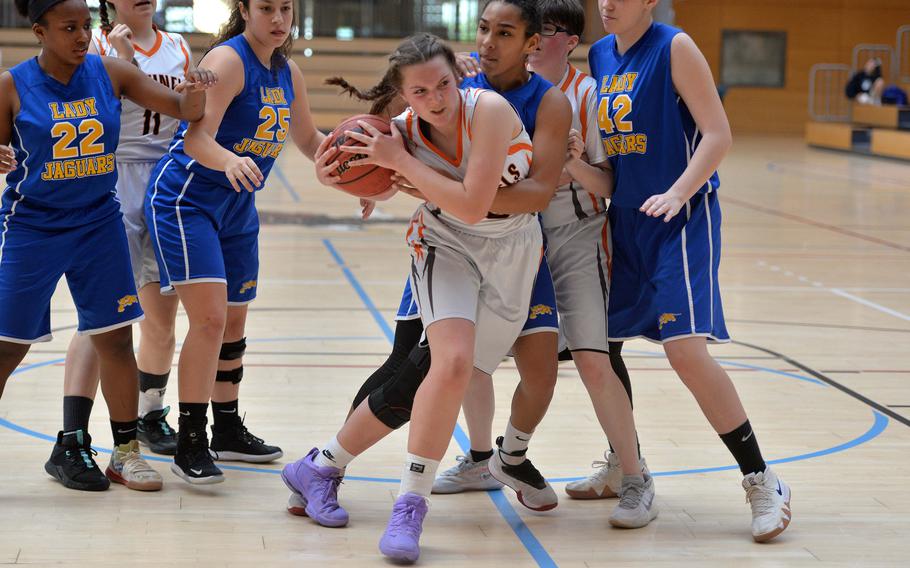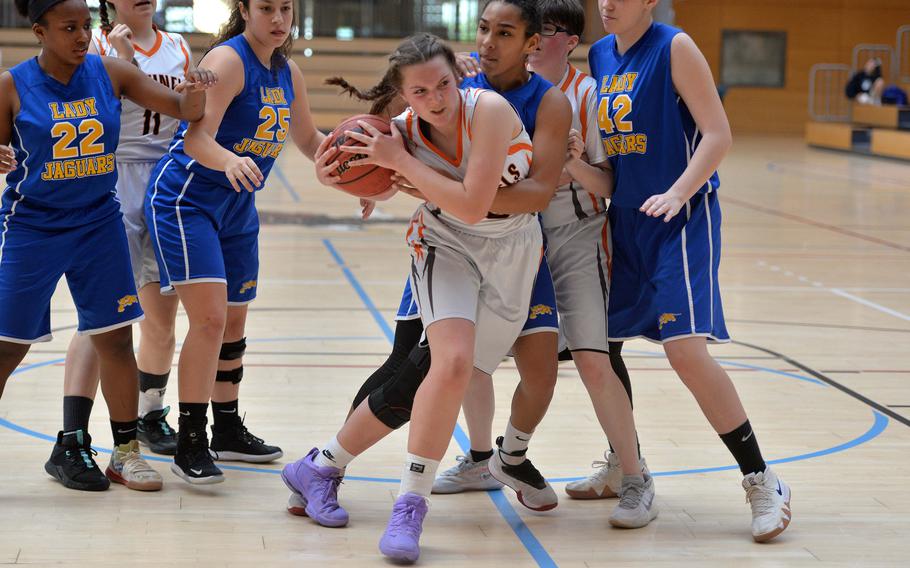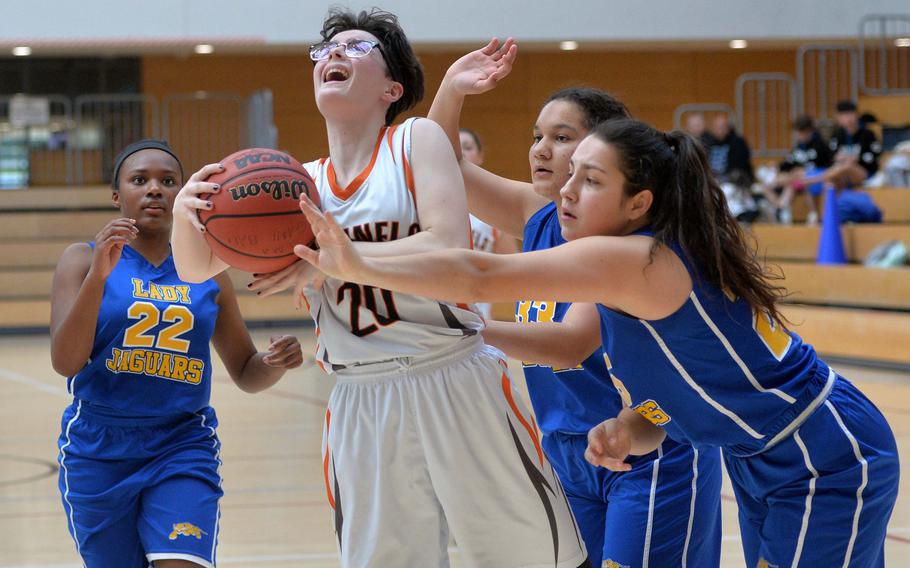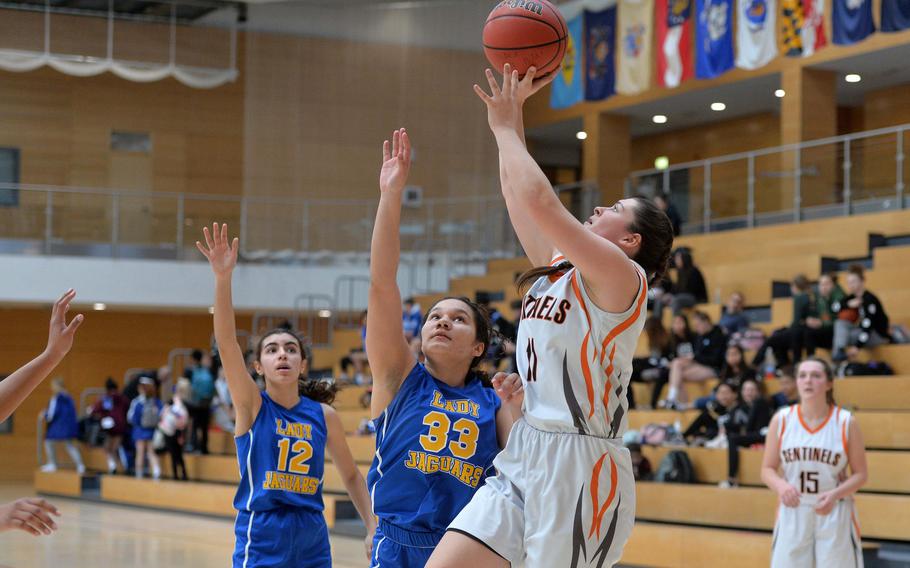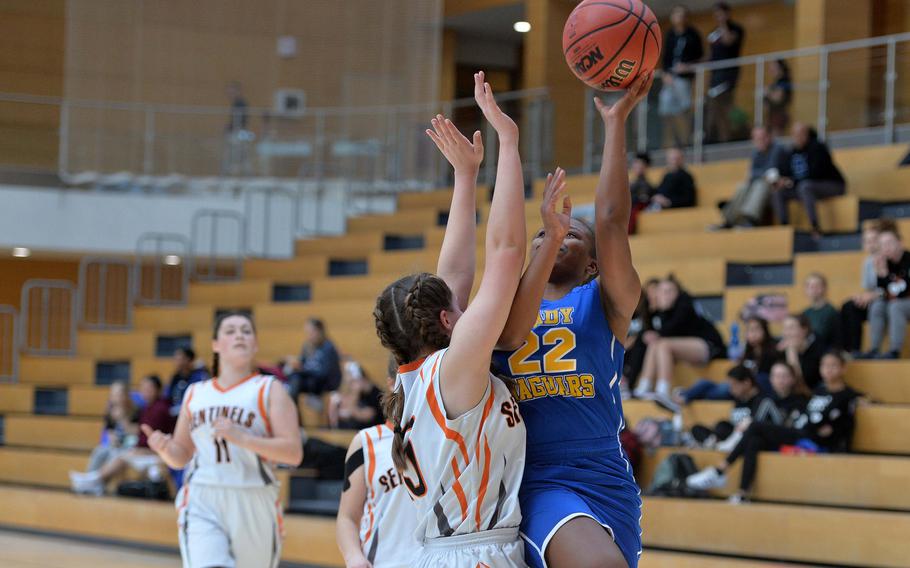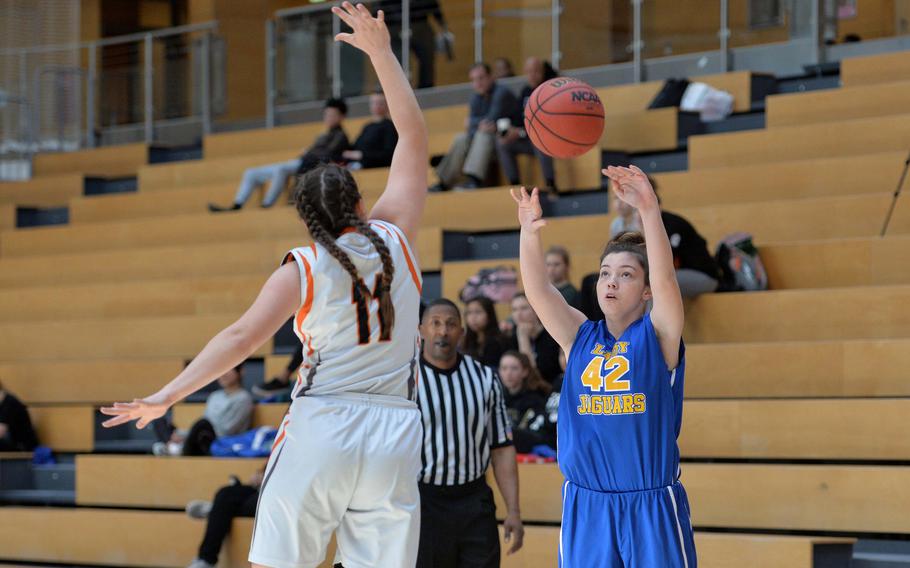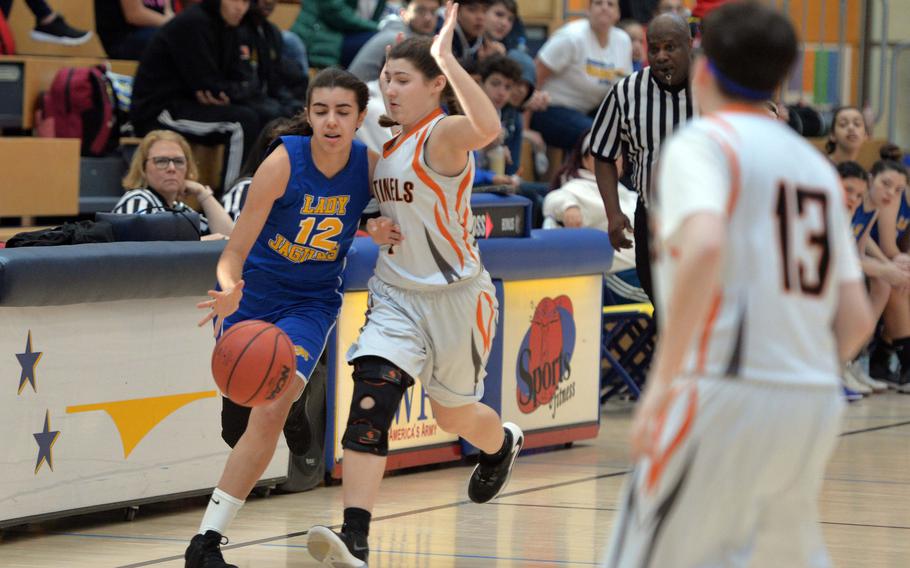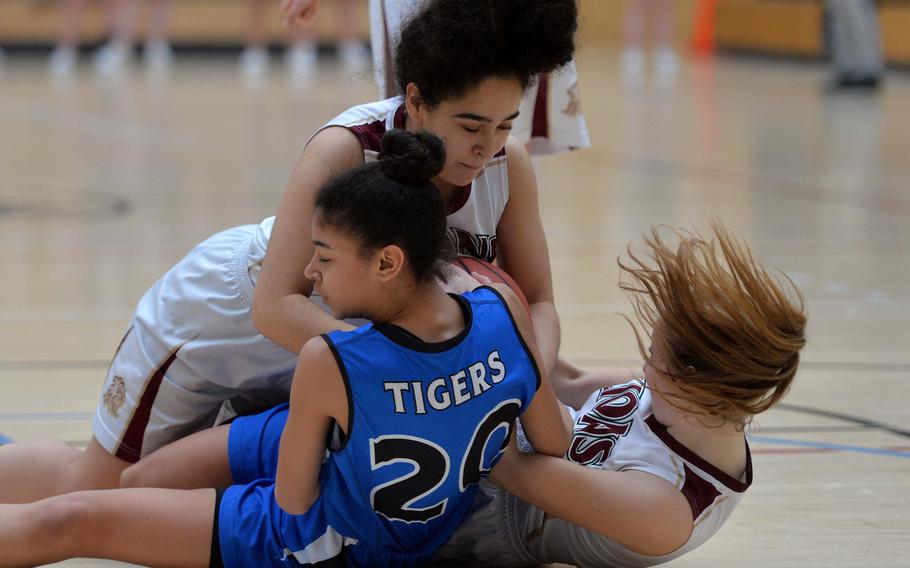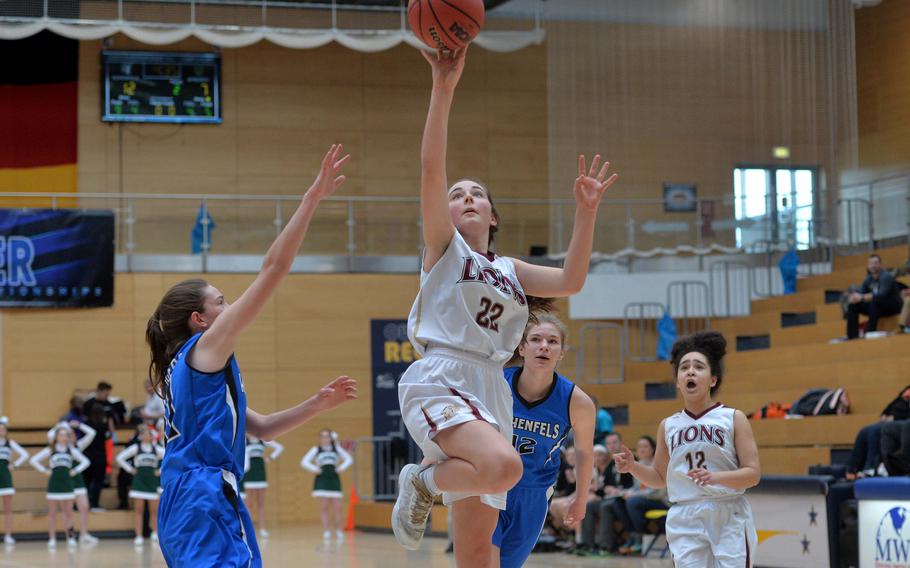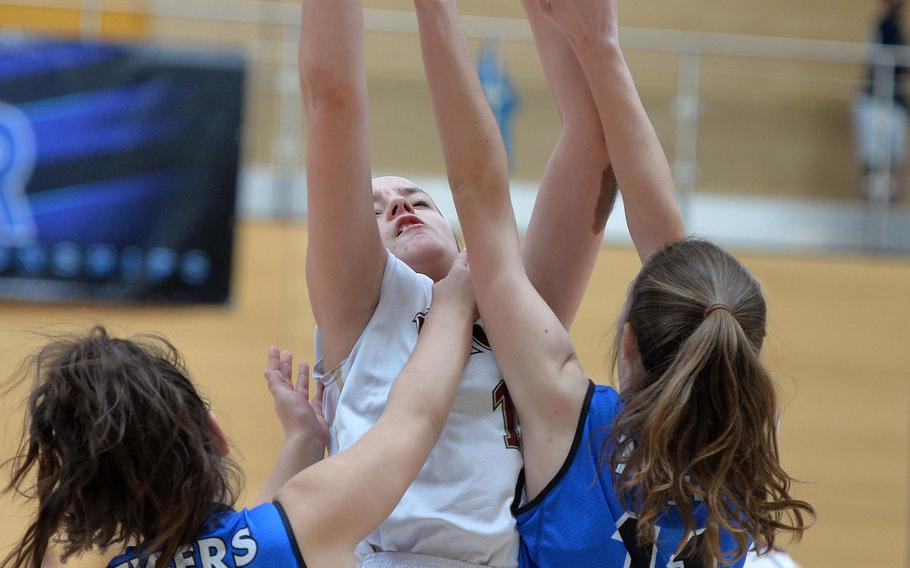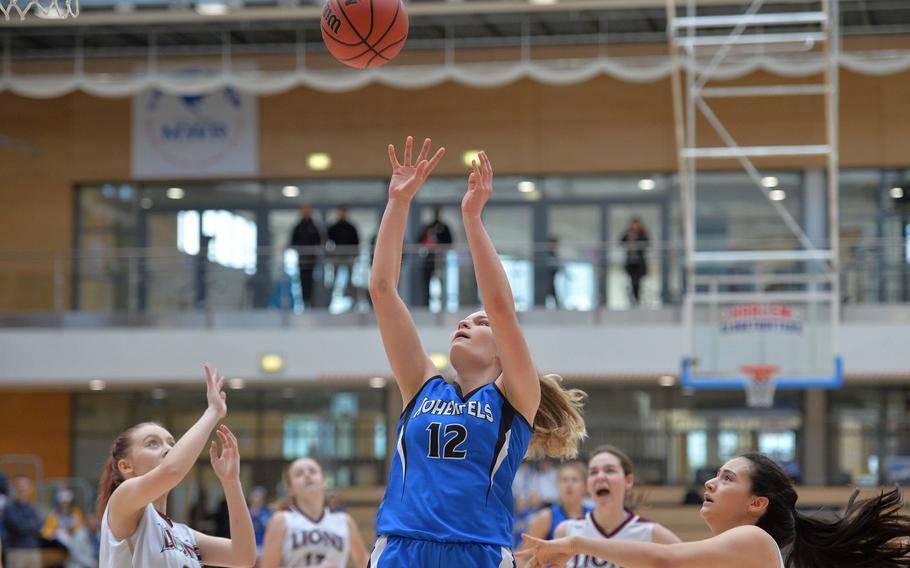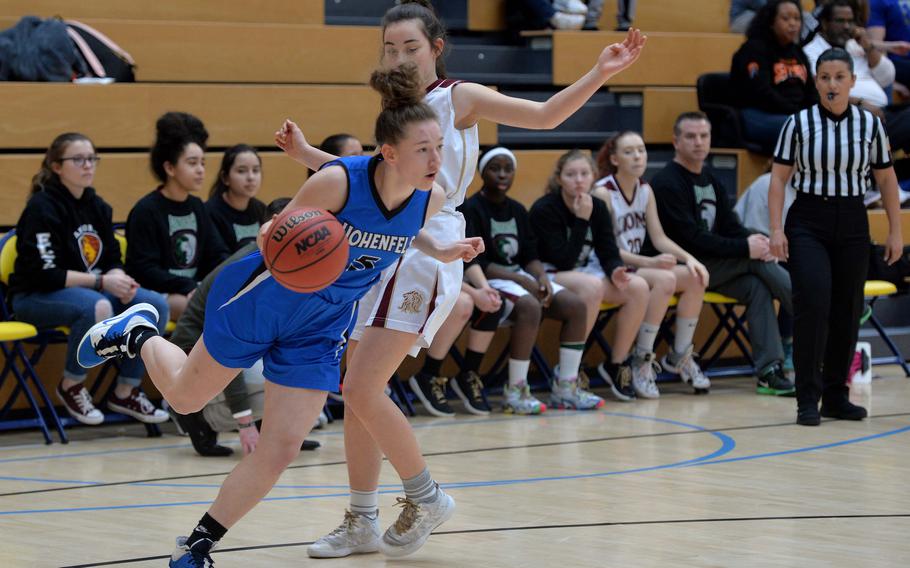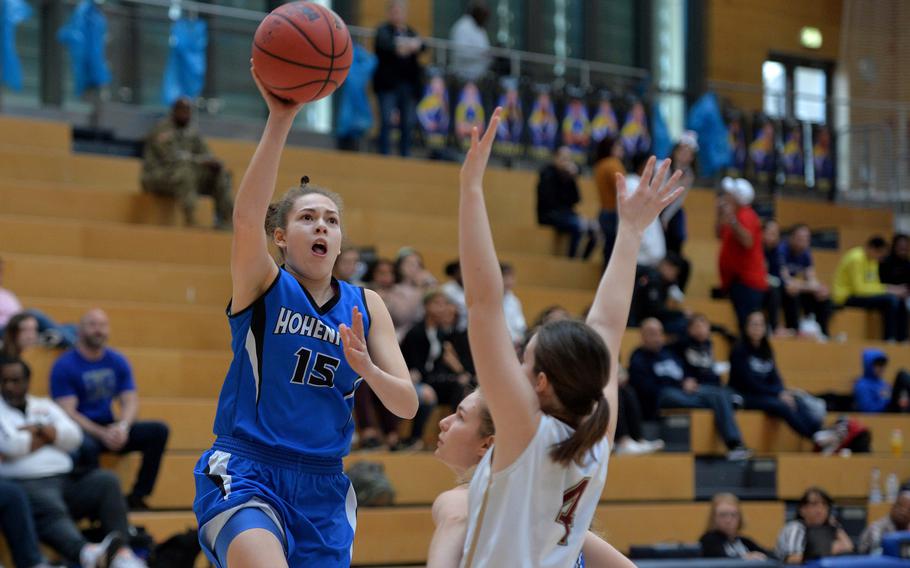 WIESBADEN, Germany – The Spangdahlem Sentinels are on the verge of their first DODEA-Europe Division III girls basketball championship.
The tournament's No. 1 seed eliminated three-time defending champion Sigonella with a 39-14 semifinal victory Friday at Clay Kaserne Fitness Center, advancing to Saturday's championship game against the Hohenfels Tigers, who outlasted AFNORTH 36-31 in Friday's other semifinal.
Spangdahlem 39, Sigonella 14: The Sentinels stayed undefeated in regular-season and postseason divisional play with a steady win in a rematch of last year's European championship game.
Neither team produced much in the way of offense early as they played to a 2-2 tie through eight minutes. But the Sentinels soon shot their way into a comfort zone, growing their lead to 20 early in the fourth quarter and cruising back to the small-school title game.
Spangdahlem coach Chris Howard said his team played through early nerves and tightened up its shot selection after that rocky start, and the shift in approach produced 13 second-quarter points from four different players.
"They were so excited, so every shot they put up was with extra energy," Howard said while complimenting Sigonella's defensive and rebounding efforts. "I knew that we could score, we just had to take it inside."
Izzy Smith scored 10 points to lead the Sentinels, while Emerson Retka added nine and Bridget Donovan contributed eight.
Sigonella's three-year title reign, which included a 37-35 defeat of Spangdahlem in the 2019 final, came to an end in this tournament, but not without another memorable moment. The seventh-seeded Jaguars, absent much of the core of last year's title team, stormed back from a significant early deficit to beat Baumholder 27-26 in a Thursday pool-play matchup and keep their annual appointment in the elimination round.
"I am proud we had some girls step up," Sigonella coach Darryl Chandler said. "We were working out kinks to the very end."
Hohenfels 36, AFNORTH 31: A dominant effort by junior June Smith led the fifth-seeded Tigers to the title game.
Favored AFNORTH was never able to manufacture consistent offense in the absence of star point guard Tori Morris, who was sidelined for most of the game after sustaining an early injury. That left the Lions little chance of keeping up with a Tiger attack orchestrated by the gifted Smith.
Hohenfels' star player made a comprehensive impact on the game, knifing to the rim for layups, muscling in for rebounds, weaving passes to open teammates and drawing trips to the free-throw line to further bump up her production. Her three-point play on the opening inbounds of the second quarter put the Tigers up by seven points, a comfortable margin given the offensive limitations facing their opponent.
Smith, who scored 26 of her team's 36 points, deflected personal recognition in favor of the collective triumph.
"It's not an individual game," Smith said. "We had to be here for each other, we had to motivate each other through the tough times."
Those tough times came largely in the fourth quarter as AFNORTH launched a spirited rally, forcing a string of turnovers and outscoring the Tigers 18-9 over the final eight minutes before the final buzzer cut off its comeback.
AFNORTH coach Matt Wise acknowledged the increased degree of difficulty his team faced without its primary ballhandler, but he preferred to focus on the team's considerable efforts in her absence.
"Anybody who was watching today saw that the five girls who were on the court and any reserves who came in were ready to fight and fight hard," Wise said. "I'm just so proud of the way they battled back."
Hohenfels now moves on to another battle against the heavily favored Sentinels. Though Hohenfels played Spangdahlem as tough as anyone in a pair of regular-season losses, the Sentinels throttled the Tigers 44-5 in a Wednesday preliminary game.
Smith said the Tigers failed to "play as a team" in that tournament blowout. But assuming they do on Saturday, she likes her team's chances.
"If we get our mind in the game and work hard together, I think we'll be good," Smith said.
broome.gregory@stripes.com Twitter: @broomestripes