Southern schools put forth championship entrants
---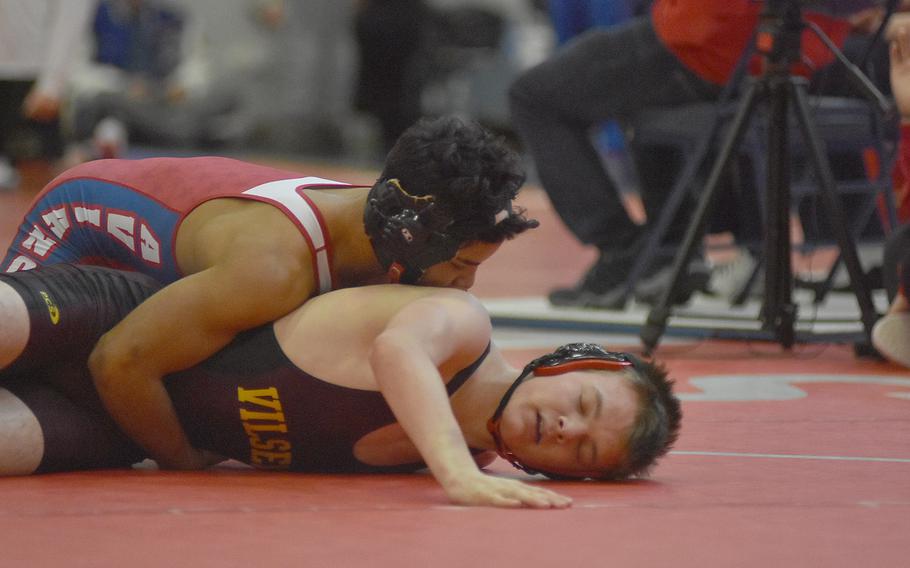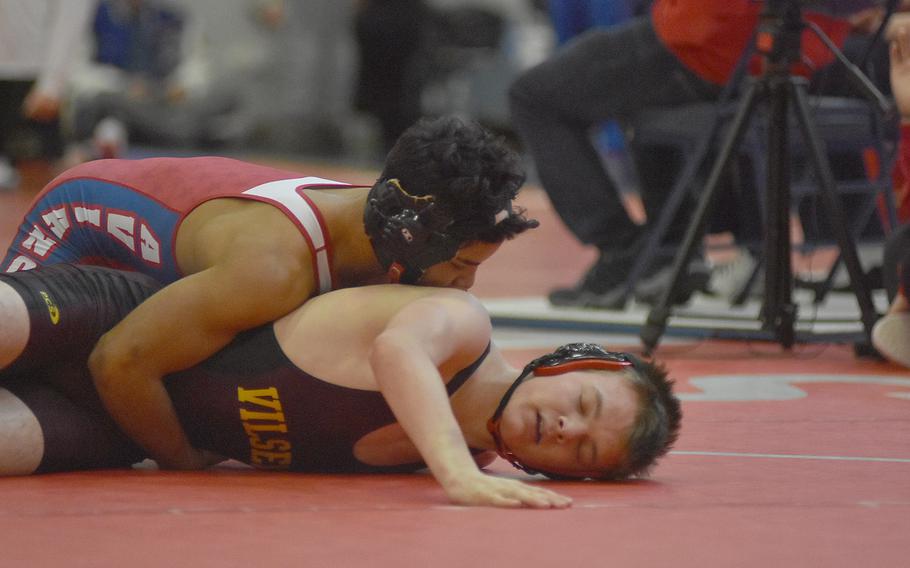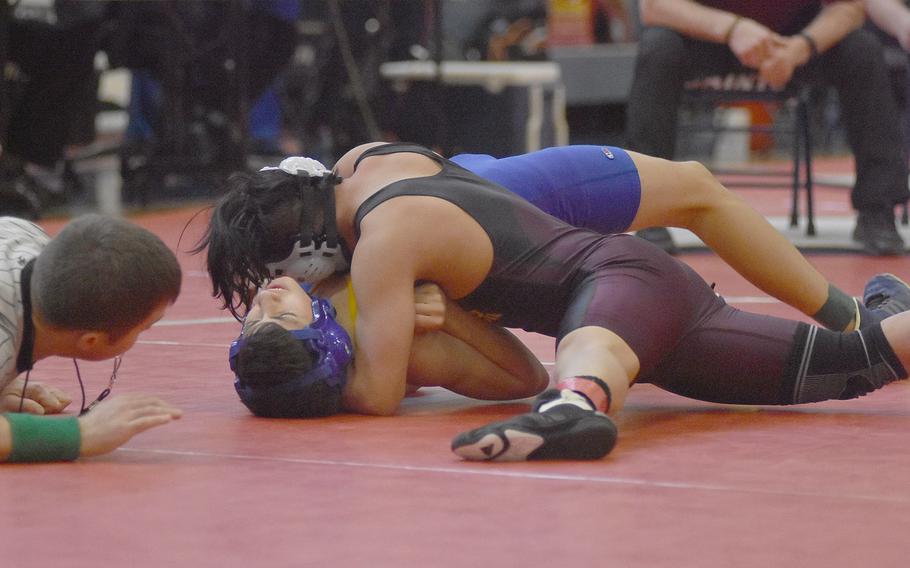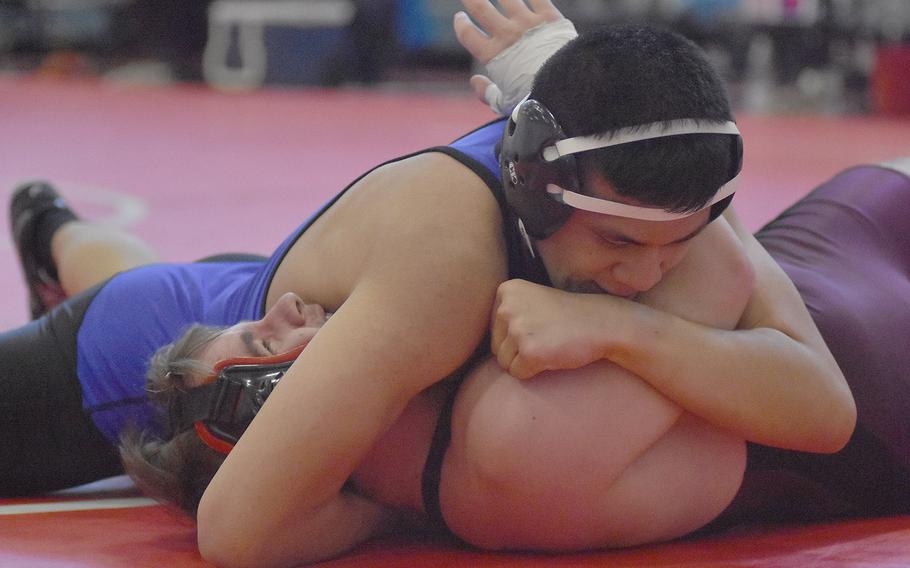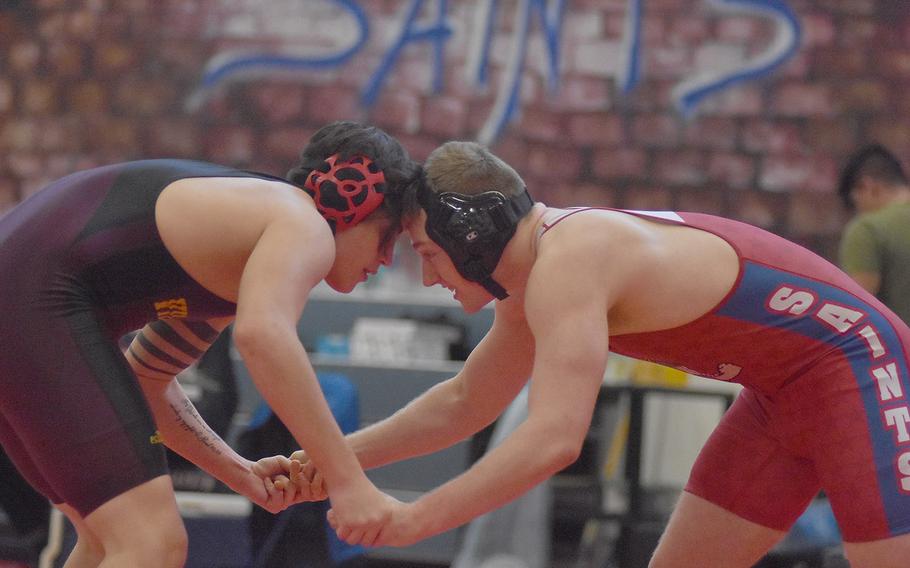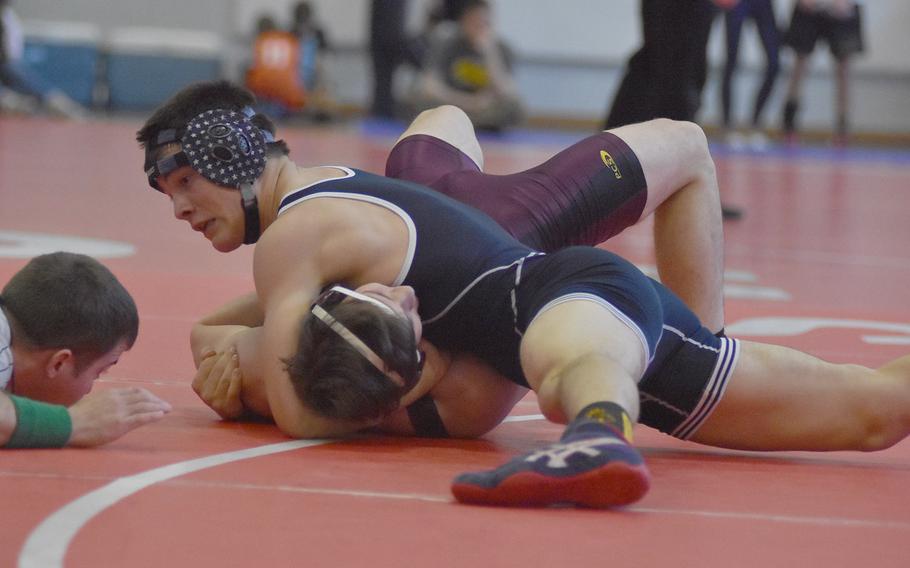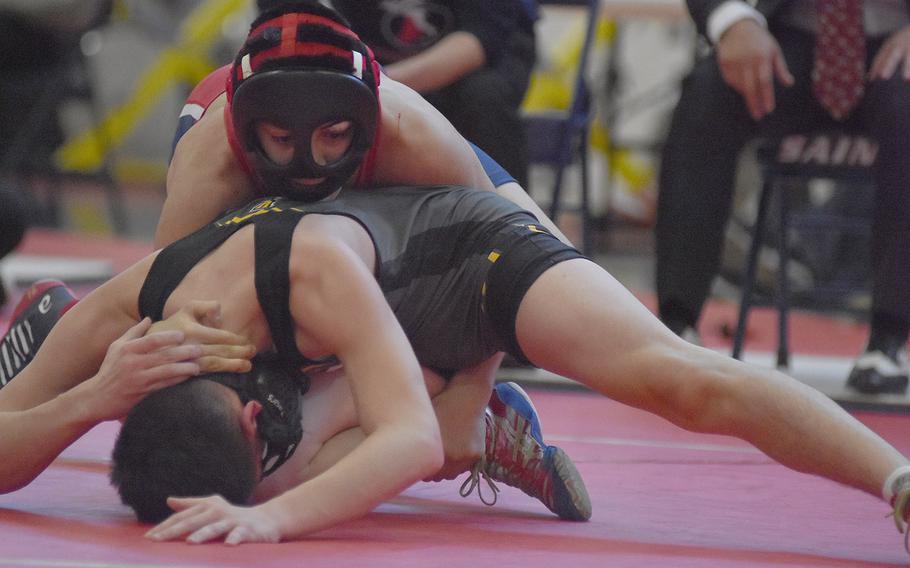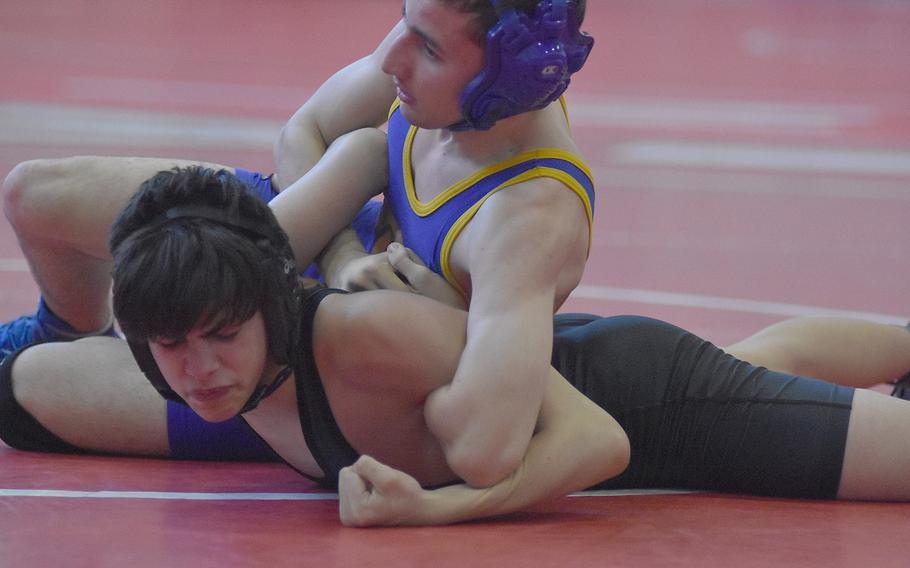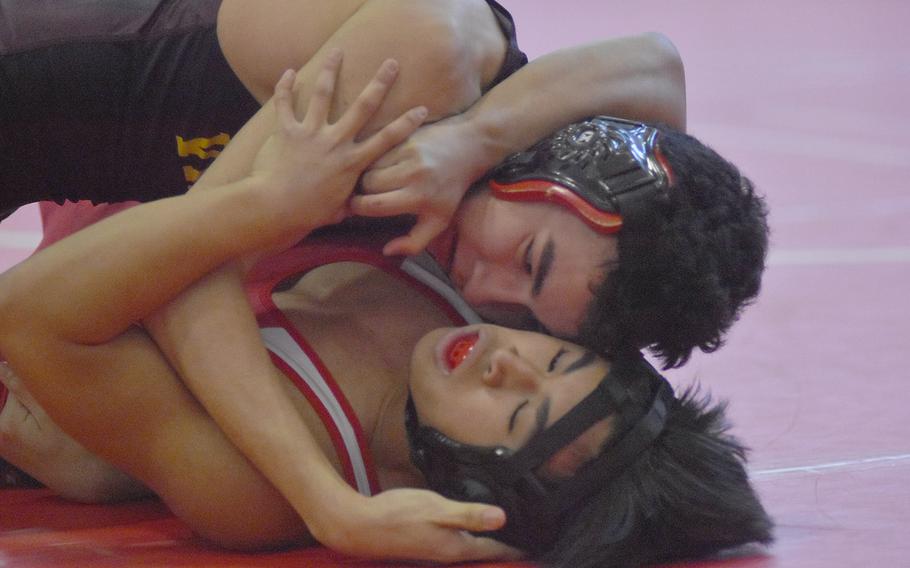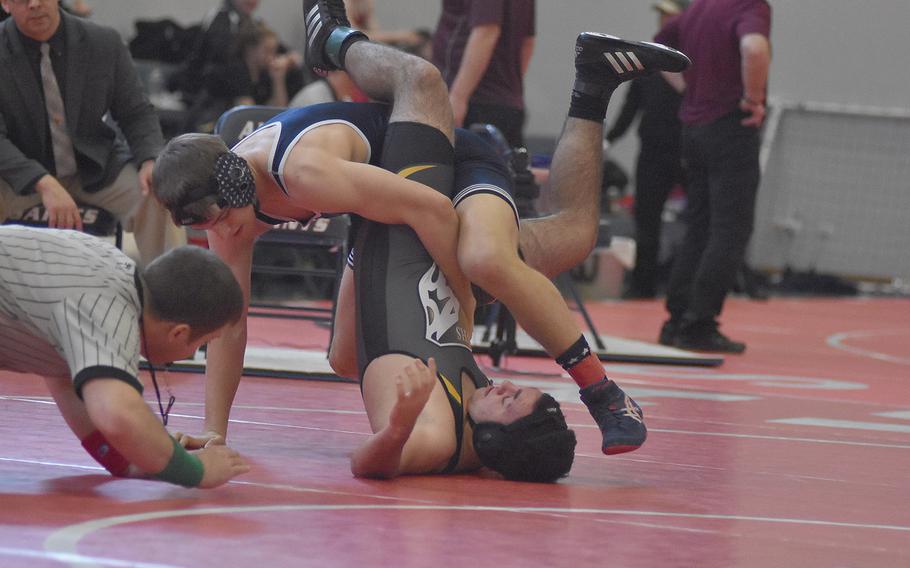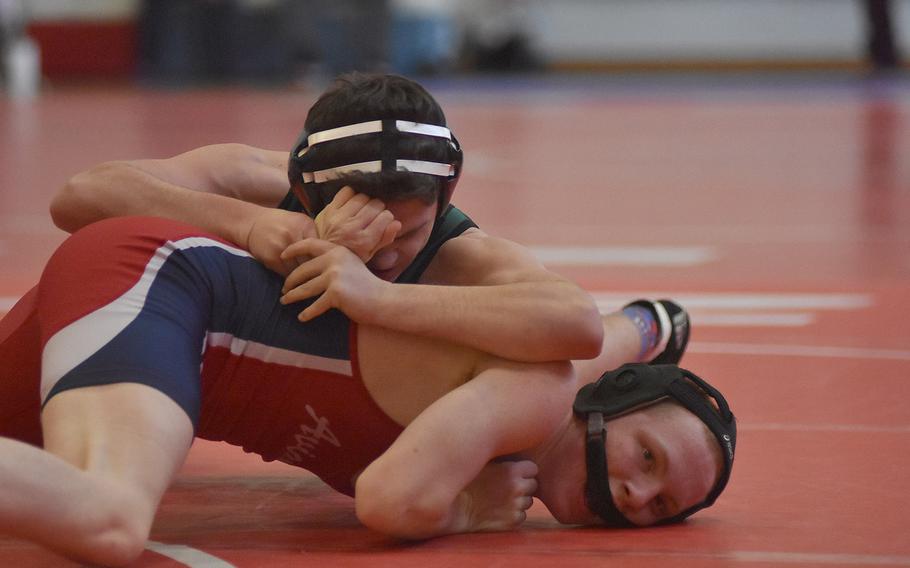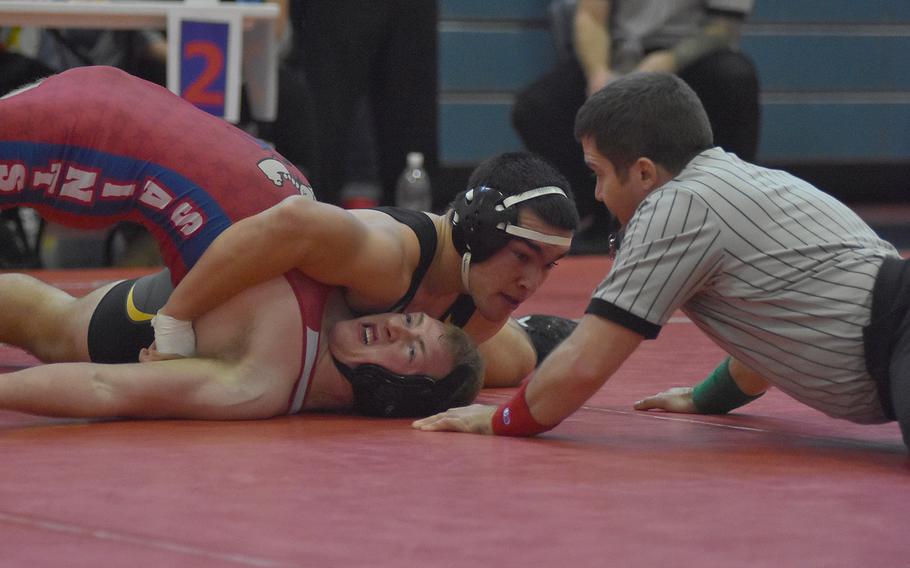 AVIANO AIR BASE, Italy – There weren't a lot of big surprises Saturday as wrestlers from seven schools gathered at the southern sectional to try to earn spots in the European championships.
That's largely because trips south of the Alps by Vilseck, Munich International and Hohenfels during the regular season meant that just about every wrestler had already faced their Saturday opponents at least once.
But that didn't mean there wasn't any drama. And a few surprises.
"You don't expect first-year wrestlers who have never wrestled before to get through this," Aviano coach Robin Clement said before the meet started.
So Julius Gaduang's stunning victory in the semifinals at 126 pounds surprised his coach. Especially when he trailed Vilseck's Brandon Stachl 13-4 in the third period before taking him to his back and earning a pin – and an automatic spot in the championships next weekend in Wiesbaden.
Gaduang, cut from the school's basketball team before the season started, was one of 10 Saints to qualify. That means Aviano is almost guaranteed to defend its Division II title.
Leading the charge were Ethan Herrera (106 pounds), Liam Knowles (126), Jacob Gamboa (132) and Anthony Cervantes (138). Gamboa and Cervantes haven't lost this season and didn't seem to be in danger at any point Saturday. Five Saints took second.
Aviano and Vilseck both qualified 10 wrestlers, though the Falcons may have some more after wild cards are determined.
That's just about what coach Jim Hall predicted before the meet. The Falcons will have a tough time matching points with Ramstein and Stuttgart in D-I, though weight-class champions Adrian Cruz (120) and Juan Oestreich (220) will do their best.
The smallest contingent – two brothers from Munich – looked dominant. Blaise Ronnau improved to 22-0 with three pins at 160 pounds. Older brother Drake is now 20-0 after two pins and a 14-8 victory over Aviano's Mitchel Schaul – his tightest margin of victory this season.
The brothers will try to make the finals trip a successful conclusion to their European odyssey. The family is moving back to the States this year, sparing Europe from facing several other younger siblings.
Sigonella's Munro Manning (113), Ben Latimer (126) and Joe Perroni (275) all won titles for the D-III school. Naples' Jackson Blivin improved to 29-1 with a triumph at 152 pounds and teammate Augusto de Sousa Matos won at 195. Vicenza's Ethan Johnston won at 182 to lead a seven-qualifier contingent.
---
---
---
---