South wins 3 of 4 as D-I soccer showdown opens
---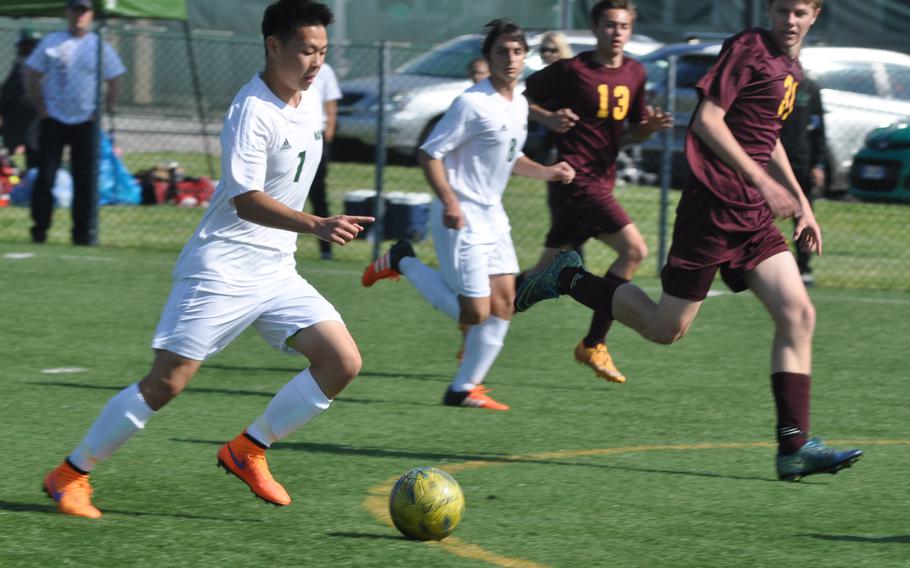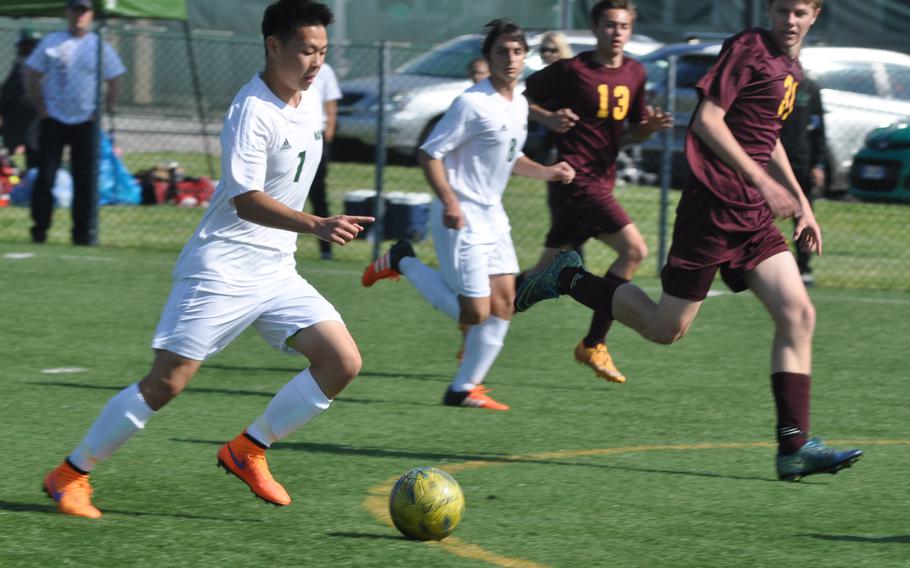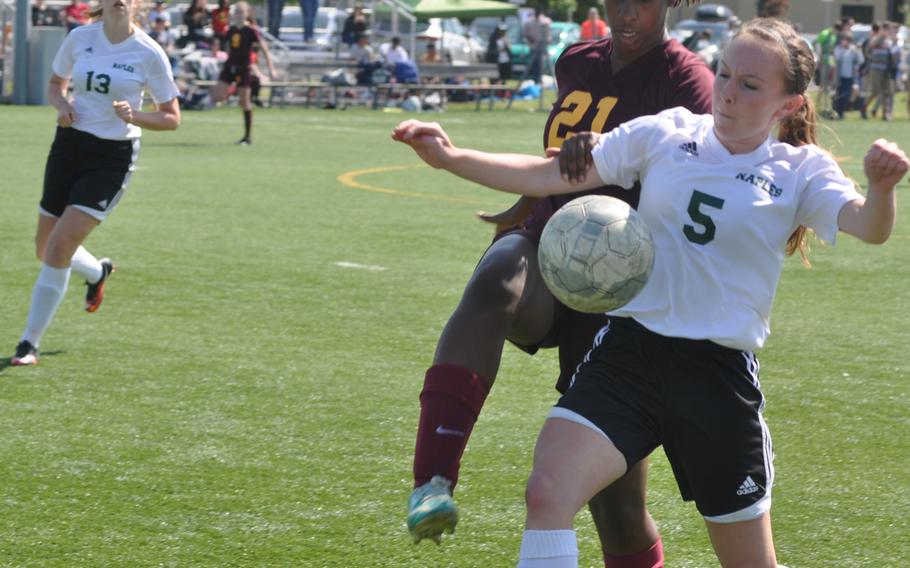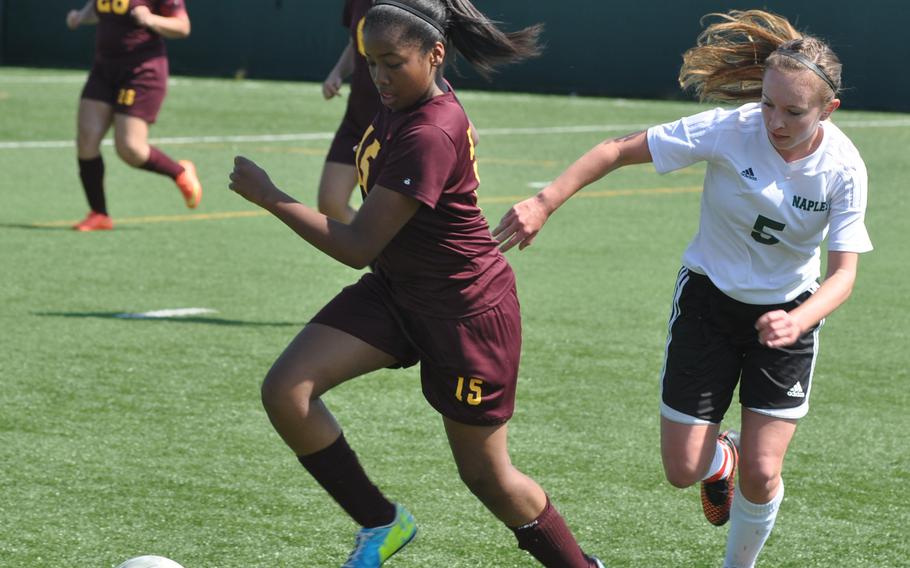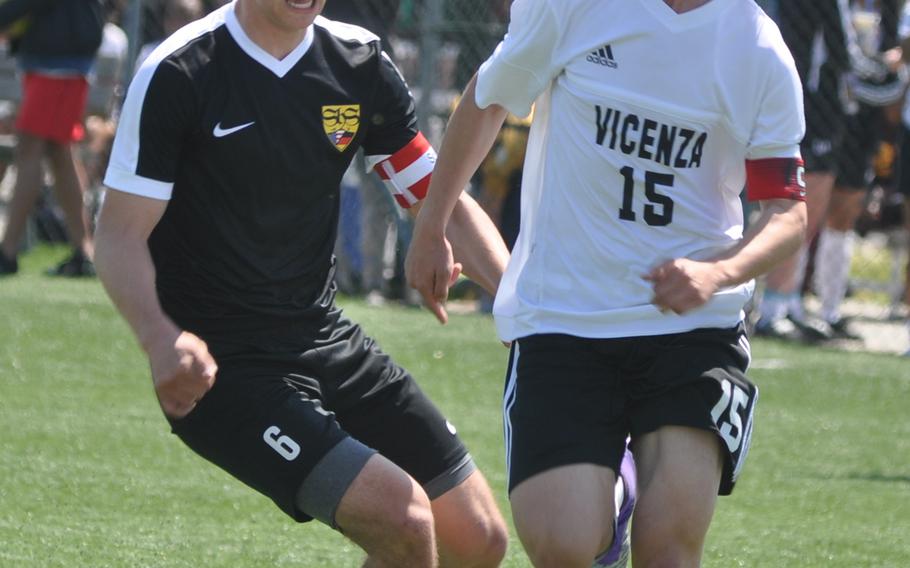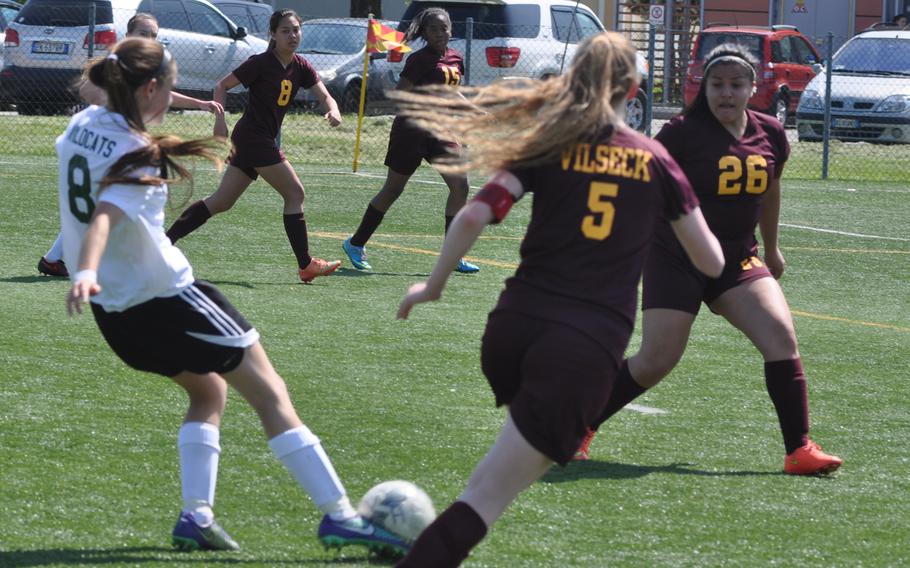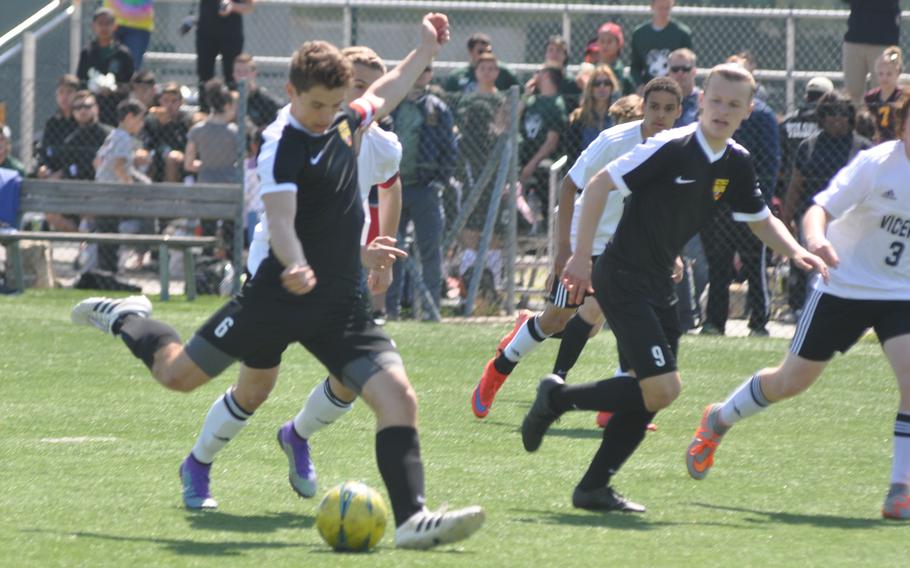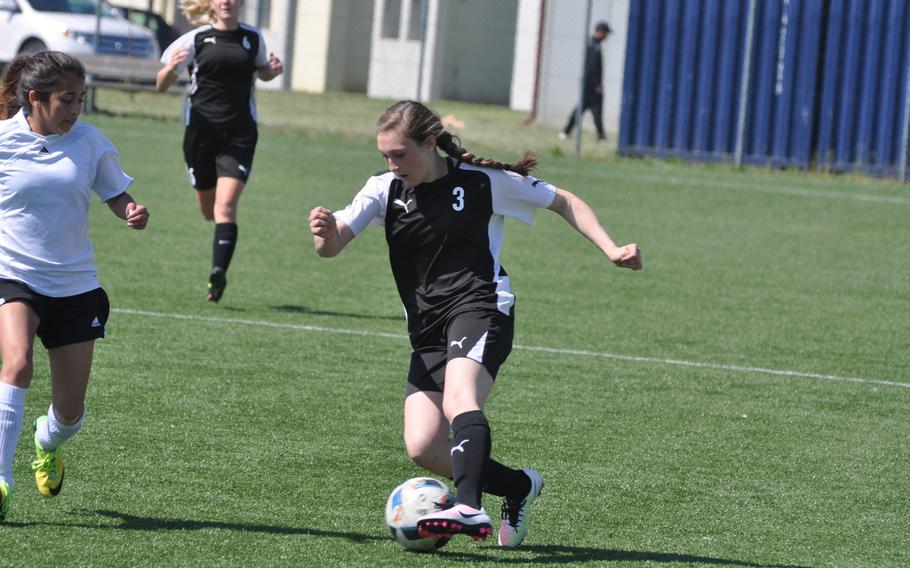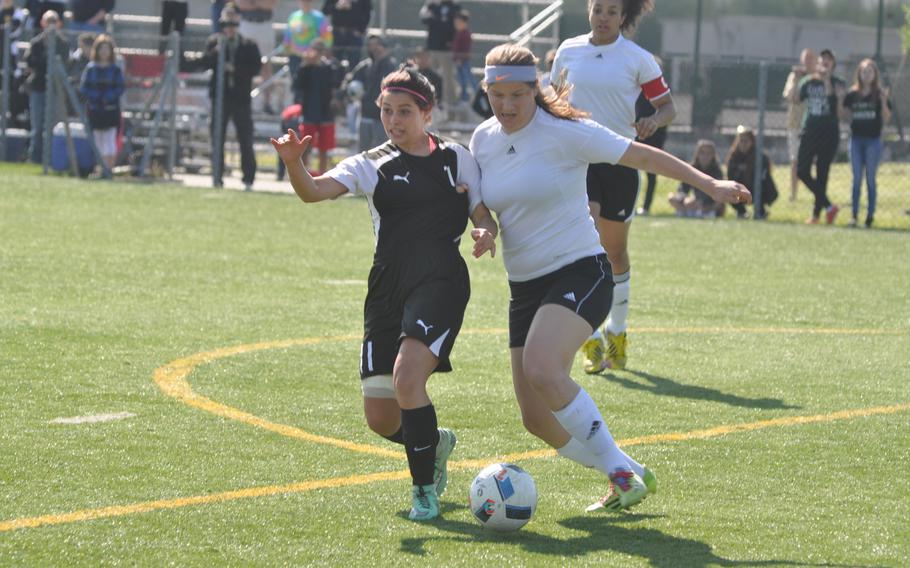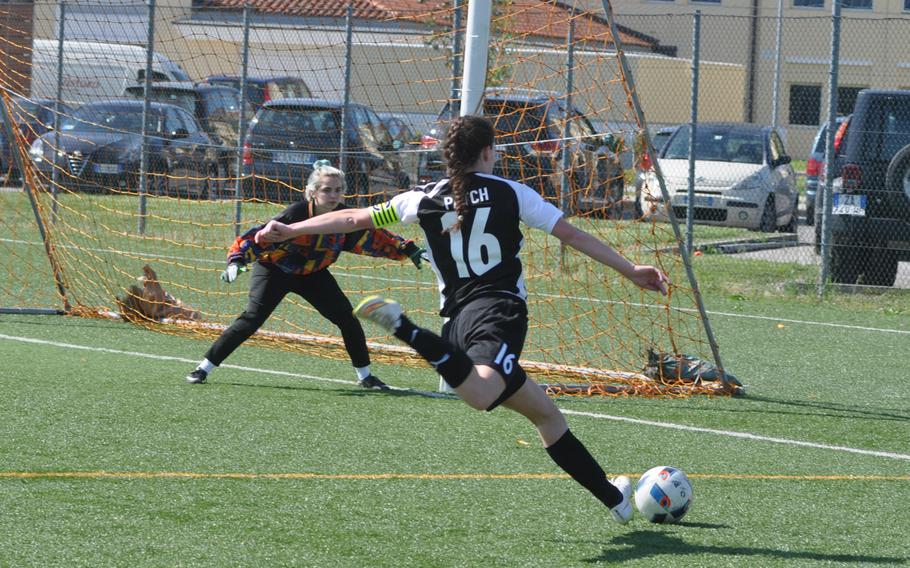 VICENZA, Italy – Three of the eight teams entering a weekend of soccer competition between teams north and south of the Alps opened the event undefeated, while another just suffered its first loss.
That trend continued Friday as all three unbeaten teams earned shutout victories and the one-loss Stuttgart boys now have a second loss.
Perhaps the lone consolation for the Panthers could be that they were the only losing team to score ... and their game was by far the closest.
Vicenza boys 4, Stuttgart 3: David Macy scored the game winner on a broken play when a crossing shot rolled in front of the goal and by several Panther defenders who couldn't control it.
It was the only goal of the game that didn't come after play was stopped by a foul or penalty; five goals were scored on free kicks and another on a penalty kick.
"Neither team had any time of possession or fluidity," said Vicenza coach Roland Sturk, who essentially told his team to stop trying to put together any kind of sustained attack and just kick the ball into the Stuttgart side of the field in the second half.
The strategy worked, despite the Panthers outshooting the Cougars 29-15.
"The free kicks posed a challenge for us today," said Stuttgart coach Chris Kelly. "Vicenza did a better job defending them than we did."
Not by much, though.
Stuttgart's Dan Bacskai started the scoring by converting a free kick from about 20 yards out. That would be one of the shorter goals of the day.
Vicenza midfielder Chris Ortiz converted a penalty kick to tie the score, then put the Cougars on top on a free kick from 35 yards out.
Stuttgart's Ethan Center answered that with an improbable shot from midfield that took a big bounce over the keeper's head into the net.
Vicenza's Marco Peruzzo put his team back on top with a free kick from 25 yards away before Bacskai tied it up by converting yet another free kick from 40 yards out.
Stuttgart entered the game having given up only three goals on the season, including a 1-0 loss to Wiesbaden on April 23.
"Our defense to this point of the season had been our strong point," Kelly said. "We were hoping to come out today and build for tomorrow. We were not looking past Vicenza. We knew they were a good team."
The Panthers take on unbeaten Naples on Saturday in both boys and girls action, while Vicenza meets Vilseck.
Stuttgart girls 7, Vicenza 0: The Panthers, the defending Division I champs, saw Vicenza take the opening possession deep into their territory.
After that, it was just about all Stuttgart (3-0-1).
Madison Barta found the lower left part of the net. Alexandra Smith took a pass from Emily Smith and it was 2-0. She scored again a few minutes later by kicking in the rebound of a shot that Vicenza had turned back. Kaitlyn Farrar scored after another rebounded miss. Alexandra Smith scored her third goal by knocking in a corner kick from Emily Smith. Sierra Leflore found the right corner of the net on a breakaway.
It was 6-0 at halftime, and Vicenza didn't even have a shot on goal.
"Those guys have been champions – between them and Ramstein – back and forth every year," Vicenza coach Kim Marie Has said. "We knew they were going to get a lot of shots. We were just hoping that not so many of them would go in."
Her hopes were answered more or less in the second half as substitutes entered and consistent attacks exited. Barta got her second goal just before the game ended, leaving the Panthers with a 30-2 edge for shots on goal.
Naples girls 3, Vilseck 0: The Wildcats (5-0) geared up for a showdown with Stuttgart by dominating the Falcons in a game that wasn't as close as the score might indicate.
Naples outshot Vilseck 26-4 and hit the right, left and top portions of the goal with misses in the first half alone.
"We had a lot of shots that should have gone in," coach Rebecca Lucy said.
Micayla Feltner did find the back of the net about 10 minutes in, beating several defenders including goalkeeper Daniela Oestrich and left-booting the ball into an empty net. Kaethe Rose scored in a pileup in front of the net a few minutes later and Naples led 2-0 at halftime.
Feltner scored again less than a minute into the second half, and Naples cleared its bench.
Oestrich, a freshman, had 13 saves or the score would have been worse.
Naples boys 3, Vilseck 0: The action and result were the same as the girls game and the Wildcats converted enough shots to win.
"A win's a win and we'll take it," coach Dirk Lambertson said.
Senior Davide Di Costanzo, a 5-foot dynamo, assisted in two scores and scored the other goal. He found Matt Bruhn – who starred for the Wildcats in basketball – in a give-and-go type goal early on.
Then he saved an errant shot by a teammate, outworked two defenders and found the net from a difficult angle and it was 2-0.
Di Costanzo found David Morgan with a corner kick early in the second half to finish the scoring. The Wildcats outshot the Falcons 37-7.
"We know Stuttgart's going to be a huge game," Di Costanzo said after the game, echoing his coach.
"They're one of the best teams in Europe and we're still trying to find our way," Lambertson said. "Yes, we're 5-0, but we really hadn't played anybody in Division I until today."
Vilseck coach John Sabala, who starts three freshmen and three sophomores, said he doesn't think a single team in the Division I boys field is a pushover.
"There's not one single D-I school you can take lightly this year," he said. "It's going to be an interesting European tournament."
---
---
---
---