Europe DI soccer
Some teams turning it up a notch in the postseason
---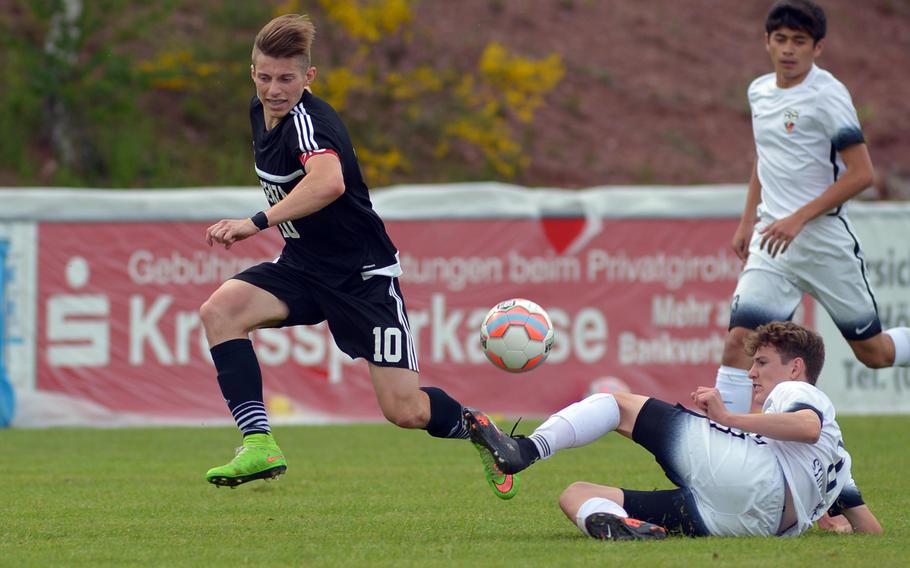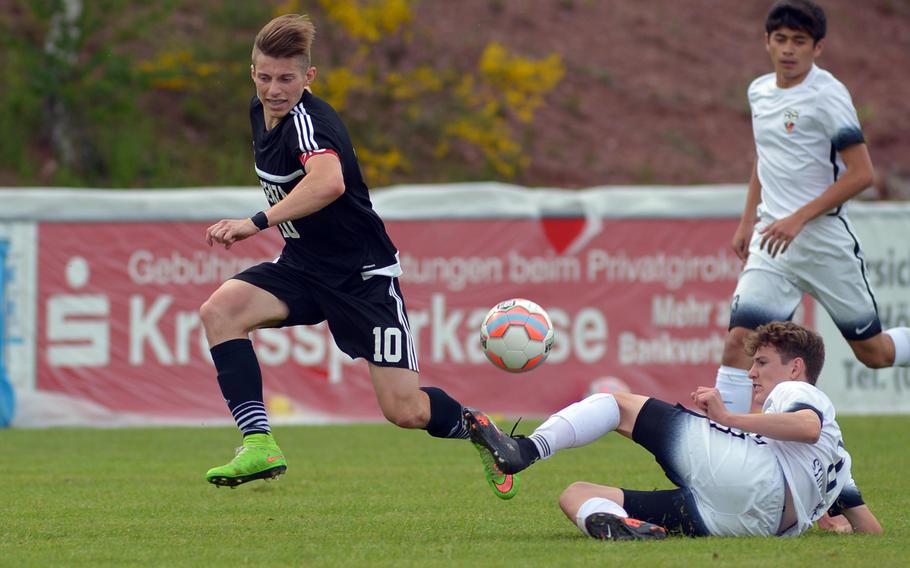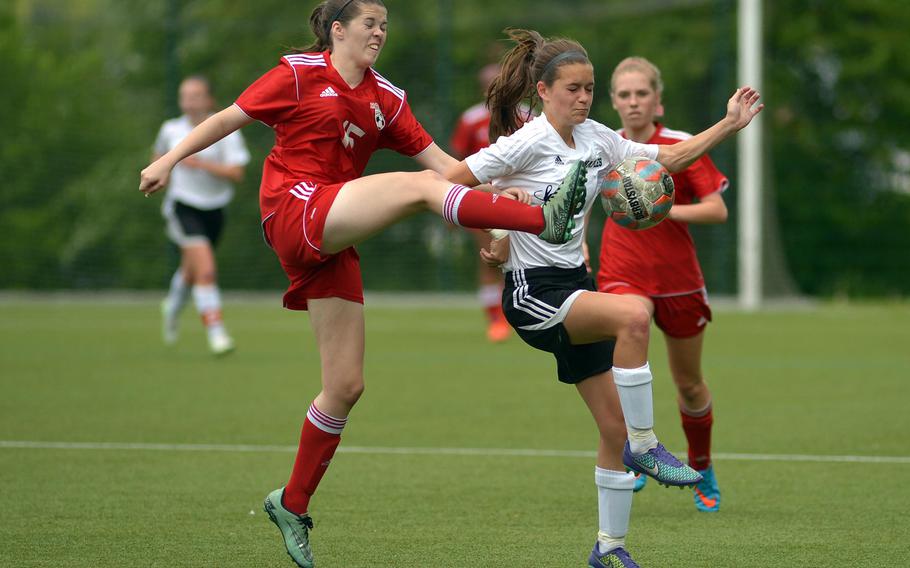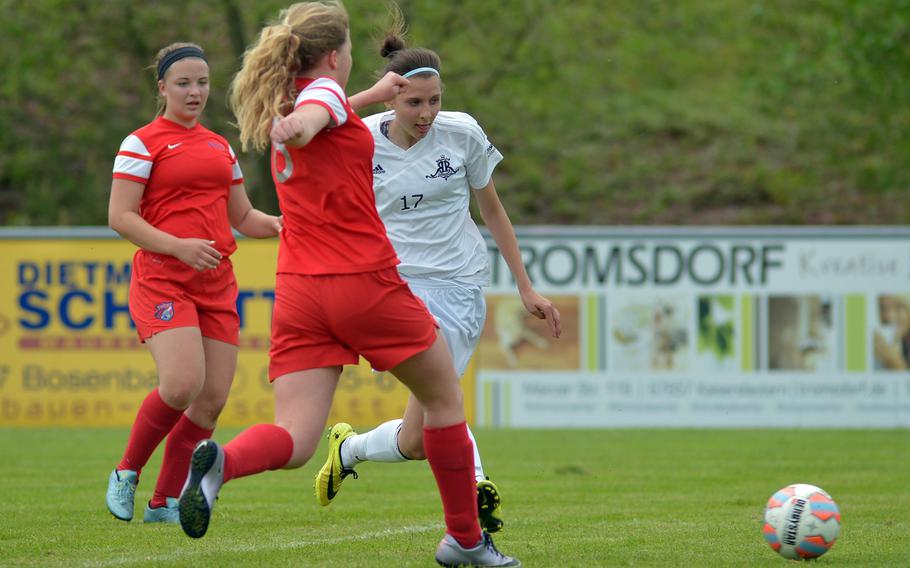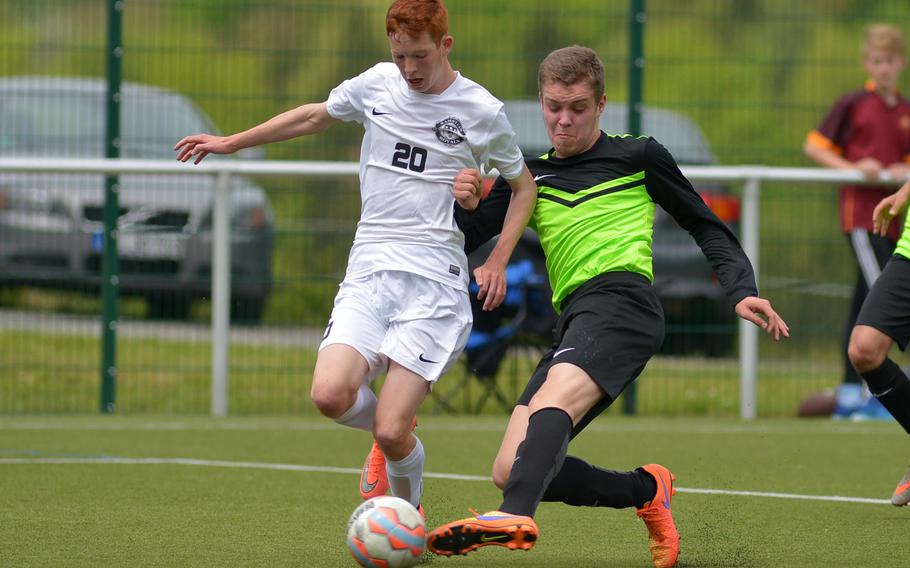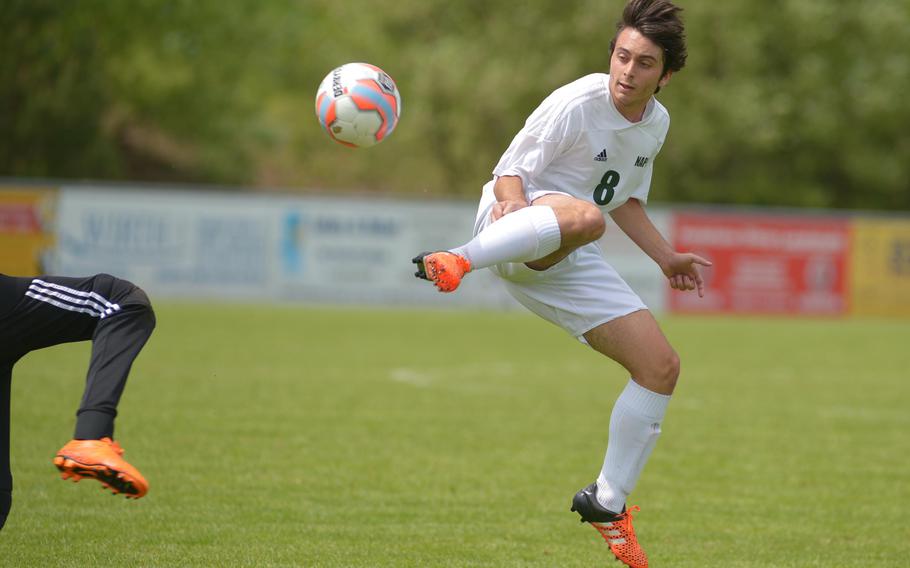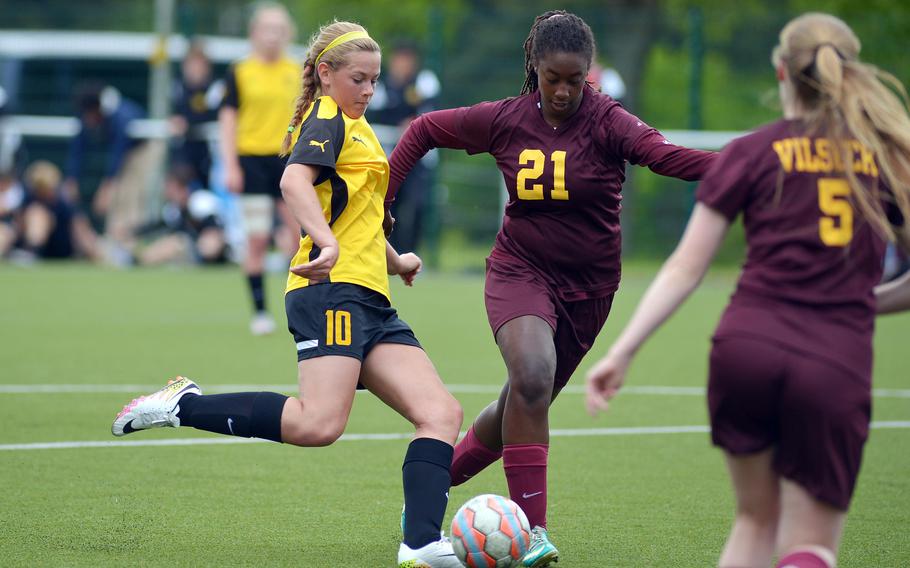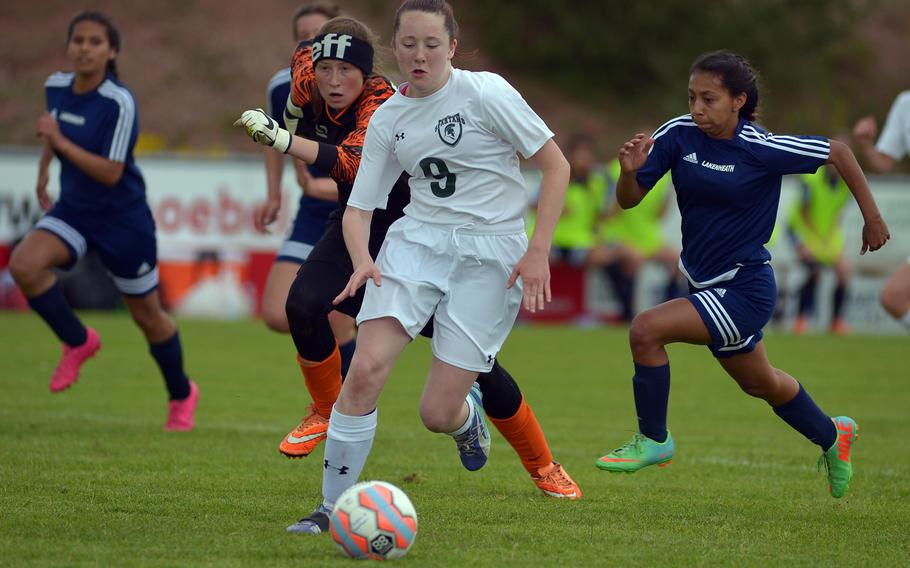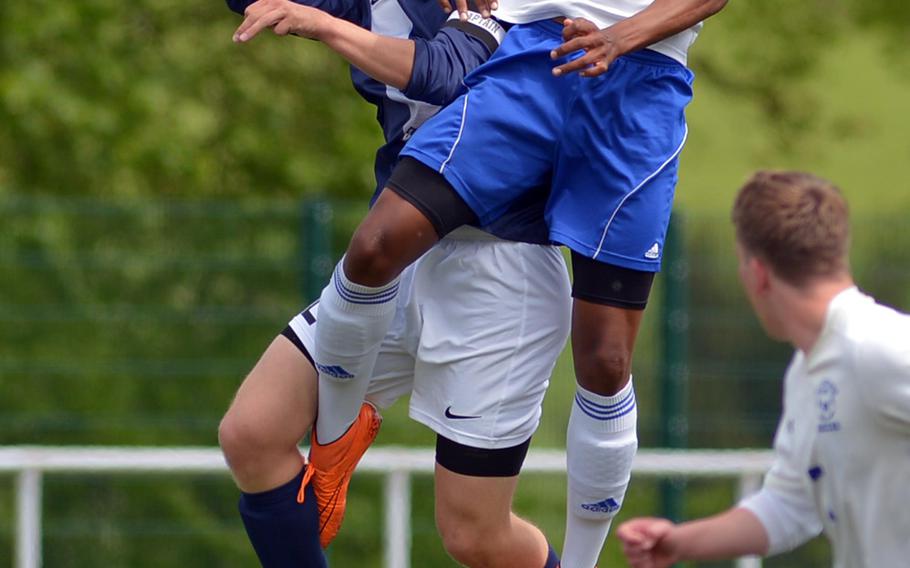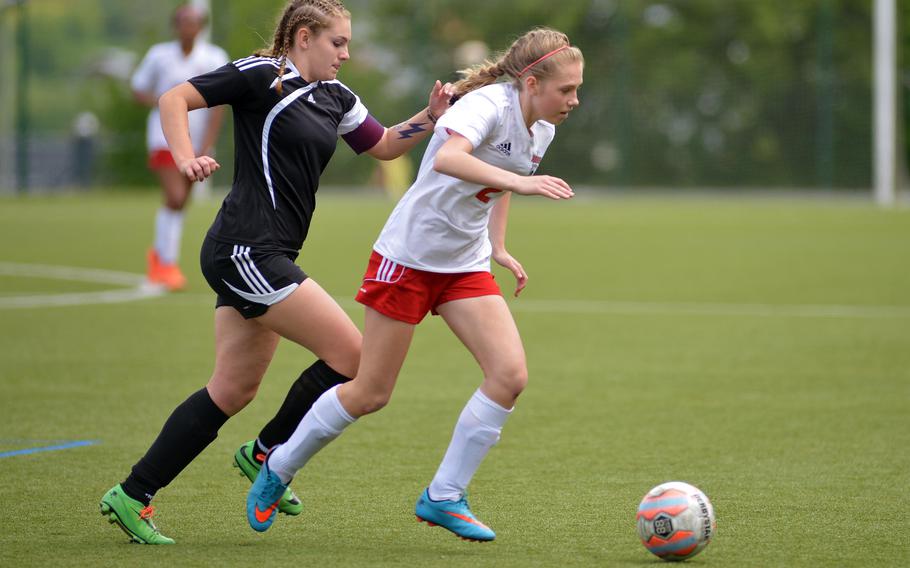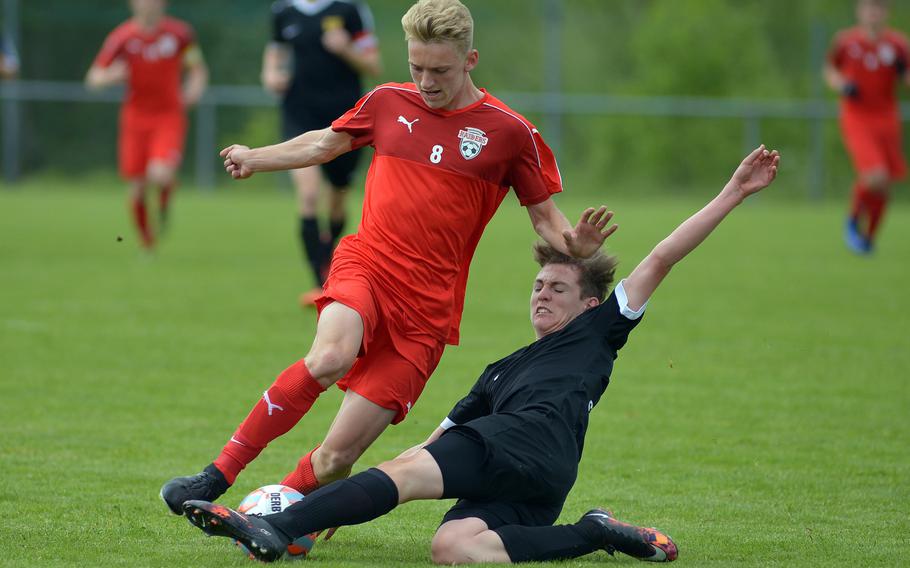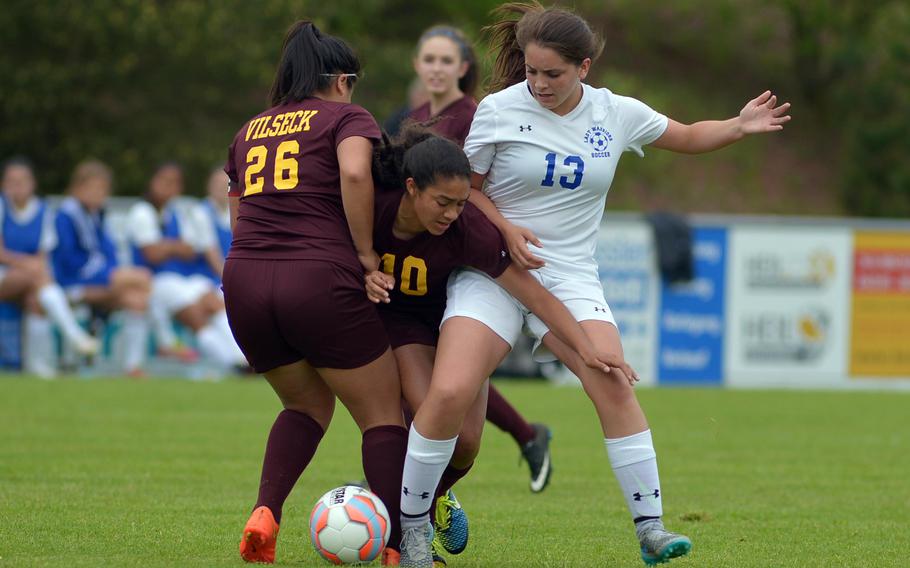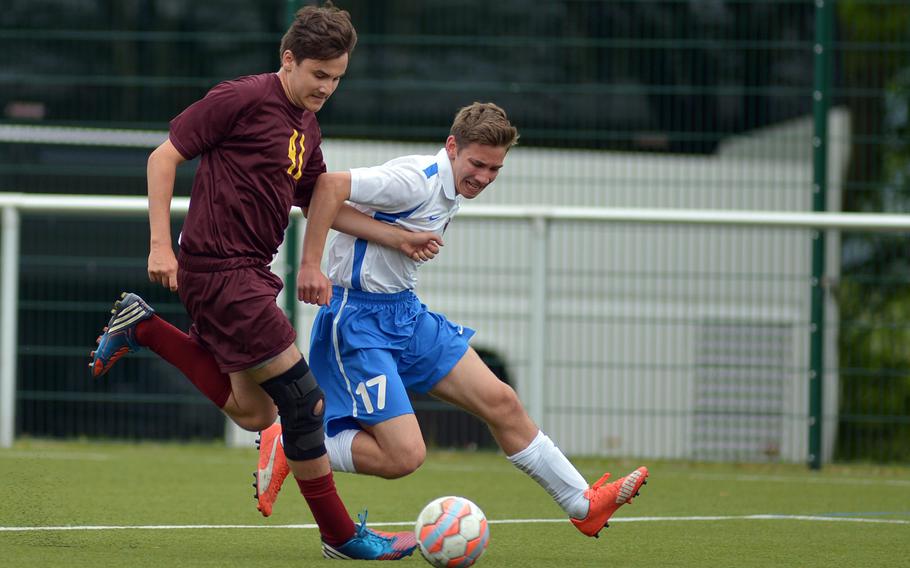 REICHENBACH-STEEGEN, Germany - There were a few surprises, some lopsided victories and some nail-biting matches in the first day of DODEA-Europe's Division I boys' and girls' soccer championships Wednesday.
GirlsWiesbaden 2, Vilseck 1: In a surprising close match, Vilseck looked nothing like a No. 10 seed against the No. 4 Warriors. After playing Wiesbaden to a scoreless tie in the first half, the Falcons got on the board first when junior midfielder Bailey Rhodes dropped the ball into the far side of the goal on a nicely-placed corner kick by junior Amelia Tugman.
After that, it didn't take long for the Warriors' offense to wake up. Wiesbaden forward Camryn Hickson took the ball down the field and launched it into the back of the net with a long, straight-on-center shot to tie up the game about midway through the second half.
The game seemed poised to end in a 1-1 tie until Wiesbaden midfielder Caitlyn Bauman-Campbell drilled a free kick that bounced off the outstretched fingertips of Vilseck goalie Daniela Oestreich into the net, giving the Warriors the win. Vilseck surprised the Warriors, said Wiesbaden coach Kevin Bryant, noting the Falcons were much more competitive than they were in the regular season.
"They played with a lot of passion, a lot of heart," he said.
SHAPE 2, Lakenheath 2: With less than a minute left in regulation, No. 5 SHAPE thwarted No. 8 Lakenheath's upset bid in a thrilling game of two evenly-matched teams.
After scoring SHAPE's first and only goal in the first half, freshman striker Abigail Ganzemuller missed several open shots on goal in the second half with her team down 2-1.
But Ganzemuller was in perfect position when it counted most. After the ball bounced off and behind Lancer goalie Lilli Estus, who was trying to block a shot by another SHAPE player, Ganzemuller came from the side to knock the ball in with about 30 seconds left.
"It was like an open shot, so I just took it," she said. "It was kind of like a do or die."
Ganzemuller, who's used to playing center back, said she's enjoying being more of an attacker this season. "I think it suits me better," she said. "It's more fun; it's more high stakes."
Scoring for Lakenheath were junior Ashlyn Smoot and Daija Lindquist. Lindquist scored the go-ahead goal in the second half. After she took a hard shot to the chest, the ball was kicked back to her. She didn't hesitate and drilled it from the corner outside the goal box high into the net.
After coming so close to upending SHAPE, the Lancers didn't hide their disappointment. "I honestly thought we could have done better," said sophomore Sadie Lloyd. "I think we got cocky after the second goal and didn't try as hard."
Naples 4, Kaiserslautern 2: Naples' freshman forward Micayla Feltner scored two goals and assisted on a third in the Wildcats 4-2 victory over Kaiserslautern. Feltner's first score came early in the first half on a penalty kick and she scored Naples' final goal to seal the victory. Also finding the inside of the net for Naples, the No. 3 seed, were junior midfielder Kaethe Rose and sophomore midfielder Adah Barenburg.
Naples coach Rebecca Lucy said the Wildcats had to fight hard for the win. "They were a really tough opponent," she said of Kaiserslautern. "We certainly did not underestimate them and we were not disappointed. It was some of the best competition we've had all year."
Scoring for Kaiserslautern, seeded No. 6, was senior defender Kaitlyn Gomez and sophomore midfielder Kalin Olsen.
BoysKaiserslautern 3, Stuttgart 1: It's probably not accurate to say Kaiserslautern's win over Stuttgart was an upset, considering Stuttgart is seeded sixth and Kaiserslautern is only one back, at No. 7.
But it's not a stretch to say that the Raiders dominated the game, particularly the second half, when the Panthers, with much of their efforts focused on defense, had little opportunity to score.
"We started off really well, which was a key thing," said junior center attacker Alexander Dexter. After losing to the Panthers 4-2 in their last matchup, "I think we were just determined to beat them this time," he said.
Dexter scored two of Kaiserslautern's goals, one in each half. Also scoring for Kaiserslautern was senior midfielder Alex DeBella.
Junior defender Joe Rice scored Stuttgart's only goal, which came in the first half.
Naples 2, Vilseck 1: No. 10 seed Vilseck almost pulled off the upset but it wasn't meant to be. After dropping its first match of the tourney 5-1 to ISB, the Falcons played like they had something to prove against the top-seeded Wildcats.
The two teams battled to a 0-0 tie in the first half, before Vilseck junior striker Malachi Alston put the Falcons up by one. Vilseck continued to keep Naples off the scoreboard – but only for a little while longer.
The Wildcats eventually answered with goals from junior defender Matteo Pugliese and senior midfielder Austin Feltner.
The Falcons were proud of their effort, despite the loss. "We wrenched it up," Alston said. "They're supposed to be the No. 1 seed, so I thought it was a good game. We put up a good fight against them."
---
---
---
---