Some paths to European finals easier than others
---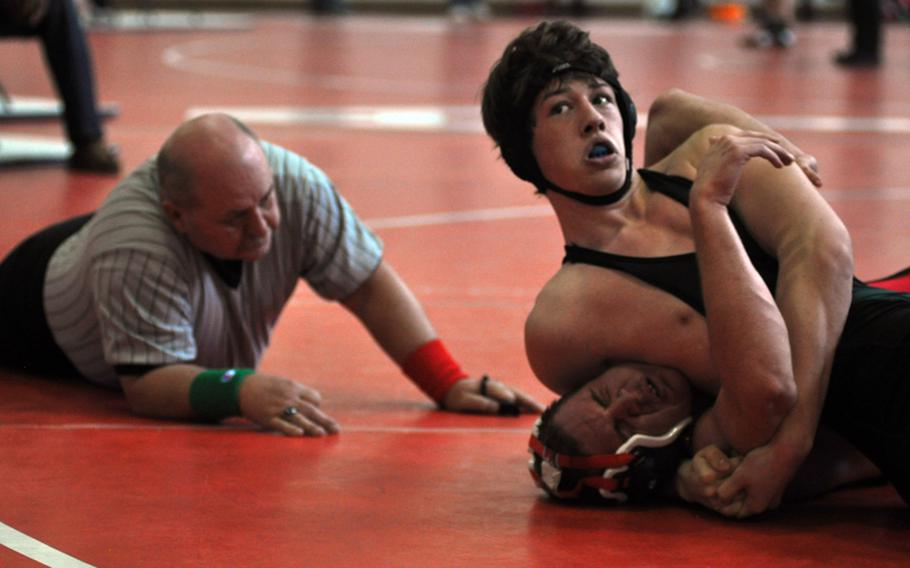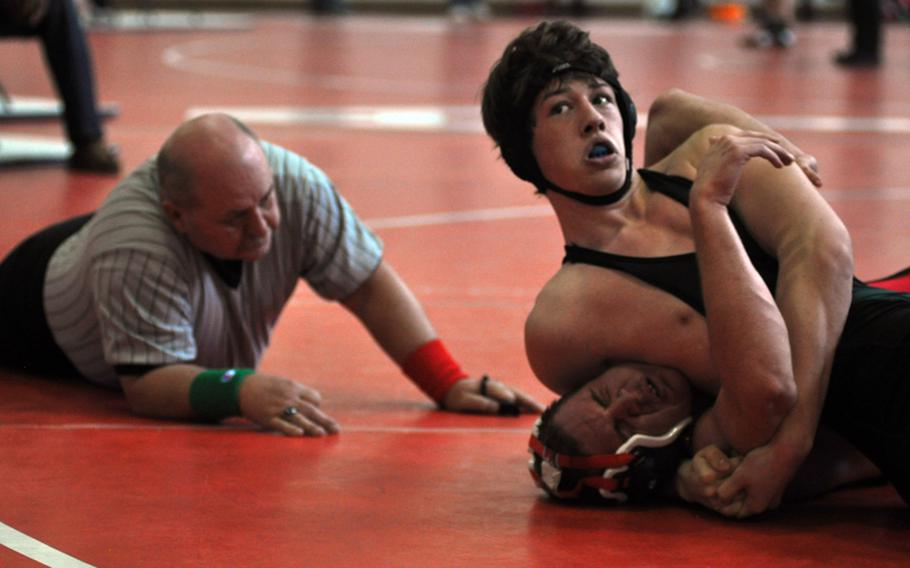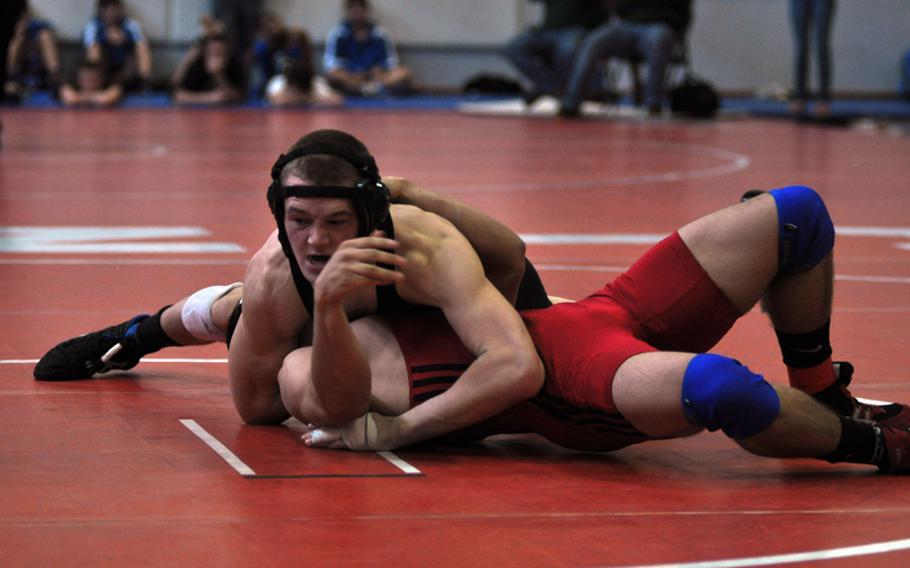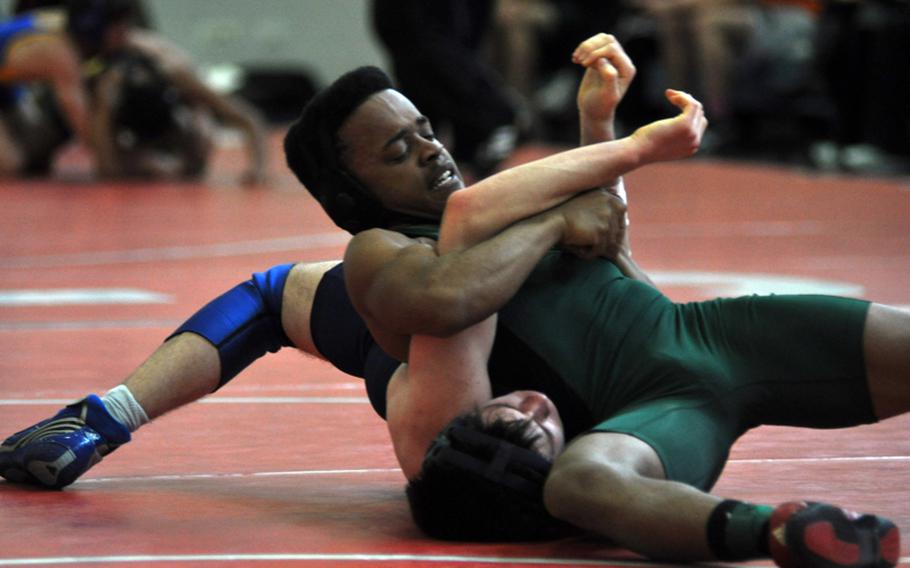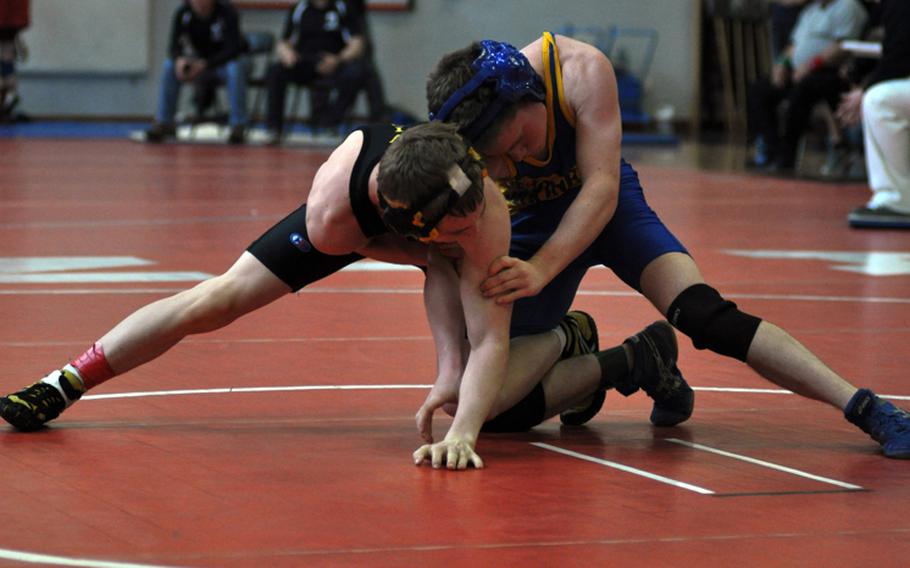 This article hasbeen corrected
AVIANO AIR BASE, Italy – Brandon Mowery and Johnathon Corriere are both going to wrestle in the DODDS-European Wrestling Championships.
But the Aviano teammates got there in dramatically different ways Saturday.
Mowery had the easiest day of any wrestler competing at the southernmost of the four qualifying sectional tournaments. The junior, 16-0 in his first year at Aviano after transferring from Virginia, didn't wrestle a match as there were no other entrants at 113 pounds.
"I would have rather had some competition," he said.
Corriere had more than enough competition from Naples' Josh Hensy. Up 13-6 in the third period and seemingly cruising to a victory during a round-robin match at 195 pounds, he somehow managed to avoid getting pinned. Corriere escaped with a 13-9 decision after battling with his back mostly against the mat for the last minute.
That was probably the match of the meet, though there were a few others without qualifying implications that were closer.
Vicenza's six unbeaten wrestlers weren't involved in any of them. For most of the day, Peter McCollam (106 pounds), Ethan Fullmer (125), Connor Smith (132), Ramsey Schroeder (138), Liam Manville (152) and Wllliam Pagan (170) weren't even tested.
McCollam, Fullmer and Pagan went unbeaten in round-robin brackets. Smith, Schroeder and Manville won three of the four weight classes that weren't round robin format. Naples' Miles Davis won the other at 145 with a tough 7-5 decision in the final over Aviano's Daniel Dinges.
Two of Davis' teammates, Zach Cheek at 182 pounds and Jordan Thurston at 285, also earned firsts. Three more Wildcats qualified. The top two wrestlers in each weight class that had at least three entrants automatically qualified. Other wrestlers will have to wait to see if they receive wild card entries.
Black Forest Academy, the only school not from Italy that competed in the regional, had five automatic qualifiers, led by titlists Henry Paige (120) and Greer McCollum (160). Aviano's Tyler Rucker (220) joined Corriere and Mowery as regional champs and three more Saints finished second. Two of Sigonella's five wrestlers – Daniel Vossler (106) and Kevin Lynch (126) made the cut.
The European championships are set for Friday and Saturday in Wiesbaden, Germany.
Correction A picture previously posted with this article misidentified wrestlers from Vicenza and Naples and has been deleted.
---
---
---
---