Volleyball preview
Small school champs, Ramstein are early favorites
---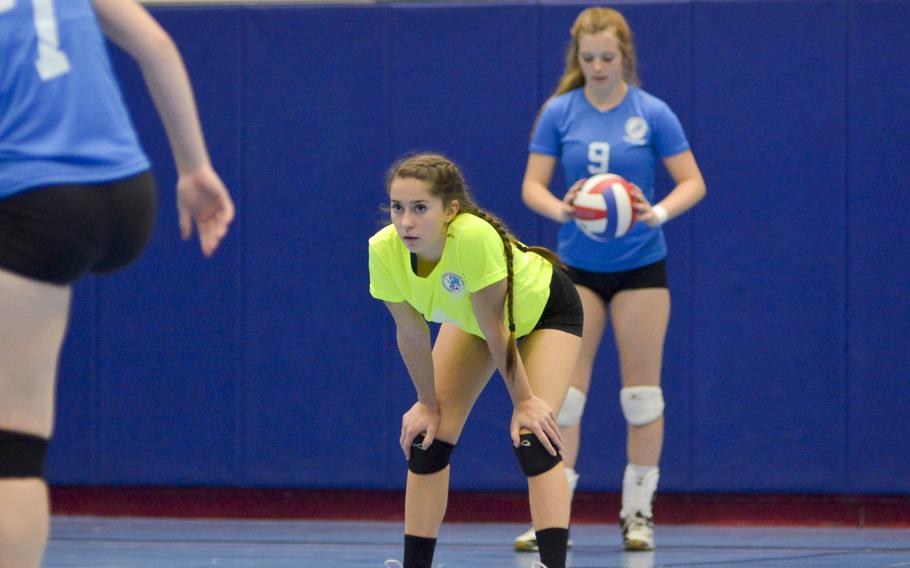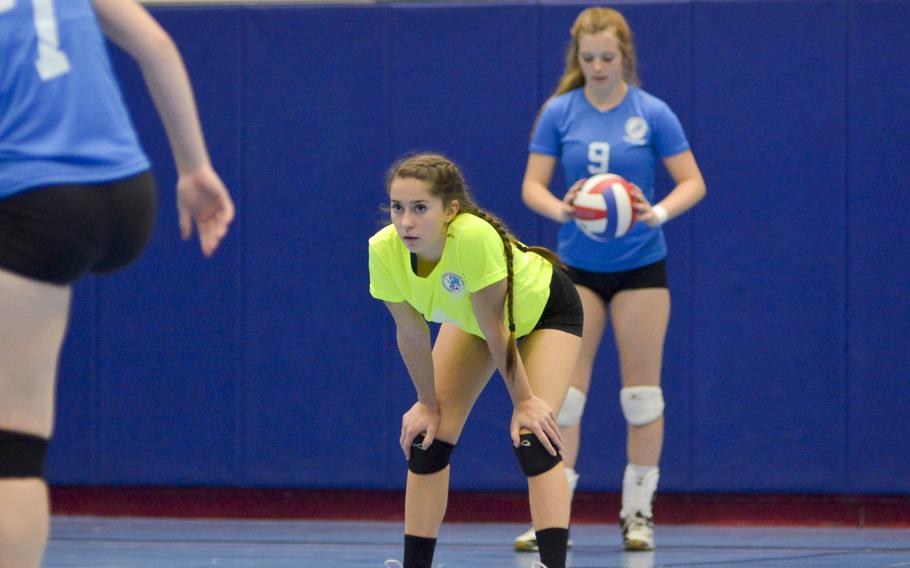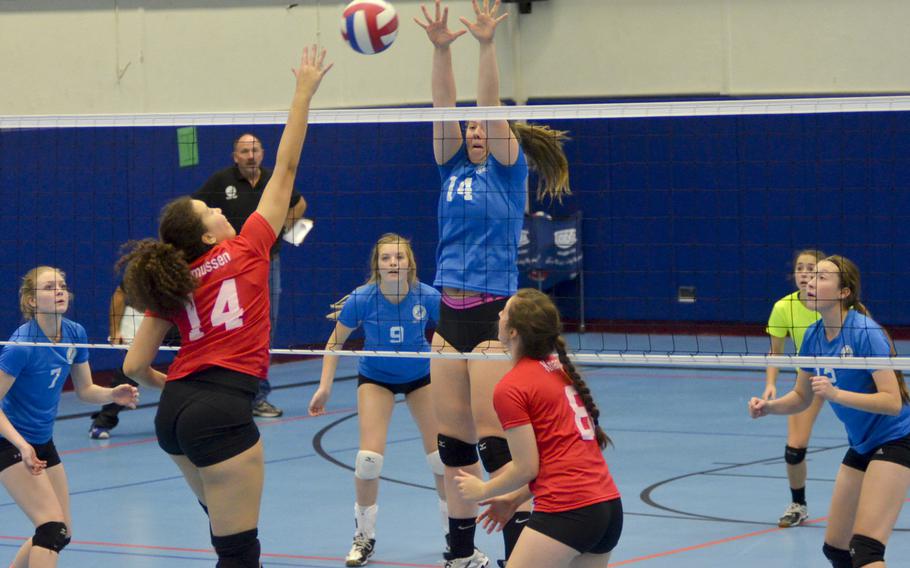 The 2016 DODEA-Europe volleyball season opens Saturday with 19 schools in action across seven sites. Here's a look at the top contenders entering the season.
Girls Division IEverything fell into place for the Stuttgart Panthers last fall. An experienced, cohesive squad of skilled athletes coalesced into an outright juggernaut, losing just one regular-season match, advancing undefeated through the European tournament and claiming the title with a decisive three-set sweep of Vicenza.
That was the party. Now comes the bill.
The frequent flipside of a team like last year's powerhouse Panthers is the youthful squad that often succeeds it. That's precisely the case in Stuttgart this fall.
Coach Michael Rubino reports just two returning players from last year's championship roster, though one of them is returning All-Europe libero and 2015 Stars and Stripes girls volleyball Athlete of the Year Janey Greenberg.
"We are hoping to build a competitive team in little time with a group of young athletes," Rubino said. "It's going to be an interesting season."
Ramstein is poised to pounce on Stuttgart's potential vulnerability. The Royals were the only team to give the Panthers any real trouble last fall, including in a five-set tournament semifinal showdown, and this year's they've assembled a deep roster evocative of last year's Stuttgart squad. Coach Erin Markus reports five returning varsity players, five incoming transfers and a pair of well-regarded junior varsity call-ups on the 2016.
"Our mix of returning players and skilled new players will give us a solid core this year," Markus said.
Runner-up Vicenza figures to be strong again, as does Italian rival Naples. Senior outside hitter Sierra Dye leads a group of six returning Naples players. Wiesbaden, a 2015 semifinalist, has five returning varsity talents under new head coach Melinda Moed.
Lakenheath and Vilseck will look to break through into the latter rounds of the tournament after solid seasons a year ago, while SHAPE and Kaiserslautern will try to shake off one-win seasons in a resurgent 2016.
Division IIRota owned Division III girls volleyball for years. When DODEA-Europe realigned, the Admirals assumed control of Division II. They've won the last two titles, both via straight-set championship-match routs.
New head coach Jason Fox takes over at Rota this fall, and inherits a program well-positioned to continue its reign.
Setter Emily Coronado headlines an Admiral squad featuring what Fox called a "solid core of veterans," including six returnees.
Bitburg, the European runner-up in 2015, will counter with five of its own returning players, most notably dominant senior middle hitter Elise Rasmussen. The Barons also add senior setter Alicia Paul, a transfer from Japan, to the mix.
While depth could be an issue for Bitburg, coach Erik Vining likes his team's chances.
"The starting six will be competitive with any team," Vining said.
The Barons will need to prove it against not just the Admirals, but American Overseas School of Rome and Black Forest Academy, both 2015 semifinalists who don't appear to have lost a step.
Marymount, meanwhile, will try to climb out of the Division II basement after a one-win season. New Royals coach Jesica Umansky reported 30 players showing up for preseason tryouts and announced plans to craft a group that can "play together for several years" from that assemblage of young talent.
Division IIIWhile Sigonella chases its third championship in the last four seasons, the rest of the small-school field is left to chase Sigonella.
Alconbury has perhaps the best chance to catch the Jaguars. The Dragons return a pair of standout seniors in setter Ally Donley and middle hitter Ashlyn Starr from the squad that pushed Sigonella to four sets in last year's championship match.
Ansbach, last year's third-place finisher, enjoys a healthy turnout of 21 players this fall to populate Cougar varsity and JV teams. New head coach Amie Lange will lean on experienced setters Eliana Vargas and Emma Kabuye to guide the squad to another deep postseason run.
Returning semifinalist Incirlik, 2014 champion Florence and consistent contender Brussels headline the rest of the small-school ranks.
The girls European tournament is set for Nov. 3-5 in the Kaiserslautern Military Community.
BoysBahrain, a fast-rising Division III power in a number of DODEA-Europe sports, broke through in 2015 to end the three-year boys volleyball championship reign of American Overseas School of Rome. Now, the new champs must prepare for AOSR's response.
AOSR head coach Christine D'Aquanni has just four players back from last year's squad, while the balance of the roster features many players that are new to the sport entirely. The program's dynasty ended unceremoniously last fall as the team failed to advance through pool play.
Naples, the last champion before AOSR's three-year run, remains a force, as does fellow 2015 semifinalist Incirlik. Aviano, Vicenza, Sigonella, Florence, Marymount and Black Forest Academy expect to complete the tournament field.
The dates and location of the boys European tournament have yet to be finalized by DODEA-Europe.
Twitter: @broomestripes
---
---
---
---