Europe baseball
Six teams battle for two titles on season's final day
---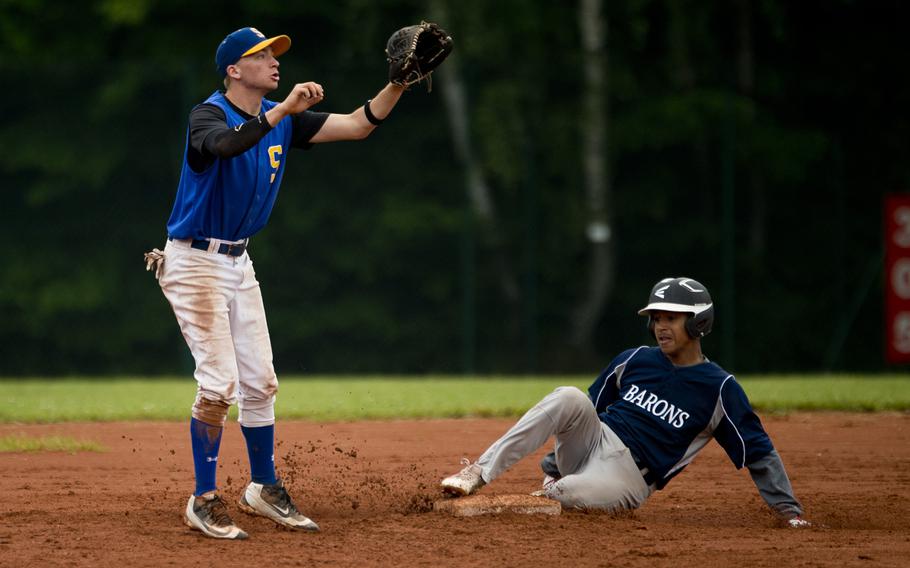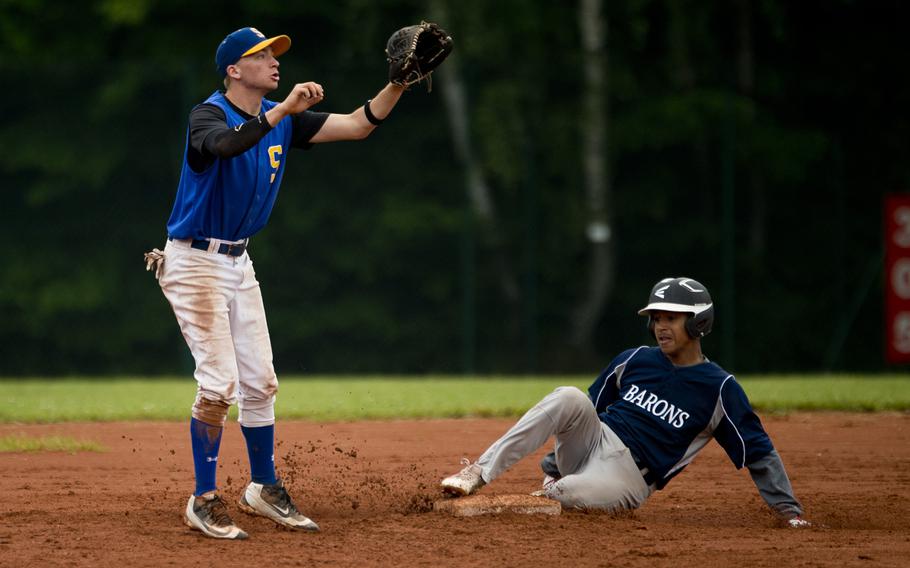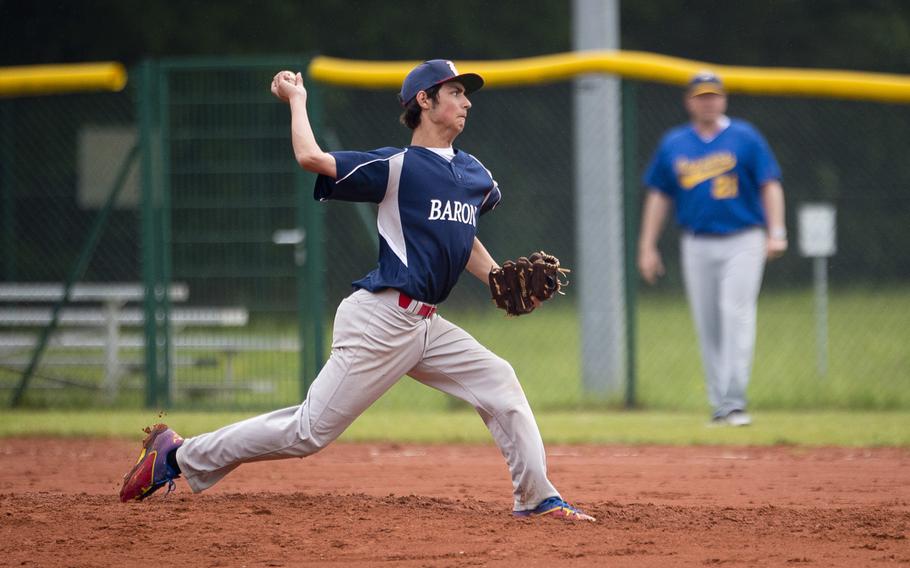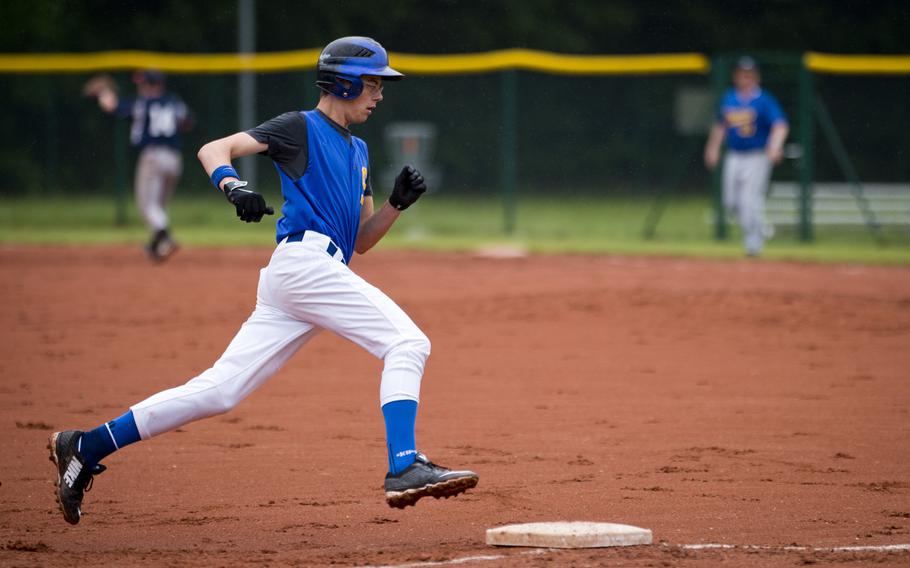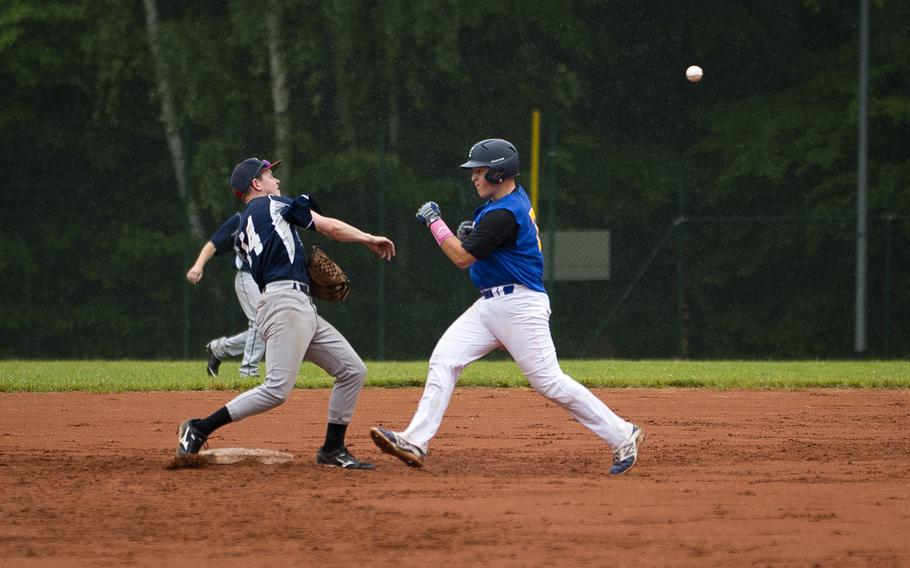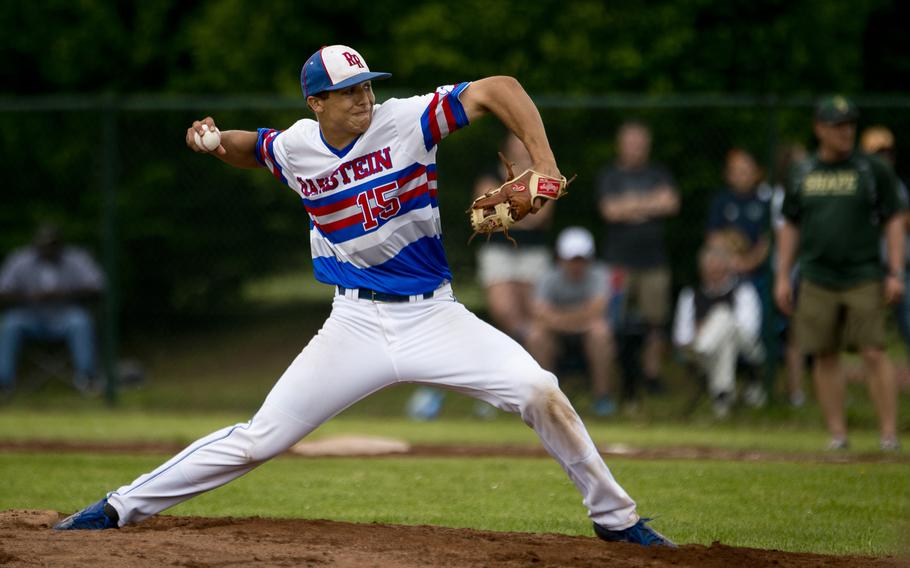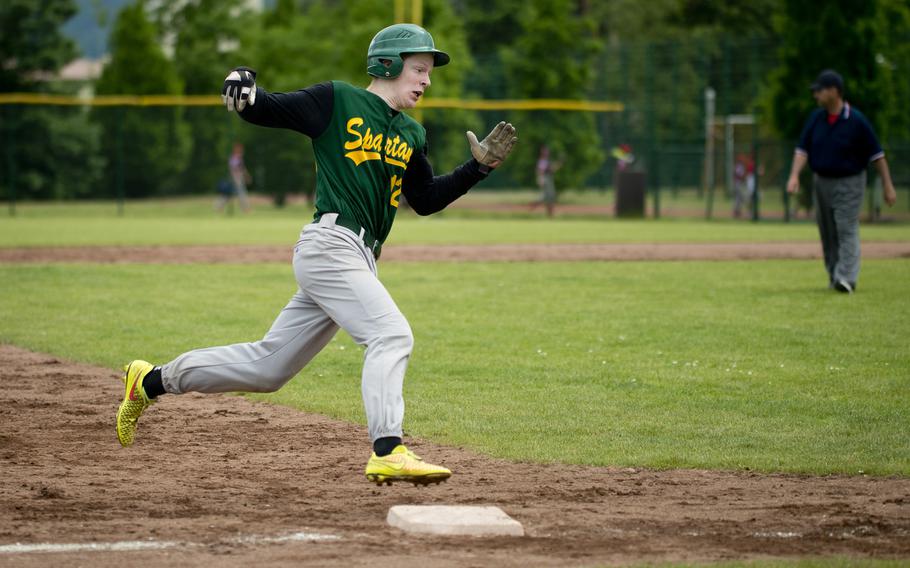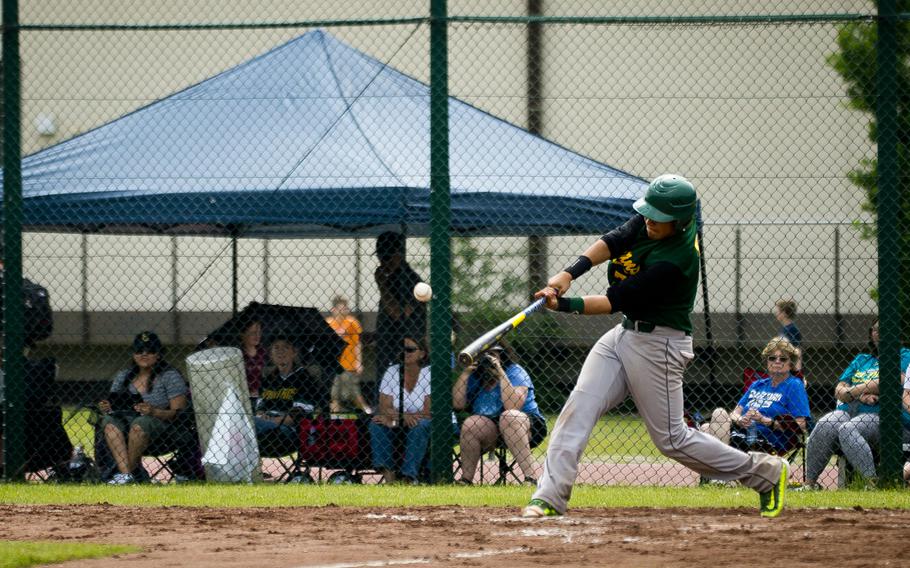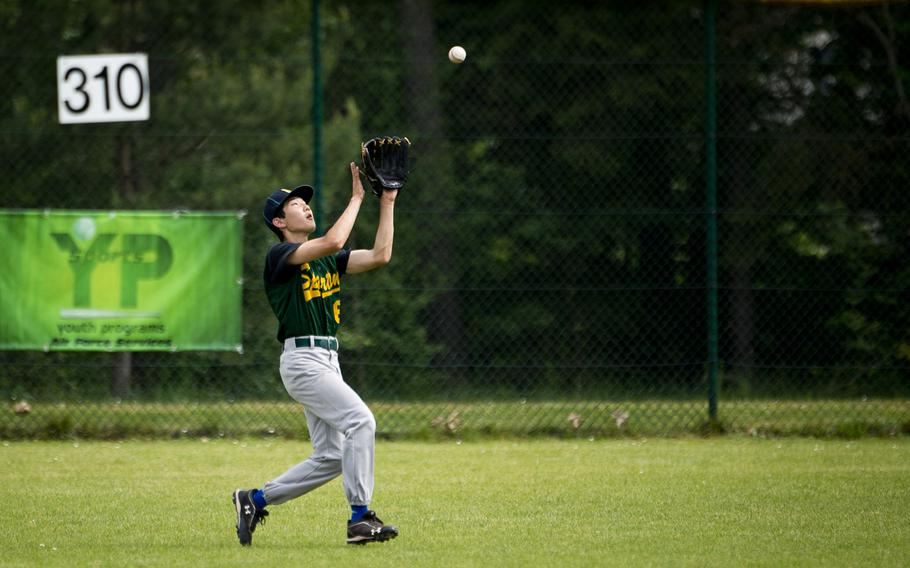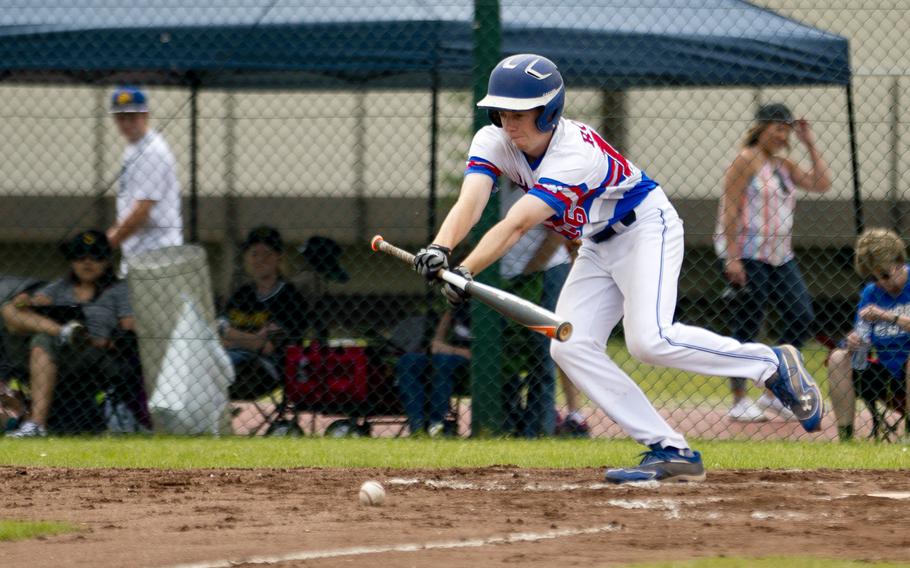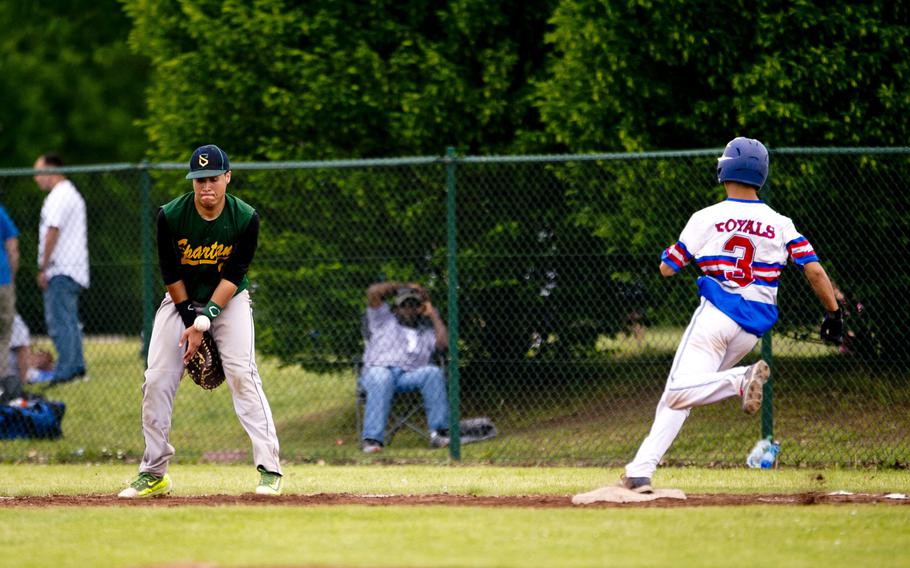 Play on Saturday.
That's been the constant refrain for every team involved in the 2016 DODEA-Europe baseball tournament in the Kaiserslautern Military Community. For some, it's now become a reality.
The Division I bracket produced its final four and Division II/III arranged its championship game Friday as the three-day tournament transitioned from pool play into the elimination round.
Three-time defending champion and undefeated top seed Ramstein will face Stuttgart, until recently its annual opponent in the European title game. Wiesbaden will take on eighth-seeded Kaiserslautern in the other semifinal. Those games are set for 9 a.m. Saturday morning; the championship game follows at 2 p.m. Saturday at Ramstein Southside Fitness Center.
Meanwhile, defending Division II/III champion Rota and tournament top seed Bitburg will meet for the small-school title after winning their semifinal games Friday. The small-school title game is scheduled for 11:30 a.m. at Ramstein Southside.
Division IRamstein 7, SHAPE 6: The three-time defending champion didn't need to win Friday's game. But taking that approach is not how a team becomes the three-time defending champion.
"I don't believe in going halfway," Royals coach Tom Yost said. "You play every game to win."
It took all of Ramstein's efforts to put away a Spartan team well aware that it would reach the semifinals with a win or be eliminated with a loss. The Spartans launched a six-run rally in the fifth and final inning and put the potential walk-off winning run on first base, but Royals ace Jonny Oswald stepped in to finally close the door on SHAPE's season.
Yost complimented his squad's "professional approach" to a "perfect storm" of adverse incidents in the inning.
"I was very proud of the way our team held their composure," Yost said. "We hope that carries through to tomorrow."
The Spartans, meanwhile, were left to deal with a frustrating set of circumstances: missing the semifinals despite beating the team that advanced in their stead.
SHAPE launched a late comeback Thursday evening to beat Kaiserslautern 7-6. But when pool play concluded with the Spartans' loss to Ramstein on Friday, all three of SHAPE, Kaiserslautern and Naples were tied at 1-2. The three-way tie was settled by run differential in games between the three tied teams, which fell in Kaiserslautern's favor largely on the strength of its decisive 6-1 defeat of Naples earlier Friday.
SHAPE coach Tony Gallegos acknowledged that Friday's technical knockout was "kind of a shocker" to the Spartans. But he added that SHAPE was "fine with the decision" and that his young program will use it as motivation for future tournament runs.
"They know that they can play with anybody," Gallegos said. "They work just as hard as anybody, if not harder."
Wiesbaden 4, Stuttgart 2: For all the upsets, close finishes and hypothetical tiebreakers that defined its riveting two-day run, the other pool in the Division I bracket was resolved with anticlimactic simplicity. In short, the top two seeds advanced.
The second-seeded Warriors claimed the pool's first semifinal berth with their win over the Panthers. But the third-seeded Panthers still advanced as they came out on top of a three-way tiebreaker.
The Warriors pulled out one of the tournament's most dramatic wins earlier Friday to extend their semifinal hopes.
Vicenza scored four runs in the bottom of the fourth inning to take a 4-1 lead into the fifth, but Damian Pinion launched a three-run home run over the left-centerfield fence in the top of the fifth to force extra innings. The rejuvenated Warriors plated four in the top half of the sixth and held the Cougars scoreless to secure the 8-4 win.
Another close win in the evening – one that featured three runs in the fourth and final inning to pull ahead of the Panthers – finally completed a path to Saturday that was much harder than the Warriors anticipated.
"We came out here expecting some easy wins. But teams are challenging us," Pinion said. "We're cleaning up our act, we're working hard. I think that's how we're getting our wins right now. Just realizing that we've got to work."
Like SHAPE in the opposite pool, Vicenza was forced to watch a team it beat in pool play take its place in Saturday's semifinals. The Cougars beat Lakenheath 7-6 late Friday in an ultimately meaningless affair that nonetheless packed elimination-game intensity. Vicenza finished in a three-way tie with fellow 2-2 squads Stuttgart and Vilseck, and the Panthers advanced easily on run differential despite losing to Vicenza 4-3 on Thursday.
Division II/IIIBitburg 8, Ansbach 0: The Barons advanced to the European championship game with a thorough whipping of the 2015 Division II/III runner-up Cougars.
The shutout win, along with an 8-6 defeat of Sigonella early Friday, kept No. 1 seed Bitburg undefeated in the tournament. But that's just the start of the encouraging news for the Barons.
Max Little pitched four innings of shutout ball for the Barons against Ansbach, allowing four hits and no walks while striking out six. Nico Orlando retired three straight Cougar batters to close out the game in relief.
Bitburg coach Wayne Phillips said both Little and Orlando will be available to work tomorrow's title game after manageable Friday workloads.
"I'm as confident as my pitching staff," Phillips said. "They got us here, we're going to see how long they can go tomorrow."
At the plate, Tyriq Zvijer totaled two runs scored and three RBI to lead the Barons against Ansbach, while Jermaine Cooks had two hits, two runs and an RBI.
Bitburg hopes those positive trends continue for one more game.
"We started swinging the bats good when we got down here," Phillips said. "If we can keep that going and keep the strong pitching, I like our chances."
Rota 6, AFNORTH 4: The Admirals earned their chance to defend their European title with a win over the upstart Lions.
AFNORTH, the tournament's lowest seed at No. 8, reached the semifinals with a season-extending 7-6 defeat of fifth seed Hohenfels earlier Friday.
But the Lions couldn't derail second seed Rota, which won its three pool play games by a combined score of 30-0, including a 3-0 shutout of third-seeded Ansbach early Friday, and ousted AFNORTH for its second consecutive berth in the championship game.
Twitter: @broomestripes
---
---
---
---