Sigonella to face Brussels in D-III final
by
Gregory Broome
November 1, 2013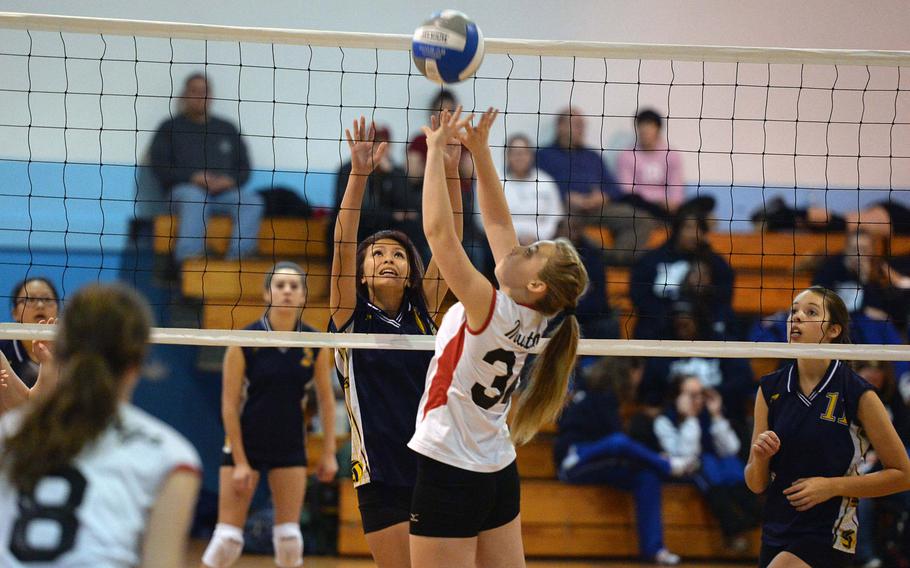 RAMSTEIN AIR BASE, Germany – Brussels senior Ana-Marija Vasileva has waited four years to play in a DODDS-Europe Division III championship match. On Saturday, she'll finally get her wish.
Vasileva and her top-seeded Brigands will face second-seeded Sigonella on Saturday morning to determine the European small-school champion. The match will represent not just the culmination of Vasileva's prep career but the final step of the young Brigands' season-long maturation process.
"We're really happy as a team," Vasileva said. "We've come a long way."
Brussels' path to the title game was made more manageable by the rise of three-time champion Rota to the Division II ranks. But plenty of competition remains in Division III. The Brigands were abruptly reminded of that Friday.
Sigonella, which finished second to Rota last season, swept Brussels 25-12, 25-13 in the teams' round-robin matchup Friday. The experienced Jaguars were paced by powerful junior Sydney Moore, who piled up eight kills and five aces in the two sets.
"We knew they were going to be a really tough team to beat," Moore said of Brussels. "But if we play as a family, we can beat anybody."
Senior Jenna Buss cited the Jaguars' mix of ability, chemistry and determination.
"It's not just the talent, but the teamwork that we have on the floor," Buss said. "We really want it this year."
To get it, they'll have to beat the Brigands for a second time in as many days. Vasileva said her team wasn't deterred by Friday's setback to Sigonella, its only loss of the tournament; they're too excited to finally be a part of the season's final match. Brussels last played in a Division III title game in 2009, when it beat Sigonella.
"No matter what happens, I'm really happy that our team has gotten this far," she said.
Sigonella and Brussels were the clear class of the small-school ranks. The Jaguars navigated the first two days of the tournament with a perfect 7-0 record. The loss to Sigonella was Brussels' only blemish.
Incirlik finished its Friday strong with wins over Lajes and Florence and will take on Menwith Hill in Saturday's third-place game.