SHAPE's season off to rough start, thanks to Aviano
by
Norman Llamas
September 21, 2019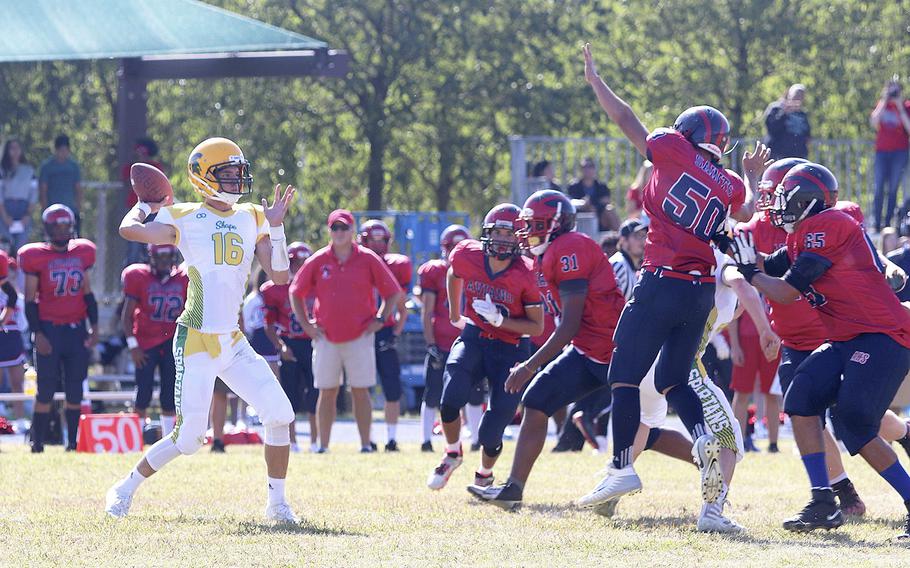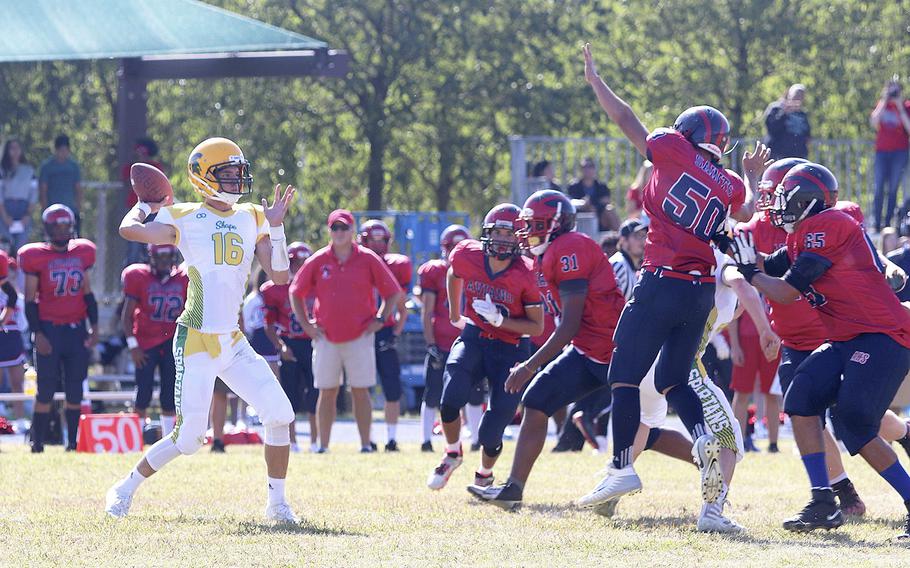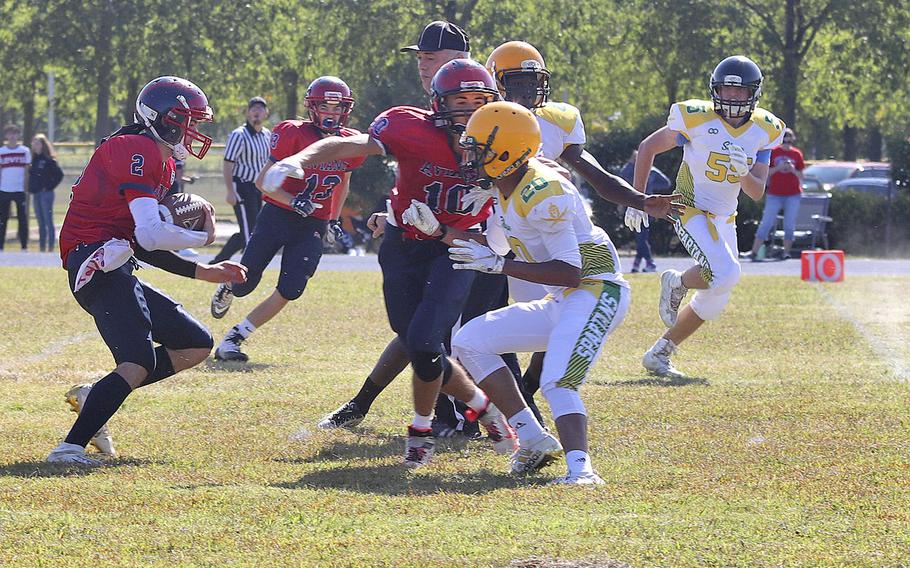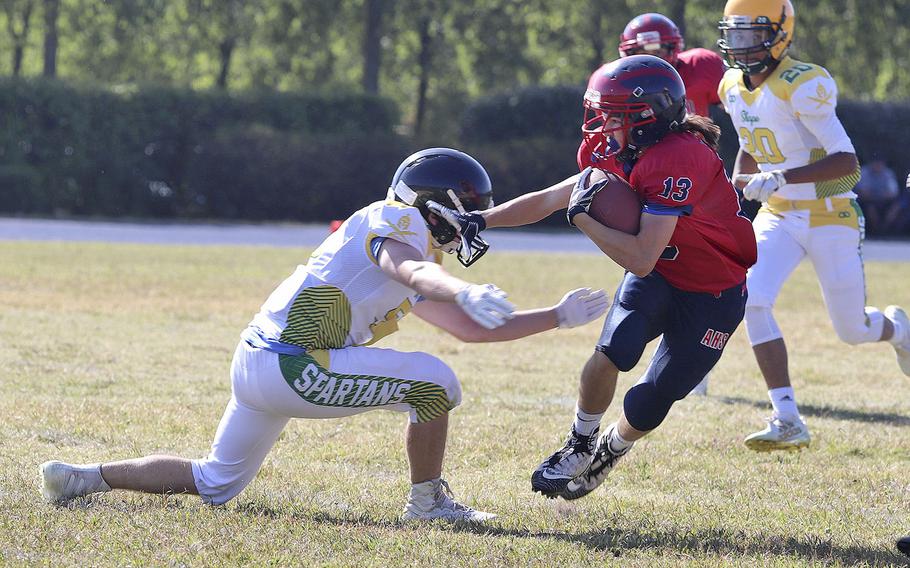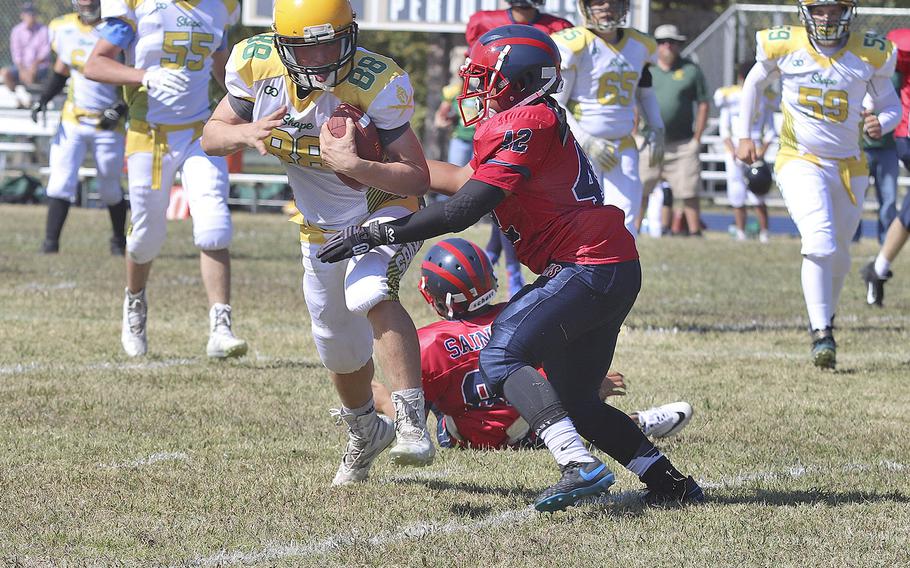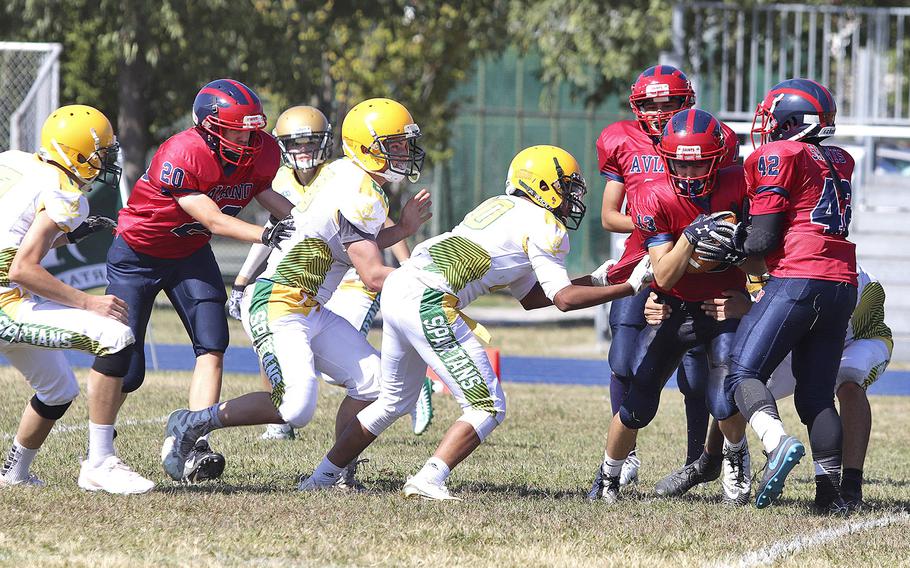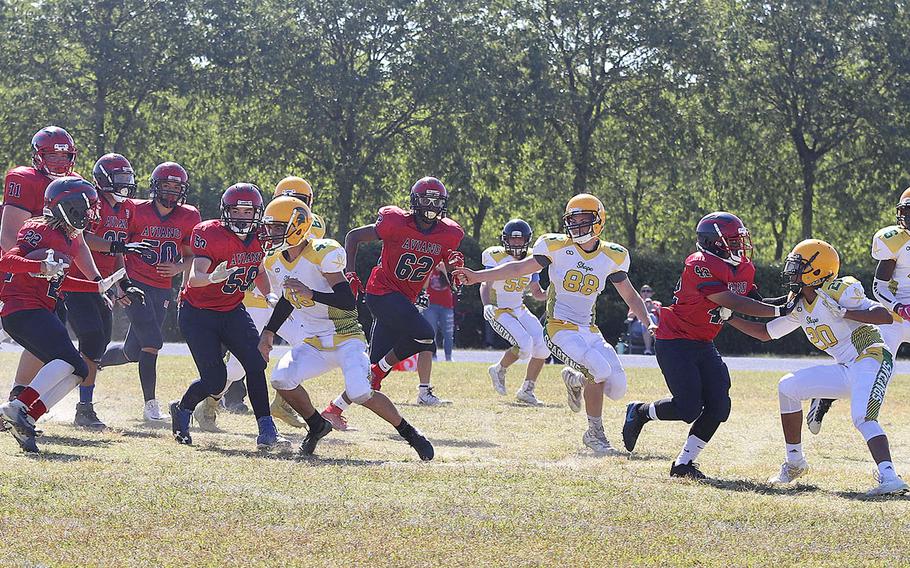 AVIANO AIR BASE, Italy – The football season started late for SHAPE – the only team in DODEA-Europe not to play a game over the first two weekends.
Unfortunately for the Spartans, it took another half Saturday for them to really get started. And against the defending Division II champions, that was way too late.
The Saints took advantage of two early SHAPE turnovers to score touchdowns and never looked back in a 52-16 victory. Aviano led 45-0 at halftime.
"Today was a good team effort day," Aviano coach Rick Dahlstrom said. "I'm proud of my boys, we stress team football and today. I saw good team football out there."
The Saints' Rene Macias picked off a pass on the Spartans' first possession and which the Saints turned into a touchdown three first downs later.
Aviano's Jace Boren was credited with the pick on SHAPE's second possession. Running back Donavin Robinson took it to the house on a 47-yard touchdown run on the next play.
The second quarter was pretty much the same for SHAPE, though its first possession ended in a punt rather than a turnover.
Elijah Warren soon scored again. Then he intercepted a pass on the following Spartans drive at midfield. He soon scored his second touchdown as Aviano grabbed a 30-0 lead.
Aviano got the ball back again after a successful onside kick and soon scored again.
After SHAPE turned the ball over on downs, Aviano quarterback Michael Hauser faced fourth down and 6. He ran for a 50-yard TD that gave the Saints a 45-0 lead.
SHAPE coach Patrick Lockhard told his players to ignore the score at halftime.
"Have a short memory, play the second half as if it was a different game," Lockhard told his team. "I have no doubt that if we play like we practice, we can make the plays. They can't cover us; go make the plays."
Aviano scored one final time on a 56-yard run by full back Raymond Harden, which made the score 52-0.
SHAPE wide receiver Nolan Procknal then caught a pair of touchdowns to get his team on the scoreboard.
The Spartans were still optimistic after the game, which opened their four-game regular season.
"Our hope is to win the whole thing," assistant coach James Cerf said. "We need to shake off our bumps and bruises, iron out today's issues and play better. Our coaches put their hearts and souls into game preparation."
Aviano has a two-week break before taking on Vicenza. SHAPE hosts the Cougars next week.
llamas.norman@stripes.com Twitter: @normanllamas