D-III volleyball final
Sentinels de-throne Jaguars in four sets
by
Jennifer H. Svan
November 2, 2019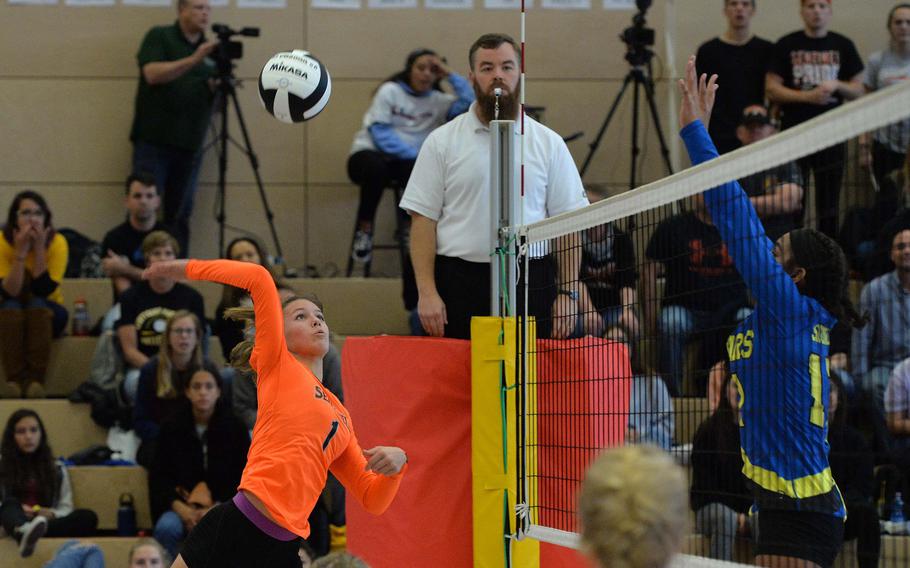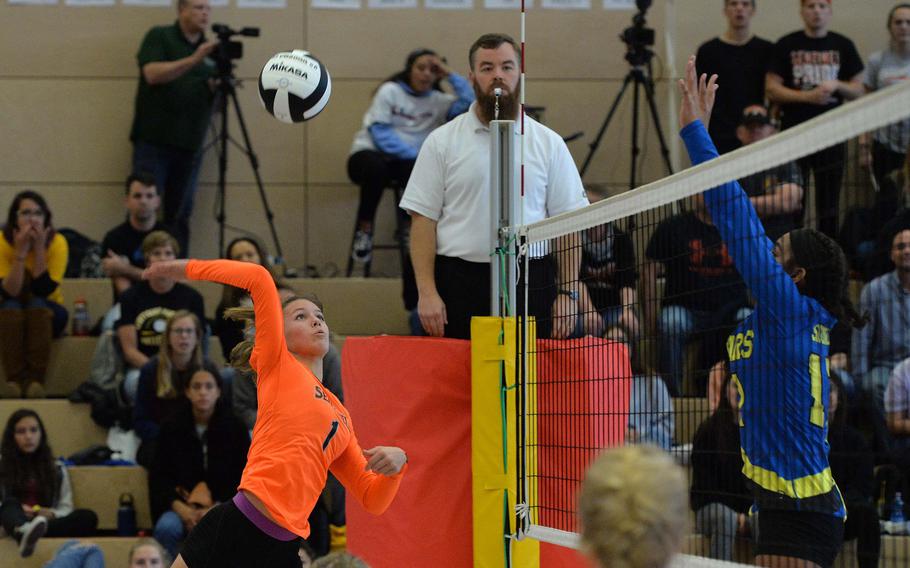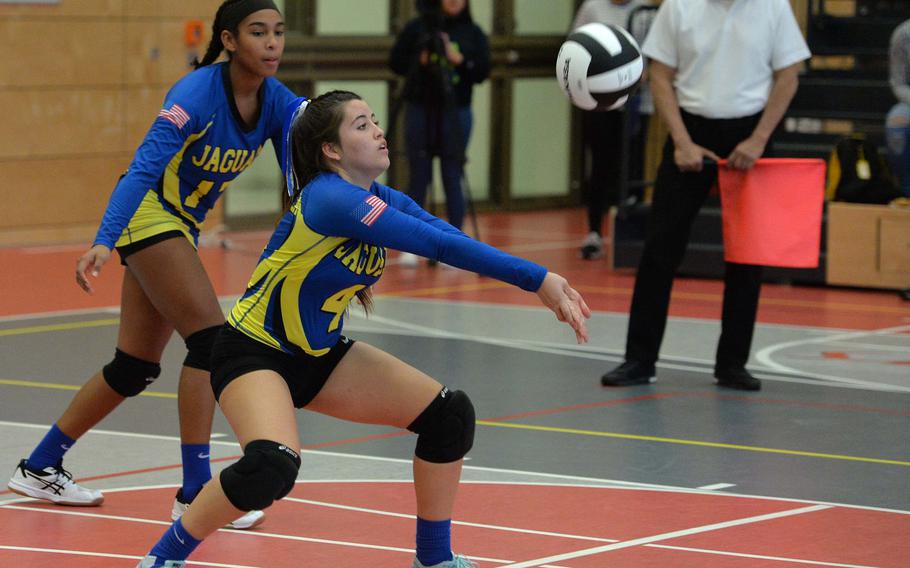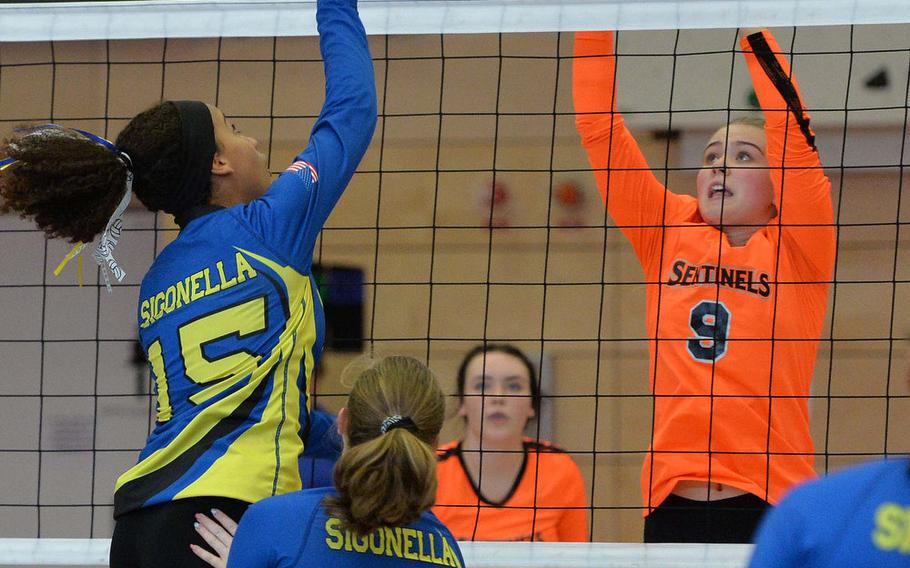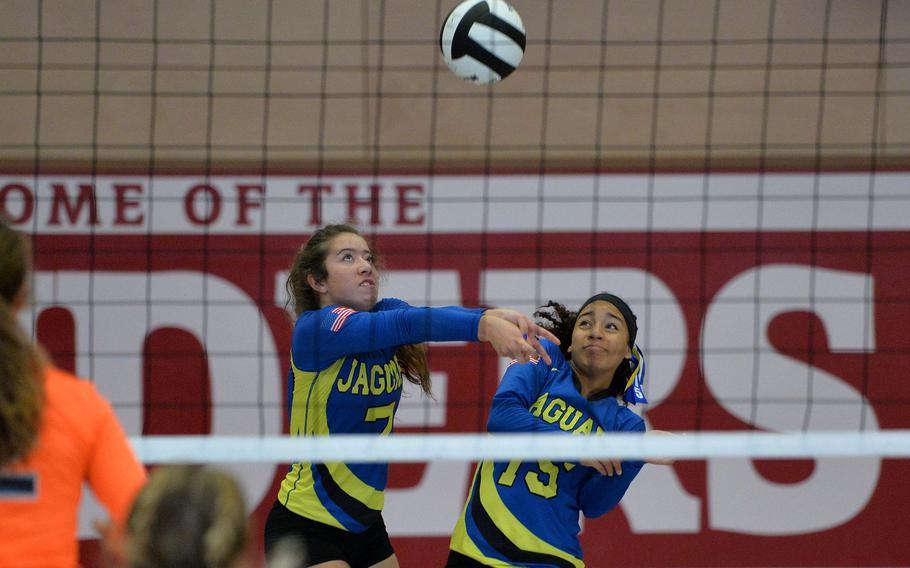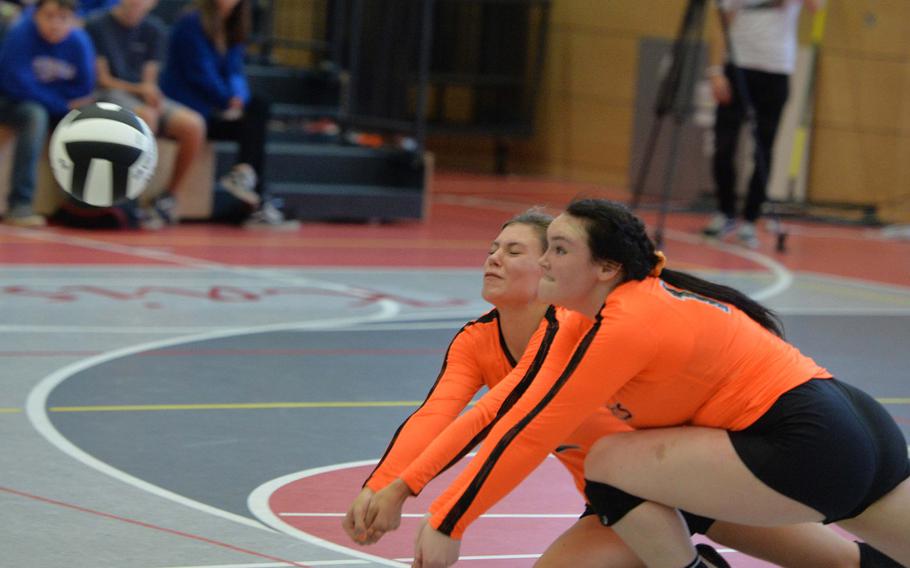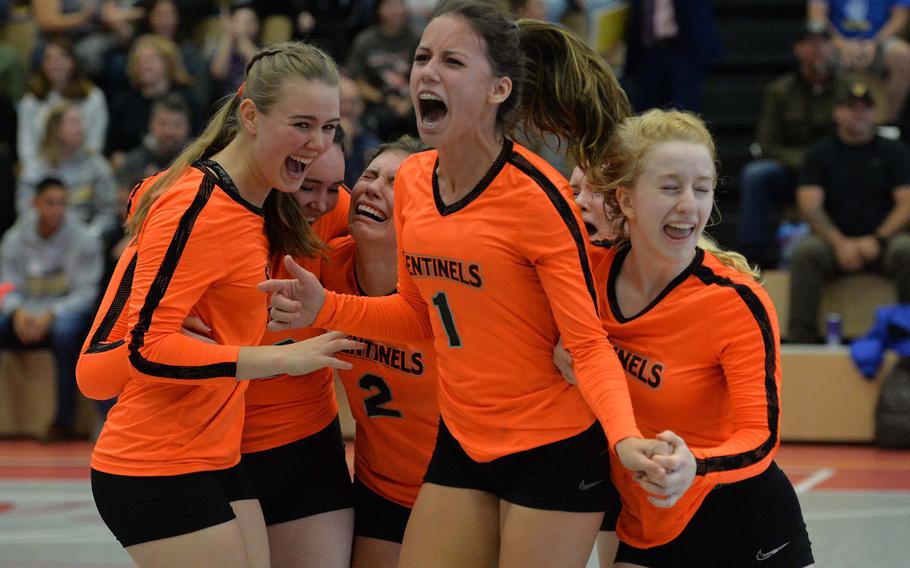 KAISERSLAUTERN, Germany – The Spangdahlem Sentinels capped a near-perfect season Saturday by winning their first European volleyball title against the four-time Division III defending champion Sigonella Jaguars.
After dropping the first set, the Sentinels found their groove, and rode a wave of momentum past the Jaguars 22-25, 25-12, 25-20, 26-24.
"It's awesome," said senior Keena Teahon, a year after finishing third at Europeans. "I don't even have words for it. Our team worked really hard this year."
The title is Spangdahlem's first in girls' volleyball since the school opened after Bitburg closed in 2017. That year, Bitburg won its first and only volleyball title in Division II.
The Sentinels earned a spot in the 2019 DODEA-Europe girls volleyball championship match after going down to the wire in an epic semifinal Friday night against Brussels.
The five-set match came a day after Spangdahlem, the No. 1 seed, lost its first match of the season in pool play.
That loss came at the hands of the underdog Jaguars, the No. 4 seed with eyes on an eighth-consecutive spot in the finals.
After going 4-0 in this week's tourney, the Jaguars seemed poised to deliver their fifth-straight title after taking the first set.
But there was a seismic shift in the second set when the Sentinels quickly built a 6-0 lead and turned that into a 15-6 advantage. Teahon came through with some key points that kept the Jaguars off balance, including a kill that hit the far corner inbounds and a pair of aces. Her sister, sophomore Kodee Teahon, then helped the Sentinels close out the set, with three consecutive aces for the win.
The Jaguars made some errors on defense, letting some balls drop due to what appeared to be a lack of communication.
Sigonella junior Averi Chandler, an outside hitter, said after the first set, "we got a little complacent and didn't play as much as a team as we should have, and Spangdahlem did.
"They were there when the momentum shifted and they got up on us," she said.
The Jaguars tried to seize the momentum back in the fourth set – and almost succeeded. At one point, they led 16-10. But the Sentinels kept their composure and tied it up at 20 apiece when senior middle blocker Chloe Price nailed an ace. The teams traded points, tying it up again at 23. D'anna Holland landed one of 12 kills she had in the match to give the Jaguars back the lead.
But, on the next play, a foul was called on a Sigonella player for touching the net on a ball that would have been out of bounds and the score was tied again at 24.
"That's what happens in volleyball, but it's tough that it happened right then," Sigonella coach Shawn McCarthy said.
That was followed by a Kodee Teahon hit for the Sentinels that was initially called out but then overruled. Teahon followed up with another kill to give Spangdahlem the set and the match.
"I think we actually had our heads in the game," Teahon said.
"Oh, man, unbelievable," Sentinels coach Eric Vining said after the game. "They didn't make mistakes and they made their serves."
Vining also credited assistant coach Bailey Schmitt for "stepping in this year and taking the team to a new level."
Senior setter Jennifer Oppliger had 16 assists and went 16 of 16 in serving for the Sentinels. Keena Teahon had 10 kills and Price had four kills and four blocks while making 17 of 17 serves in the game.
For Sigonella, Chandler had 10 kills and senior setter Kylee Fall had 21 assists.
After losing key players and coming into the tournament as a No. 4 seed, "it was an accomplishment to get to the final," McCarthy said.
Spangdahlem "had some holes on the court when we played them in pool play that they were able to cover a little bit better today," he said.
"Spangdahlem did the job," he added. "They came back and played well, so congratulations to them."
Brussels bounced back from its narrow semifinal defeat to the Sentinels to take third with a 25-21, 25-13 triumph over Hohenfels.
svan.jennifer@stripes.com Twitter: @stripesktown