Season debuts with long matches in Naples
by
Scott Wyland
September 14, 2019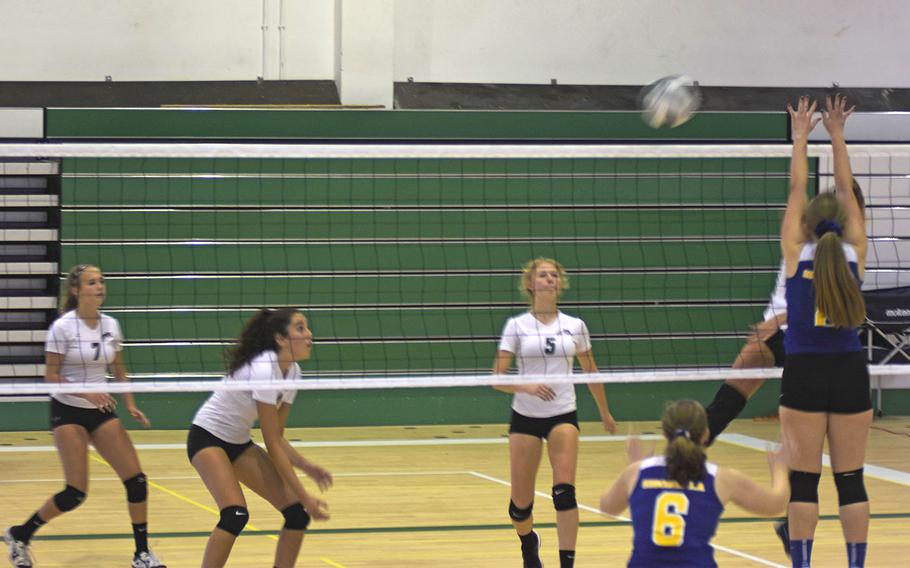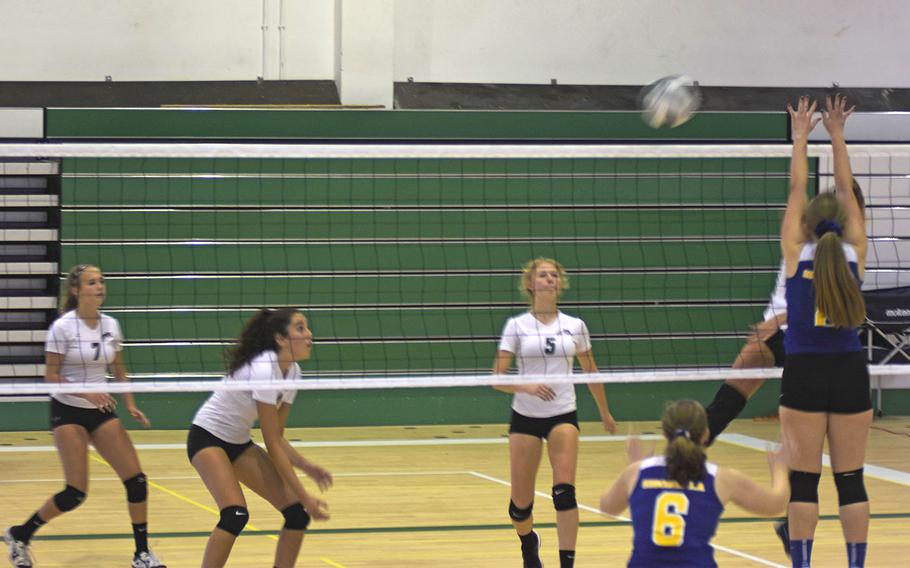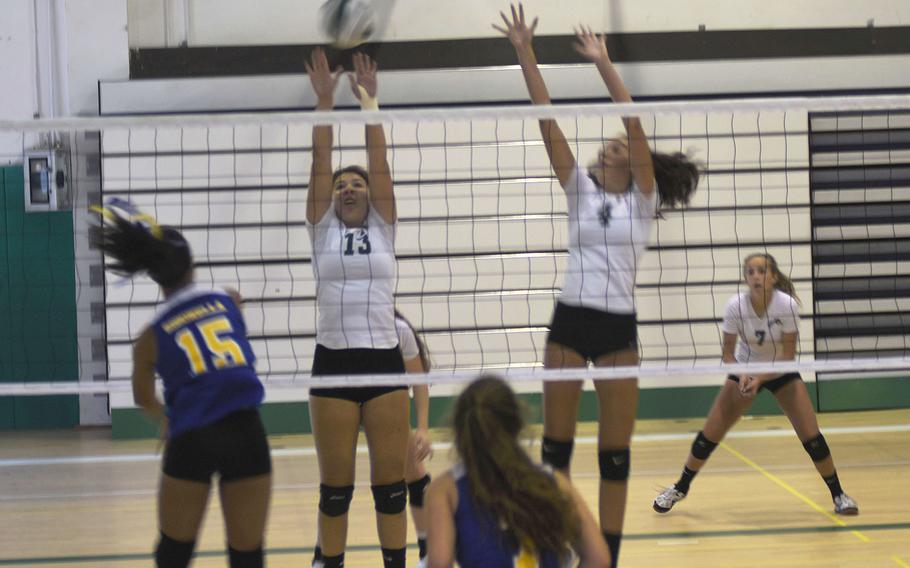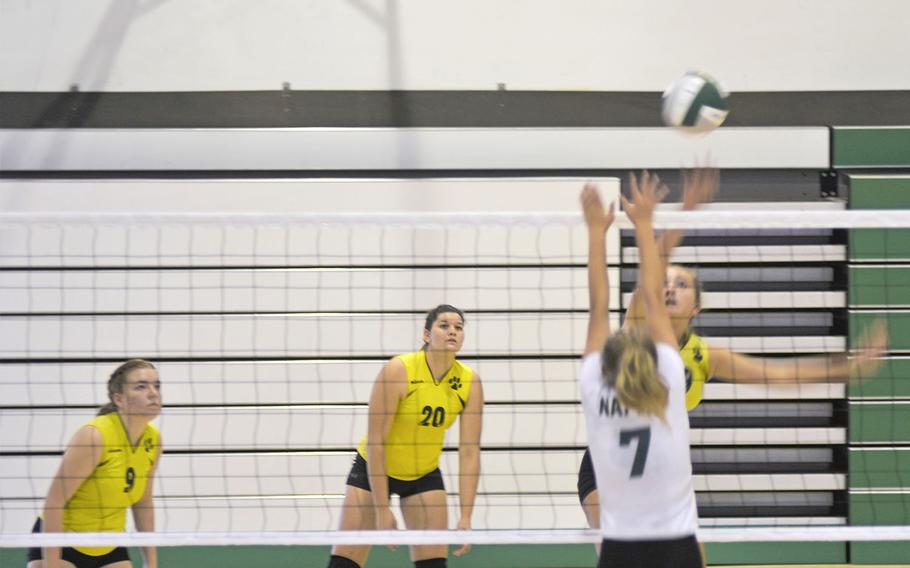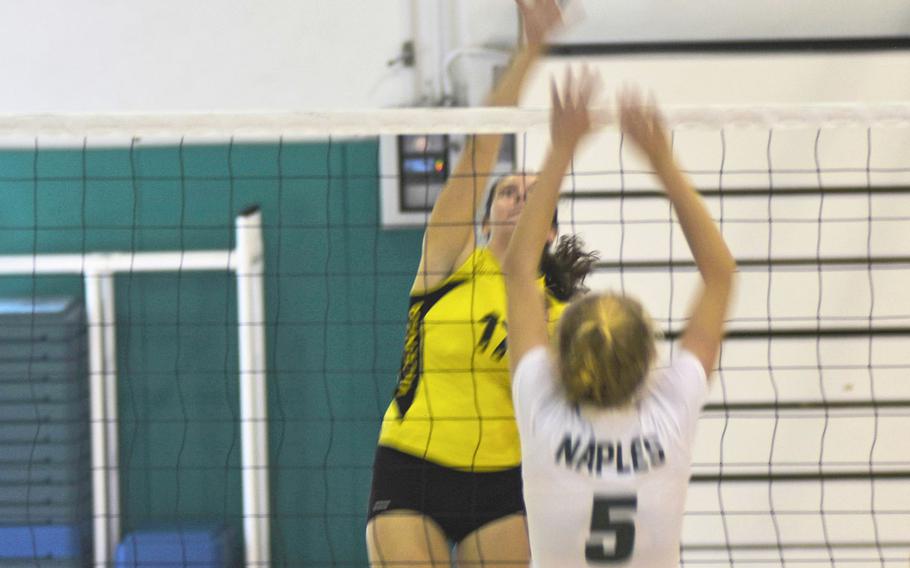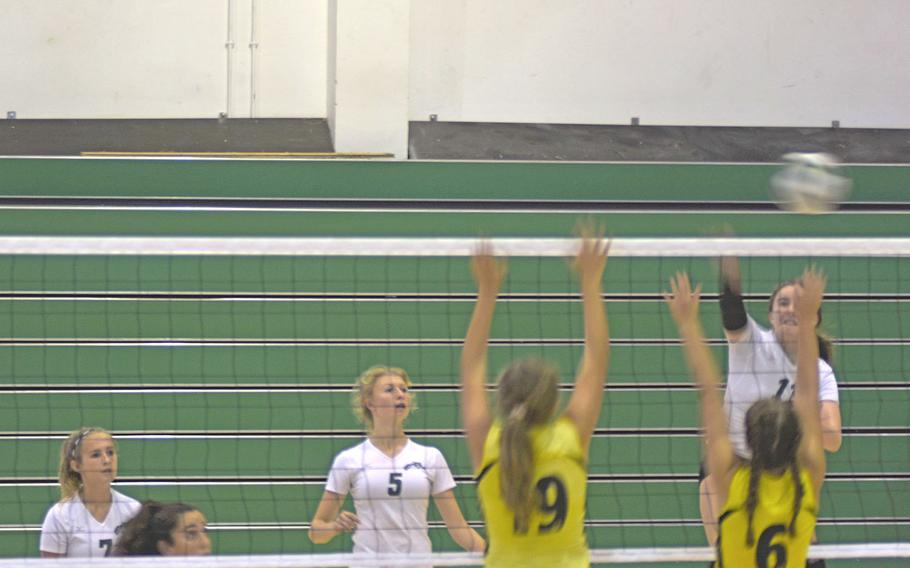 NAPLES, Italy – The opening weekend for the DODEA-Europe girls volleyball season featured gritty, competitive matches between three Italy-based teams.
The Naples Wildcats split a two-match showdown on their home court with the Vicenza Cougars. The Cougars took the opening match on Friday 25-22, 28-26, 26-28, 25-17.
But the Wildcats found the energy Saturday afternoon – even after a five-set losing effort against the Sigonella Jaguars – to beat the Cougars in a tough, back-and-forth five setter, 25-19, 17-25, 26-24, 25-27, 15-13.
The Jaguars' more consistent serving helped them edge the Wildcats in what was overall an even matchup, 25-21, 15-25, 25-21, 19-25, 17-15. That followed Vicenza's 25-22, 25-14, 11-25, 24-26, 15-8 triumph over Sigonella on Friday.
The Wildcats must work on covering the court better and setting the ball more effectively for the hitters, assistant coach Kristi Hess said after the loss to the Jaguars.
"Right now, we've got a lot of holes – we're getting caught on our heels," Hess said. "It's a matter of going for the ball and being aggressive. When we get the team in the right position, we hit 'em hard."
Head coach Amie Pennartz said Naples is a young team with no seniors and only four players returning from last year.
"We're still building," Pennhartz said.
Jaguars head coach Shawn McCarthy said he was pleased with the team's performance. That included blockers holding their own against Naples' big hitters, and servers getting 92 percent of the balls in, McCarthy said.
"Our kids don't operate individually, they operate as a unit," McCarthy said.
Tight, well-coordinated teamwork helps the Jaguars compensate for the players being smaller physically than on many other teams, he said.
Cougars head coach John Kohut expressed frustration at the loss to Naples, which he considered a let down from the previous night's victory.
"We beat them last night soundly," Kohut said. "Today, we let them sneak back in."
As the match wore on, players hit the ball to strong Wildcat defenders rather than to the holes and often knocked the ball over the net instead of setting up for well-aimed kills, Kohut said.
Players also were out of position too often and let balls drop in, Kohut said.
That was a crucial factor in the third game when the Cougars needed just a point to win before Wildcat Roxanne Sasse made several kills to help Naples pull ahead and win 26-24.
The Wildcats' Saturday win against the Cougars was a boost after losing their first two matches of the season, Pennartz said.
"They really needed this win," she said.
Wyland.scott@stripes.com Twitter: @wylandstripes