Saints get the best of Rota in this round
by
Kent Harris
September 29, 2018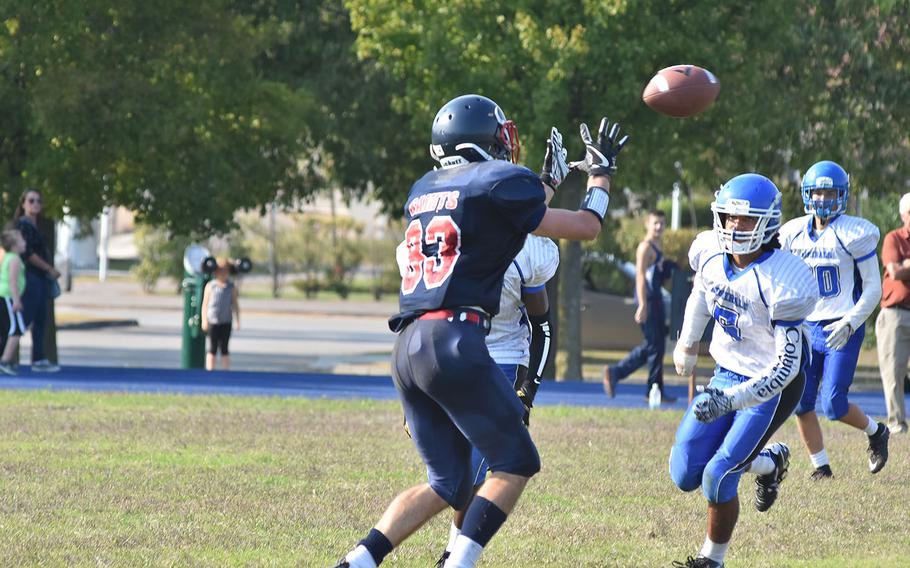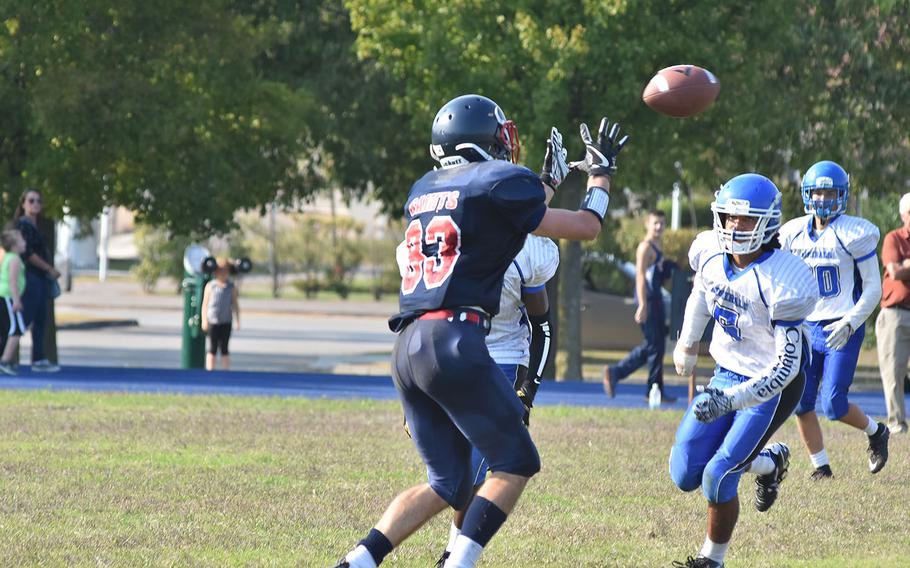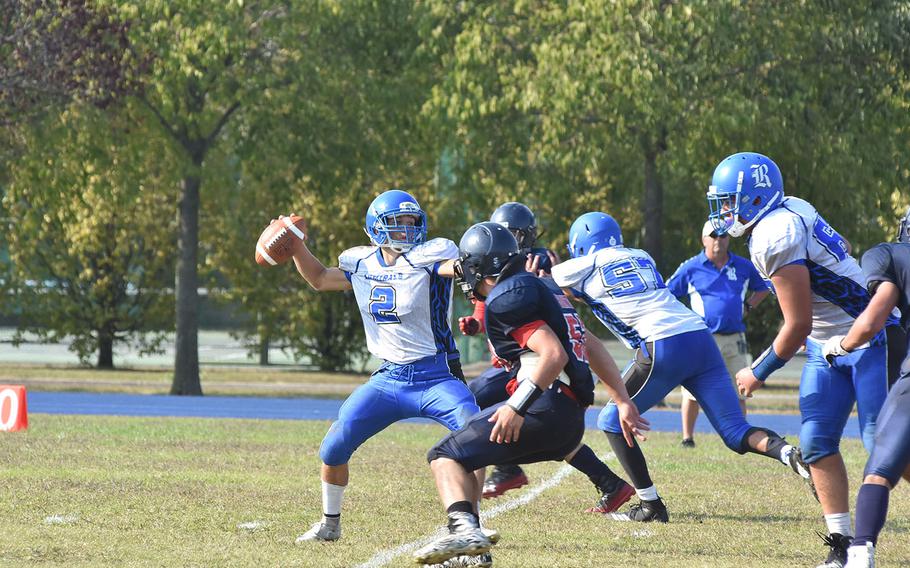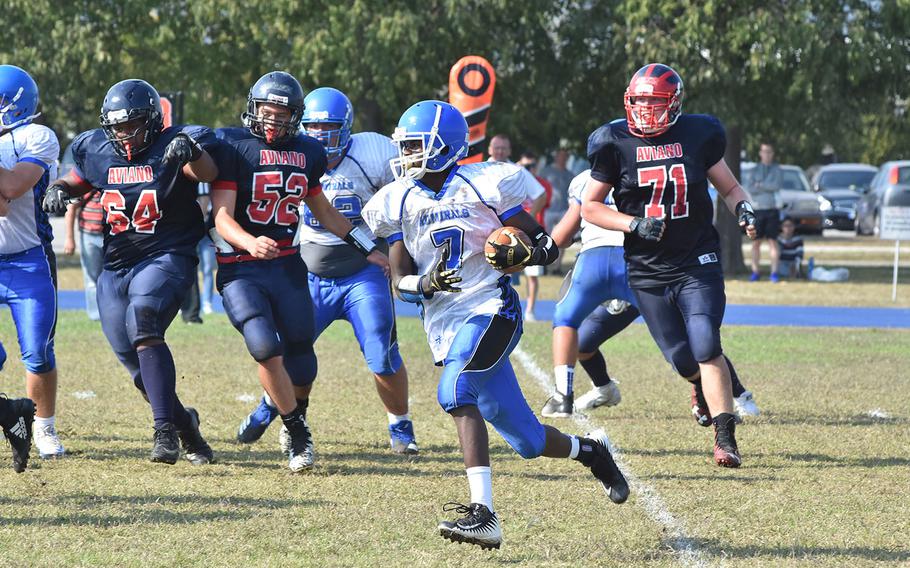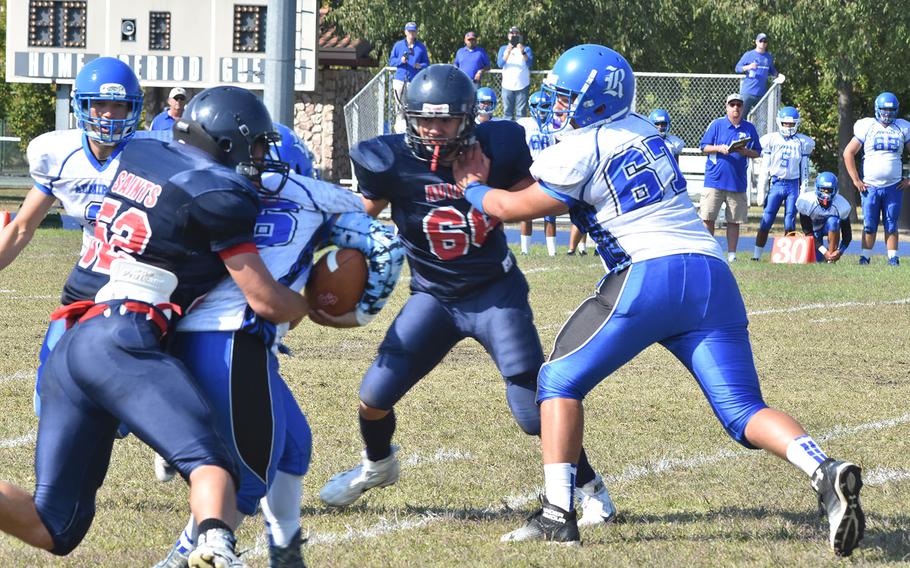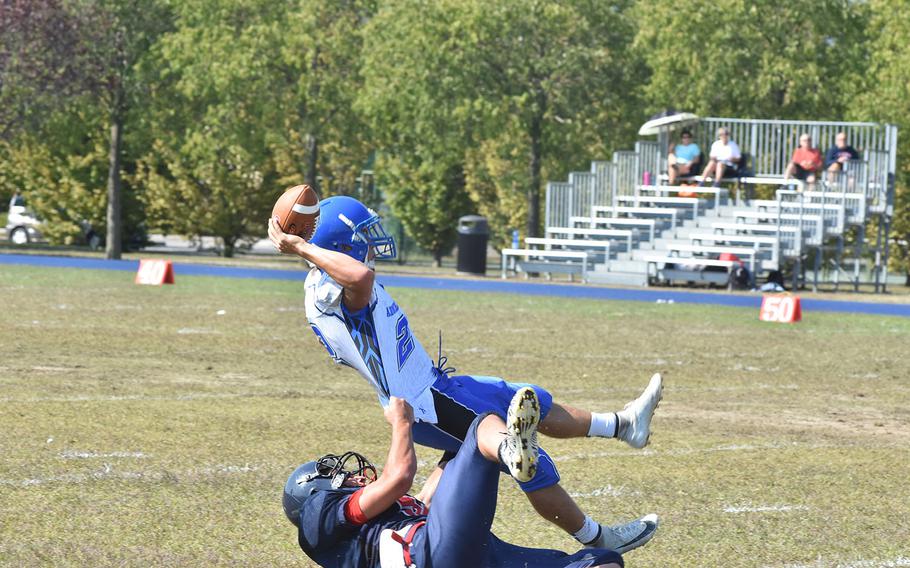 AVIANO AIR BASE, Italy – There were roughly 130 plays Saturday between two schools that appear to be forming the best rivalry in DODEA-Europe Division II football.
The game really came down to three. Aviano had two of them and Rota one. The final score: Saints 22, Admirals 14.
"Very evenly matched teams," Rota coach Luke Spencer said. "I think it was a real testament to both teams that they lost some players to injury and kept battling. Right to the end."
Tied at 6-6 with less than 3 minutes to play in the third quarter, Aviano quarterback Ferious Neves lofted the ball 25 yards down the field. Jaylin Hardy outjumped two Rota defenders for it, then sprinted into the end zone as they stumbled for a 45-yard-scoring play to put the Saints up for good.
After the teams traded punts to open the final quarter, Aviano found itself with a third down and 13 yards to go for a first on its side of the 50-yard-line. Nieves, who caught fire in the second half after struggling in the first two quarters, connected with Michael Hauser on a 16-yard completion. Another 10 yards were added from a facemask penalty and the Saints went from giving Rota back the ball to being in striking distance.
A pass to Hardy moved the ball closer and Hauser hauled in a 6-yard score pass from Nick Smith to score. A two-point conversion run from Kohl Mattes put the Saints up 22-6 with 2:35 left.
Rota wasn't done, though, responding with its best play of the day, a 63-yard pass play from Wesley Penta to Josh Holz on the first play after the kickoff.
Aviano burned most of the clock before turning the ball back over the Admirals. But Penta's desperation hurl with 9.4 seconds left was intercepted by Tony Perales.
Rota's Penta gave the Admirals a 3-0 lead in the first quarter with a 31-yard field goal. Aviano answered in the second with a Neves-to-Donavin Robinson 15-yard TD but failed to convert on a run after. That led to Penta's 32-yard field goal – high enough over the goalposts to cause both teams to pause before the referees signaled it was good – in the third quarter to set up Hardy's heroic leap.
The Saints beat the Admirals in a similarly close game at home last season before then losing another close game to Rota (again at home) in the semifinals. With Aviano at 3-0 and Rota at 2-1 this year, the two teams might meet again. But it would have to be at a neutral site – Kaiserslautern, Germany, where the championship game will be held.
Aviano coach Rick Dahlstrom wasn't looking that far ahead, though.
"We play Vicenza next and that's who we're concentrating on now. Rota is one of the elite teams. They have a good chance to reach the championship."
After connecting on only 5 of 12 passes for 55 yards in the first half, Neves completed 6 of 8 for 120 in the second half. Josiah Cooper had 85 of Aviano's 159 yards rushing.
Penta, sacked three times and harassed by the likes of Aviano defenders Mattes and Alex King for much of the game, completed only three passes, but rushed a team-high 46.