Runners tune up in final races before championships
by
Gregory Broome
October 21, 2017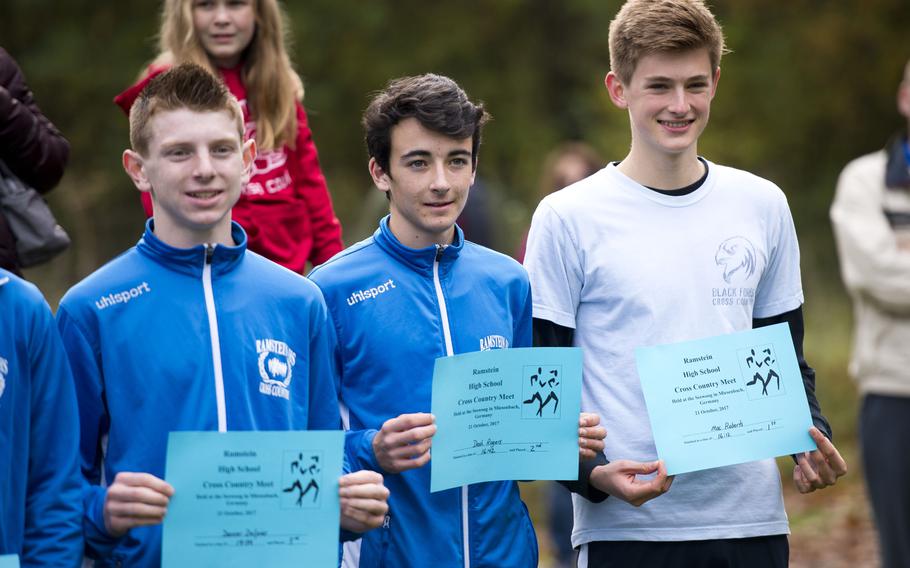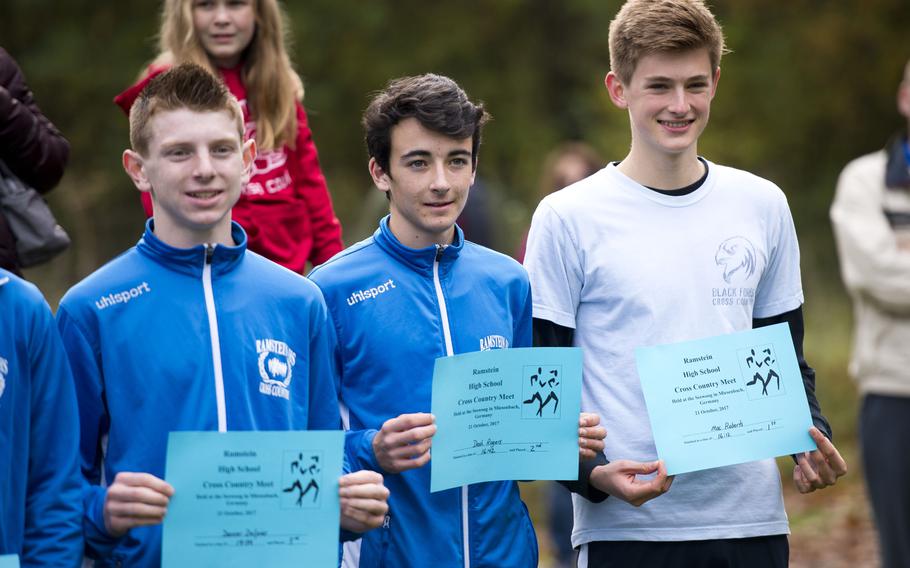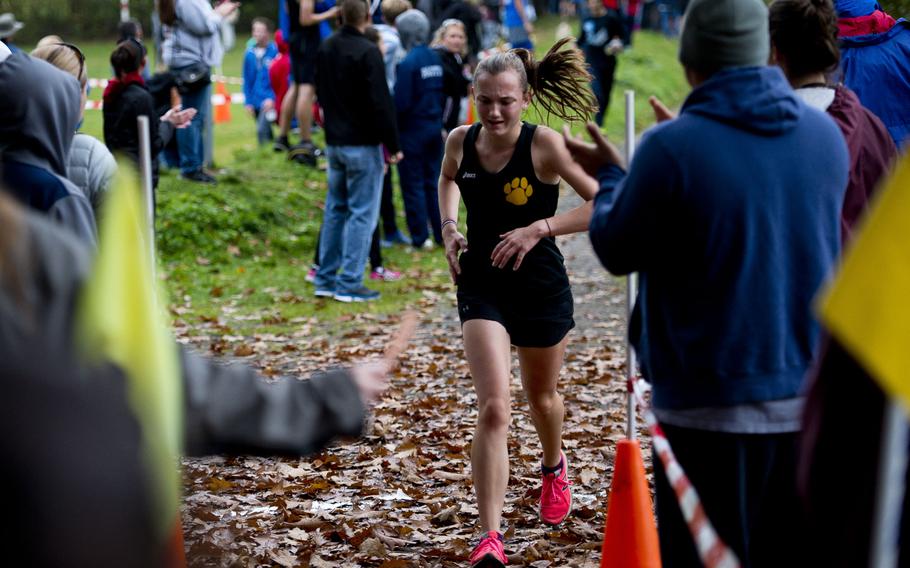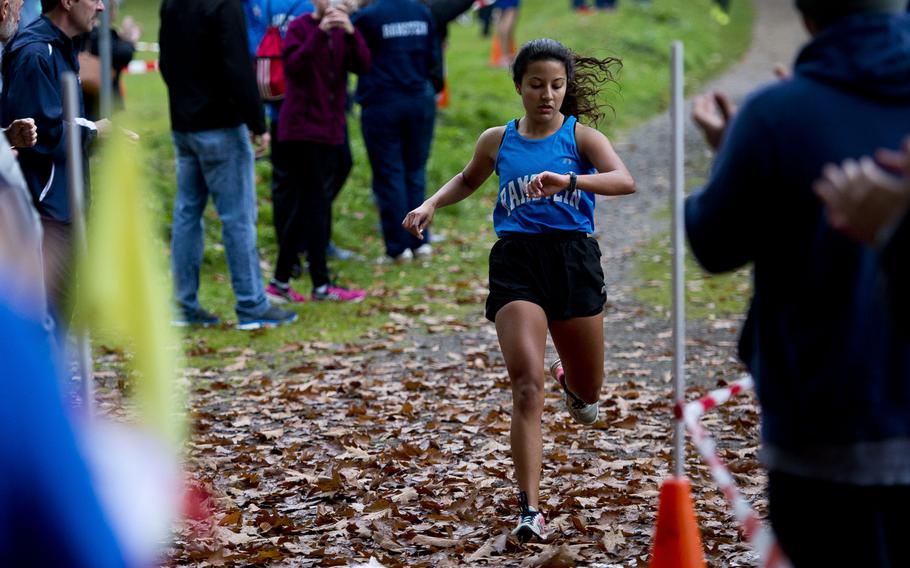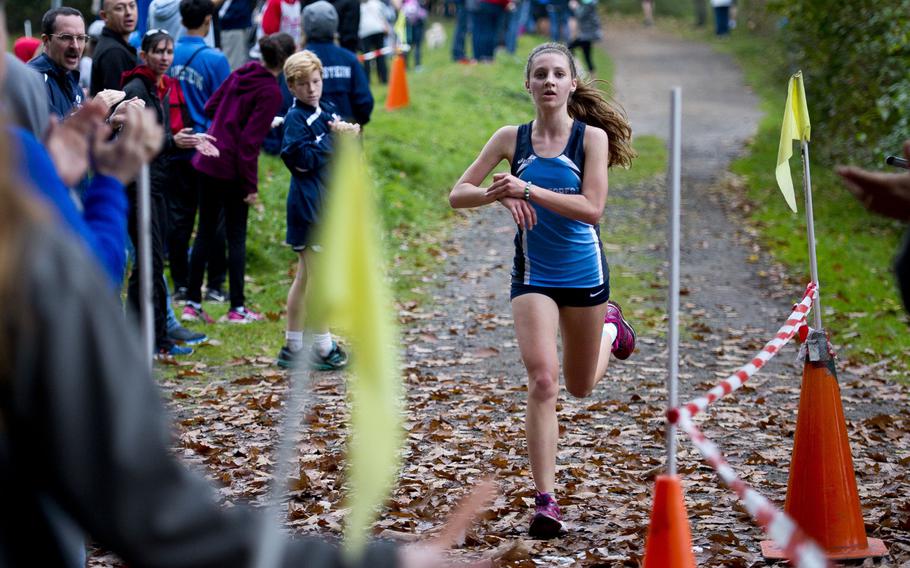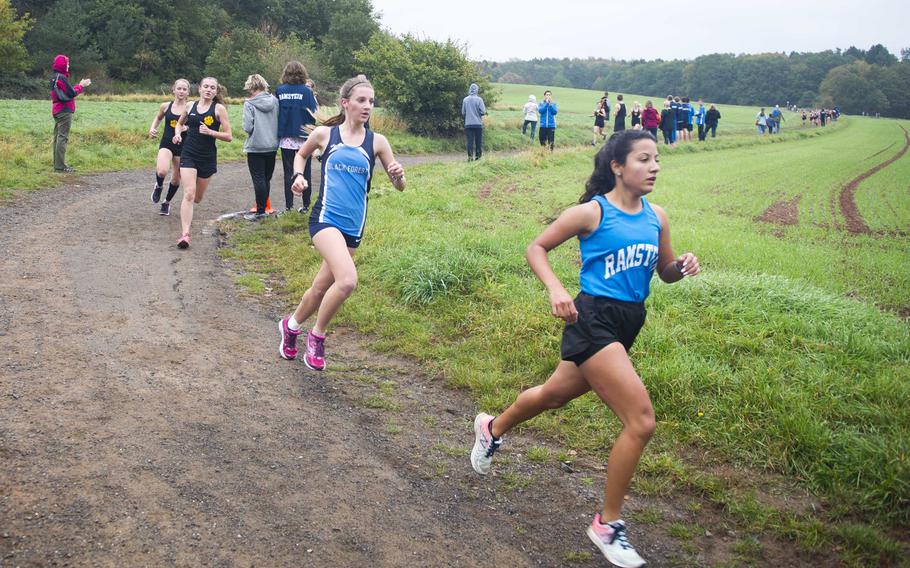 RAMSTEIN, Germany — A 5-kilometer cross country race is neither a marathon or a sprint. It occupies the middle ground, in every sense of the term.
Teams and individual runners used Saturday's races at Seewoog, on the final day of the DODEA-Europe regular season, to pursue any number of individual and collective goals ahead of the Oct. 28 European championship meet at nearby Baumholder.
Start with the individual winners, Mac Roberts and Bianca Liberti of Black Forest Academy.
Roberts was determined to crack the elusive threshold of 16 minutes, and was visibly disappointed when he fell short despite his first-place finish.
Roberts said his method Saturday was to keep pace early with Ramstein's Jose Serrano, who Roberts said is known for strong starts, and then move ahead down the stretch. The strategy delivered a win but denied Roberts his desired time; he finished in 16 minutes, 12 seconds, one second off the course record.
"I stayed with him for too long," Roberts said. "I should have gone earlier."
Still, Roberts has a similar plan of attack in mind for the broader European field next weekend.
"I'll probably just stay with the lead pack and take it from there," Roberts said.
Liberti, too, took first place by a comfortable margin, but her run was anything but comfortable. The junior said she has been running on an injured ankle all season, and the act of overcompensating has spread the discomfort to her knee. She wasn't embarrassed to admit that she'll welcome the end of the season and the chance to be off her feet - after one last run in the European final, of course.
"I feel like it's kind of slowing me down a bit," said Liberti, who finished in 20 minutes and 26 seconds. "I think I'm just going to try and run it out. It doesn't hurt me, I just want to be very careful with it."
While the runners measure and pace themselves, coaches too must weigh the varied needs and capacities of each of their athletes, particularly those headed for next week's European championship meet, and determine the proper strategy for each.
"It's a coach's judgement," Stuttgart coach Philip Bailey said. "You don't want them to run hard and get hurt."
While avoiding the worst-case scenario of a late-season injury is an obvious priority, there are many other factors and to consider. Bailey said some runners need the morale boost of a fresh personal record heading into Europeans, while others find more value in sublimating their own performance to run alongside and encourage teammates.
"As all coaches will tell you, you hope...you're making the right call for the team you've got," Bailey said. As expected, Ramstein and Stuttgart fielded the meet's deepest, highest-finishing teams. The Ramstein boys and Stuttgart girls took top team honors.
Twitter: @broomestripes