Royals win mid-season showdown with German rivals
by
Jennifer H. Svan
September 29, 2018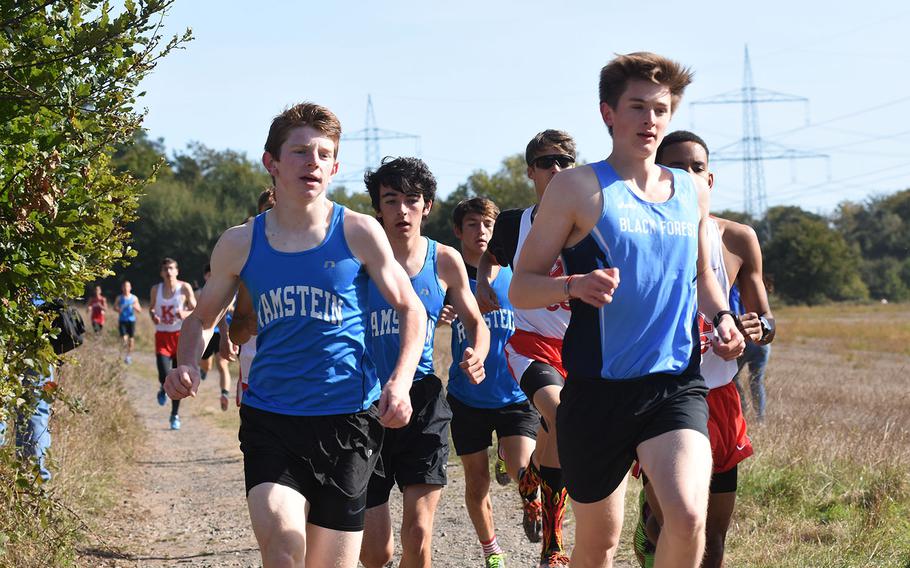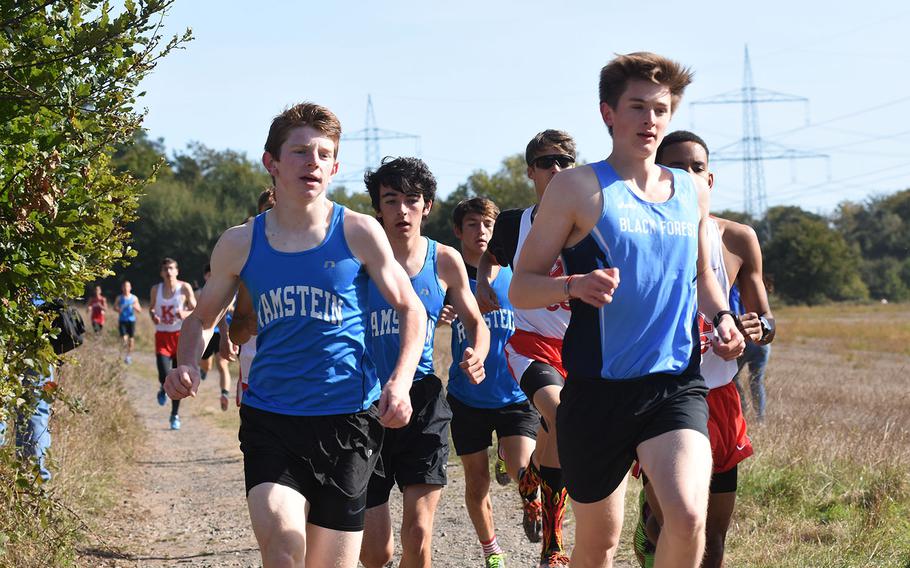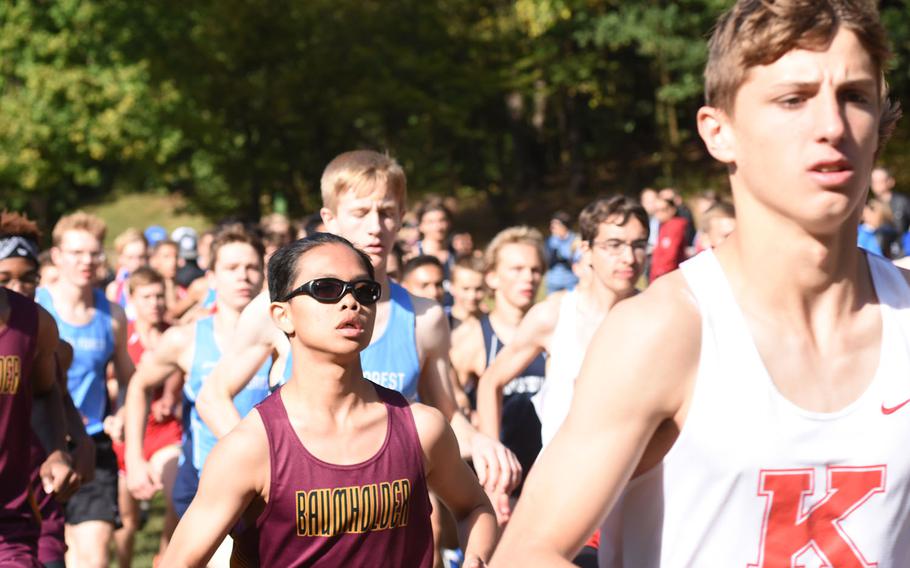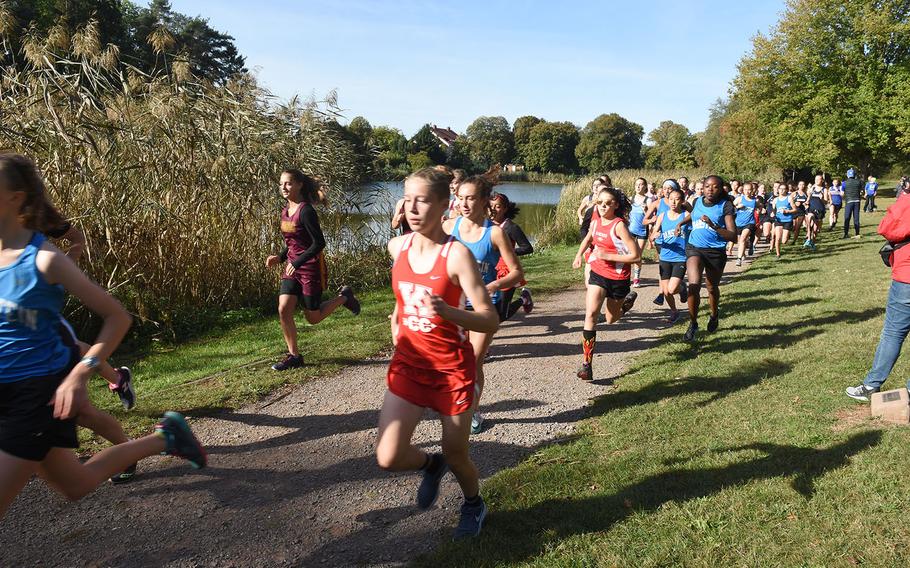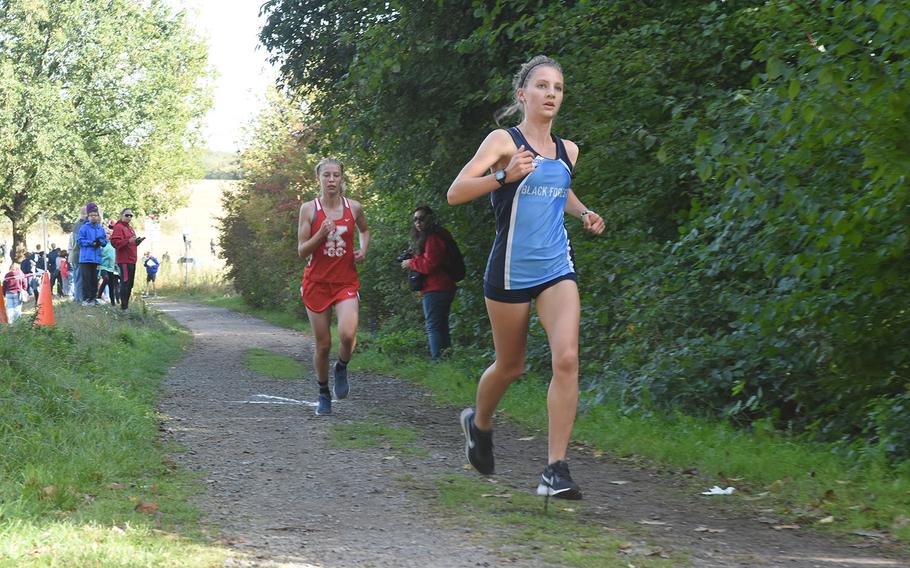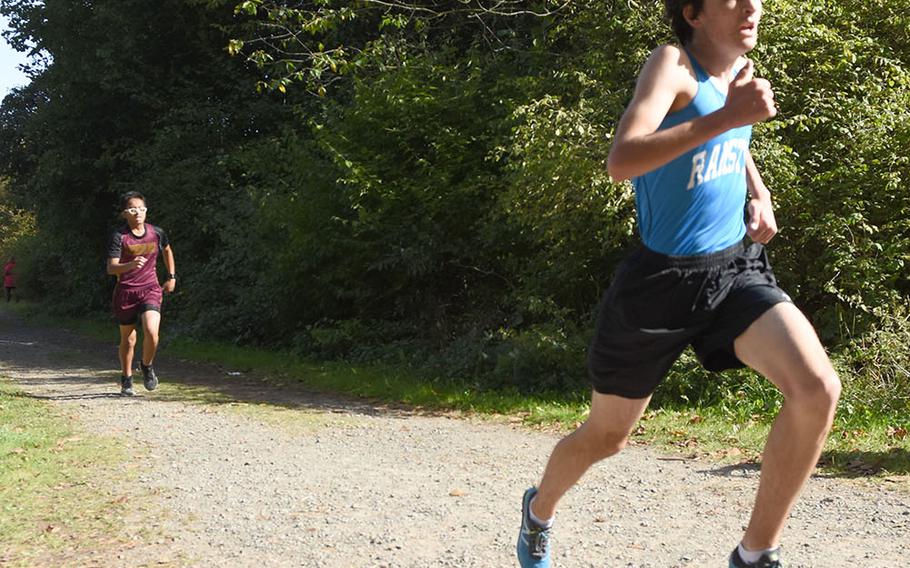 MIESENBACH, Germany – If one thing is certain after Saturday's cross country invitational at the Seewoog lake, it's that the favorite to win the DODEA-Europe boys' team title next month is still very much uncertain.
At a meet hosted by Ramstein on its home course, the Royals eked out a narrow victory over cross-town rival Kaiserslautern, 30-33.
The Raiders put five runners in the top 10, but the impressive showing wasn't enough to hold off Ramstein, which had three runners in the top five, including the individual champion, senior Dashiell Rogers.
Rogers put an exclamation point on his first career victory, finishing a comfortable 15 seconds in front of runner up Joseph Purvis of Kaiserslautern.
For the first two laps on the 5,000-meter course, it looked like last year's European champion, Mac Roberts, was up to his winning ways. But Rogers was never far behind and on the third lap, turned on the afterburners, passing Roberts and clocking a speedy 16-minute, 23.42-second win. Roberts, who's recovering from a stress fracture, faded to third in 16:41.36.
"I felt pretty good," Rogers said. "I was hoping I would (win a meet) this year. "We have good coaches and a very solid team."
Rounding out the top five for Ramstein were senior Denver Dalpias in fourth place; junior Conner Mackie in fifth; senior Enrius Collazo ninth; and freshman Benjamin Brewster eleventh.
After Purvis, the Raiders' pack of senior Orlando Rojas, sophomore Griffen Parsells, and junior Yadiel Rojas finished sixth, seventh and eighth, respectively. Rounding out Kaiserslautern's top five scoring runners was junior Ethan Cooper, in 10th place.
BFA finished third with 75 points, and Baumholder was fourth with 104.
In the girls' race, it was a one-two Ramstein-Kaiserslautern punch again, but this time, the margin of victory was much wider. The Royals put five runners in the top 10, scoring 29 points to the Raiders' 52. Leading the way was senior Jordanne Hill, who was third for Ramstein, and freshman Annika Zimmerer, in fourth.
The silver lining for Kaiserslautern was the emergence of sophomore Chloe Martin as one of the runners to look out for at Europeans. A soccer player running cross country to stay in shape for the spring sport, Martin ran 19:25.61 to edge Black Forest Academy senior Bianca Liberti by just under four seconds. Liberti won on this same course a year ago in October.
Martin said she held back until the 4K mark before digging in on the last small hill and picking up speed on the downhills into the finish.
"I'm just happy I ran a PR," she said of her new personal record.
Liberti, who also plays soccer, said she was surprised to see Martin in the race. "I didn't know she was running cross country this year," she said. "I know her from soccer. She really pushed me a lot."
Rounding out the team scoring for the girls was BFA with 67 points, followed by Baumholder with 91.