Europe baseball
Royals survive upsets; small school semis almost set
---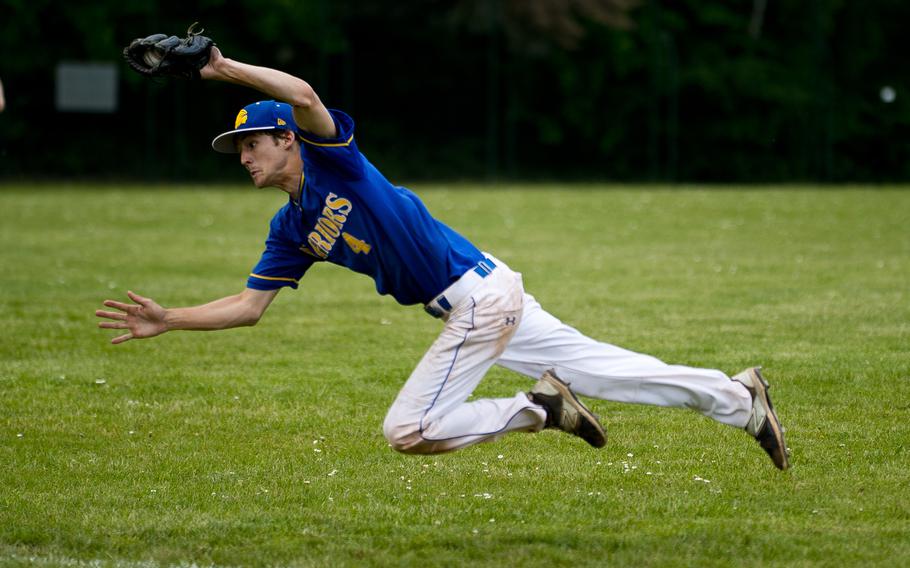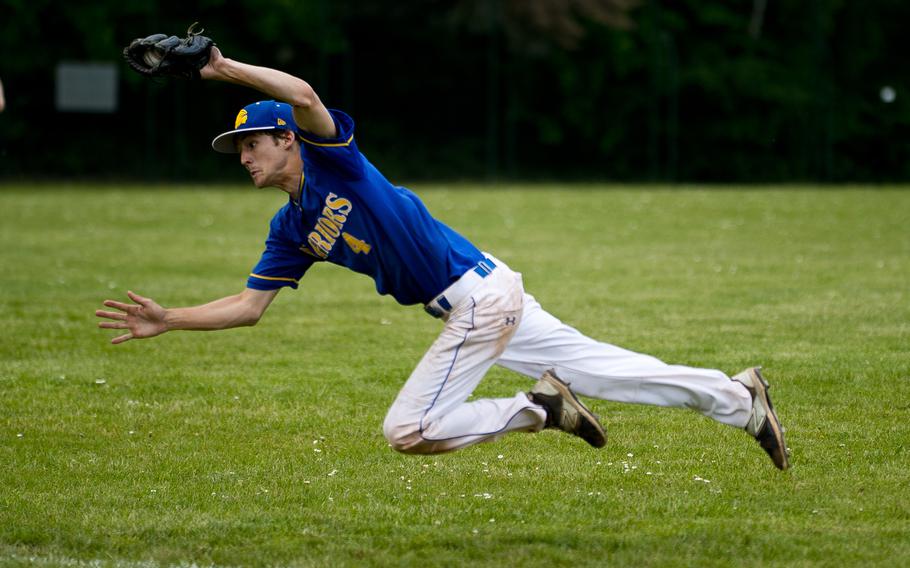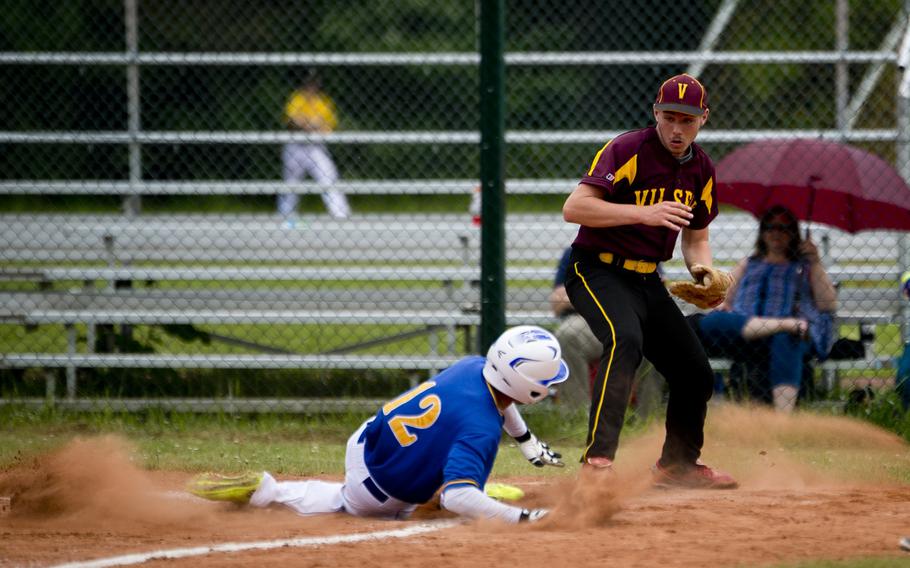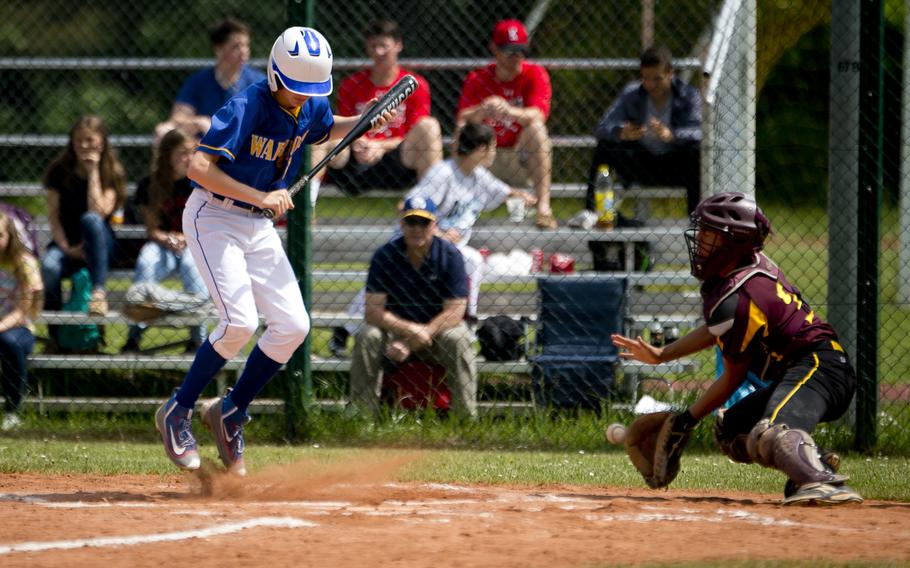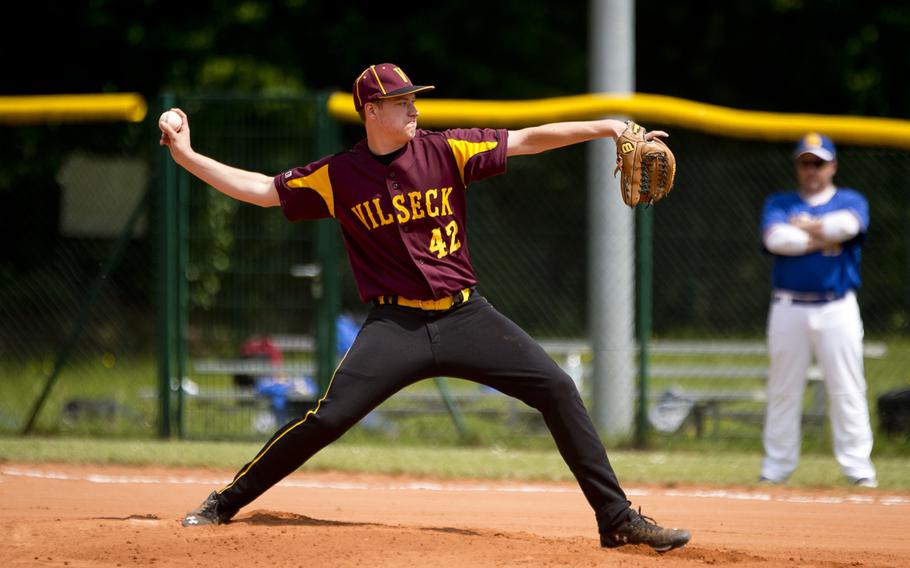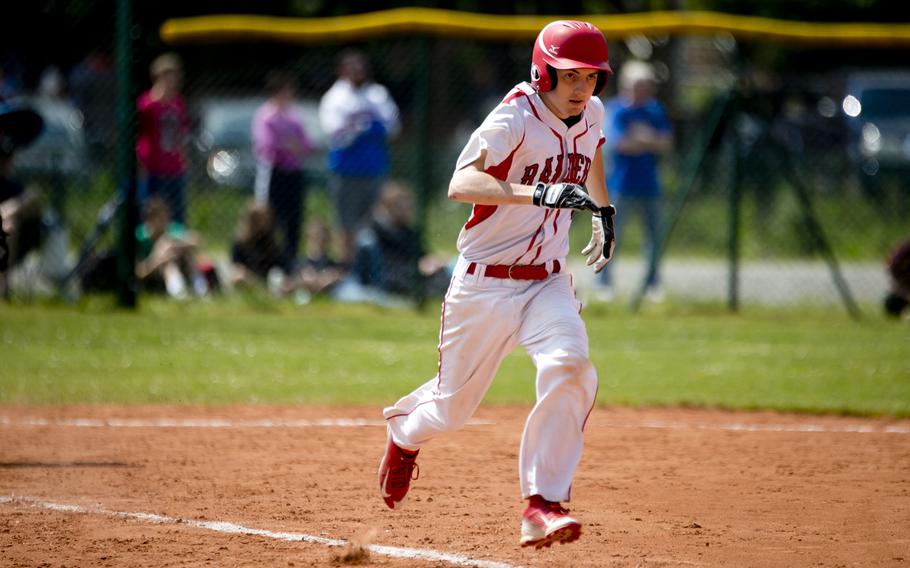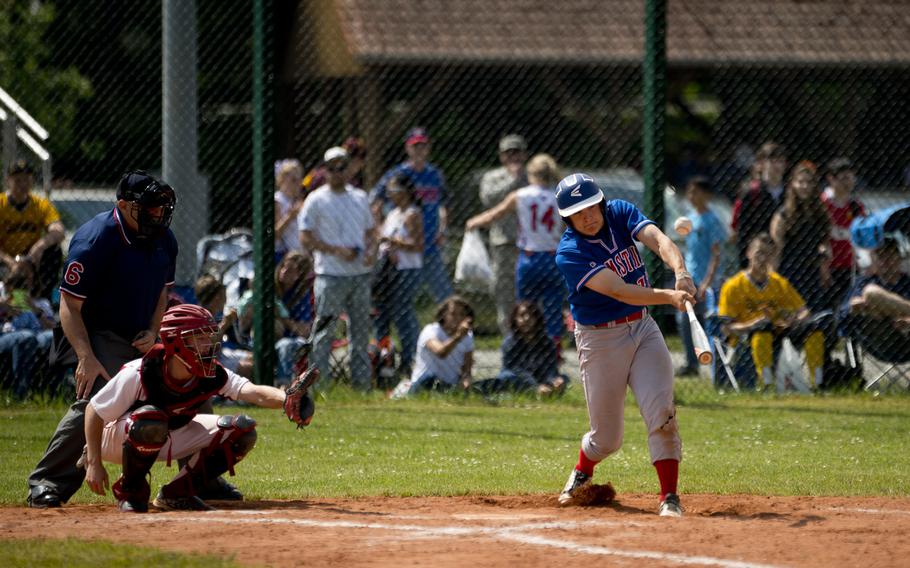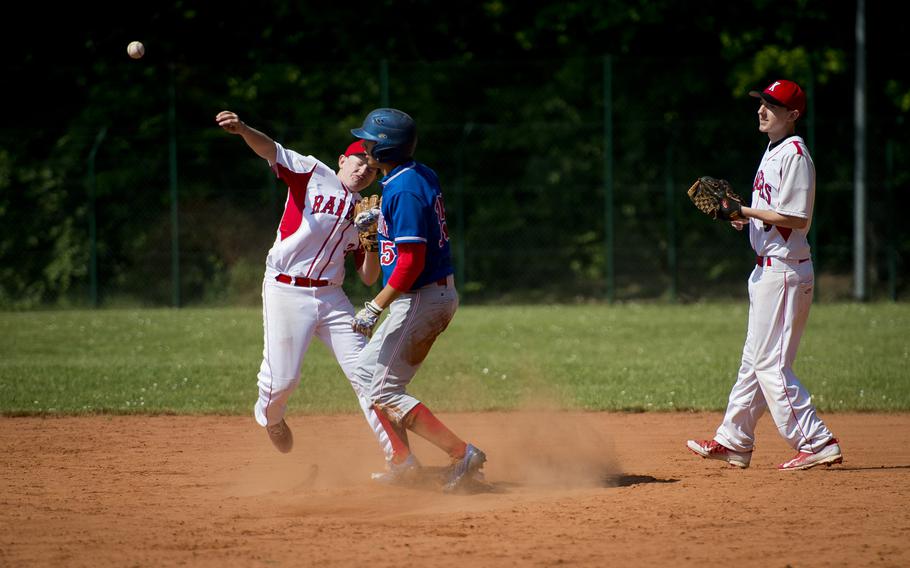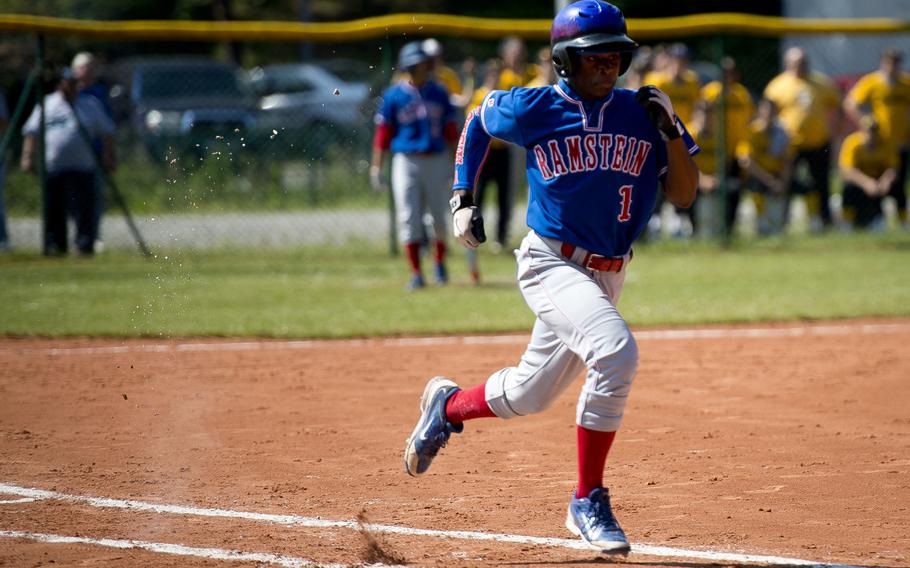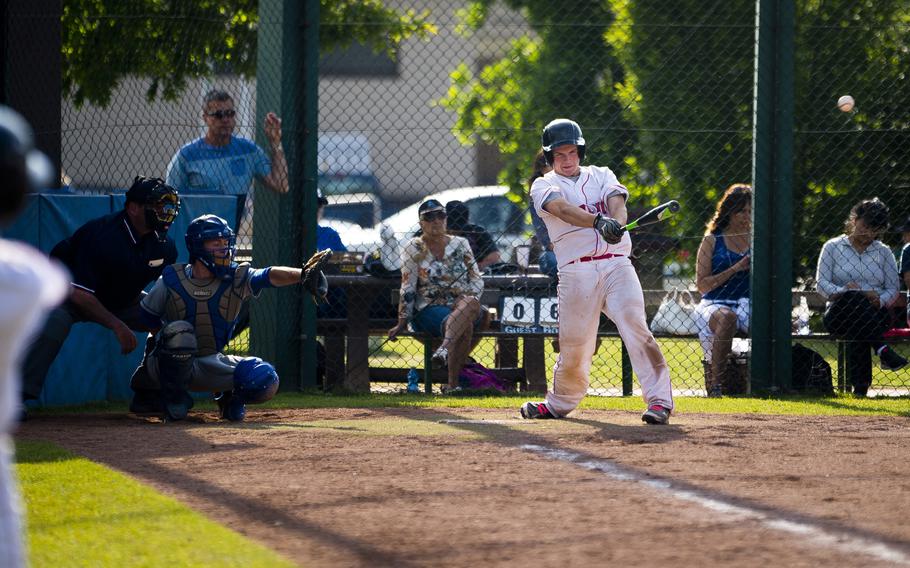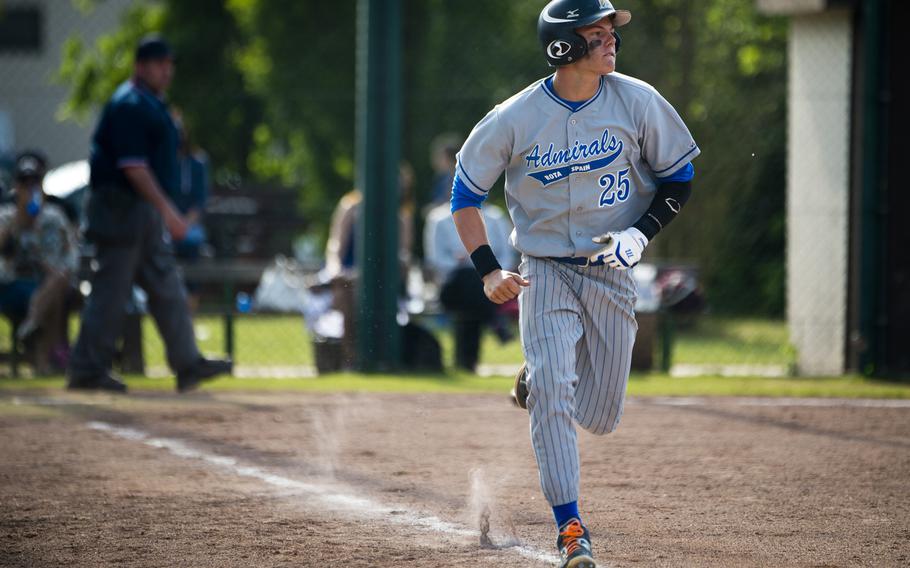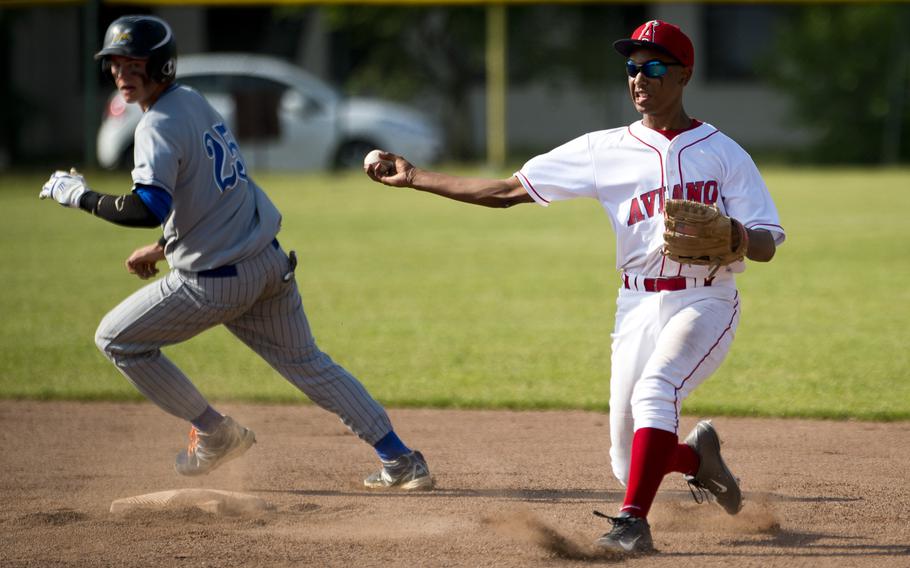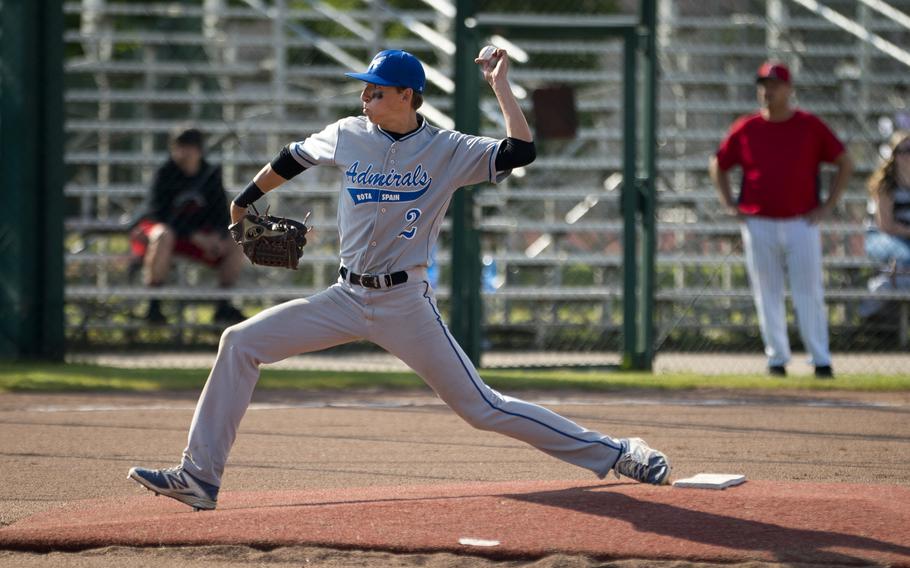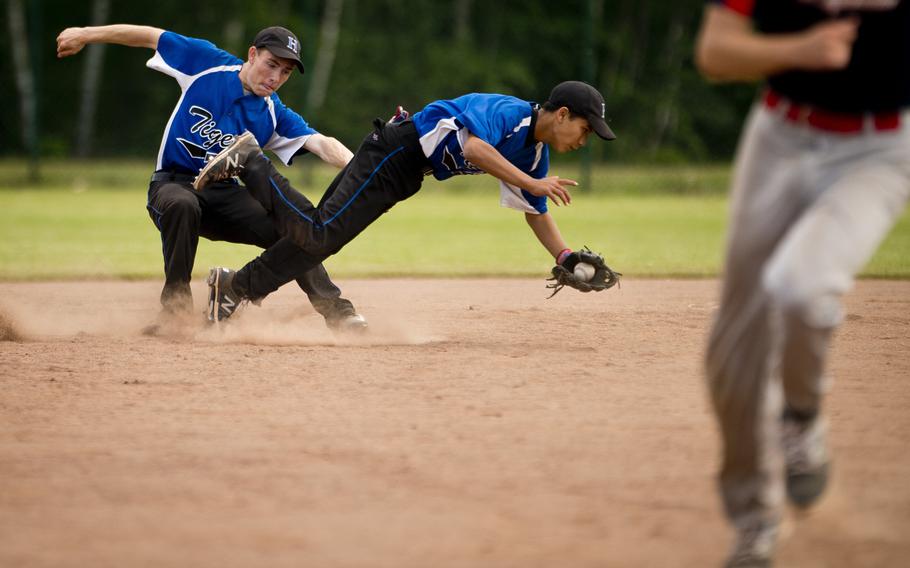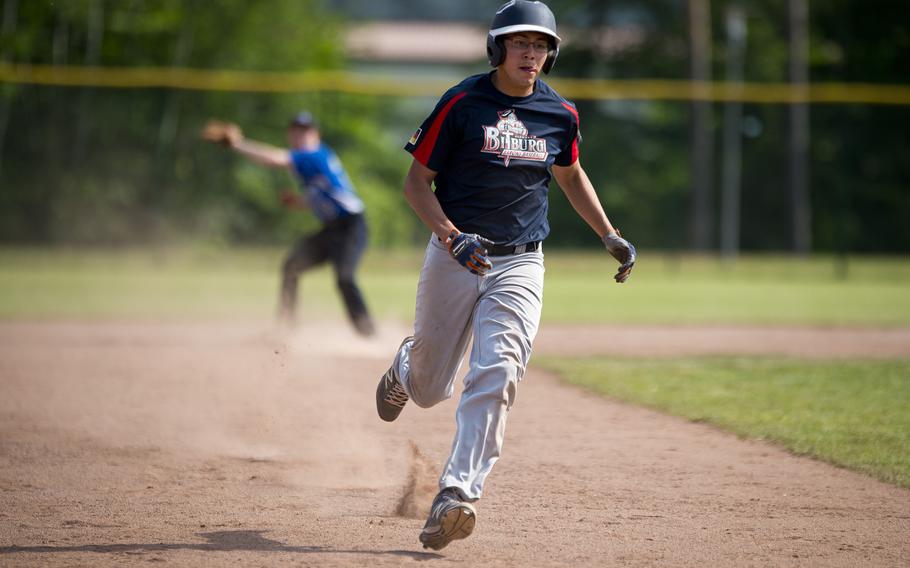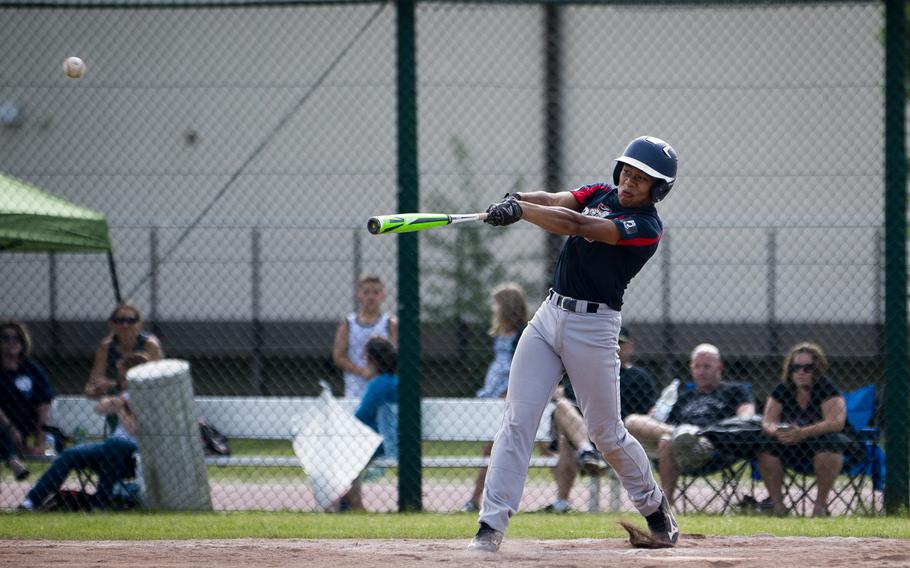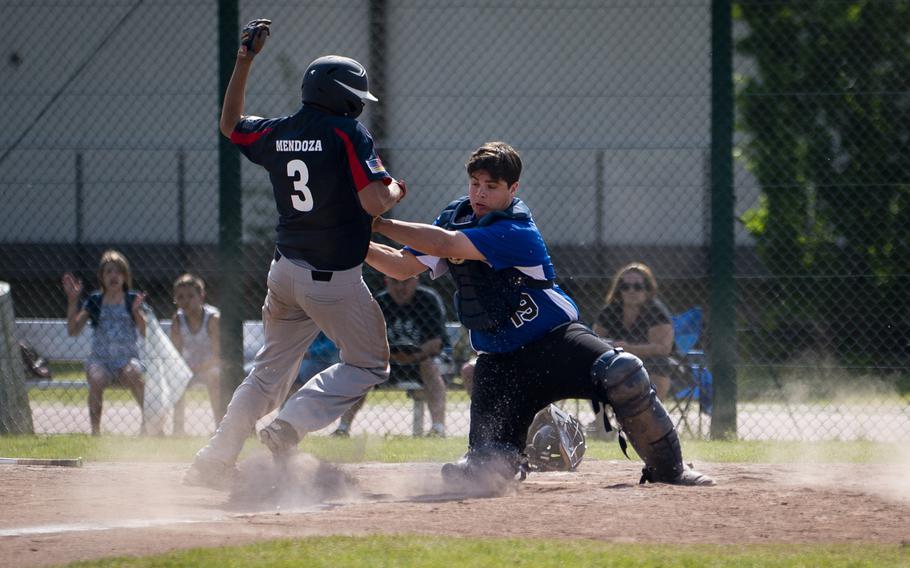 Stunning upsets by the Vicenza Cougars and Lakenheath Lancers busted the Division I bracket of the 2016 DODEA-Europe baseball tournament Thursday at the Kaiserslautern Military Community, leaving large-school powers Stuttgart and Wiesbaden in danger of sitting out the semifinals.
Meanwhile, defending Division I champion Ramstein secured a spot in Saturday's semifinals. In Division II, Ansbach and top-seeded Bitburg joined reigning champion Rota in dominating the small-school proceedings.
Division IVicenza 4, Stuttgart 3: The sixth-seeded Cougars posted a big third inning to knock off the third-seeded Panthers.
Underdog Vicenza was happy to take advantage of the opportunities presented by a shaky Stuttgart squad.
"We just played with less mistakes than they did," Cougars coach Mark Wilson said "We'll take anything we can get."
Wilson's squad came into the tournament with the simple goal of doing better than it did last year, when it didn't win a game in the tournament. The Cougars took care of that goal - and created new, more ambitious ones - the first time they took the field at Kaiserslautern.
Vicenza ace Louis Veazey allowed four hits and struck out five in a strong four-inning complete-game effort.
Cole Keck, Josh Thaniel and Doug Broyles drove in runs in the third-inning outburst.
Lakenheath 4, Wiesbaden 1: The tournament's bottom seed flipped the bracket on its head with a thorough win over the second-seeded Warriors.
Lakenheath, saddled with the No. 9 seed after losing the last seven games of the regular season, played a confident, competent brand of ball that steadily frustrated its heavily favored foe.
That's a stark departure from the regular season. But as Lancers coach Dustin Rowland explained, the tournament offers everyone a fresh set of outs.
"We believed that we could win," Rowland said. "They kept it together, they believed in the process, they believed in themselves, they got over the hump, and they had fun and played baseball.
"They're excited to be here."
The Lancers scored twice in the opening frame and tacked on an insurance run in each of the third and fourth innings.
Freshman pitcher Eli Rothas, meanwhile, stared down a tough Warrior order determined to mount a late rally. The diminutive Rothas, whom Rowland called a "bulldog," worked two innings of one-run ball to wrap up the upset.
Meanwhile, no team embodied the fickle nature of the tournament better than the Warriors.
Wiesbaden was dominant in its early game, pounding 2015 European runner-up Vilseck 14-1. That game was a success across the board, as the Warriors swung freely, fielded mostly cleanly and, most importantly, got the win without using their best pitchers - a primary preoccupation for coaches hoping to preserve a key arm or two for the elimination round.
"Pitching depth is huge," Wiesbaden coach Steve Jewell said. "You don't want to ever not pitch someone really good and not get to the end. But that trick is, how do you get to the end and still have your good guys available?"
The Warriors took a setback in that game-within-the-game as well, as they resorted to throwing freshman ace Gunner Yingling for a pair of innings in an unsuccessful attempt to avoid defeat against Lakenheath.
Thursday's late Division I games cast further uncertainty over the non-Ramstein half of the bracket. Vilseck beat Vicenza 4-3, while Stuttgart defeated Lakenheath 5-1.
Those results left all five members of that pool - Wiesbaden, Stuttgart, Vicenza, Vilseck and Lakenheath - with one win and one loss apiece.
Ramstein on a roll: The upset bug didn't infect the other large-school pool as the defending champion Royals handled eighth-seeded Kaiserslautern 6-2 and fifth-seeded Naples 8-3.
Reed Marshall had two hits and an RBI and Jonny Oswald drove in a pair of runs as the undefeated Royals, the tournament's top seed, beat the archrival Raiders. Ramstein led 3-0 after one inning and 5-0 after two.
Ramstein's second game followed a similar script, as the Royals owned a 4-0 lead through two innings. Andy Short drove in three runs in the victory, while ace Oswald struck out eight in four innings of work to put down the Wildcats.
The four teams in the Ramstein-headed pool each will play just one game Friday. Ramstein takes on fourth-seeded SHAPE, while Naples and Kaiserslautern face off.
Division II/IIIAnsbach 5, Bahrain 4: A four-run fourth inning powered the third-seeded Cougars to an early victory.
Ansbach coach Tara Duplessie said it's "extremely important" to win the opener of a tournament that will feature just three pool-play games before the Friday semifinals. She cited the lessons of last year, when an opening loss to AFNORTH made the Cougars' path to the elimination round difficult.
Her team managed to avoid that fate this year. Duplessie said it took some time for her team to "wake up a little bit" for the 8:30 a.m. game, but the squad rounded into form just in time.
Tito Rodriguez hit a two-run double in the decisive fourth inning, while Nick Duplessie pitched a scoreless fifth to seal the deal against an unfamiliar Bahrain team that proved a very worthy opponent.
"That was important for the guys," Tara Duplessie said. "You never want to underestimate them."
The Cougars completed a perfect opening day with a 9-3 defeat of sixth-seeded Aviano.
Hohenfels 10, Sigonella 8: The Tigers batted around in the first inning, built a big early lead and held on against a furious Jaguar comeback.
"That was our plan was to get out there and jump on them," Hohenfels coach Richard Baker. "We did just exactly what we wanted to do."
A win that looked all but assured nearly slipped away from the fifth-seeded Tigers as the Jaguars brought the potential winning run to the plate in the final inning. But Hohenfels junior Wade Cermak managed to persevere through the pressure.
"I just had to take a breath every pitch and power through," Cermak said. "I kind of had to turn off my feelings. I couldn't let it affect me so much."
As both an experienced team leader and the pitcher in a high-leverage situation, Cermak knew he needed to project an aura of calm for his teammates as they pursued those final outs against determined fourth seed Sigonella.
"I just had to stay up and not freak them out," Cermak said.
Hohenfels' run end abruptly in the afternoon as the top-seeded Bitburg Barons tamed the Tigers 13-0. That rounded out a dominant first day for the Barons, who opened play in the morning with a 6-2 defeat of AFNORTH.
Hohenfels remains in play for a semifinal berth, however, entering its Friday game against AFNORTH.
No. 2 seed and defending champion Rota had an even easier time Thursday, routing Bahrain 11-0 and Aviano 16-0.
Pool play continues Friday morning for the small schools. Unlike Division I, however, Division II/III will hold its semifinals Friday evening ahead of Saturday's 1:15 p.m. championship game.
Twitter: @broomestripes
---
---
---
---