Royals rally past Raiders to reach another final
---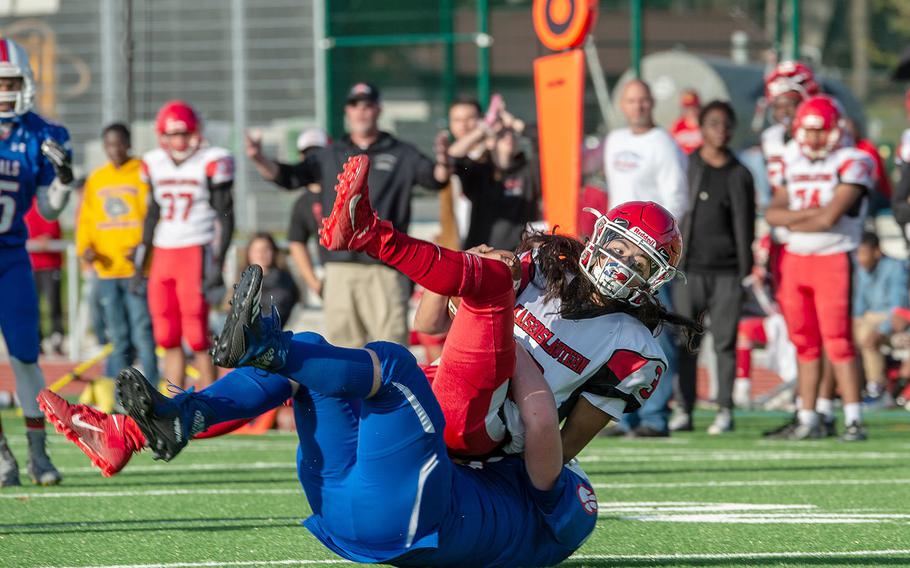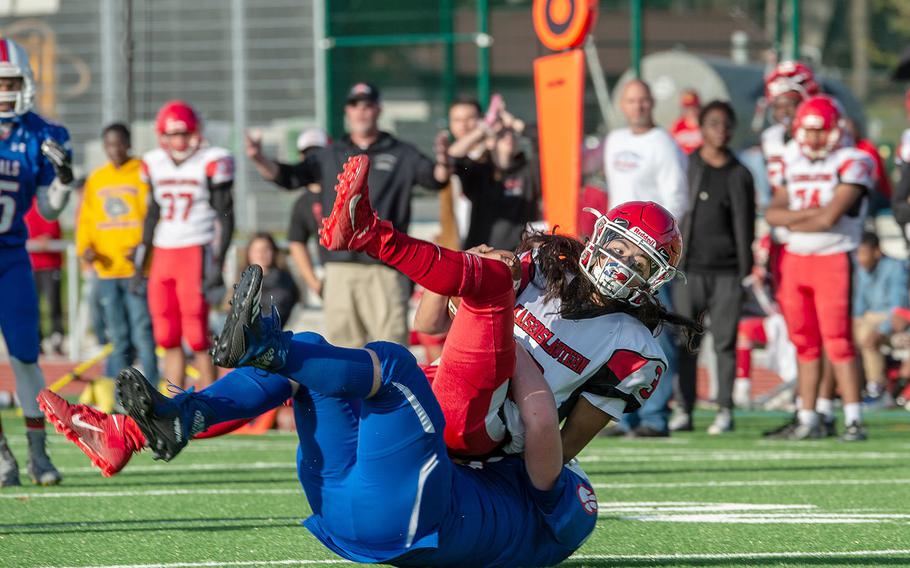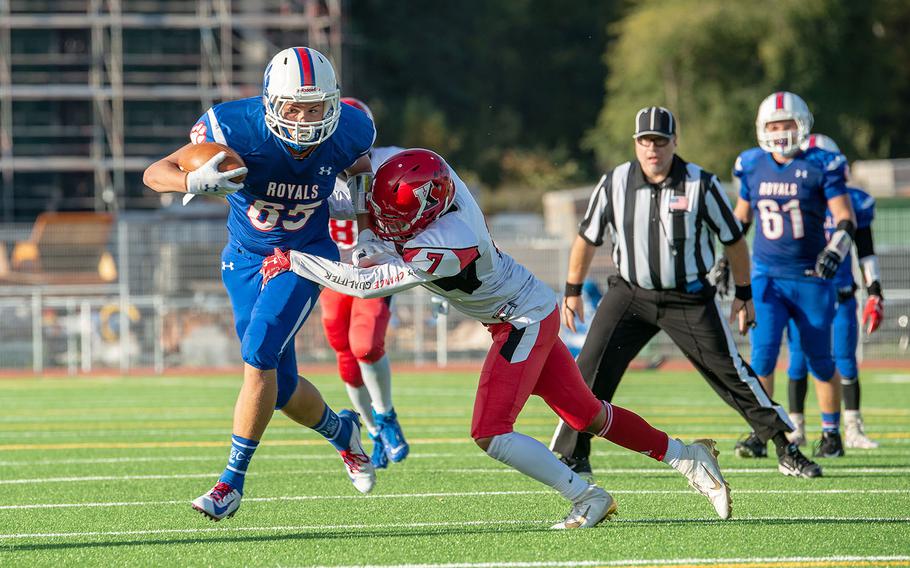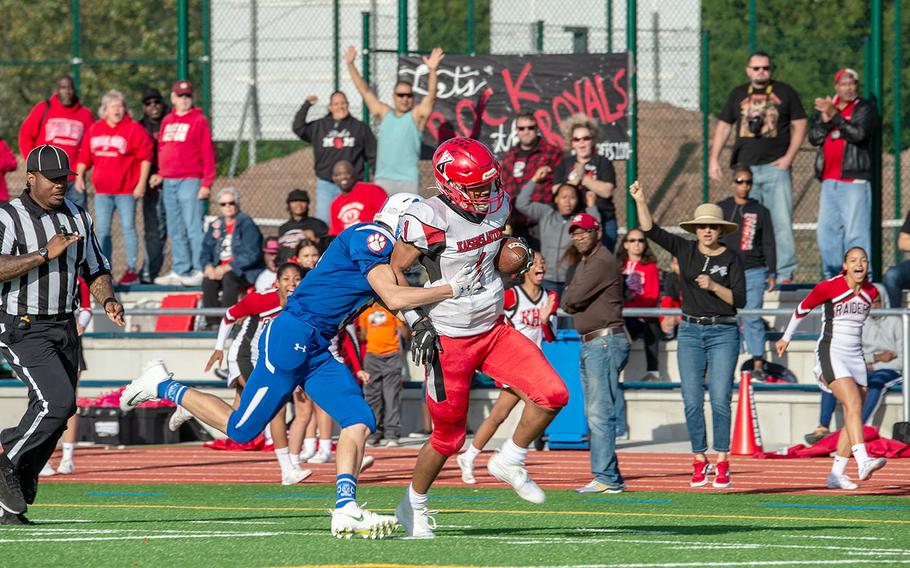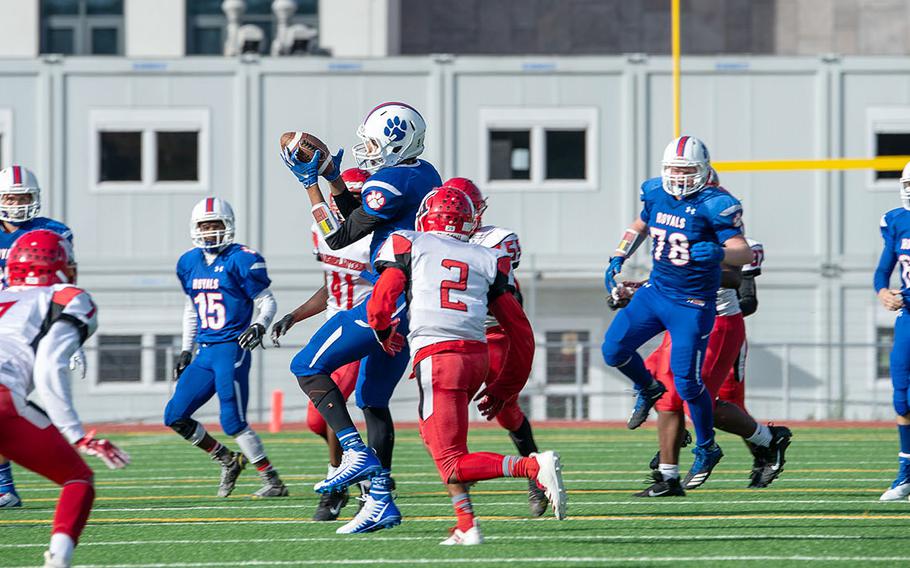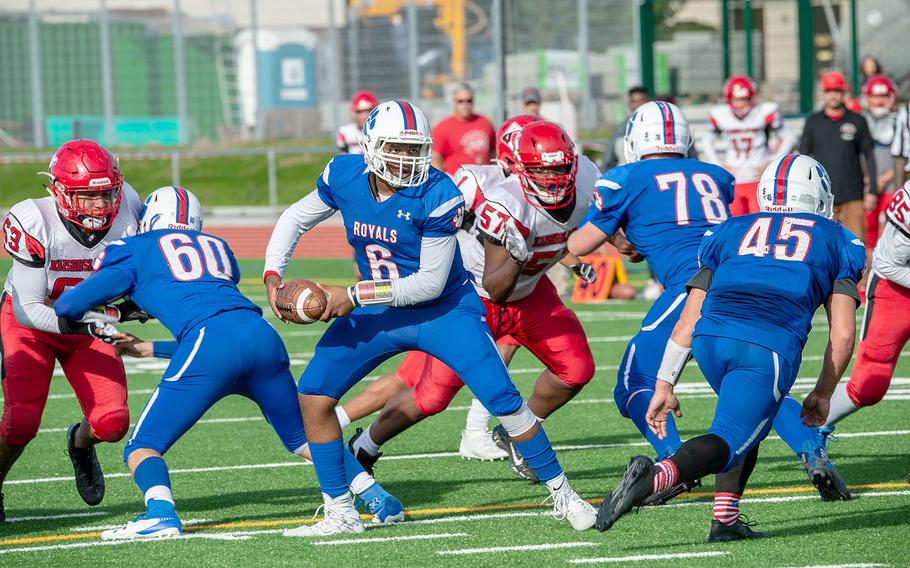 RAMSTEIN AIR BASE, Germany -- The football rivalry between Ramstein and Kaiserslautern is getting more competitive. But for now, at least, the status quo remains unchanged.
The Ramstein Royals maintained their edge in the historic crosstown feud Saturday, erasing multiple deficits and ultimately outlasting a persistent Raider team in a 35-21 DODEA-Europe Division I semifinal victory.
"That was one heck of a game. We knew they were well-prepared. Outstanding coaching, outstanding athletes," Ramstein coach Carter Hollenbeck said. "We knew it was going to be a great game."
The defending champion Royals will return to next week's European championship game against the top-seeded Stuttgart Panthers, who routed the Lakenheath Lancers 59-6 in Saturday's other semifinal.
Ramstein was about 12 minutes away from missing that appointment, as the Raiders took a narrow 21-20 lead into the final quarter. But the Royals tapped into championship-level resilience to earn the victory, scoring 15 unanswered points and making their lead hold up with a series of defensive stands.
Dom Arizpe scored on an 11-yard run with nine and a half minutes to play in the game to put the Royals back on top. The running back said his team never wavered despite the repeated deficits.
"We felt confident. We knew if we just drove down the field and did our thing... we'd be straight," said Arizpe, who finished with 142 rushing yards and two touchdowns on 21 carries. "Keep your head in the game, the game's not over. Keep doing work."
With the lead again in their possession, the Royals turned to their defense to press their advantage. Theodore Ward powered through the Raider protection for a pair of highlight tackles in the backfield, immediately snuffing out the Raiders' hopes of responding to Arizpe's score with a productive drive of their own.
Instead, the Royals took possession at the Raider 29-yard line and produced the final score moments later on a short-yardage power run by quarterback Carl Norman, his second such touchdown of the day.
"Just going with the flow," Ward said of his high-stakes defensive contributions. "I knew I had to get some momentum just to get past that line."
That sequence brought a decisive end to a game that looked like it could have gone either way for much of the afternoon. After a scoreless first quarter, Kaiserslautern led 14-10 at halftime on a stunning interception return by Shaun Edwards and led by a single point through three quarters.
Ramstein didn't hold the lead at the end of any quarter save for the fourth. "We made some errors that they were able to capitalize on," Kaiserslautern coach Robert Allen said.
Darius Camp totaled 171 receiving yards and scored twice for the Raiders, including the game's first touchdown on a 5-yard run early in the second quarter and a 21-yard reception from Nelson Rivas that gave the Raiders their lead entering the fourth quarter. Camp added 11 tackles for the Raider defense.
Matthew Reismann nailed a pair of deep field goals for the Royals, hitting from 42 yards out in the second quarter and from 38 yards in the third.
While the Raiders were denied a long-awaited win over their local nemesis, their performance Saturday and in the regular season that got them there represents another incremental step towards their ultimate goal.
Last year, Kaiserslautern emerged from years of frustration to capture the division's fourth semifinal spot, leading to a 48-14 loss at Ramstein in the 2018 semifinals. This fall, the Raiders posted a winning 4-2 overall record, moved up to third in the divisional standings and gave Ramstein a significant scare in the postseason.
"We stepped up this year," Allen said. "We had freshmen starting, we had a lot of sophomores... They're just going to get better and bigger and faster and stronger."
broome.gregory@stripes.com Twitter: @broomestripes
---
---
---
---