Division I boys semifinals
Royals, Raiders will go at it again
by
Gregory Broome
February 26, 2016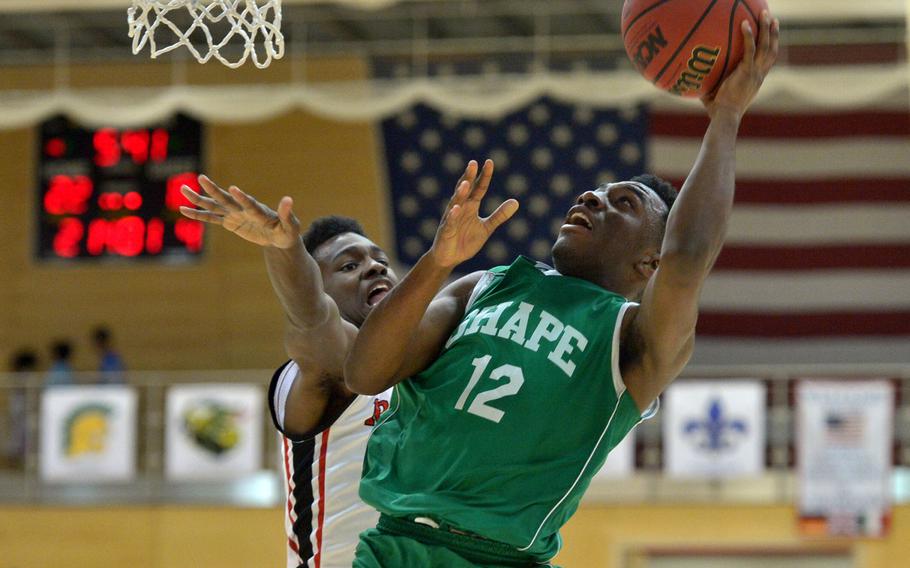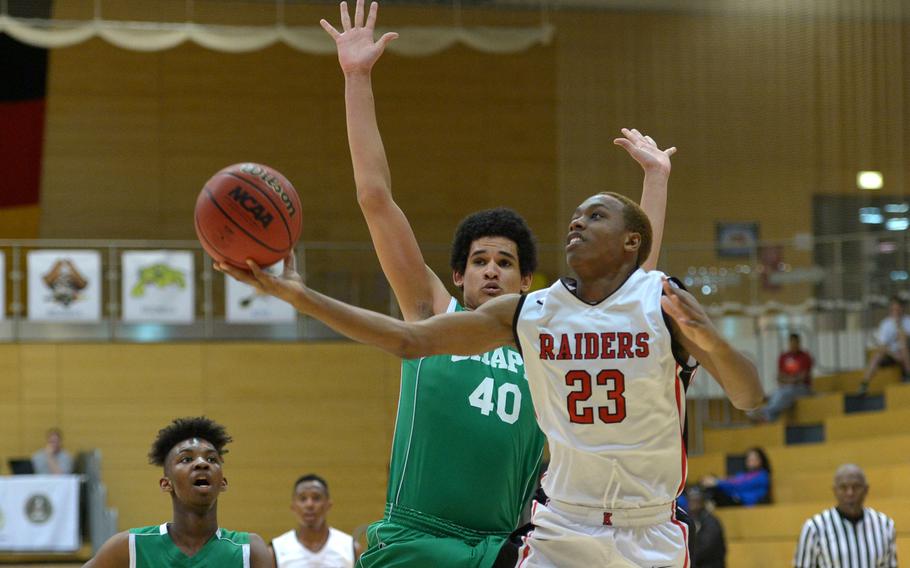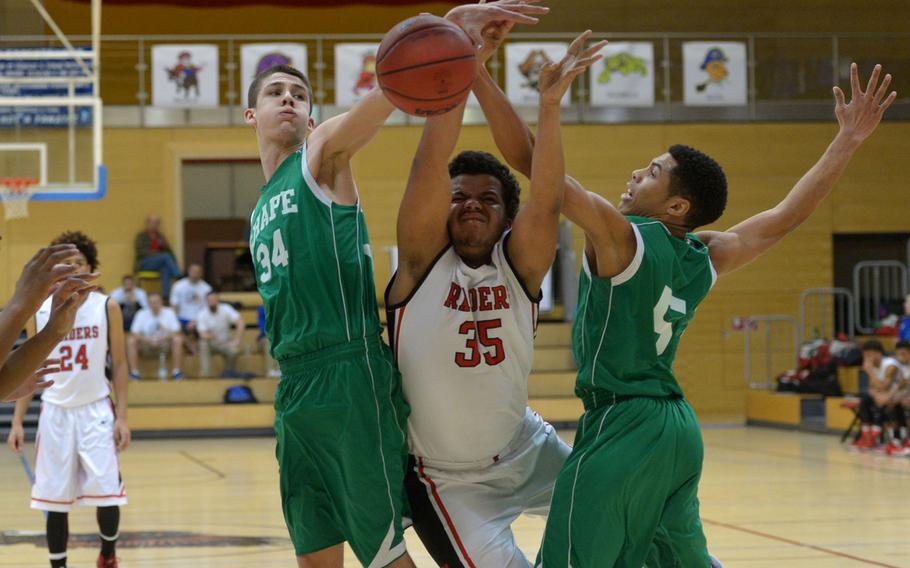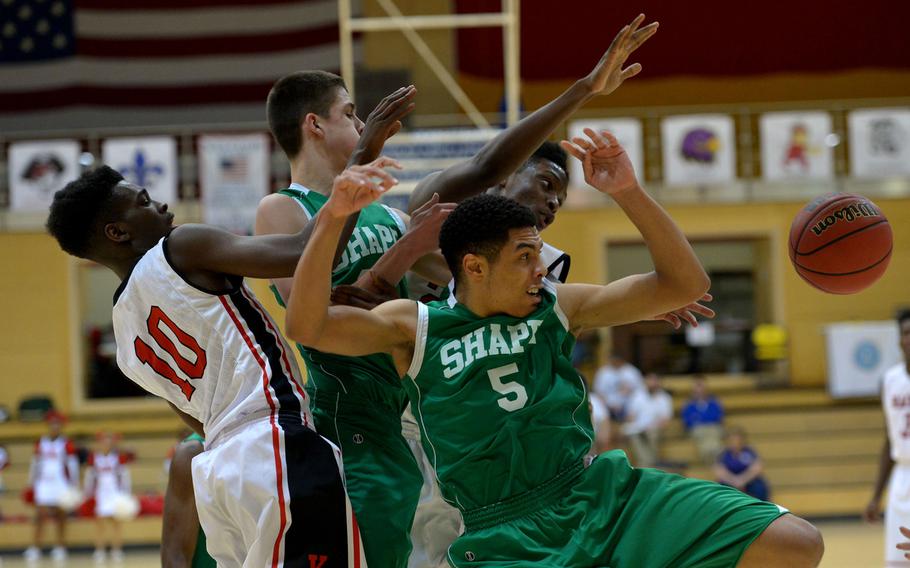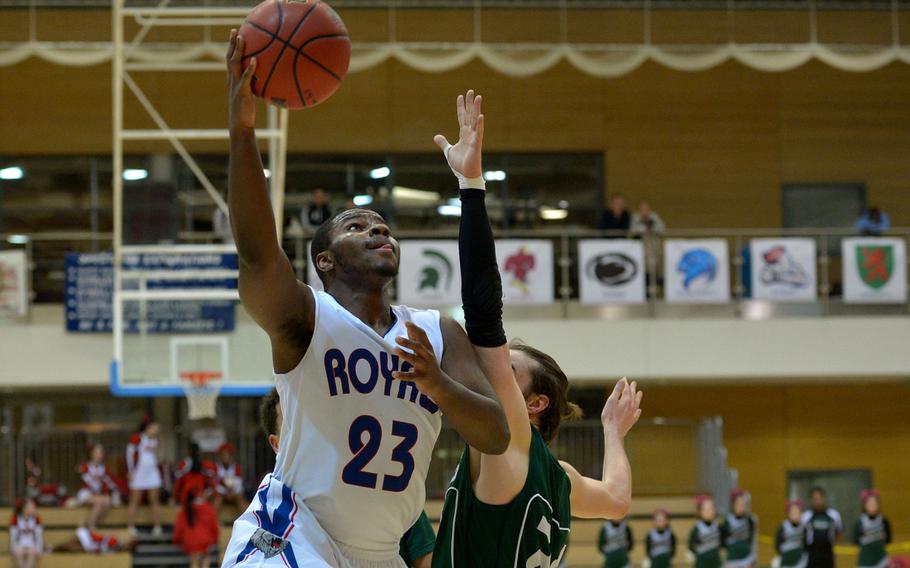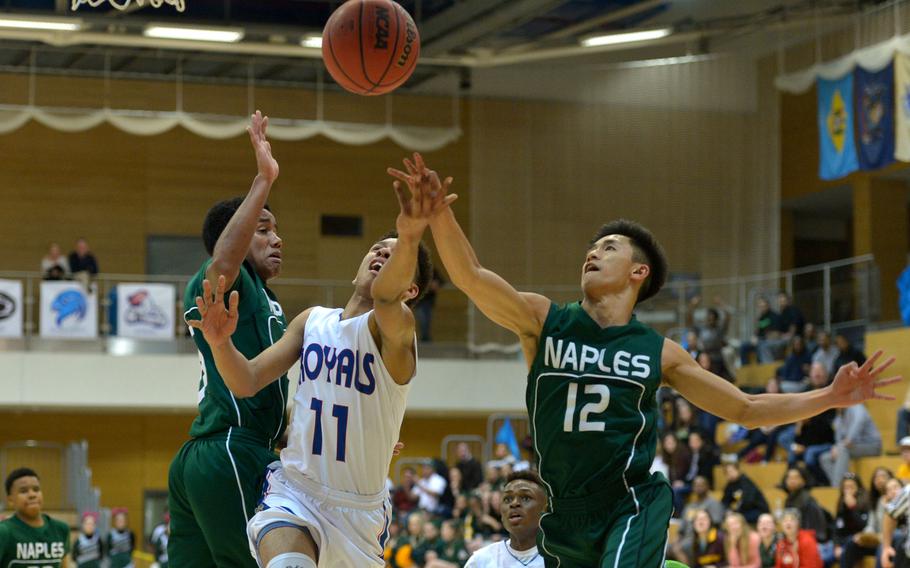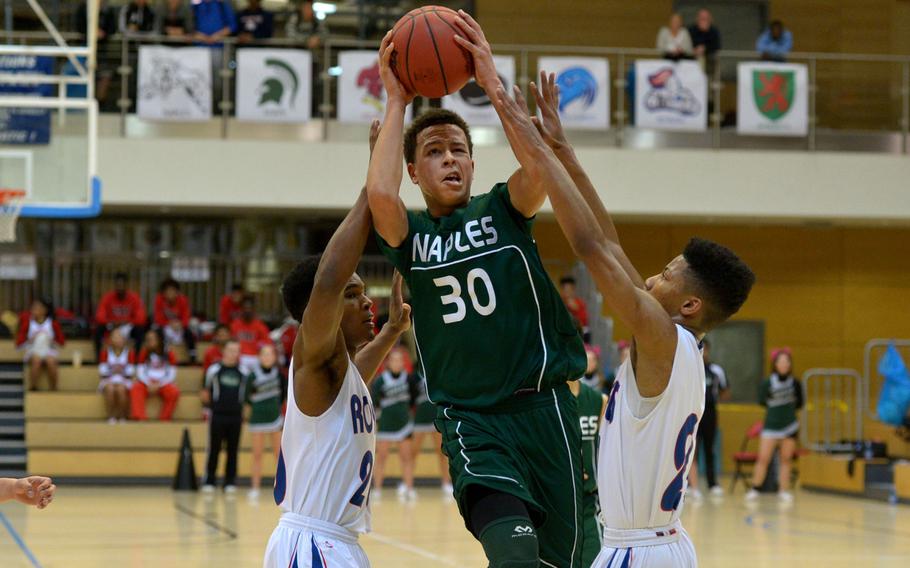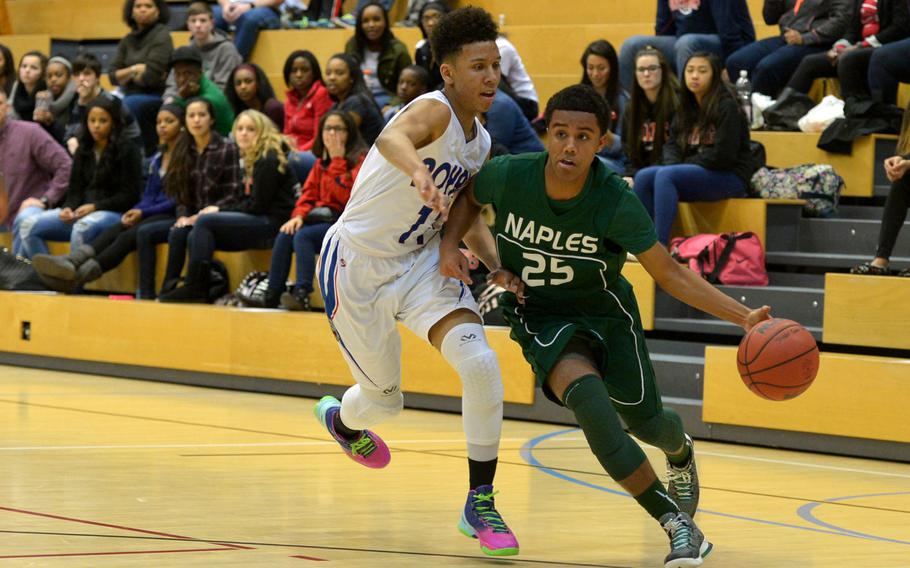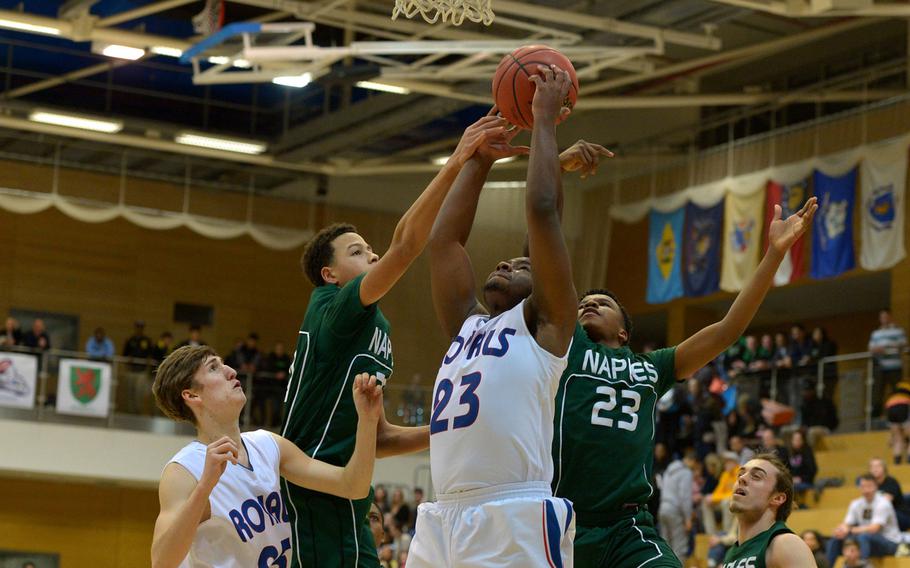 WIESBADEN, Germany – So they meet again.
The archrival Kaiserslautern Raiders and Ramstein Royals will play for the DODDS-Europe Division I boys basketball championship for a second consecutive season Saturday, a rematch arranged Friday as both teams won their semifinal games.
The Raiders defeated SHAPE, while Ramstein eliminated top-seeded Naples.
The Royals won last year's title game over the Raiders 47-32; they also claimed both of this season's meetings by scores of 57-33 and 64-56.
After Friday's win, Kaiserslautern coach Corey Sullivan didn't offer any hints as to how he plans to reverse the trend.
"I guess I've got about 18 hours to figure that out," Sullivan said.
A bit more verbose after their own semifinal win, the Royals declared a secondary motive beyond winning a second straight championship. DODDS-Europe's other big schools want to see Ramstein fail, coach Andrew O'Connor said, and the Royals have come to enjoy seeing those schools disappointed.
"We just feel like everyone in the division wants us to lose," O'Connor said. "We're kind of riding that. We kind of like it.
"A lot."
Ramstein 60, Naples 41: For the second year in a row, the Royals dashed the Wildcats' championship hopes just a game short of the title.
Friday's meeting was far more competitive than last year's edition, when Ramstein routed the Wildcats 63-23 in a mercy-rule mismatch. This Naples squad made a game of it, trailing by just seven at the half and moving to within four late in the third quarter. But second-seeded Ramstein restored its lead to 10 by the end of that quarter and pulled away further in the fourth.
O'Connor was confident that his balanced 11-man roster would eventually overwhelm a top-heavy Naples team reliant on guard Terrell Staten and center Karrington Evans.
"We knew our depth would win out," O'Connor said.
To wit, O'Connor countered the athletic defensive presence of the 6-foot-3 Evans with a pair of capable posts in Mitchell McKinney and T.J. Williams. When Evans matched up with the sharpshooting McKinney, O'Connor instructed his Royals to funnel offensive touches to Williams, McKinney's frontcourt mate.
Williams, listed at an even 6-feet, responded with an accomplished set of low-post offensive maneuvers, a vestige of a former time when he enjoyed a distinct height advantage over his opponents.
"I played big basically my whole basketball career," Williams said. "I kind of stopped growing."
But Williams came up big Friday, producing 17 points, six rebounds and three assists. D'Angelo Griggs added 14 points and eight steals, while Kendell Allen scored all 12 of his points on three-pointers.
As their return to the title game makes apparent, the Royals have quickly restocked after losing the bulk of their 2015 championship roster. They lost just once in the regular season, beat all comers in their pool and dispatched the top-seeded Wildcats to earn a shot at a repeat.
Naples, meanwhile, settles again for a Saturday consolation game even after a 14-0 regular season, four Division I wins and a No. 1 seed in this week's tournament bracket. The Wildcats' slippage began Thursday with a spirited 42-38 loss to Kaiserslautern.
Evans paced Naples with 17 points.
Kaiserslautern 42, SHAPE 27: The Raiders finally manufactured enough points to claim victory in the final semifinal of the day.
"Our boys stepped up in the end. They just played their best when the game mattered," Sullivan said. "They were a little tight, I think, nervous when they came out. But they loosened up and they just played basketball."
Both teams struggled mightily to put the ball more than occasionally through the basket. But a couple of late bursts of offense made the difference for the fifth-seeded Raiders, who scored 20 fourth-quarter points after managing just 22 over the opening 24 minutes.
The decisive run came midway through the fourth quarter and was more than enough to hold off a SHAPE squad all but incapable of point production, thanks in part to an injury slowing standout guard Austin Stephens. The surge included a straightaway three-pointer by Glen Alexander that pushed the Kaiserslautern lead to an insurmountable nine points.
"It was exciting. I felt that it was going in when I released it," Alexander said of his crucial long ball. "It was just nice to see it go in for once."
The Raiders soldier into a second straight title game despite a middling regular season that saw them go 7-7 overall and post a losing 5-7 regular-season record in the division. But Kaiserslautern found its groove in the tournament, beating a tough Wiesbaden team and winning a 42-38 thriller over top seed Naples on Thursday.
Third seed SHAPE heads to the third-place game after a strong campaign that included an 11-2 overall record and a 6-2 divisional mark, its only two losses coming at the hands of Ramstein.
Twitter: @broomestripes