Royals open up season by routing Warriors
by
Aaron Knowles
November 30, 2018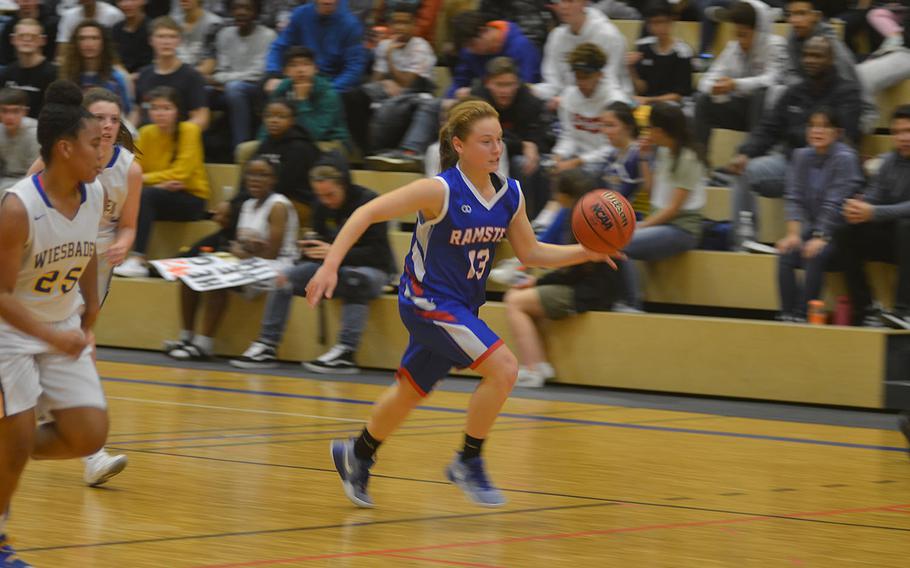 WIESBADEN, Germany – It was size against speed as the Ramstein Royals girls basketball team opened the season Friday night against the host Wiesbaden Warriors.
Speed won out.
Ramstein, a strong contender for the DODEA-Europe Division I title almost every year, made a pretty strong opening statement with a 63-21 victory.
Wiesbaden's strategy seemed focused around defense and 6-foot-4 center Allison Urick.
Towering above everyone else on the court, Urick was able keep control by catching rebounds and using her reach to continually attempt to put the ball back up toward the net.
Unfortunately, Urick's height and Wiesbaden's defense were no match for Ramstein's team speed. The Royals ran every chance they could and opened up a 31-14 lead at halftime.
Ramstein didn't let up in the second half and continued to run around the court on both offense and defense.
"I like to try and be everywhere, I live by my last name," Ramstein's Alexis Tri said. "No matter what point we were at during the game, we just continued to push. The last thing we said before stepping onto the court was 'work hard'. I think we achieved that goal."
"We came in to this game as hard as we could, and the outcome showed it," Tri said.
Twitter: @AKStripes