Royals enter holiday intermission undefeated after win over Raiders
by
Gregory Broome
December 18, 2019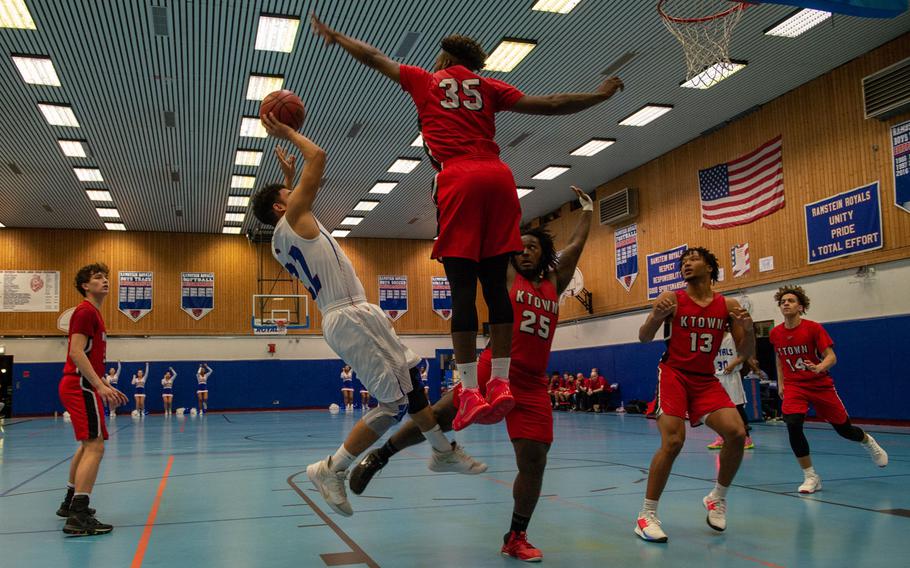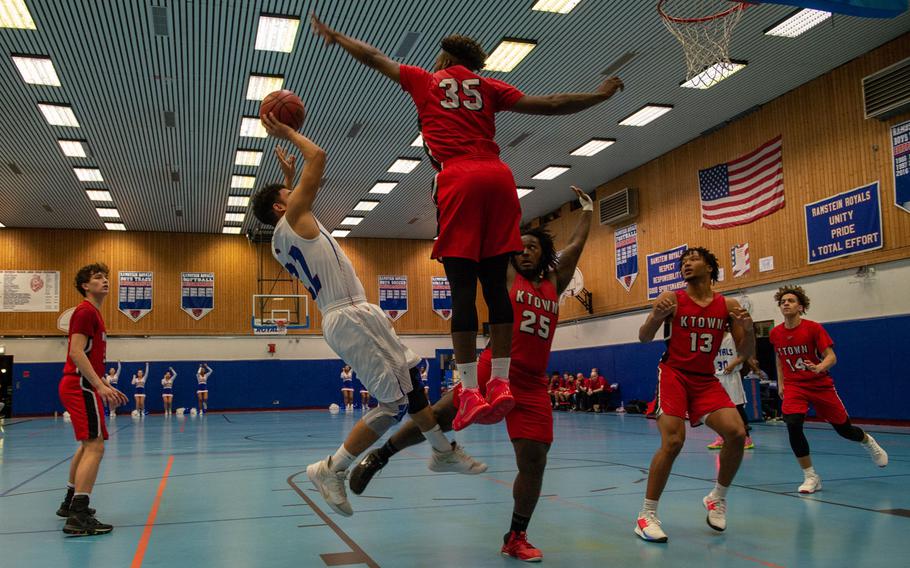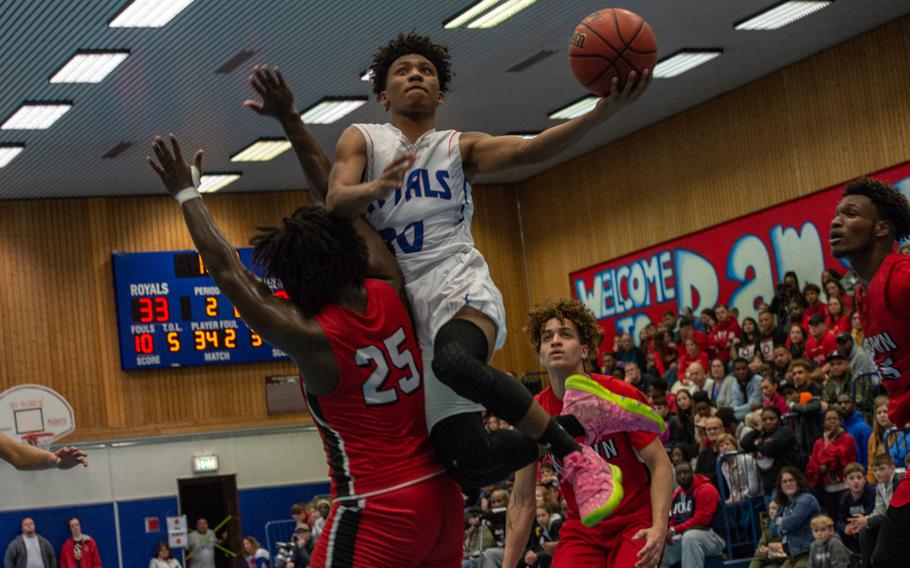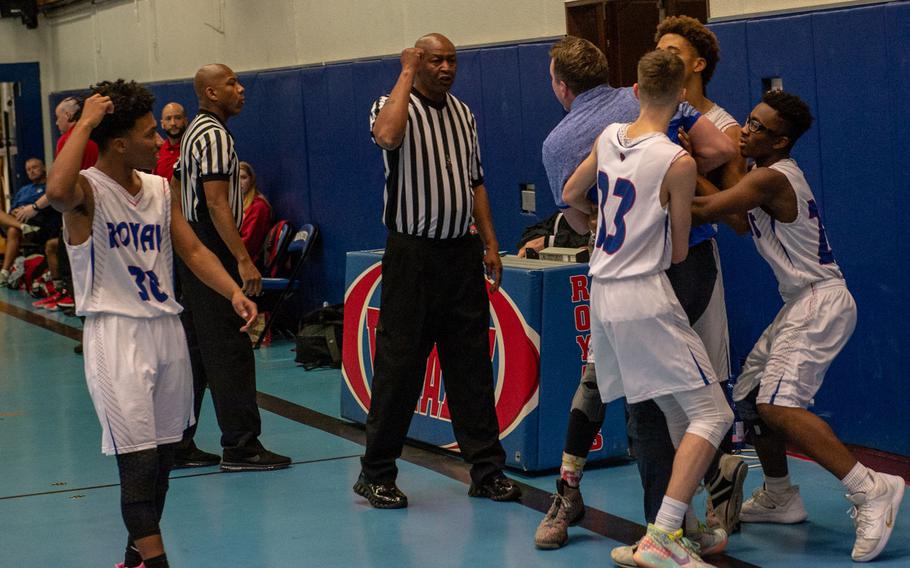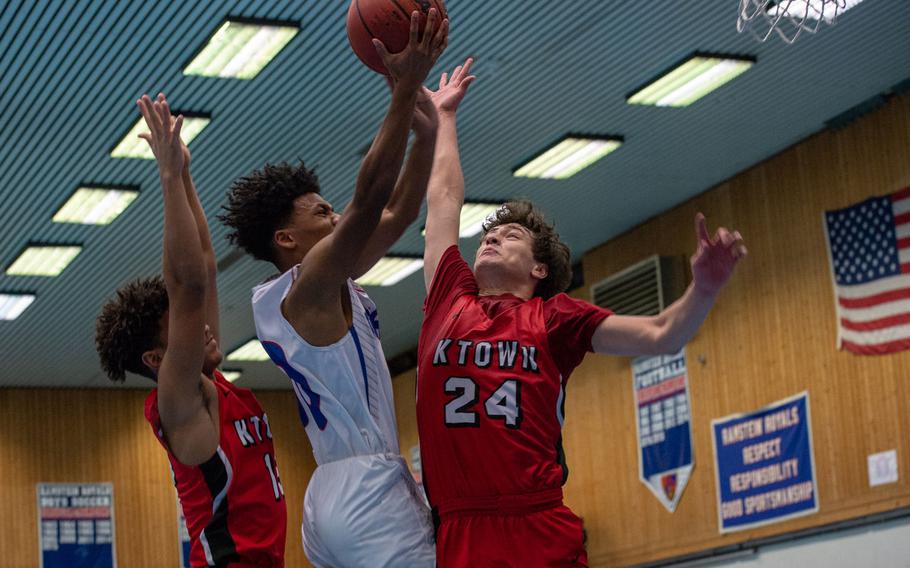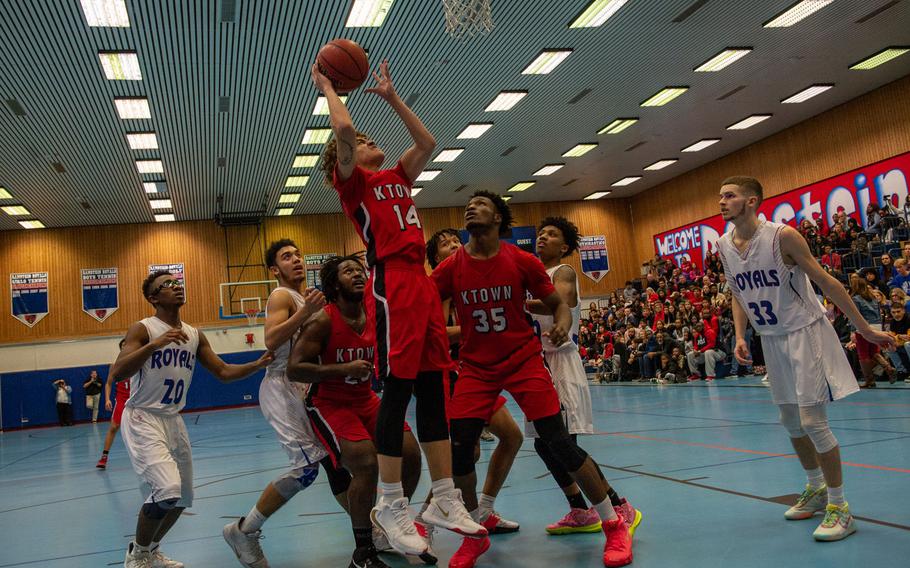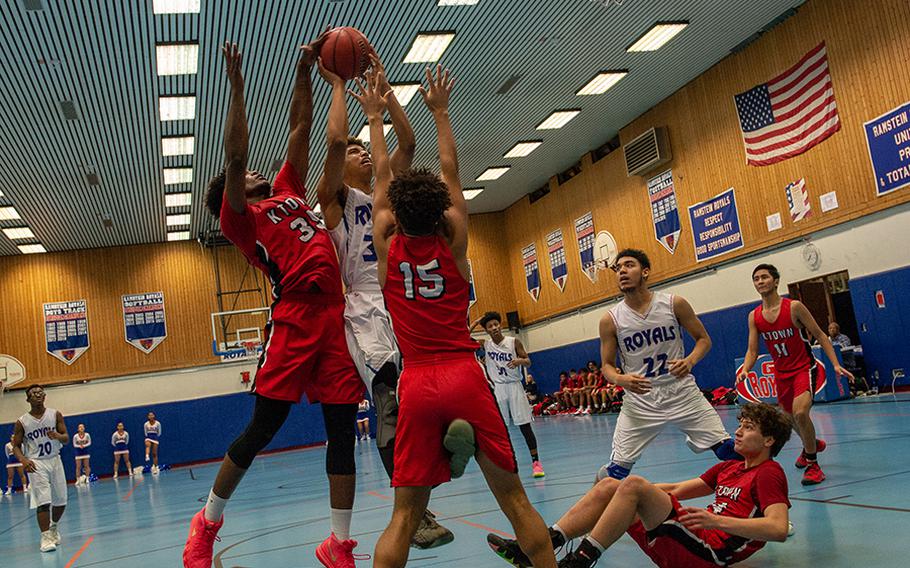 RAMSTEIN AIR BASE, Germany — Holiday spirit was in short supply Tuesday night at Ramstein High School as constant whistles and resulting free throws put everyone in a foul mood.
The host Royals got the better of the visiting Kaiserslautern Raiders in the scattershot stretches of live action that punctuated the unending parade to the free-throw line, earning a 72-56 victory and entering the holiday intermission with an undefeated record.
"I knew coming into the game that as a team we just had to keep our cool," Ramstein point guard Jerod Little said. "K-Town never gives up."
Luckily for the Royals, ugly wins like Tuesday's are entered in the standings just the same as the other kind.
Kaiserslautern shot 38 free throws in the game, while Ramstein shot 34. Those numbers included four free throws resulting from the two technical fouls leading to the third-quarter ejection of Royals head coach Andrew O'Connor, part of a disastrous start to the second half for the reigning Division I champions.
The Raiders erased a 13-point halftime deficit in the first few minutes after halftime, temporarily taking a 42-40 lead on a Tre Dotson drive just before the midway point of the third quarter. But Ramstein persevered to rebuild a two-possession advantage entering the fourth quarter. Kaiserslautern star Dotson fouled out in the final quarter and Ramstein had its lead back safely to double digits when the Royals' starters were pulled with about a minute to play.
Little tightened his control of his team amidst the swirling chaos of the third quarter, drawing on his experience at the helm of the Royals' ongoing dynasty to steady the Royals amidst the Raider run. The point guard said he felt "a lot of pressure" to lead when O'Connor was tossed, but explained that the Ramstein system is ingrained enough to continue in the coach's unexpected absence.
"He tries to teach us everything he knows," Little said. "Honestly, when he went out, it was just run our plays, do what he said. It was like he was still there."
In addition to his calming influence at the point, an increasingly aggressive Little provided the offensive boost needed to reestablish his team's lead over the Raiders. The senior scored 13 of his team's 14 points in a brilliant third-quarter performance and finished with a game-high 28 points along with nine rebounds, three assists and two steals.
"I feel like we all had to step up in our roles. We all know what our roles are," Little said. "Passing and scoring is one of the ones I do. I just knew I had to help my team at the time."
Jason Jones Jr. added 15 points and 10 rebounds for the Royals, including a forceful two-handed slam dunk that punctuated the Royals' second-half push to victory. Dotson finished with 20 points and 14 rebounds for the Raiders.
Girls
Ramstein 54, Kaiserslautern 27: At Kaiserslautern, the Royals earned the crosstown sweep by doubling up the host Raiders.
Ramstein went up 10 at halftime and put the game officially out of reach with a 20-5 third-quarter run. The Royals held their hosts to just eight points after halftime.
Alexis Tri scored 12 points to lead a balanced Royal attack, while Alayna Potter and Linda Naglach joined her in double figures with 10 points apiece.
Eden Wheeler scored a game-high 15 points in defeat.
The Ramstein-Kaiserslautern set was the last DODEA-Europe athletics event of 2019. The winter season, including a full slate of boys and girls basketball, resumes on Jan. 11.
broome.gregory@stripes.com Twitter: @broomestripes
Boys Ramstein 72, Kaiserslautern 56 Tuesday at Ramstein Kaiserslautern 10 16 19 11 — 56 Ramstein 14 25 12 21 — 72 Scoring — Ramstein: Jerod LIttle 28, Jason Jones Jr. 15, Elisha Williams 8, Carl Norman 6; Kaiserslautern: Tre Dotson 20, Isaak Pacheco 13, Caleb Penaflor 8. Noteworthy — Little totaled 9 rebounds, 2 steals and 3 assists; Jones posted 10 rebounds, 3 assists and 3 steals; Dotson grabbed a game-high 14 rebounds; Brandon Morris dished out 5 assists for Kaiserslautern.
Girls Ramstein 54, Kaiserslautern 27 Tuesday at Kaiserslautern Ramstein 14 15 20 9 — 54 Kaiserslautern 8 11 5 3 — 27 Scoring — Ramstein: Alexis Tri 12, Alayna Potter 10, Linda Naglach 10; Kaiserslautern: Eden Wheeler 15, Azora Williams 5.