Repeat Athlete of the Year Branch enjoyed another dominant season
by
Jennifer Svan
June 5, 2017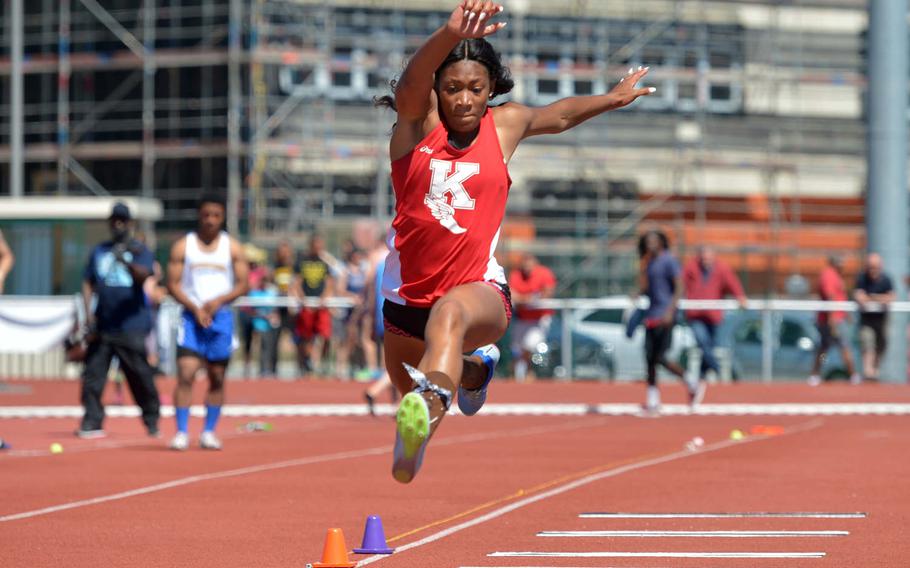 For the second straight year, Kaiserslautern's Jada Branch took home four gold medals from the DODEA Europe Track and Field Championships.
Last season was a breakout year for the junior. This year, Branch, 17, raised her game to a new level. Branch not only toppled the European record in the triple jump, but she dominated the two sprint events in which she competed, the 200 and 400 meters. In the long jump, she squeaked by with a win even though she was having what she described as an "off day" at the finals, held over two days last month at Kaiserslautern High School.
For her outstanding overall performance, Branch is the 2017 Stars and Stripes girls' track and field Athlete of the Year.
Branch demonstrated her versatility by earning her European titles without cresting a single hurdle, despite coming within a scant .67 seconds of breaking the European record at the 2016 finals.
At this year's championships, Branch opted to run the 400 instead. Since the 400 and 300 hurdles are held close together, Branch said she didn't want to risk injury by doing both.
In the 400, Branch's speed and strength carried her to within a big toe of the 17-year-old European record: Her 57.75 just missed breaking the 57.30 run in 2000 by Christina McDuffie of Hohenfels.
Next year, Branch has her sights on both records.
"I'm just going to continue on building endurance and my strength and hopefully, next year I'll be able do that back-to-back," she said of both the 300 hurdles and 400.
She already has one record under her belt.
Branch at Europeans soared 39 feet, 2.25 inches in the triple jump to obliterate the old record of 38-6, set by former Raider Lynndsey Hyter in 2006.
It was the realization of a goal set one year ago, when she hit 38 feet, 1 inch at Europeans, a mark that put the record within reach.
"It was great accomplishing that goal," she said. "So now, it's time to start a new one, and that new one is hopefully 40, 42 (feet)."
She has the work ethic to get there, according to her track and field coach at Kaiserslautern, Andrew Panek, who said Branch is one of the hardest-working athletes he's ever known.
"She loves to compete, loves to win, and loves to push her limits," he said. "Some athletes focus on winning as their motivation, but I believe Jada focuses on being better each and every day. She is often inside her own head, pushing herself and visualizing her actions."
Branch said she has worked hard at improving her "mental game" and not letting nerves hinder her performance.
"I have to remind myself that any day can be on and any day can be off, so you can't dwell on what other people expect you to do," she said.
Her colorful socks and nails help her stay focused. At Europeans, Branch sported knee-high Tupac bandana socks, inspired by the late rapper.
"My socks are always going to be something extravagant or something that will catch your eye," she said. "Whenever I line up … and I put my head down, 'Oh, these are cool.' I just like looking at them."
Besides adding a couple more European records to her name, Branch next year hopes to get recruited for collegiate-level track and field and earn an athletic scholarship. University of Georgia is her dream school.
Before that, though, she's headed to Greensboro, N.C. to compete in the New Balance Nationals Outdoor later this month, and, after that, to Detroit, for the Junior Olympics. She'll compete in the triple and long jumps at both meets.
"I have come a long way and I'm very proud of myself," Branch said. "I just love growth and l love seeing where I'm going."
svan.jennifer@stripes.com Twitter: @stripesktown