Ramstein turns showdown into showcase
---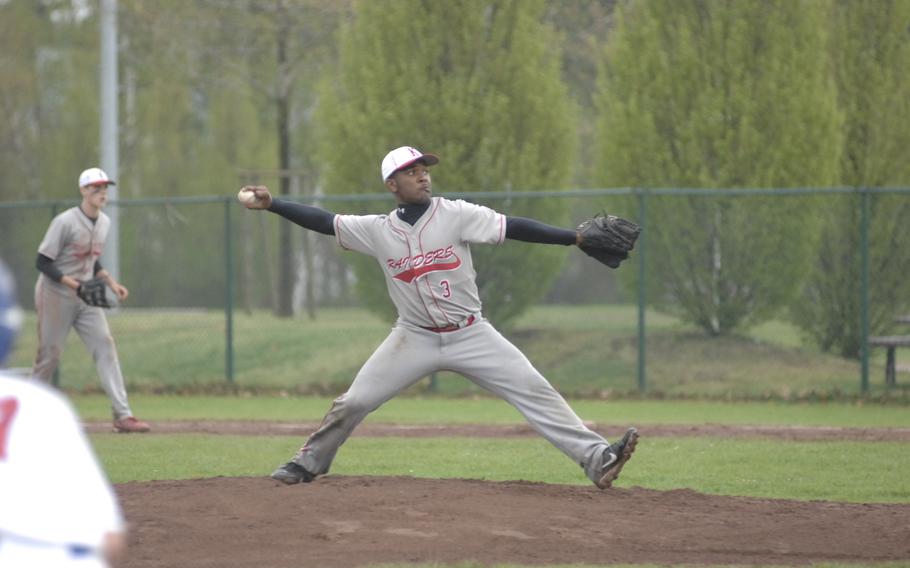 RAMSTEIN AIR BASE, Germany – Kaiserslautern battled, quite literally, until the final out.
With two outs in the bottom of the third inning of Friday's doubleheader nightcap and a second courtesy-rule loss to dominant host Ramstein looming inevitably, Red Raiders senior first baseman Chris Jastrab stroked a sharp line-drive RBI single to finally, mercifully, put Kaiserslautern in the scoring column.
That was one of the few highlights over the course of a long, dreary evening of lopsided baseball for the Red Raiders, a team hampered by inexperience and a makeshift pitching staff. The good times rolled for the Royals, however, in three-inning victories of 16-0 and 18-1.
The 6-0 Royals, anxious to earn another shot at Patch's Division I baseball crown, overlooked the competitive imbalance. With weather-related cancellations playing havoc with an already-brief baseball schedule, head coach Tom Yost said his squad cannot afford to squander the opportunity to play live baseball.
"What we try to always do is have our guys always be on top of the game," Yost said. "We always say, 'Play like it's a zero-zero ballgame.' Have quality at-bats and make sound defensive plays that we need to."
His charges got the message.
Zach De Costa notched three hits, three runs and an RBI in the opener, while Robert Navarro hit a booming home run. Antonio Ortiz led the way with two hits in the second game, with three RBI and two runs scored.
"We played well as a team today. Our bats came alive for the first time probably all year," said Royals junior Ryan Burk, who totaled three hits and two RBI over the doubleheader and pitched a complete-game one-hitter in the opener. "We really hit the ball."
Kaiserslautern coach Chris Grogan, meanwhile, can only look for signs of progress from a prohibitively young team. Grogan was unable to start Jastrab, his ace pitcher, due to the senior lefty's long 13-strikeout outing April 20 against SHAPE.
"We're trying to develop a pitching rotation that we just don't have yet," Grogan said. "We saw a lot of, just, mental mistakes that we're gonna clean up.
"We're just really young this year."
Regardless, the vestiges of the Ramstein-Kaiserslautern rivalry live on.
"You want to win this game," Burk said. "All or nothing."
At this point in the historic DODDS-Europe rivalry, "all or nothing" is just a bit too apt.
"It's always fun to get K-Town in here," Yost said. "The game wasn't exactly what we wanted it to be as far as competitiveness, but they're a good team and they can easily bounce back from this and make it a good rivalry come tournament time."
For Grogan, that means building his team's confidence despite outcomes like Friday's.
"To get them to think that they can win is the hard thing," Grogan said. "Just kind of get them to believe in themselves."
Twitter: @broomestripes
---
---
---
---