Girls soccer
Ramstein, Naples end league play unbeaten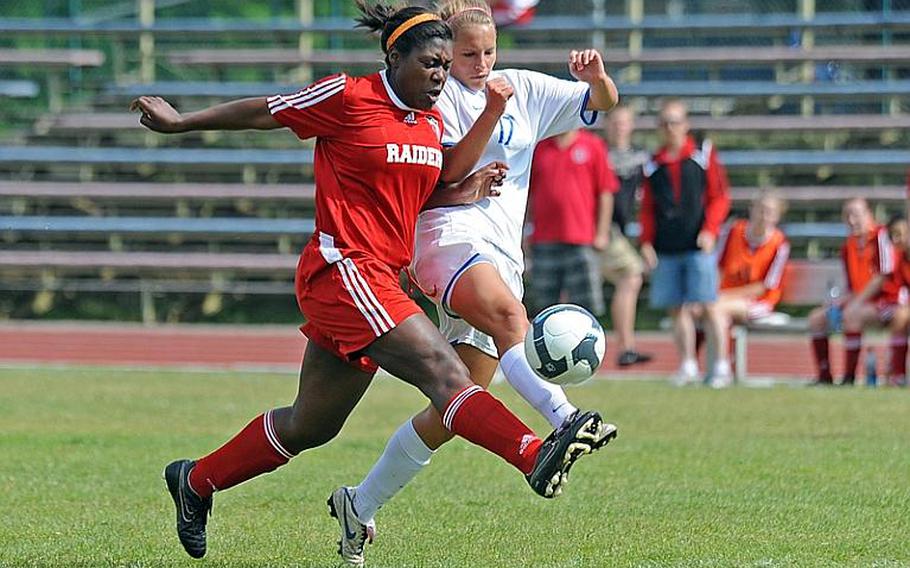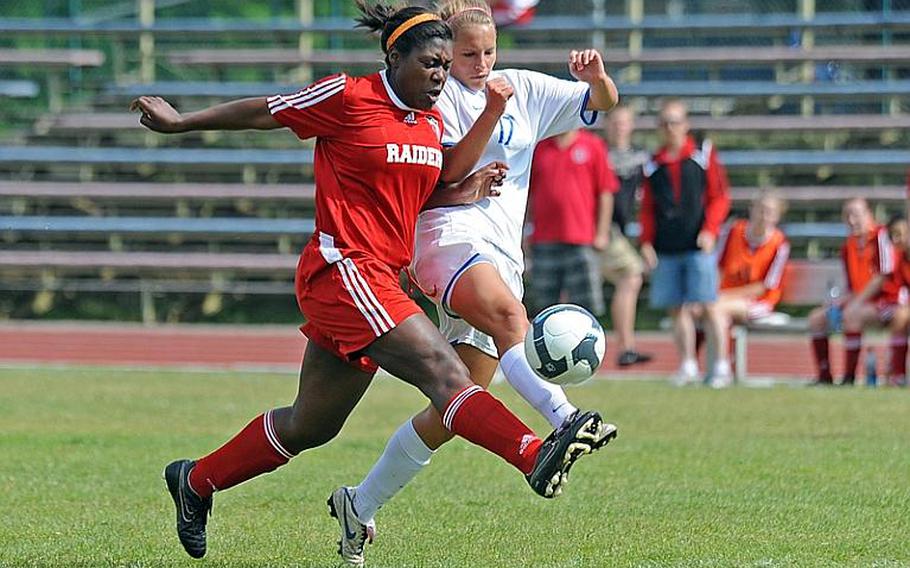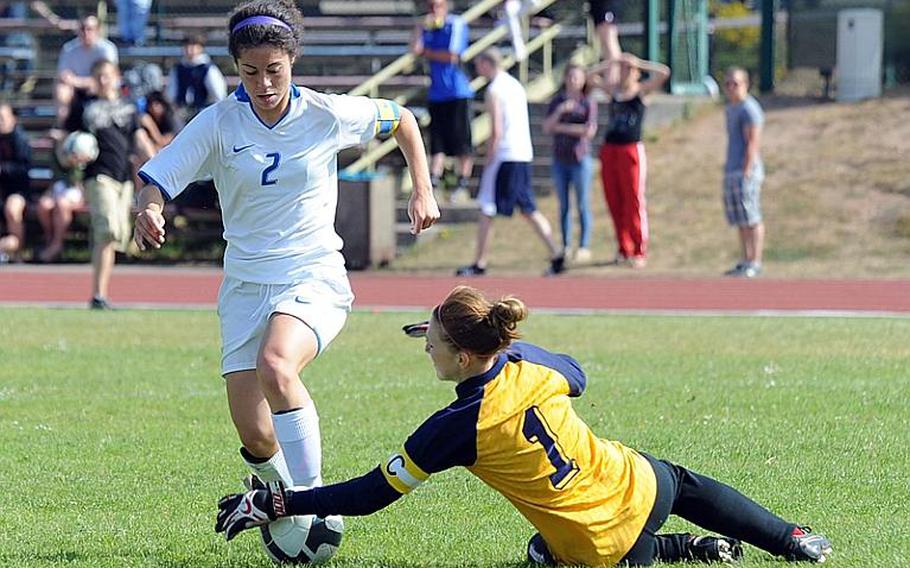 If the Ramstein Lady Royals and the Naples Lady Wildcats are to taste defeat this season, the losses will have to come in this week's European championship tournaments. Both wrapped up unbeaten regular-season campaigns with 6-1 home victories on Saturday — Ramstein over Kaiserslautern and Naples over the American Overseas School of Rome.
Ramstein 6, Kaiserslautern 1: Saturday at Ramstein, the Lady Royals (7-0 overall, 5-0 in Region II) probably earned the top seed for the European Division I tournament by handing their neighbors their first regional loss of the season.
According to Ramstein coach Ricardo Buitrago, Josie Seebeck and All-European Laura Welch each scored twice and registered two assists apiece in a game that Ramstein led just 1-0 at halftime.
Buitrago characterized the play of each of his stars as "phenomenal" in a Saturday email, adding that his midfield controlled distribution of the ball and tempo of play throughout the game.
Emily Crawford steered a direct free kick into the Ramstein net for the Lady Raiders (5-2, 4-1), whose first-half defense led by Ally Murphy and Brianna Riffe drew the praise of their coach, Brian Daly, Buitrago reported.
Both teams move on to the D-I tournament, which along with the other two divisions will be conducted Wednesday through Saturday at sites around the Kaiserslautern Military Community.
Naples 6, AOSR 1: Saturday at Naples, the Lady Wildcats (6-0-1) rode three goals from Alexandra Mack to an undefeated regular season and the Region IV crown.
Katy Waller, Isabella Lucy and Sofia Cianciaruso also found the net for Naples (6-0-1), which completed its regular season by outscoring its opponents by an average of four goals per game. The lone non-victory on Naples' record was a 2-2 tie at Vicenza on April 23.
The American Overseas School of Rome finished its seven-game slate 3-3-1 and will join Naples at this week's European D-II tournament.
Aviano 1, Vicenza 1: Even before they knew about Naples' title-clincher over AOSR, Vicenza ended neighborhood rival Aviano's hopes for the Region IV crown.
Leading 1-0 at halftime on the strength of Alexandra Frank's assist on a Natalie Lovelace goal, Vicenza was bidding to pass Aviano in the league standings with a victory. Aviano's Cheryl Craver, however, knotted the game after intermission when she converted a feed from McKenzie Roers for the equalizer.
The Saints, whose title hopes had depended on a Saturday victory by them and a loss by Naples, finished the regular season 4-1-2. Vicenza completed its regular-season schedule 3-1-3. Next up for both is the European D-II tournament.
Heidelberg 2, Black Forest Academy 1: Saturday at Heidelberg, Layna Lowe scored a goal in each half to lift the Lady Lions into a three-way tie for the Region III championship with defending European D-I champion Patch and Vilseck.
Heidelberg (6-1, 5-1), which defeated Patch 3-1 but lost to Vilseck 2-1, has an unofficial one-goal edge over Patch and a two-goal differential over Vilseck for the regional championship. Vilseck lost to Patch 2-0 on Friday.
Lady Lions' boss Jim McCauley said Melissa Fry assisted on one of the Lowe's goals, and he also praised the defensive performance of his center fullback, Ashley Ross.
BFA (4-3, 3-3), which is to play in the European D-II event this week, got 19 saves from goalkeeper Sarah Mindek, McCauley said.