Ramstein meets Patch in potential title(s) preview(s)
by
Gregory Broome
April 30, 2015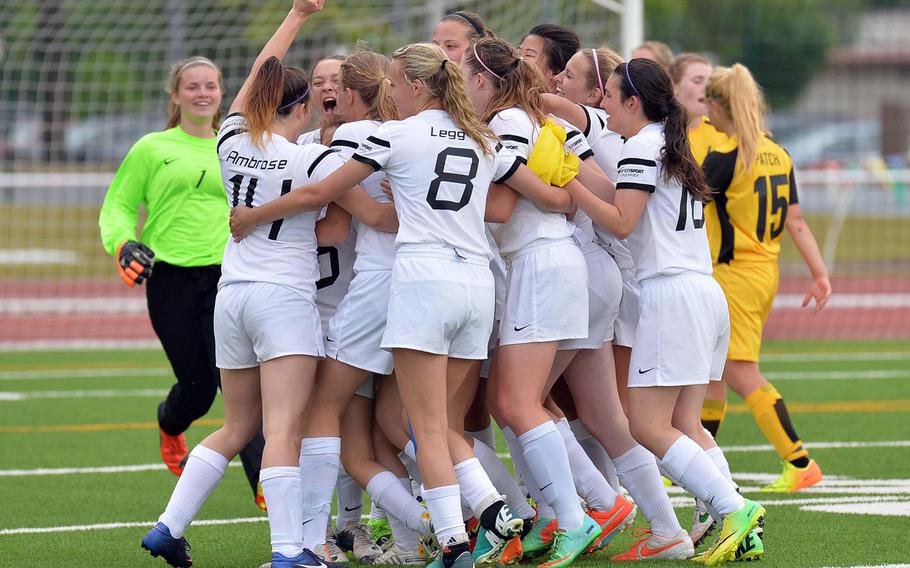 If history is any indication, this weekend's Royals-Panthers girls soccer game is only a preview of the upcoming main event.
Ramstein and Patch have played for the DODDS-Europe Division I girls soccer crown every year since 2011. The teams have alternated titles over that span, with Patch winning in 2011 and 2013 and Ramstein winning in 2012 and 2014.
A fifth straight matchup is looking increasingly likely, as the Royals and Panthers are the only remaining unbeaten teams in Division I despite rather difficult schedules.
Ramstein has been outright dominant, recording four lopsided shutout victories before finally yielding a goal in a 6-1 win over Wiesbaden on April 18.
Patch's record is marred by a 1-1 tie with that same Wiesbaden team, but the Panthers have otherwise been untouchable. Last weekend, they routed both of Division I's new contenders, Vicenza and Naples, by a combined 8-1 score.
Expect a much closer match on Saturday; it's the only kind the two teams play anymore.
The Panthers beat Ramstein 1-0 for the 2013 title. In their next meeting, during the 2014 regular season, Ramstein edged the Panthers 4-3. Over the last two days of the tournament, the teams battled to a near-draw: Patch beat Ramstein 3-2 in a shootout to advance to a title-game rematch with Ramstein, which the Royals won by a 1-0 score.
Both teams have the defensive chops to throw a shutout Saturday, as neither team has yielded more than one goal in any game this season. They also have the offensive firepower to blow a game open behind the likes of Ramstein forward Ebony Madrid and productive Panthers Janey Greenberg, Kaitlyn Farrar and Danielle Mannier.
While the rivalry isn't quite as well-formed on the boys soccer side, it might be an equally compelling game.
Patch and Ramstein have one loss each on the season; the Panthers lost to Naples last weekend, while the Royals fell to Vilseck in their March 21 season opener. But each remains a strong contender in a crowded field that also includes Naples, Kaiserslautern and International School of Brussels.
The burgeoning Patch-Ramstein feud continues over the final weeks of the regular season. The baseball and softball teams stage championship-game rematches May 9 at Ramstein; the Royals won last year's baseball title over Patch, while the Panthers prevented a Ramstein spring-sports sweep with a win in the softball championship game.
On May 16, Patch's rising track program rounds out the DODDS-Europe regular season in a six-team meet with host Ramstein.
Twitter: @broomestripes
---
---
---